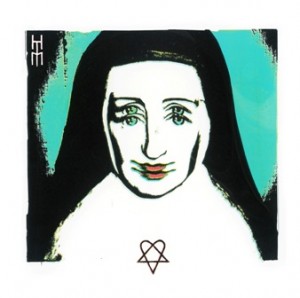 Title: Screamworks: Love in Theory and Practice
Artist: HIM

Genre: Rock/Alternative/Love Metal
Release Date: 12th February 2010
Label: Sire Records / Warner
Introduction

HIM was formed in Finland in 1991 by singer and songwriter Ville Hermanni Valo, guitarist Mikko Viljami "Linde" Lindström and Mikko Henrik Julius "Migé Amour" Paananen on bass. HIM started as a cover band, playing songs of bands like KISS, Black Sabbath and Depeche Mode. There have been some changes in the line-up before the band came to its current line-up; in 1999, Mika Kristian "Gas Lipstick" Karppinen took over the drumsticks and in 2001, Janne Johannes "Emerson Burton" Puurtinen took over the keyboard. 'Screamworks: Love In Theory and in Practice' is the bands seventh studio album.
Getting promo material to listen to and write a review of is fun and sometimes it's very, very interesting; when I got my ears on the new HIM album I almost could not stop listening to it. I really have been waiting for this album but I can honestly say that the expectations were not too high when I started to listen to it because I was not that impressed by the band's last album 'Venus Doom' and was afraid that HIM would continue on that musical road. The first time I listened through the album I was pretty much blown away, this sounds so much like the way I have wished for HIM to sound like, it sounds like they have taken the best from their older albums and mixed it with new interesting influences / sounds and created a masterpiece of album.
Detailed Review

01. In Venere Veritas

At first, this song reminds me of the better sounding songs on the 'Dark Light' album but then the song changes and becomes something new that I have never heard before. The more I hear of this song the more I like it. Ville is playing with Latin words in this song: 'In Venere Veritas' means more or less "in sex there is truth" (while Venere comes from Venus, the goddess of love and sexuality). I bet you can analyze this song to pieces while trying to catch what the singer / songwriter Ville Valo means with it, but it's far more interesting to just sit back and enjoy the whole song.
02. Scared To Death

This song was an instant favourite, hearing it made me release the breath I had been holding for the fear of this being an album as the two previous ones ('Dark Light' and 'Venus Doom'). I love the chorus in this song that easily got stuck on my mind from the first time I heard it: "I am not afraid to say I love you any more than I used to be babe, I am scared to death, I am scared to death to fall in love". I like the way the chorus changes in the end and the way Ville bitter sweetly sings the last words in this brilliant song.
03. Heartkiller

Is the first single from the album and I think it's a good choice to represent the coming album, it gives a hint of the new change of sound and beat that HIM has found. I like this song and it's like most songs on this album - they grow on you the more you listen to them and that makes this a complex and interesting album. The video for 'Heartkiller' is directed by James Copeman and you can watch it here:
http://www.heartagram.com/
04. Dying Song

Softer one, it feels cleaner and in a way simple - in a good way. Good melody and well built song with different parts. This one reminds me some of a song from the album 'Love Metal' - 'Circle of Fear' - but on that one his voice was darker and the song has a slower beat.
05. Disarm Me (With Your Loneliness)

Lovely guitar intro that flows over into a slow and very emotional song that leaves me blown away. I really like the strong lyrics that Ville sings with such a feeling that this song goes straight to the heart.
06. Love the Hardest Way

I like the way this song begins, the change of beat and tempo in this song is captivating. The lyrics are as always thought worthy and the chorus easily get stuck on your mind.
07. Katherine Wheel

This is one of the stronger songs on the album; it quickly became a favourite and had me wondering what to expect more of this album. I simply love the way this song carry one, the melody is brilliant and it's a pleasure to just listen to everything that makes this song so very special - the melody, the beat, the way the music is composed and fits perfectly with the lyrics. I think Ville use his voice really well on this song and shows how strong his voice has become.
08. In the Arms of Rain

The Synth Pop intro to this song made me really curious, I like that it returns during the song. The rougher guitar and bass create a brilliant sound in this moving song. The song flows so naturally that you easily forget that HIM has not sounded like this before. This is another strong favourite on the album.
09. Ode to Solitude

This song has a darker and rougher sound / feeling to it with cool guitar / bass riffs. The calmer part towards the end fits perfectly into the rest of the song that has chorus that easily get stuck on your mind.
10. Shatter Me With Hope

The medieval sounding intro fascinates me, you can hear it returning through the song and I really like this complex song that has a lot of different elements perfectly woven together with a good melody.
11. Acoustic Funeral (For Love in Limbo)

Oh this one is at risk to be known as "the limbo song", this is a very strong and emotional song that I really like. The way Ville articulates the word "limbo" makes me smile because it sounds so cute. Great atmosphere in this flowing song that creates the feeling of spinning around on dance floor in the arms of a lovely gentleman that is lost in the modern time.
12. Like St. Valentine

I like the speedy feeling that this song has, cool mix of short calm parts and faster ones; in this song I enjoy hearing Ville screaming and using his voice like on the older records - it fits perfectly to this song. Ville sounds like he did before 'Dark Light' and you could say that he has found his voice once again, only it's a lot more powerful now than back then.
13. The Foreboding Sense of Impending Happiness

When this song comes along on the record, I have long since given up with guessing what to expect next, talk about a track list with cool and unexpected songs that feel fresh and new. This is an emotional and very poetic song with beautiful musical arrangements that makes me close my eyes and simply enjoy it all. I am fascinated by the way the song changes, becomes faster with more beat and a brilliant Synth sounding melody in the end of it that kind of takes me by surprise, it makes me want to hear more so I hit repeat one more time!
Conclusion

HIM has taken the best from their older albums and mixed them with new interesting influences and created an album that is truly a masterpiece. There is more hope and brighter emotions in the songs and if they reflect the way Ville is feeling, and then I am very happy to have him happy! The songs are a pleasure to listen to and Ville sings beautifully on every one. I think his voice has changed and become better and stronger. Of course it's impossible to make everyone happy with an album since the taste is always different but I think that many HIM fans will take this album to their heart as well as winning many new fans. I actually can't wait till I get to see HIM perform this new songs live, last time the band came and did Stockholm they played 2 nights in a row, and I had the immense pleasure of attending both nights so guess what my plan is if they come back and do the same trick! I am rating this as a clear 10 without having the chance to listen to (read - gotten my hands / ears on) to the limited edition version of this album where you get an extra CD with the whole album in an acoustic version if that one flies then I am probably simply blown away!
Tracklist

01. In Venere Veritas
02. Scared To Death
03. Heartkiller
04. Dying Song
05. Disarm Me (With Your Loneliness)
06. Love the Hardest Way
07. Katherine Wheel
08. In the Arms of Rain
09. Ode to Solitude
10. Shatter Me with Hope
11. Acoustic Funeral (For Love in Limbo)
12. Like St. Valentine
13. The Foreboding Sense of Impending Happiness
Line up

Ville Valo - lead vocals, acoustic guitar (1991–present)
Mikko "Linde" Lindström - lead guitar, acoustic guitar (1991–present)
Mikko "Migé" Paananen - bass guitar, backing vocals (1991–present)
Mika "Gas Lipstick" Karppinen - drums, percussion (1999–present)
Janne "Burton" Puurtinen - keyboards, backing vocals (2001–present)
Website

http://www.heartagram.com/
/
http://www.myspace.com/heartagram
Cover Picture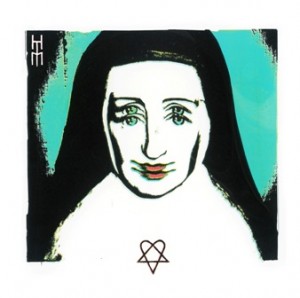 Rating

Music: 10
Sound: 10
Extras: -
Total: 10 / 10
{jos_sb_discuss:19}
See also (all categories):