Page 1 of 2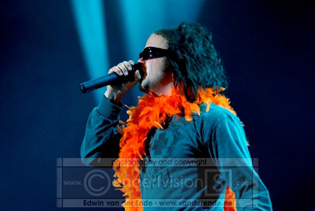 Dauwpop, Hellendoorn, The Netherlands
May 25th 2006
Madball, The Rasmus, Lacuna Coil, Chimaira

Time for another edition of Dauwpop with acts from all over the world. For instance Lacuna Coil all the way from Italy and Madball from New York. With a little rain but mostly dry weather it was an excellent festival day.
Chimaira

When approaching the Dauwpop festival we could already hear Chimaira playing. The music was so loud you could feel the bass when entering the tent where they were playing.

Music
Chimaira has beats that make you move but beware for these easy beats can easily turn into a roling thunder of bass and guitar every once in a while. Their vocalist has a good voice, he can sing wonderful long notes. Their keyboard player provides grunts, so does the vocalist but his grunts are higher.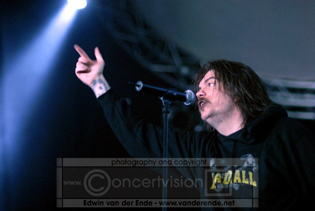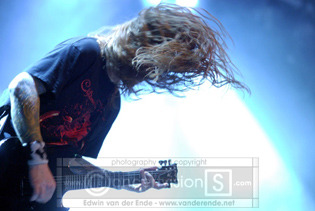 Performance
After a quick poll it turned out this band was new for many people in the audience. Still they were happy to sing along to 'Pure Hatred' when the band was silent you could hear the entire audience sing "I hate everyone". The song 'Powertrip' was appropriate for there was a lot of power coming of the stage, sweat was flying all around. Their bass player kept in touch with the audience, telling them to participate, which they did. The lightshow was not that extensive but the many flashing lights did bring the stage to live. Their vocalist wanted more participation even though it was still quite early but he got what he wanted.

Rating
Music 7
Performance 7
Sound 6
Light 6
Total 7 (6,7)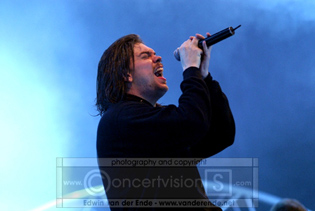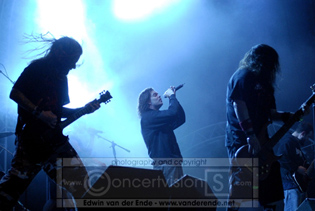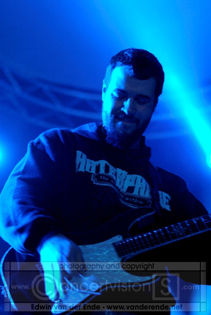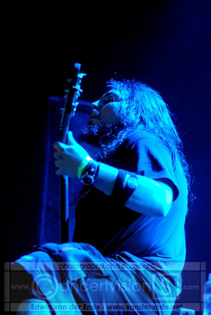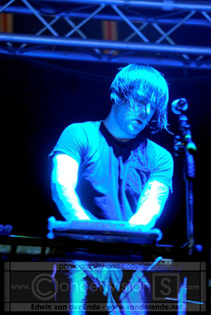 Lacuna Coil

With their new album Karmacode released it was time to visit us again and share their new sound. De Dijk (a Dutch band) had taken more time so Lacuna Coil started later then expected but it was worth the wait.

Music
Lacuna presented us with a mixture of older albums and their new album. Both Andrea and Christina sing with such power and can sing right after banging their heads. It was a pity Andreas microphone didn't work that well for a little while but the rest of the performance made up for that more than ever. It was great to hear older more familiar songs but the new additions to the set list were more than welcome. 'Our Truth' is of course more know because it was the single but there was another familiar sound namely 'Enjoy the Silence', their version of the Depeche Mode song. They have captured the emotions of the song and made it their own. This was the final song of the performance and it was a great finale.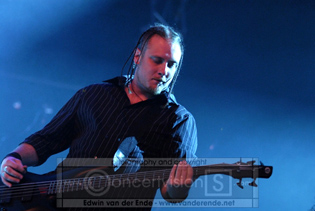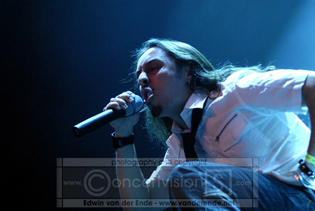 Performance
After a long intro with search lights making their way all around the tent the band entered the stage and they were off to a great start. There immediately was a lot of energy on stage. It was clear that not many people knew the band, there was little reaction at the beginning and people were discussing what they were hearing and whether they liked what they were hearing. During the concert though more and more people started to respond to the band and clap along and dance. It is wonderful to see how emotional Christina gets when she sings, thrusting the microphone into her stomach. They know how to reach the audience, get them to clap along, be silent during 'Enjoy the Silence' and jump along as well.
Rating
Music 8
Performance 9
Sound 7
Light 7
Total 8 (8,1)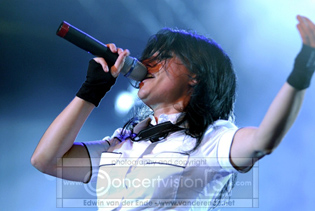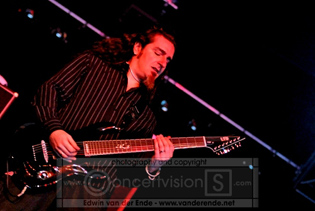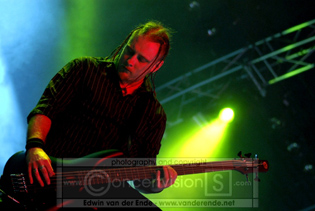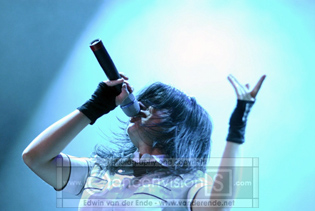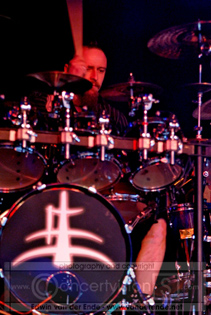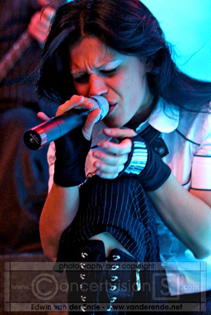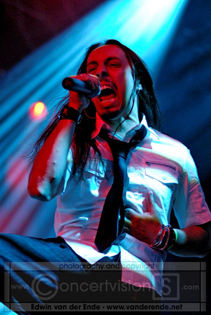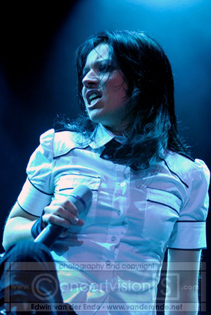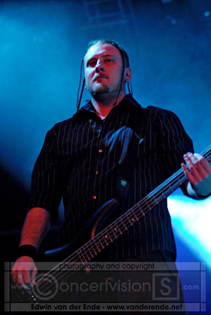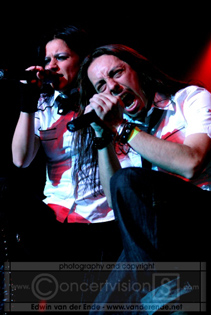 The Rasmus

After they had a few hits it became quiet round this Finnish band. Now they were back to let us know they are still there and still standing strong. They were announced in rime.

Music
After a quiet intro they started with full power. It was an impressive start of the show. Pity though that they could not keep this up to the end of the show. During the first song it was hard to hear the vocals of Lauri but during 'Lucifers Angel' this was already much better. He sung together with Eero (bass) and that sounded great, their voices match very well. Even though their sound was fine it was not that convincing, they didn't reach out to the audience.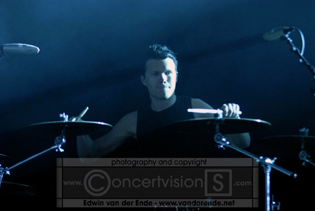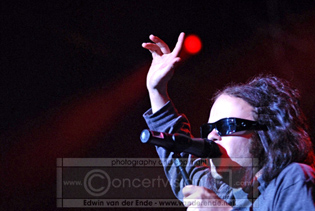 Performance
Lauri entered the stage with an orange boa around his neck, he had gotten this from someone at the festival and he kept wearing it for at least the first few songs. So no feathers in his hear but around his neck this time. It was a shame he kept his glasses on for the first three songs, it takes away a lot of the expressions. The lightshow was not that outstanding, it lit the stage but it could hardly be called a show, it didn't add to the performance of the band. The audience was mostly enthusiastic; it was a warm welcome back to the Netherlands.

Rating
Music 7
Performance 7
Sound 7
Light 6
Total 7 (6,8)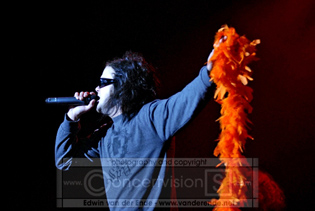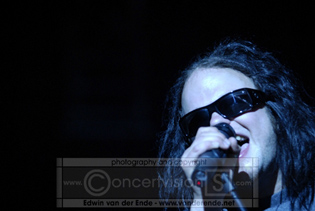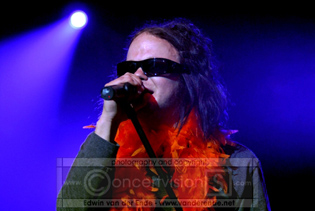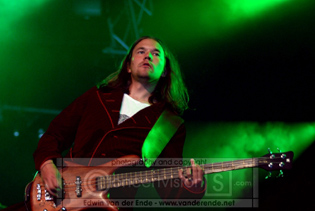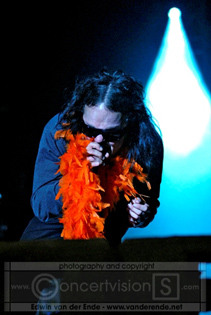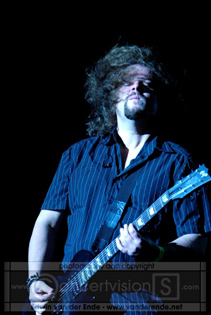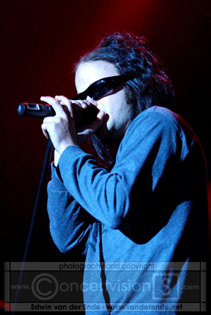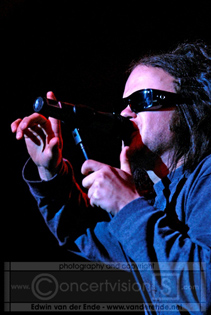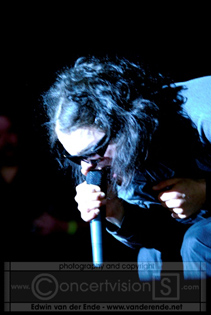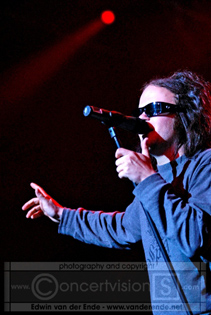 Madball

Madball had the chance to start in front of a very enthusiastic audience for before them there had been a revival of the nineties with '2 brothers on the 4th floor'. Every body still knew the words to the song and people all around me they were dancing and smiling. Even metalheads know how to 'gabber' (a dance style from that period). Now it was time for something different. After just finishing their 'South of the Underground' tour Madball was here!

Music
When they started 'Bloed Zweet en Tranen' from André Hazes (a Dutch musician) was playing and everybody was singing along. It was quite a transition to the bombastic intro of this New York band. Even though he was full of aggression (or perhaps because of it) it was hard to hear the vocals of Freddy. A heavy bass and the drums are the base of this music, which is very energetic. Mitts (guitar) has a dark and deep grunt, Freddy has more of a scream in his grunt. They are a good combination all together and know how to shake up an audience.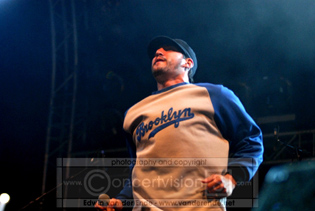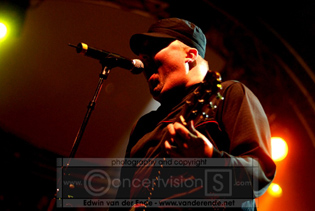 Performance
First they asked the people who were here for the first time to show hands and then the once who had seen them before; now it was time to join forces. As Freddy said, "I want to see you move, check your pulses to see if you are alive" He held his fist in the air and when it would drop it was time for chaos and there wás chaos. When he dropped his fist there was a big and quite active pit. Security immediately went to the pit as well. Freddy was jumping and running all over the stage, sometimes resting on the monitors, out of breath. Before starting the final song he paid his respect both Cimaira and Agnostic Front. Then he told us to "open up the dance floor and meet in the middle" You can say what you want about this band but they love their audience and they love for them to participate.
Rating
Music 8
Performance 7
Sound 7
Light 6
Total 7 (7,2)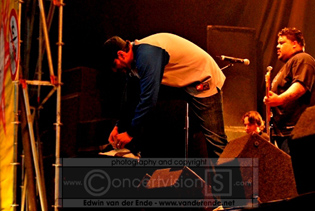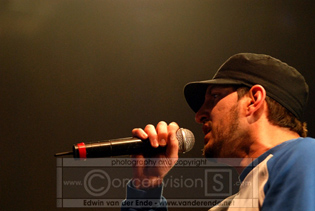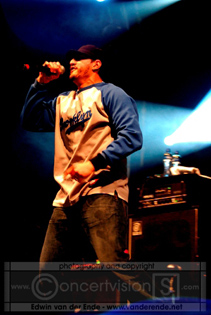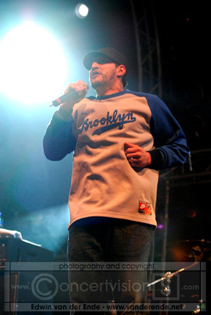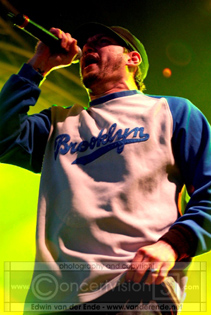 More photos on page 2

{jos_sb_discuss:18}