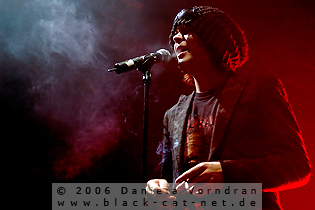 Palladium, Cologne, Germany
12th February 2006
HIM, The Rasmus, Negative

It was like a Finnish invasion. 'Negative', 'The Rasmus' and 'HIM' – three of the most successful bands from Finland – were touring through Germany. For many people and I guess especially for girls this was just the best combination. I'm sure when you are a fan of one of these bands you like them all. The audience was mix of different nationalities. Next to the Germans some people spoke Dutch, some people French and who knows maybe also some Finnish fans were there. Though I haven't heard any Finnish, but you never know….



Negative

'Negative' was the first band that came up on stage. After an intro they entered the stage and received a warm welcome. The first thing you recognized was singer Jonne's new haircut: he was wearing dreadlocks. His microphone stand was decorated with chains and somehow it reminded of Steven Tyler ('Aerosmith') who has always scarf's at his micro stand. Antti (bass player) looked this evening like Johnny Depp himself in 'Pirates Of The Caribbean', with the scarf around his head and his beard. http://www.gbfam.com/negative/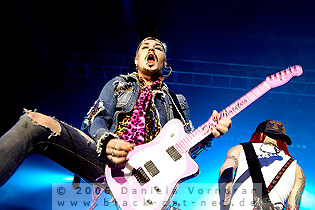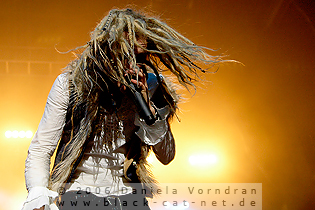 Music
Most of the songs which the guys played were from their latest album 'Sweet and Deceitful' (2005) which was already released in Finland in 2004 and was this year re-released in Germany as a Limited Tour Edition. The latest single release in Germany was 'In my Heaven', which couldn't be missed on setlist. The sound at the beginning wasn't quite good. All instruments were much louder than the voice of Jonne, but this was getting better with every song.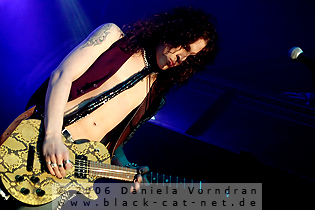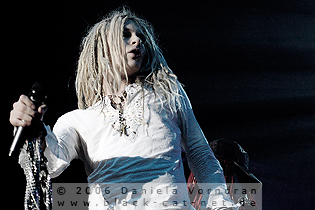 Performance
As always they rocked. They know how to pose and how a rock' n' roll show should be – and a very important thing is – they can't stand still. Christus (Guitar) was introduced by Joanne as "Motherfucker himself". They gave each other really nice nicknames. On stage stood a speaker box with the 'message' "Let's fuck" written on it. Before the guys came to the highlight and end of the show to play their big hit 'The Moment of our Love', Jonne brought this box to the middle of the stage and started to shout: "Let's fuck, Let's fuck" …etc. and the audience followed and shouted with him. During the final song the audience was singing with Jonne and it seemed the people were waiting for this song and all 'Negative' fans had the moment of their concert.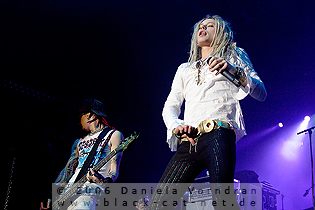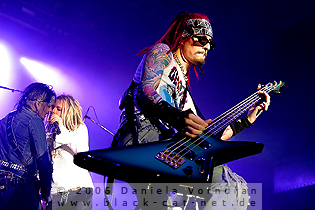 Setlist
01. L.A. Feeding Fire
02. Frozen To Lose It All
03. My My, Hey Hey (Out of the Blue)
04. God Likes Your Style
05. In My Heaven
06. Until You Are Mine
07. The Moment of our Love
Rating
Music 8
Performance 8
Sound 6
Light 9
Total 8 (7.9)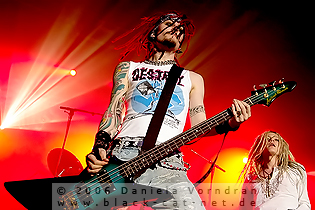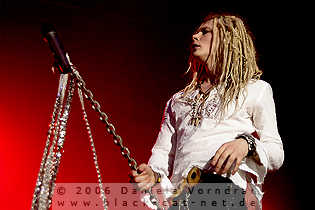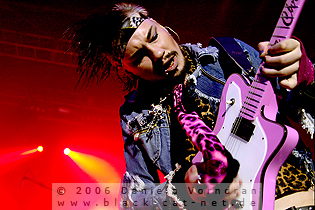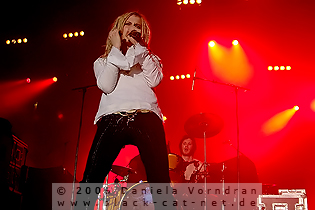 The Rasmus

2003 was a remarkable year for four young men from Helsinki. After 11 years together as a band, and each still only 24 years old, they finally captured Europe with the release of their fifth studio album, 'Dead Letters'. With over a million and a half copies sold worldwide, eight Gold and five Platinum Awards, and Top 10 listings in eleven countries for their signature anthem 'In The Shadows', which was the No.1 Most Played Video on MTV Europe, 'The Rasmus' had finally made it. Before the band came on stage there was a kind of excitement in the audience. People passed my way with comments like: "When they will start before I'm at the front of the stage, I go crazy". Many, many people were looking forward to this band.
http://www.therasmus.com/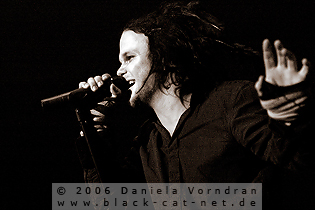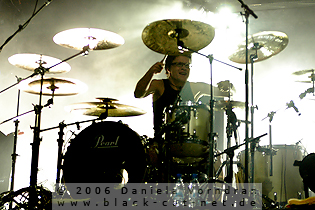 Music
When the lights went down the audience was a lot louder than the people were at the beginning of 'Negative'. 'The Rasmus' are more famous in Germany than 'Negative' because they could win many fans with their big hit 'In the Shadows', followed by the release of 'First Day Of My Life'. Of course these two songs were played, as well the new single release 'Shot', which is quite catchy. And everyone who knew the lyrics was singing along.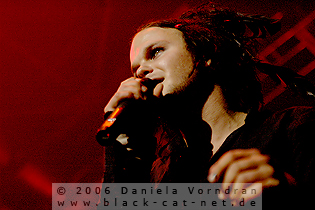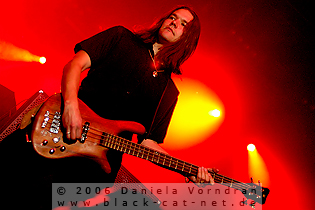 Performance
Singer Lauri came on stage with his typical look, dressed in black and with feathers in his hair. He had no problems to get the people jumping, shouting and singing. But he was not only running around on stage, he has also shown that he can play guitar, what he did a few times. The other guys didn't move so much as Lauri, but it seemed they all enjoyed playing. All in all it was also a good rock show. At the front and in the middle of the audience it was too hot for some people and they had not enough air to breathe. Because of this a few people were dragged out and also medical orderly were running around while the guys rocked on stage. So the audience was hot enough and prepared for the headliner of the evening….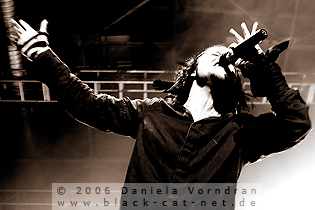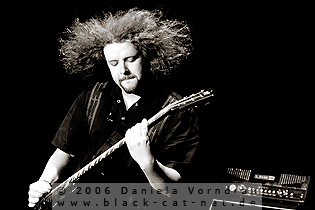 Setlist
01. Dancer in the Dark (Intro)
02. Night after Night (Out of the Shadows)
03. Lucifer's Angel
04. Guilty
05. Shot
06. Keep Your Heart Broken
07. Still Standing
08. Last Generation
09. Immortal
10. Sail Away
11. Funeral Song
12. First Day of my Life
13. In my Life
14. No Fear
15. In the Shadows
Rating
Music 8
Performance 8
Sound 7
Light 8
Total 8 (7.9)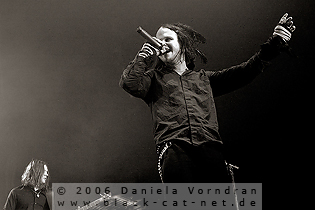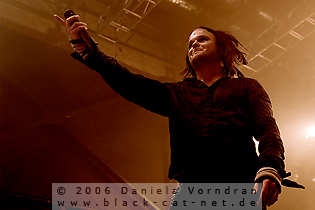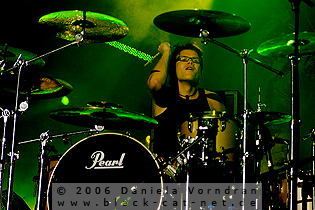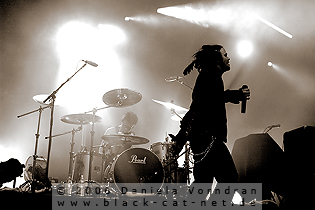 HIM
'H.I.M.', (acronym of 'His Infernal Majesty') were born in Helsinki, Finland, during the summer of 1995 when Ville Hermanni (Ville Valo, voice), who worked as cashier in the father's sex-shop, decided to create a band together with his best friends Mikko Paananen (Migé Amour, bass) and Mikko Lindström (Lily Lazer, guitar). They needed two musicians, and finally they chose Juhana Tuomas Rantala (Pätka, drum) and Antto Melasniemi (keyboard). At the beginning, 'HIM' used to give a show "HIM plays Type O' Negative", where the band proposed some songs of 'Type 0 Negative'. Now they are successful in and outside Finland with their own songs and just sometimes they play cover songs as encores, except from one cover version, which made them to stars and can't be missed on the setlist…
http://www.heartagram.com/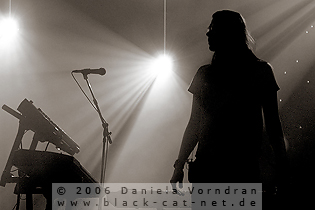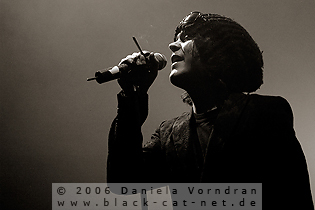 Music
Their show started with an intro, the stage became foggy and the background picture of the stage was lifted up. There were four big chandeliers hanging from the roof of the stage as well. The fans were screaming right from the start - this was the band everyone waited for. Music-wise it was a fantastic show. They played songs from all their albums. They had started with the first single of the latest album 'Dark Light' – 'Wings of a Butterfly'. Also 'Wicked Game', 'Join me', 'Right here in my arms' or 'Your Sweet 666' were played for example. In the meantime the first-aid attendant had a hard job to do, because many girls couldn't stand all the hysteric and heat in the hall. The band had done a great job, wonderful guitar riffs, and fantastic drums. You had to move, to jump and to rock - there was no other way.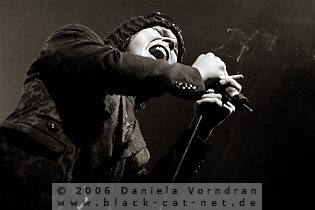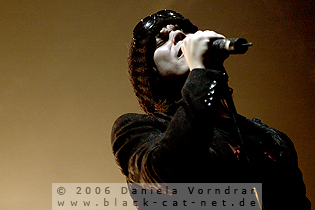 Performance
Ville was wearing a wool cap. He didn't seem to care about the heat on stage. Of course he had his two important 'fellows' with him – a drink and cigarettes. The light show was amazing. Very colourful light in pink, green, blue…. The chandeliers moved up and down during different songs. The only one who didn't really move on stage was Ville. He stood there at the front of the stage and was singing like he was waiting for the bus. He was definitely an absolutely boring front man. The only moves he made were when he got his drink or took another cigarette. I have seen 'HIM' in 1999 and 2000 before and I know also Ville can be a showman and can rock, but unfortunately I haven't seen a good performer in Cologne that evening. Next time, next try and Ville will hopefully change this again!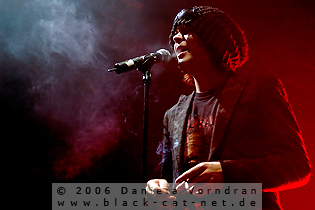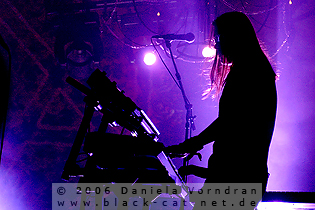 Setlist
01. Wings of a Butterfly
02. Right here in my arms
03. Soul on Fire
04. Wicked Game
05. Under the Rose
06. Join me
07. It's all Tears
08. Killing Loneliness
09. Razorblade Kiss
10. In Joy and Sorrow
11. Your Sweet 666
12. Vampire Heart
13. Poison Girl
14. The Sacrament
-----------------------
15. Buried Alive by Love
16. The Funeral of Hearts
17. Solitary Man
18. Black Sabbath (Black Sabbath Cover)
Rating
Music: 8
Performance: 5
Sound: 7
Light: 9
Total: 7 (7.1)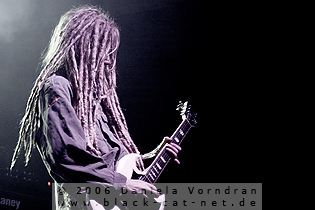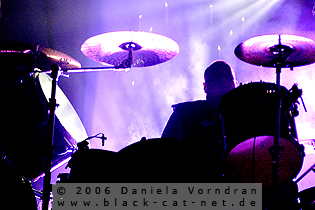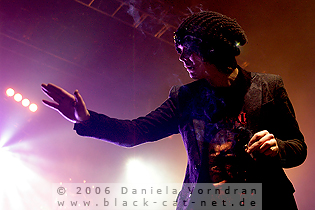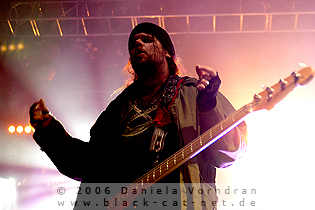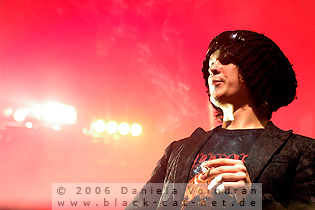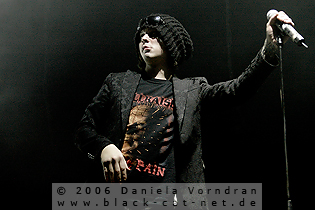 More pics on
Black-Cat-Net
{jos_sb_discuss:17} 
See also (all categories):