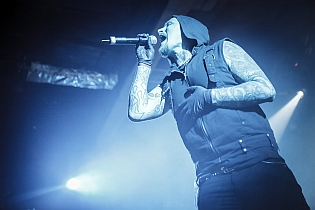 Pulp, Duisburg, Germany
19th December2013
Combichrist - Old School Electronic Show – and support Readjust

On 19th December, COMBICHRIST invited to a special shot to the Pulp in Duisburg, an Old School Electronic Show. The Pulp in Duisburg is also called "The event castle" as the entrance looks like a tower with an old canon in front of it and different halls inside with extraordinary furniture and decoration, every piece of it handmade and unique. "The cave", where the concerts take place, has a capacity of 850 people. But the Pulp is not only a venue for concerts. Different kinds of parties take place and you can hire some of the rooms/ halls for private parties or other events. Besides having a drink or two there is always a selection of fresh homemade food you can get there for little money. So to say at least, the Pulp was the perfect location for this event.



Readjust

Founded in 2002 by Jay (vocals, song writing, lyrics) and Tommes (song writing, programming, keyboard), the band call their music Melodic Body Electro. Their first official album was released in 2006 via the American label Hypervoxx and thus they got some attention in the US and even reached a position in the American Alternative charts. Besides their own concerts they were supporting act for bands like AGONOIZE, SPETSNAZ, NOISUF-X, SITD, PSYCHE, LEICHENWETTER or STAHLMANN amongst others. Up to now they have released nine albums and one live album. http://www.readjust-music.com / https://www.facebook.com/reADJUST.Official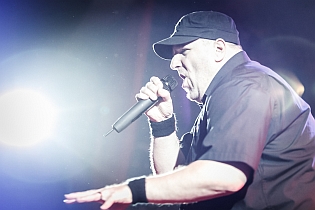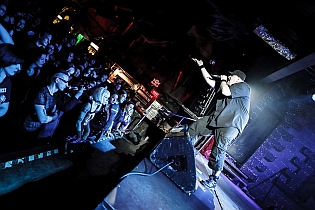 Music & Performance
As Tommes was tied up with business, Kevin Müller played the keyboards on this evening. When the guys entered the stage, the venue was halfway filled. Singer Jay tried his best to warm up the people by asking them to party with them but only a few moved to their songs. The sound was not really well-balanced as there was too much disturbing vibration. I have seen them as supporting act a while ago but once again I couldn't find their music catching. Thus I was not really sad when they finally left the stage to give way for COMBICHRIST. At least they got some polite applause.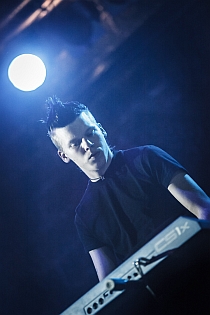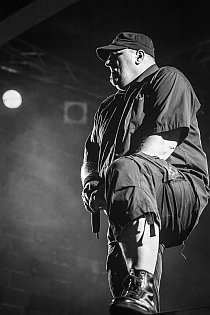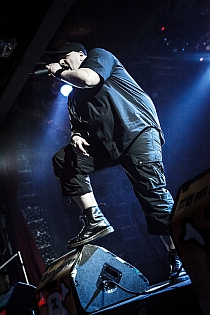 Setlist
01. Ego
02. Dead whore
03. Shame
04. Supernatural ability
05. No tomorrow
06. Silent pain
07. Größenwahn

Rating
Music: 5
Performance: 5
Sound: 6
Light: 6
Total: 5.5 / 10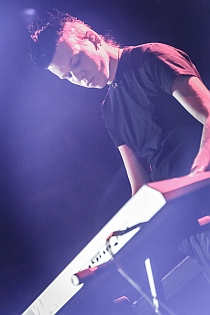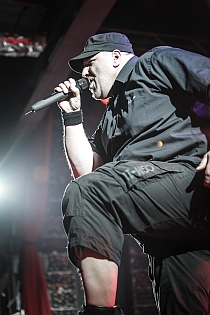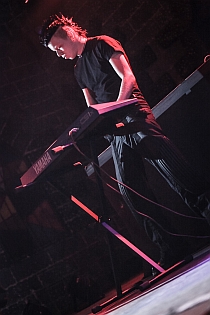 Combichrist

Besides his projects ICON OF COIL and PANZER AG, mastermind Andy LaPlegua founded COMBICHRIST in 2003. With music from the genre Aggrotech/ Techno/ Electro/ Industrial he successfully created songs that soon were played at all dark/ gothic parties in the discotheques. Actually, COMBICHRIST was started as a studio project with Andy composing, creating and recording the songs alone in his studio, but soon he engaged live keyboarder, guitarists and drummer for his live performances. COMBICHRIST toured successfully all over Europe, UK and USA and are frequently invited to perform at Gothic/ Electro festivals. One highlight in their career was surely being supporting act of RAMMSTEIN on their Europe tour as well at their concert in New York, USA. The line-up of the live band changed several times. Actually it is Joe Letz (drums), Z Marr (keyboard), Shaun Frandsen (keyboard) and Abbey Nex (guitar). COMBICHRIST released six albums, nine EPs and a compilation. The new album 'We love you' will be released in March 2014 with an upcoming tour. http://www.combichrist.com/ / https://www.facebook.com/pages/Combichrist/172700016100136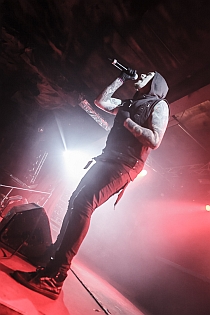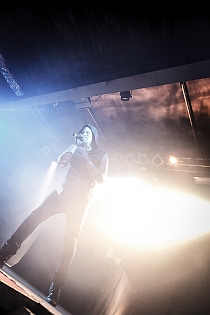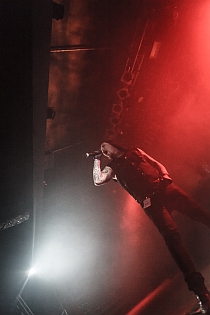 Music & Performance
As I haven't seen the shows of the early days of COMBICHRIST but concerts of the last years where Andy performed with a band, I was quite thrilled to attend the "Old School Electronic Show" that was such a big success in the USA. The stage setting was respectively spare with only Andy LaPlegua singing and Bjoern Petersen, Andy's companion from the old days, at the keyboard. Andy didn't have any make- up or blackened teeth, like we were used to from other shows, but instead he now showed up with a beard. When he entered the stage he did it in a Hip Hop manner and I almost expected him to great us with "Yo! Motherfuckers!" what he fortunately didn't. Obviously in an excellent mood, he immediately started the party from the first tune on.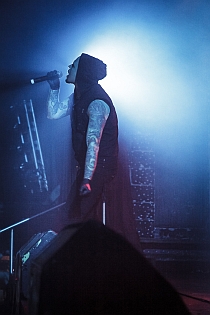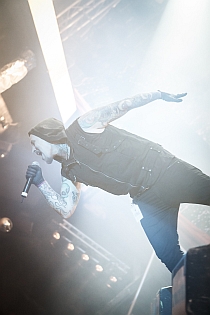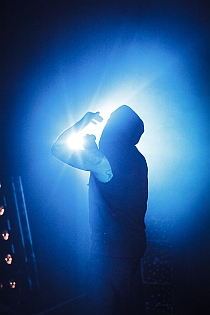 The concert was not sold out but the audience danced, sang, shouted and screamed during the whole concert. And Andy himself speeded from one side of the stage to the other so that he gave the photographers a hard time to take a proper photo of him, frequently inviting the people to sing and dance along with him. He presented us a good mixture of his songs and delighted his fans with songs that are rarely played at the usual COMBICHRIST concerts. Between the songs we learnt that, although COMBICHRIST has now its 10th anniversary, it feels like almost three years for him. Well, time flies. He presented 'This shit will fuck you up' as power ballad and the new song 'Can't get along' as Death Metal song. Although the crowd asked for more there was only one encore with two songs and so a very energetic concert ended.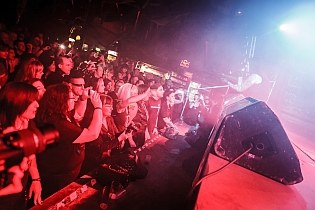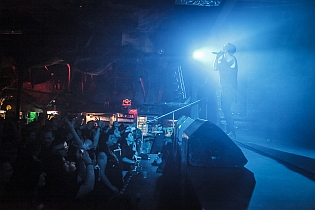 Setlist
01. Intruder alert
02. Are you connected?
03. Blut royal
04. Rain of blood
05. This is my rifle
06. Lying sack of shit
07. Without emotions
08. Feed your anger
09. Get your body beat
10. Electrohead
11. Like to thank my buddies
12. This shit will fuck you up
---
13. Can't get along (new song from the upcoming album 'We love you')
14. God wrapped in plastic

Rating
Music: 8.5
Performance: 8
Sound: 9
Light: 7
Total: 8.5 / 10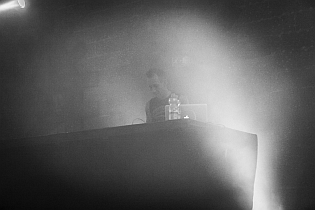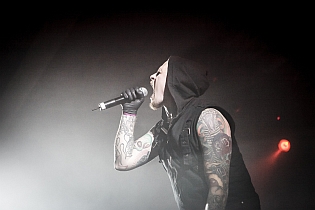 All Pictures by Daniel Beiderwien



See also (all categories):