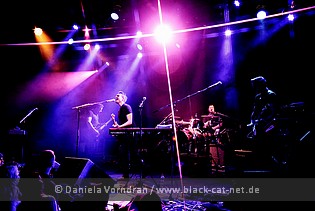 Zeche, Bochum, Germany
25th February 2014
The Boxer Rebellion, Christof, Joel Ney

In the past, this band has already played with such bands as EDITORS. And they have quite a big back catalogue, especially when it comes to film music. Now, they were touring as headliner, visiting the Zeche in Bochum for the first time. But before the main act was entering the stage, two young men were opening the evening.
Joel Ney

First one opening the night at 19:45 was JOEL NEY, a German singer/songwriter from Cologne, who was accompanied on stage by drummer Lars Beaters. It was a calm start into the evening with tis acoustic, folky set of thirty minutes. The music transfers kind of ease and is shaped by old folk in the likes of BOB DYLAN but also bluesy roots of JOHN BUTLER or JOHN MAYER or relaxed surf music of DONOVON FRANKENREITER. Most of the songs were accompanied by decent drum play of Lars or additional harmonica play by Joel. Just one song, 'Seaside On My Mind', was presented by Joel all alone, just playing his acoustic guitar. Really a nice little set.
https://www.facebook.com/joel.ney.music
Setlist

01. The Getaway
02. Itchy Feet
03. Her Shape Of Love
04. Beautiful Things Don't Ask For Attention
05. Oh my dear
06. Seaside On My Mind
07. Queen of the Sun
Rating

Music: 8
Performance: 7
Sound: 7
Light: 8
Total: 7.5 / 10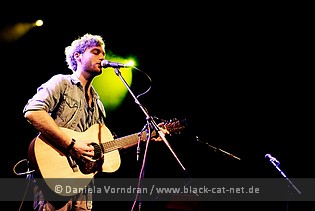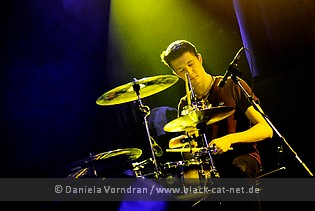 Christof

The second support on this evening was Dutch CHRISTOF, who was not playing with his band, usually consisting of Christof (guitar and vocals), Andrew D Smith (guitar and double bass), Edwin Ireland (cello, double bass and accordion) and Kristoffer Rylander (drums), but all alone equipped with an acoustic guitar only. The music CHRISTOF presented, was coming from the heart, drawing the inspiration from people he met during his journeys through Europe. He released his debut EP, 'Springtime', in 2009, followed by relentless touring through Europe. Another EP, 'Honey Tears', followed in 2011. In 2012, he relocated to London and worked on his third EP, 'Love's Glory', that was out in October 2013 via Bluestack Records. The show in Bochum was much stripped down to the essentials, CHRISTOF, guitars, and harmonica. He said he liked to try a few new songs, but probably they were all new to the audience since he was not so well-known here. Anyway the audience liked it and if they wanted to learn more about the artist they could meet him after the show at the merch.
http://christofmusic.com
/
https://www.facebook.com/Christofmusic
Rating

Music: 8
Performance: 7
Sound: 7
Light: 8
Total: 7.5 / 10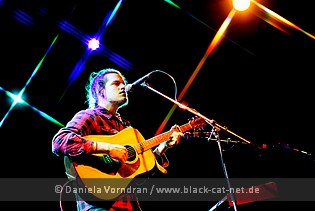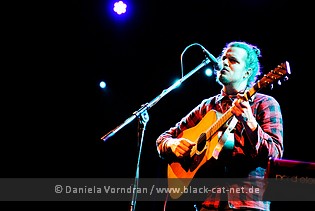 The Boxer Rebellion
British Alternative band THE BOXER REBELLION went through heights and lows during the last ten years. Their first, self-titled EP from 2003 and a celebrated show at Glastonbury festival brought them a record deal, but bankrupt of the label short after release of the highly acclaimed debut 'Exits' and health problems of the singer threw them back. THE BOXER REBELLION, named after the Chinese boxer's rebellion, did their name credit and did not lose their faith. They founded their own label and released their second album, 'Union', in 2009. Its first single release, 'Units', made it into US Billboard Top 100. After delivering two songs for US movie 'Going The Distance' with Drew Berrymore they went on a successful, sold-out US tour in September 2010. The third album, 'The Cold Still', was out in 2011 and is yet another evidence of the band's dark and advanced song-writing. Two years later, the band was back with two new singles, 'Diamonds' and 'Keep Moving', and a new album, 'Promises' (May 2013). THE BOXER REBELLION is Nathan Nicholson (vocals, guitar, keyboards), Adam Harrison (bass guitar), Piers Hewitt (drums) and Todd Howe (lead guitar).
http://www.theboxerrebellion.com
/
https://www.facebook.com/theboxerrebellion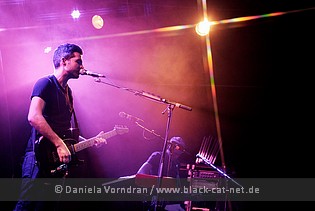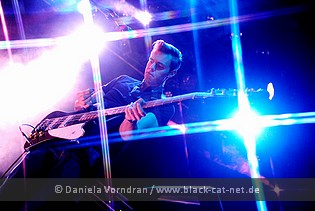 Music & Performance

The hall was loosely filled when the four guys entered the stage at 21:15. After the calm start with both supporting acts, THE BOXER REBELLION were now up to add a little drive to the evening with their fantastic Indie Pop reminding me several times of EDITORS, INTERPOL or WHITE LIES. As the band told during the show, it was their first ever show in Bochum, and the band was friendly welcomed in the city. Opener of the evening was 'The Runner' from the 2011 album 'The Cold Still'. From the beginning, there was a lot of energy and enthusiasm on stage and the band built up a close connection to the audience. When singer Nathan told the crowd it was his birthday today, he received a spontaneous birthday song. 'The Runner' was followed by rocking pieces 'Semi-Automatic' (Union, 2010) and 'Take Me Back', before another song from the 2011 album, 'Step Out Of The Car', was presented. All presented songs had a great sound structure, might it be additional keyboard layers or extensive drum play, not only presented by drummer Piers, but also enriched by extra toms played by Todd and e-drums played by Adam. Sounded fantastic!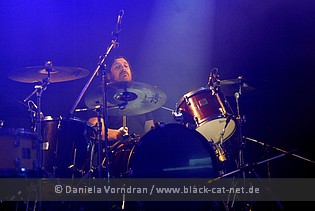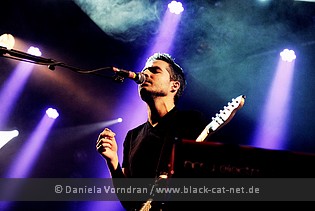 Besides the up-tempo pieces, there was also time for ballads, like 'New York' or 'You Belong To Me', perfectly presented by Nathan. The set all-over offered a variance reaching from the first album, with songs like 'We Have This Place Surrounded' or the band's very first single 'Watermelon', to the latest one, being represented with songs such as 'Diamonds' or 'Fragile'. With one hour playing time, the main set was rather short. But luckily, the band returned for a few more songs. But before the songs started, birthday child Nathan was presented a cake by support act Christof and another birthday song sounded through the hall. The concert was my first live experience with THE BOXER REBELLION and I loved it! The music is very rich in facets and different sounds, it is complex and NATHAN's voice extraordinary. Besides, the band puts lots of emotions into their play. The sound on this evening was also well balanced and the show was accompanied by a colourful light show. A fantastic show in my eyes and surely not the last concert I saw of this band!
Setlist
01. The Runner
02. Semi-Automatic
03. Take Me Back
04. Step Out of the Car
05. New York
06. Evacuate
07. Spitting Fire
08. We Have This Place Surrounded
09. Diamonds
10. No Harm
11. You Belong to Me
12. Keep Moving
13. Fragile
14. Watermelon
---
15. Enjoy The Silence (Depeche Mode Cover)
16. Always
17. Locked in the Basement
18. The Gospel of Goro Adachi
Rating

Music: 9
Performance: 9
Sound: 8
Light: 9
Total: 8.8 / 10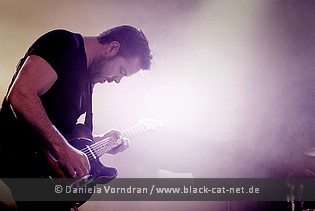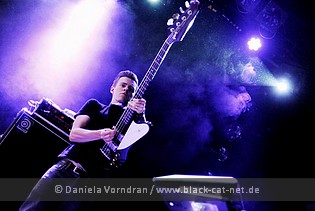 All pictures by Daniela Vorndran (
http://www.black-cat-net.de
/
http://www.facebook.com/blackcatnet
)
See also (all categories):