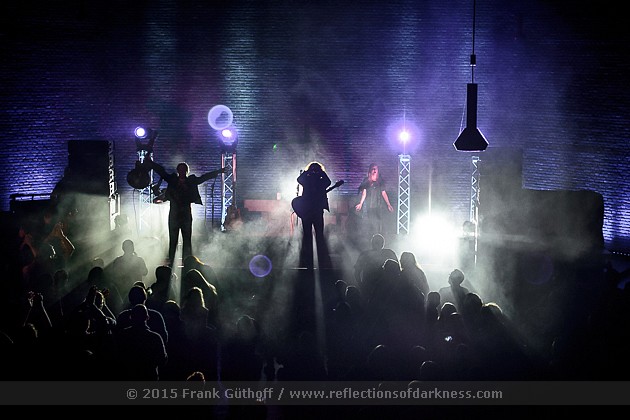 Christuskirche, Bochum, Germany
6th November 2015
Anathema & Conrad Keely (…and you will know us by the trail of dead)

Earlier this year, ANATHEMA played already on Bochum as part of their "Resonance - A Celebration of the entire History of ANATHEMA Music". Now they were back for another special performance. Appearing only as a trio, the band played a special acoustic show and the Christuskirche was the perfect surrounding for such an event.
Conrad Keely

Anathema's supporting act was just one man, but very fitting for tonight: CONRAD KEELY, singer of the band …AND YOU WILL KNOW US BY THE TRAIL OF DEAD, was all alone on stage holding his concert guitar enchanting the audience with calm tunes. At the back of the church there was the usual babble, the majority, however, kept silent listening carefully to his magnificent voice. Thus, the rebuilding didn't take long as Mr. Keely left and only after a short break ANATHEMA's intro set in.
http://www.conradkeely.com
/
https://www.facebook.com/conradkeelymusic/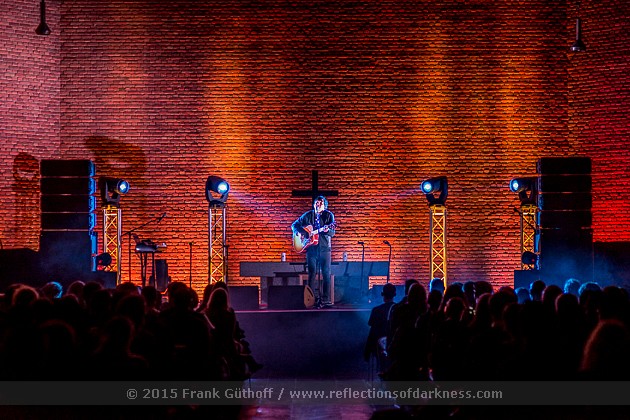 Setlist

01. Black Water Falls (The War on Drugs cover)
02. The Dragonfly Queen (AYWKUBTTOD Song)
03. Cowpoke (Don Walser cover)
04. Bury Me Not on the Lone Prairie
05. Engines
06. Anchors
07. Left is Land
08. The Rest Will Follow (AYWKUBTTOD Song)
09. Let It Dive (AYWKUBTTOD Song)
10. Awestruck (AYWKUBTTOD Song)
11. Bells
12. Shadows and Tall Trees (U2 cover)
13. Another Morning Stoner (AYWKUBTTOD Song)
Rating

Music: 8
Performance: 7
Sound: 9
Light: 7
Total: 8 / 10
Anathema

There's a kind of funny undertone when a band playing in a church is actually called ANATHEMA (excommunication!). After having the pleasure of seeing ANATHEMA perform live multiple times this year, I knew for sure that this time I also wouldn't be disappointed. In March, the band from Liverpool already played a fabulous show in the Liverpool Cathedral, which they got on camera for the DVD 'A Sort of Homecoming'. Thereafter, ANATHEMA went on an acoustic tour with a similar setup. It was not only with a reduced instrumentation, but also with a diminished lineup that Vincent and Daniel Cavanagh went on the road. Lee Douglas was the only further band member that was also there.
http://www.anathema.ws
/
https://www.facebook.com/anathemamusic
Music & Performance

ANATHEMA entered the stage and after the initial sounds one thing was for sure: Everything fits together perfectly! The sound was clear from the beginning till the end without being overly loud and the songs didn't lose anything of their intensity and dramatic art. On the contrary. Lee and Vincent had the chance to find complete expression with their voices and created an ambience full of goose bumps. As there was also a keyboard on stage, it wasn't all only and strictly acoustic.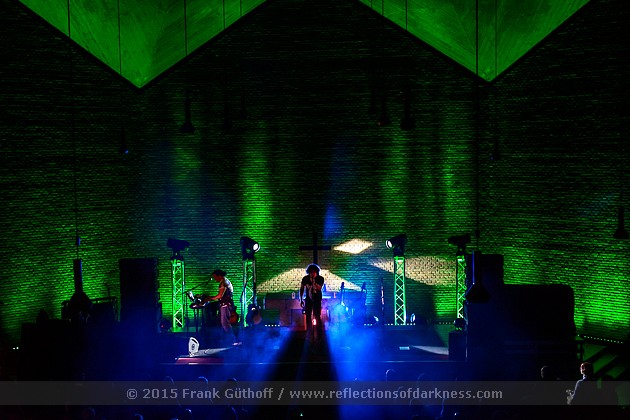 So, Danny made use of his loop machine every once in a while to record a riff or a melody drummed on the guitar to create a sound that suited just wonderfully. Even without drums and bass the concert was a very special experience full of musical brilliance and melodramatics. For me personally, Lee Douglas raised a little monument for himself with the PORTISHEAD cover of 'Glory Box' - magical and thank you for that. Also the encore together with CONRAD KEELY as a guest on stage was worth it to stay in the church.
Setlist

01. The Lost Song, Part 2
02. Untouchable, Part 1
03. Untouchable, Part 2
04. Thin Air
05. Dreaming Light
06. Deep
07. Ariel
08. The Beginning and the End
09. Glory Box (Portishead cover)
10. Anathema
11. High Hopes (Pink Floyd cover) (Danny's Spot)
12. Tomorrow Never Knows (The Beatles cover)
13. A Natural Disaster
14. Fragile Dreams
---
15. The Goldheart Mountaintop Queen Directory (Guided by Voices cover with Conrad Keely)
Rating

Music: 10
Performance: 8
Sound: 10
Light: 8
Total: 9 / 10
All pictures by Frank Güthoff
Written by Frank Güthoff, translation by Layla Ayobi
See also (all categories):