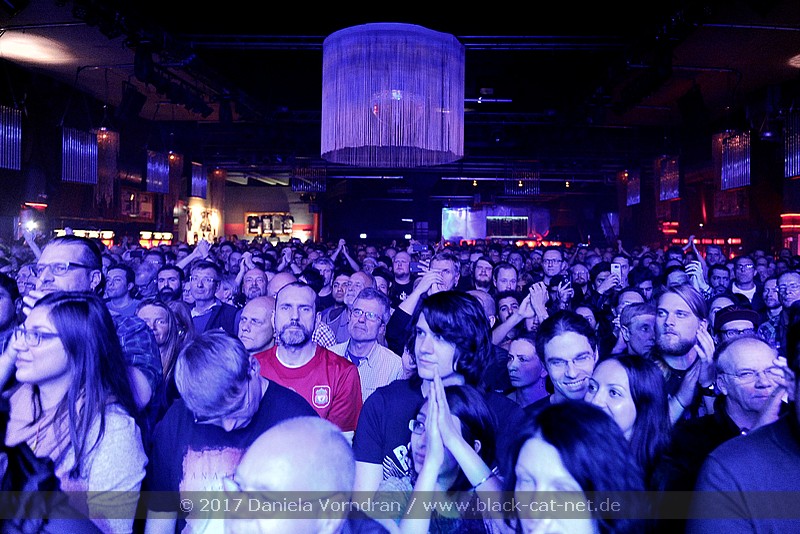 Live-Music-Hall, Cologne, Germany
16th November 2017
Anathema & Alcest

After 'Weather Systems' (2012) and 2014's spellbinding 'Distant Satellites', the ambient rockers are back with their eleventh full-length, 'The Optimist', out in June 2017 via Kscope. 'The Optimist' reveals some of the darkest, most challenging and unexpected music the sextet have put their name to. The title for the album would also serve well in describing the Liverpool sextet's uncompromising dedication to fearless artistry since forming in 1990. They've continually evolved by placing hope in the future – from leaving the underground scene they were fundamental in establishing to continually mesmerising the world with stargazing post-progressive alternative rock that knows no borders.
The release of the album was followed by an extended Tour through Europe together with French band
ALCEST
. The last German show of this tour finally took place at Cologne's Live Music Hall, where ALCEST entered the stage already at 19:30 to play a one hour set, enthusiastically welcomed by the crowd. The following show of
ANATHEMA
was heart-warming and touching with a perfect setlist building a bridge between new and older songs. My favourites were once more 'Thin Air' and the two 'Untouchable' songs. Breath-taking!
Alcest
http://www.alcest-music.com / https://www.facebook.com/alcest.official
Setlist

01. Kodama
02. Là où naissent les couleurs nouvelles
03. Oiseaux de proie
04. Eclosion
05. Autre temps
06. Percées de lumière
07. Délivrance
Anathema
http://www.anathemamusic.com / https://www.facebook.com/anathemamusic
Setlist
00. Intro: Love on a real Train (Tangerine Dream song)
01. San Francisco
02. Can't Let Go
03. Endless Ways
04. The Optimist
05. The Lost Song, Part 3
06. Barriers
07. Pressure
08. Panic
09. Looking Outside Inside
10. Thin Air
11. A Simple Mistake
12. The Beginning and the End
13. Universal
14. Closer
---
15. Firelight
16. Distant Satellites
17. Springfield
18. Untouchable, Part 1
19. Untouchable, Part 2
All pictures by Daniela Vorndran (
http://www.vorndranphotography.com
/
http://www.facebook.com/blackcatnet
)
See also (all categories):