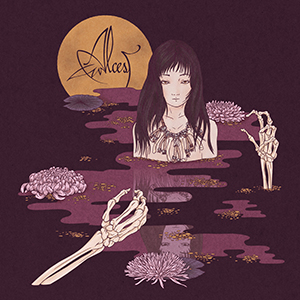 Artist: Alcest
Title: Kodama
Genre: Post Rock / Shoegaze / Post Metal / Blackgaze
Release Date: 30th September 2016
Label: Prophecy Productions
Album Review

French Blackgaze duo returns with the complex sound of the fifth album 'Kodama', enlightened with Japanese mythology and an infused, densely forged sound. The nine-track journey through the deep wet forest in full plunge. Started as black-metal solo project by Stéphane Paut, ALCEST became a duo in 2008 when Jean Deflandre has joined Stéphane in for studio work. Since that, the band has released five studio albums floating away from black-metal roots to a more unique sound.
'Kodama' embodies Japanese folklore spirit that dwells in trees and sounds like a delayed echo in the mountains. The fifth album is far from the head-banging metal master-pieces, but for thoughtful absorbing listening as ALCEST's music in its core. The French men had collided two cultural worlds in one music pattern: western and eastern. With the title song 'Kodama', the music is taking the listener away with an electrified but yet transparent web of guitar sounds with brilliant drops of vocals followed by an elegiac intermezzo. All tracks are connected with an invisible red line: the storytelling is wavy as a mountain road, getting intensified with every composition. Crucial moment became 'Je Suis D'ailleurs', multi-layered and very diverse in its structure. Yet last short track 'Onyx', on contrary, sounds light and simple, as it could be just an outro, gives sense of drowning deep under water.
In the previous release, 'Shelter' in 2014, ALCEST is trying to go a more mainstream way, Neige invited SIGUR RÓS producer Birgir Jón Birgisson and Neil Halstead of SLOWDIVE to establish "fluffy" sounding. With 'Kodama', the situation is a little bit different, becoming a strong Colossus and the album still promises a new phase in ALCEST's music transformation. Nothing brand new in sound and composing, even in idea, but this is a rare piece of music to fall into with thoughts and mind.
Tracklist

01. Kodama
02. Eclosion
03. Je Suis D'ailleurs
04. Untouched
05. Oiseaux De Proie
06. Onyx 03:51
Line-up

Neige (Stéphane Paut) – guitar, vocals, keyboards, recording, production, mixing, illustrator, design
Winterhalter (Jean Deflandre) – drums, recording, production, mixing
Indria Saray – bass guitar
Kathrine Shepard – vocals on 'Kodama'
Website

http://www.alcest-music.com/
Cover Picture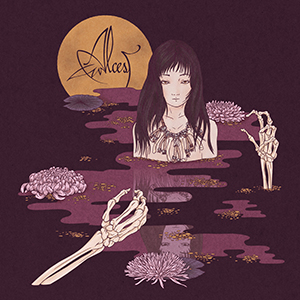 Rating

Music: 8
Sound: 9
Total: 8 / 9
See also (all categories):