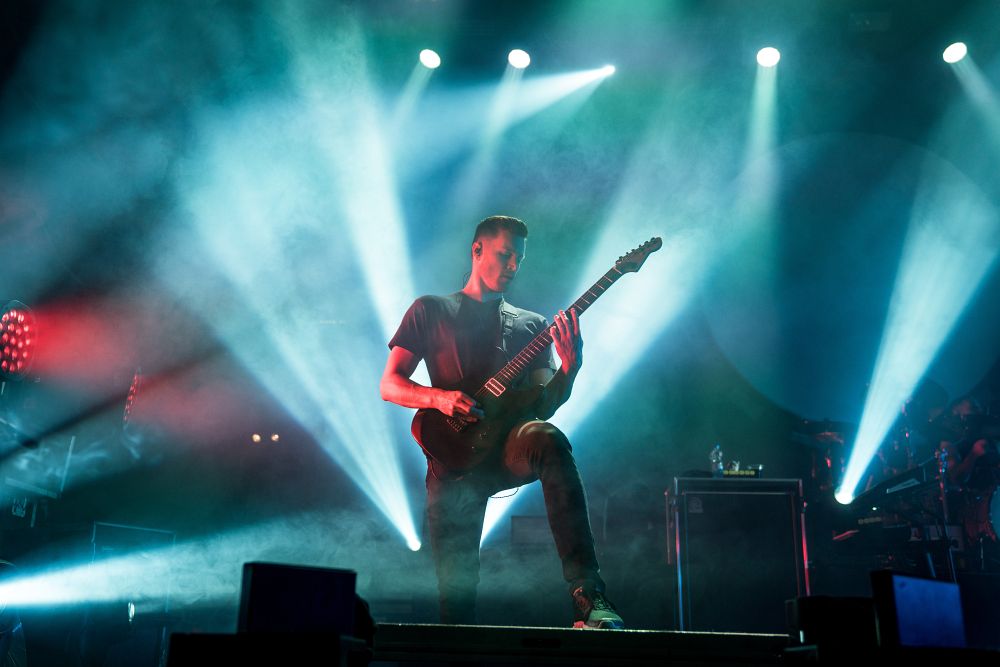 Palladium, Cologne, Germany
30th January 2018
Architects – "+ Tour 2018" – Special guests: While She Sleeps & Counterparts

Lovers of hard but melodic music (aka Metalcore) on a budget had to make a tough decision for the end of this January: Should they go and see the pair ASKING ALEXANDRIA / BLACK VEIL BRIDES, who played the Palladium the day before, or should they spend their money on this killer package of three bands? However, any decision regarding attending the ARCHITECTS gig needed to have been made quickly, as tickets for this gig sold out quite a while ago.
Counterparts

First on this evening's ticket was the Canadian metal punk band
COUNTERPARTS
. Since their inception back in 2007, COUNTERPARTS have released five studio albums so far, of which the last two found their way into the Billboard charts. www.notyou.ca / https://www.facebook.com/counterpartsband
Music & Performance

Quite early at 7:00, COUNTERPARTS began their performance. As traffic around the Palladium was especially awful that night, I arrived only halfway into their gig. What I witnessed was a quite appealing version of Screamo Hardcore, which certainly got the crowd fired up. Singer Brendan Murphy and his bandmates acted with precision, delivering brutal speed parts and impressive breakdowns throughout their 30-minute set, which the audience of the already packed venue seemed to dig.
Setlist

01. Walk Away Slowly
02. Bouquet
03. Stranger
04. Haunt Me
05. No Servant of Mine
06. Witness
07. Swim Beneath My Skin
08. A Memory Misread
09. Thieves
10. Choke
11. The Disconnect
Rating

Music: 7
Performance: 8
Sound: 7
Light: 6
Total: 7 / 10
While She Sleeps

The quintet from Sheffield, UK were formed among former schoolmates back in 2006. Current singer Lawrence "Loz" Taylor joined them in 2009, and so far, they have released three studio albums. www.whileshesleeps.com / https://www.facebook.com/whileshesleeps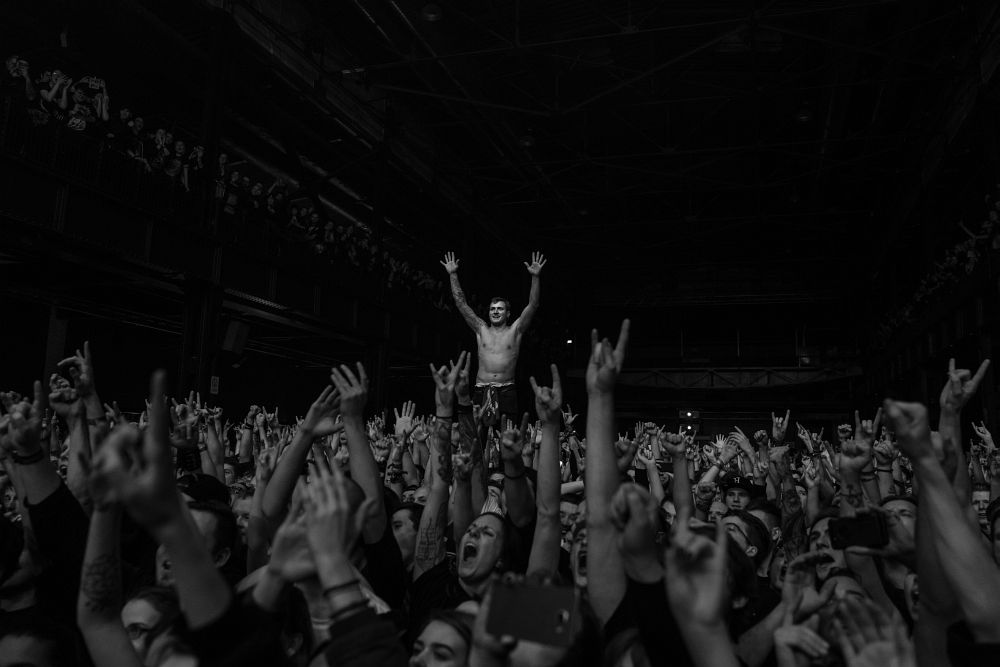 Music & Performance

The stage break revealed lots of nicely decorated speaker cabinets for the upcoming gig of
WHILE SHE SLEEPS
. Around 7:50pm, a siren rang out loud, and a computer generated female voice urged the audience to remain calm and maintained that this was not a drill. The band entered the stage and with a thunderous lightning of strobe lights, WHILE SHE SLEEPS entered the stage to perform 'You are we', embracing a tactic of "shock and awe". This did not fail to impress the audience, and almost simultaneously, dozens of half-full beer cups were thrown into the air, and a vicious circle pit appeared. This continued almost without any room to breathe for three more songs, during which all kinds of seemingly lost garment pieces were thrown in the air, as the intensity of the pit action showed no sign of watering down. During song six, singer Loz went on to stage dive himself, while singing, raising the adrenaline level among the security guards and the stage hands, as he took his wired microphone with him into the crowd.
It all culminated after around forty minutes of playtime with the epic song 'Hurricane'. During the last notes of this song, singer Loz appeared on the balcony of the Palladium a solid five meters above the crowd, climbed over the rails and let himself drop into the hands of hundreds of brave fans, who caught him and transported him back to the stage. This certainly did not fail to impress, although one might wonder how mentally f*cked up you have to be to pull such a stunt.
Setlist

01. Into the Fire
02. You Are We
03. Civil Isolation
04. Seven Hills
05. Brainwashed
06. Death Toll
07. Four Walls
08. Silence Speaks
09. Hurricane
Rating

Music: 8
Performance: 7
Sound: 8
Light: 8
Total: 8 / 10
Architects

That night's headliner, the
ARCHITECTS
from Brighton, UK formed around 2004. They quickly made of name for themselves together with fellow Brits ENTER SHIKARI as pioneers of Metalcore. Their last album 'All Our Gods have Abandoned us' has been released in 2016, right before the band was hit by the tragic death of founding guitarist and songwriter Tom Searle, who passed away after a long battle against cancer, aged only 28 years. Nevertheless, the band decided to carry on and continued touring as a tribute to Tom. Find out more about the band via www.architectsofficial.com or https://www.facebook.com/architectsuk.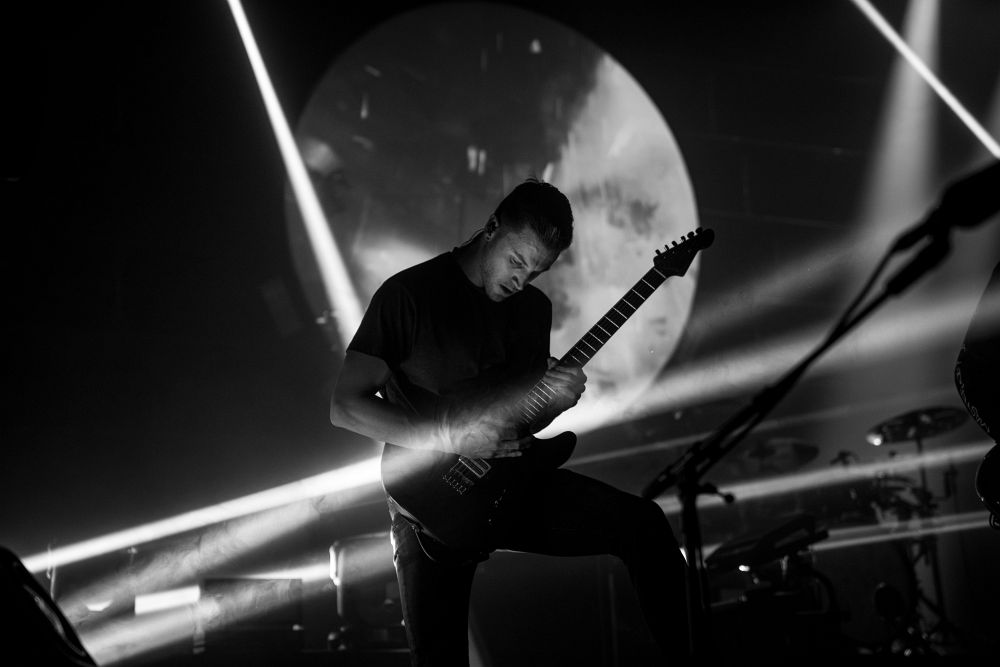 Music & Performance

Around 9:25 PM, fog began to arise from the stage, and suspenseful music emanated from the speakers. One would have thought that it would be nearly impossible to raise the level of intensity after the performances of COUNTERPARTS and WHILE SHE SLEEPS. But from the second the ARCHITECTS entered the stage to perform 'A Match Made in Heaven', it became abundantly clear that they were able to take things up several notches. Already in the first song break, the immense anticipation of the audience resulted in "Ar-chi-tects" chants, which clearly did not miss its result on the band members. Singer Sam Carter seemed truly grateful, and humbly thanked every one of the 4,000 Cologne fans for coming to their show and making this the second biggest crowd they ever played so far. Each song was accompanied by a carefully choreographed light show and projection, which was occasionally fired up (sic!) by real pyro-technics. Together with the immensely loud, but artfully balanced soundscape of down-tuned guitars and infernal double-bass drums, it created a brutal and intense experience. Which in turn made people wonder if by some chance they were witnessing a RAMMSTEIN show.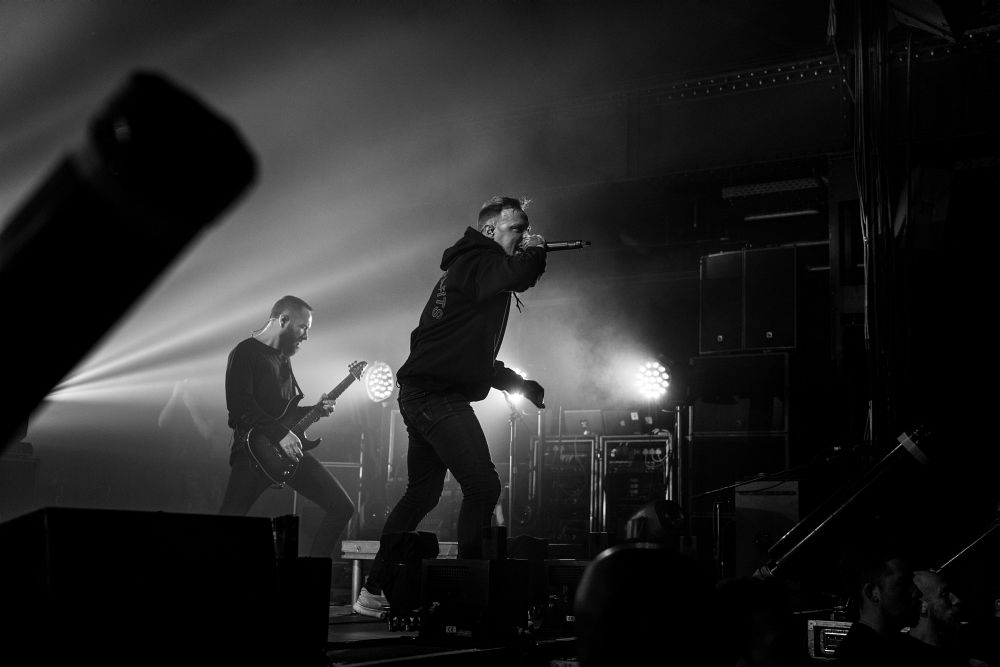 After the song 'Phantom Fear', Sam encouraged the audience - despite all the growing insanity all around - to respect each other, and to set an example against all kinds of discrimination, be it racism, homophobia, or sexism. He also dedicated the following song 'The Devil is Near' to the two organizations 'Hardcore help' and 'Sea Shepherd', asking people to support them. It was really impressive to watch the band take a stand. Things became even more emotional after the song 'Gravedigger', when drummer Dan Searle (the twin brother of Tom) dedicated the last song 'Doomsday' to his late brother, and all of a sudden, a large part of the 4,000 people in the venue kneeled down, showing their respect, only to – accompanied by confetti cannons - erupt into frenzy again. Their effort was rewarded by a two-song encore, of which the last one - 'Gone with the Wind' - was introduced with the words "Sing as loud as you can - Do it for Tom." And the crowd happily obliged.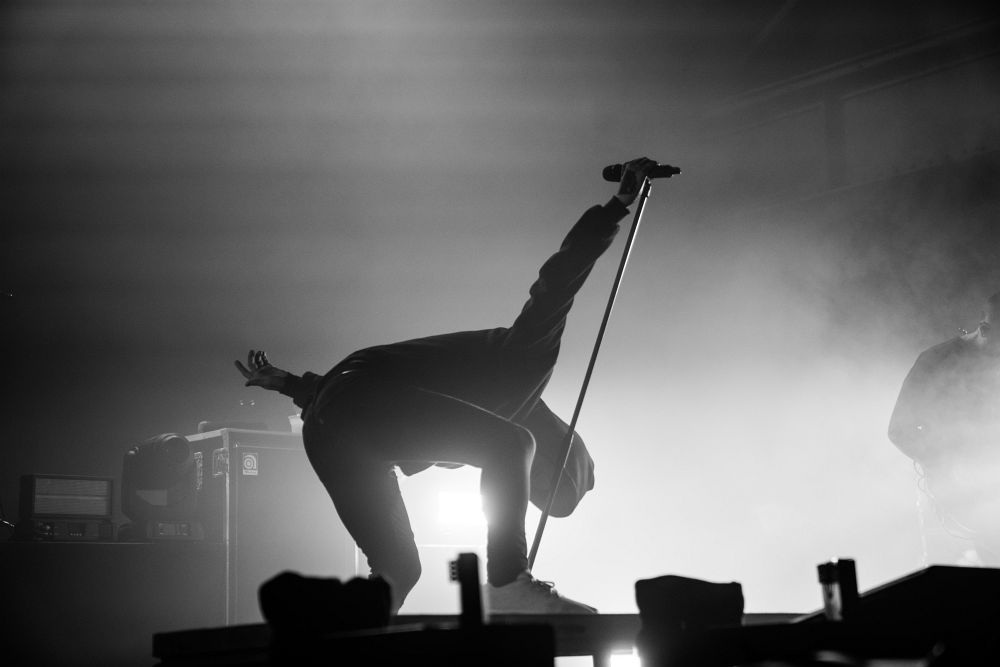 Witnessing the ARCHITECTS pull off such an amazing show with equal parts precision and dedication represented an absolute pleasure to watch live. So those lucky enough to secure a ticket early enough were treated to an absolutely memorable experience.
Setlist

01. A Match Made in Heaven
02. Downfall
03. Naysayer
04. Deathwish
05. Broken Cross
06. Dead Man Talking
07. Alpha Omega
08. Black Blood
09. Gravity
10. Phantom Fear
11. The Devil Is Near (Dedicated to Hardcore Help and Sea Shepherd)
12. These Colours Don't Run
13. Gravedigger
14. Doomsday
---
15. Nihilist (with intro from Memento Mori)
16. Gone With the Wind
Rating

Music: 8
Performance: 8
Sound: 9
Light: 9
Total: 8.5 / 10
All Pictures by Maximilian K. Unuetzer
See also (all categories):