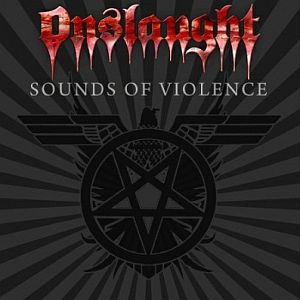 Artist: Onslaught
Title: Sound Of Violence
Genre: Thrash Metal
Release Date: 28th January 2011
Label: AMF Records
Album Review
U.K.'s ONSLAUGHT originated in the late eighties, and to this day they still carry the spirit of the thrash back in those days by paying tribute to bands like SLAYER, METALLICA, and TESTAMENT. However with  a new era they also have an updated and modern sound that adds quite a bit of groove to their music, sometimes landing in death metal territory, and other times in hard rock. ONSLAUGHT kept quiet for some time after their third album in 1989, and didn't resurface until 2007. With fresh energy and a new game plan, they stormed the gates with 'Killing Peace,' which was a pretty standard but enjoyable thrash album. Now with 'Sound Of Violence' the band attempts to top off their last effort, and succeed with wild success.
Perhaps the best thing about ONSLAUGHT'S style on this album is they don't use the cookie-cutter formula. Sure, there are a lot of basic thrash songs that would make any fan of SLAYER proud such as 'Rest In Pieces' and 'Hatebox', but even songs like these have infectious grooves that will suit modern expectations. What 'Sound Of Violence' does is offer a great atmosphere in conjunction with the riffing, solos, and gritty vocals, which range from the typical thrash scream to a semi-death metal grunt. There are a lot of Eastern inspired riffs that add almost a Mediterranean feel to the album such as with 'Godhead' and 'Antitheist'. There are only a few bands that are good at doing this such as MELECHESH and NILE, but ONSLAUGHT pull things off nicely. There is also an excellent groove metal song on the album called 'Godhead' which goes more for a sludgy, basic repetition of riffs over and over. But, it is catchy and certainly mainstream hit material. Thing a cleaner, more well produced DEW SCENTED. The drums are especially grooving here.
Throw in some contrasting, but engaging intro/ outro tracks that feature great rhythmic drums, and even piano, and overall fans are left with a new standard for thrash in 2011. ONSLAUGHT must have had some real musical experiments over their long hiatus, but the group really came back and delivered something that probably no one expected. The bonus track 'Bomber' is a great thrash-rock track cover of MOTORHEAD, but kind of takes away from the lasting impression of the piano driven 'End Of The Storm'. The band probably could have thrown that in somewhere else for the sake of album mood, but the track itself has a more gritty sound to keep the quality of the original, and ONSLAUGHT'S vocals suit it just right, if not better. 'Sound Of Violence' isn't as violent as one might expect, but it sure knocks a lot of other thrash bands who think everything is about speed and solos right out of the ring.
Tracklist
01. Into The Abyss (Intro) 1:01
02. Born For War 5:55
03. The Sound Of Violence 4:05
04. Code Black 6:22
05. Rest In Pieces 4:43
06. Godhead 4:50
07. Hatebox 4:52
08. Antitheist 6:32
09. Suicideology 5:13
10. The End Of The Storm (Outro) 1:31
11. Bomber (Bonus) 2:51
Line-up
Sy Keeler - Vocals
Nige Rockett - Guitar
Andy Rosser - Davies - Guitar
Jeff Williams - Bass
Steve Grice - Drums
Website
http://www.onslaughtfromhell.com/
Cover Picture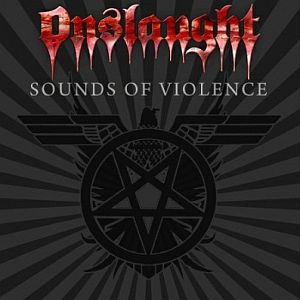 Rating
Music: 9
Sound: 8
Total: 8.5 / 10
See also (all categories):