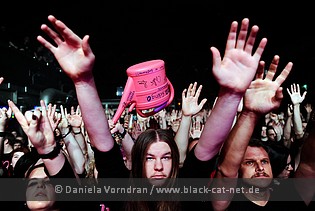 Zeche, Bochum, Germany
13th October 2013
J.B.O. & Hyrax

Whoever thought the warriors in black-pink would rest on their charts-laurels was wrong: After the top three success of the album 'Killer', the next records was already waiting in the wings. Under the motto "fit into jubilee year 2014", the new album 'S.P.O.R.T.' was out in May 2013. The 'S.P.O.R.T.' tour now started in October and on 13th, the Zeche in Bochum was the place to be. Croded, but not overly packed, people were up for a great party.



Hyrax

Just imagine you would smuggle a ROB ZOMBIE CD into the IN FLAMES tour bus, confront them all the time with it under use of huge amounts of amphetamines, rejuvenate it afterwards by 15 years – the result would probably be HYRAX, a young band from Nuremberg, Germany. The band combines the charismatic advantages of modern Metal with thick balls of modern Rock music resulting in a new synthesis of two worlds, being defined by its mental richness of escapades. The band had just released its full length debut album 'Over the Edge' on 4th October 2013. HYRAX is Felix Piccu (vocals & guitar), Jochen Windisch (guitar), Klaus Sprafke (bass) and Matthias Böhm (drums). http://www.hyraxmetal.de / https://www.facebook.com/hyraxmetal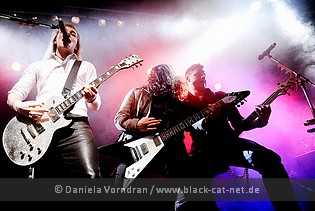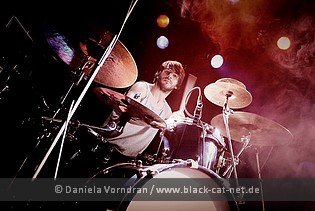 Music & Performance
The evening started at 20:00 with Bavarian band HYRAX, who did a fantastic job as opener warming up the audience very well. The music lies somewhere between modern metal and Nu-metal with some Thrash reminiscence and was very well received by the audience, with whom the band had a great connection from the very start. Experienced like an old stager, he communicated and interacted with the audience, played some games with them and animated the crowd over and over again to answer his scream "I say HY and you say" with a loud "RAX". 'Soaking' was dedicated to all women in the hall and the question if there are any lighters in the hall was answered with a few flames. 'This Place' later was the song when Felix asked anyone to jump.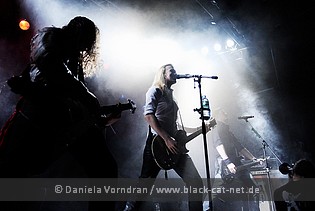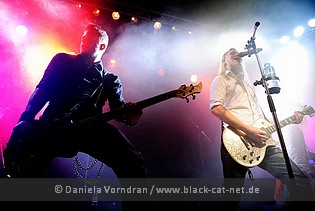 With 'I Never Thought', the band ended their 45 minutes set and proved to be a very good opener for J.B.O. As Felix said, the band would be at the merch after their show and sign everything… also butts and boobs… if they are shaved!

Setlist
01. Desire
02. Way Down
03. Broken Boy
04. Too kind
05. Over the edge
06. College Girls
07. Soaking
08. Enemies
09. This Place
10. I Never thought

Rating
Music: 7
Performance: 8
Sound: 7
Light: 7
Total: 7.2 / 10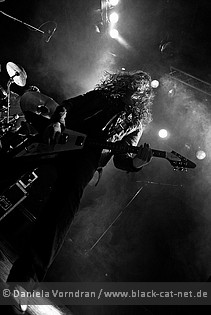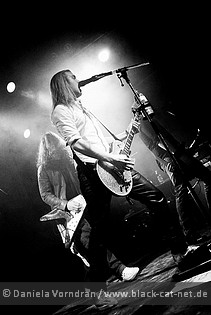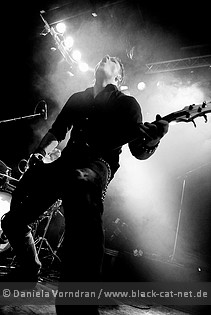 JBO

J.B.O., originally "James Blast Orchester" was meant as a parody of a German Easy-Listening act named "James Last Orchester", was founded in 1989 by Vito C. and Hannes "G.Laber" Holzmann and having their first concert in October of the same year. From the beginning, the band was meant to be a comedy rock act. First planned only as side project, after their song 'Ein guter Tag zum Sterben" (a perfect day to die)' was played in radio and more people asked for a release, the band recorded the first EP, 'Eine gute CD zum Kaufen' (a perfect CD to buy), selling pretty fast. 1995 saw the release of the first album, 'Explizite Lyrik', being a word by word translation of the "parental advisory". The album was selling great and in summer 1996, J.B.O. entered German charts. With the first major release, 'Laut' (loud) in 1997, the band reached position 13 in German charts. Now after numerous albums, live DVD and many, many concert, we write the year 2013 and the release of the newest EP, 'S.P.O.R.T.', in May. J.B.O. consists of Hannes "G.Laber" Holzmann (guitar / vocals), Vito C. (guitar / vocals), Ralph Bach (bass) and Wolfram Kellner (drums). http://www.jbo.de / https://www.facebook.com/kickersofass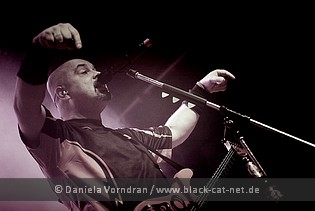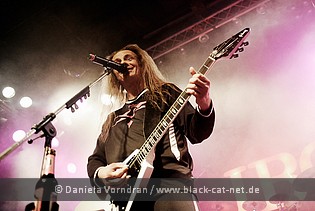 Music & Performance
It was short past nine when the band from Erlangen entered the stage, dressed in sports dresses just perfectly fitting to the name of their latest release. Already during the rebuilding break, the excitement within the fans was nearly touchable. When the show finally started with 'Bolle', there was no holding back. And also an illuminated pink watering can was swayed in the audience, soon being recognized by Vito and of course being dignified – the band already knew that one from the Metal Fest in June. AS second song, the band had chosen 'Ein Fest' (a party) and probably no other song described better what was up to follow now for the fans: a real party with lots of silliness and nonsense… and of course Rock'n'Roll!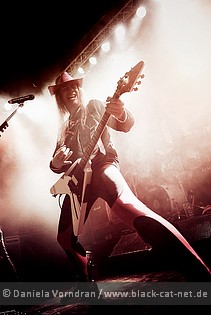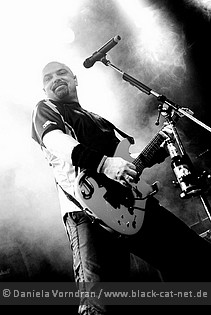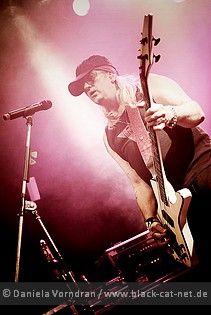 As you expect from this band, there were a lot of strange things and fun going on onstage, might it be a priest joining the band for 'Ich möcht' so gerne Metal hör'n', blond "Sandy" entering the stage for 'Jetzt isser drin' or HYRAX singer Felix entering the stage, dressed as a nurse, for 'Dr. Met'. With 'Gänseblümchen', 'Hofnarr' and 'Kuschelmetal', we also had kind or "romantic" part within the concert. During latter one, Wolfram proved his abilities on drums with a little solo. No need to say that during the whole show, the audience was on fire. Any "Danke Bochum" by Vito was answered by the fans with "Danke Vito". When the main set ended with 'Verteidiger des Blödsinns', mood in the hall was on top level and fans defended nonsense together with the band.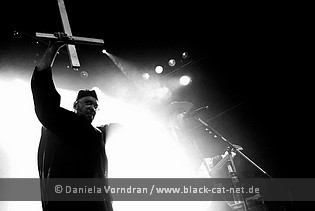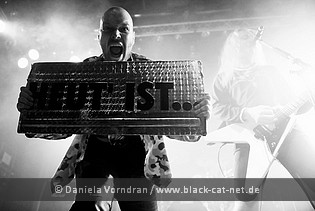 Of course, the band was not allowed to leave with any additions. 'Ein guter Tag zum Sterben' was opening the reign of encores and was loudly welcomed. Surely a good choice by the band. Anyone in the hall was singing along. All in all, J.B.O. played four encores. As last song, they chose aptly the song wearing their name. Surely anyone had a great evening. For my personal taste, it is just a little too much nonsense…

Setlist
01. Bolle
02. Ein Fest
03. Ich möcht' so gerne Metal hör'n
04. Jetzt isser drin
05. Hose runter!
06. Dr. Met
07. Gänseblümchen
08. Der Hofnarr
09. Ällabätsch
10. Rock Muzik
11. Rammstein Reggae
12. Kalaschnikow
13. Kuschelmetal pt1 - Drum Solo - Kuschelmetal pt2
14. Medtl-Gschdanzl
15. Geh mer halt zu Slayer
16. Ich sag J.B.O.
17. Ich liebe Dir + Nur geträumt
18. Schlumpfozid im Stadtgebiet
19. Mei Alde is' im Playboy drin
20. I Don't Like Metal
21. Verteidiger des Blödsinns
---
22. Ein Guter Tag zum Sterben
23. Wir Ham 'Ne Party
---
24. M.E.T.A.L.
25. J.B.O.

Rating
Music: 6
Performance: 8
Sound: 7
Light: 8
Total: 7.2 / 10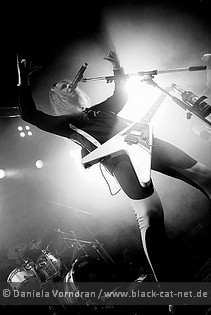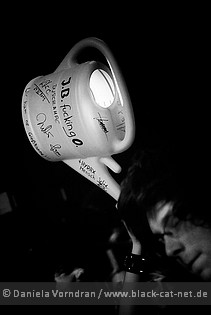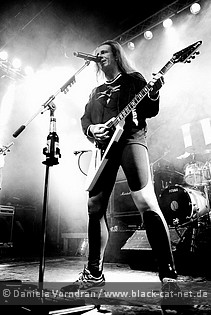 All pictures by Daniela Vorndran (http://www.vorndranphotography.com / http://www.black-cat-net.de/ / http://www.facebook.com/blackcatnet)



See also (all categories):