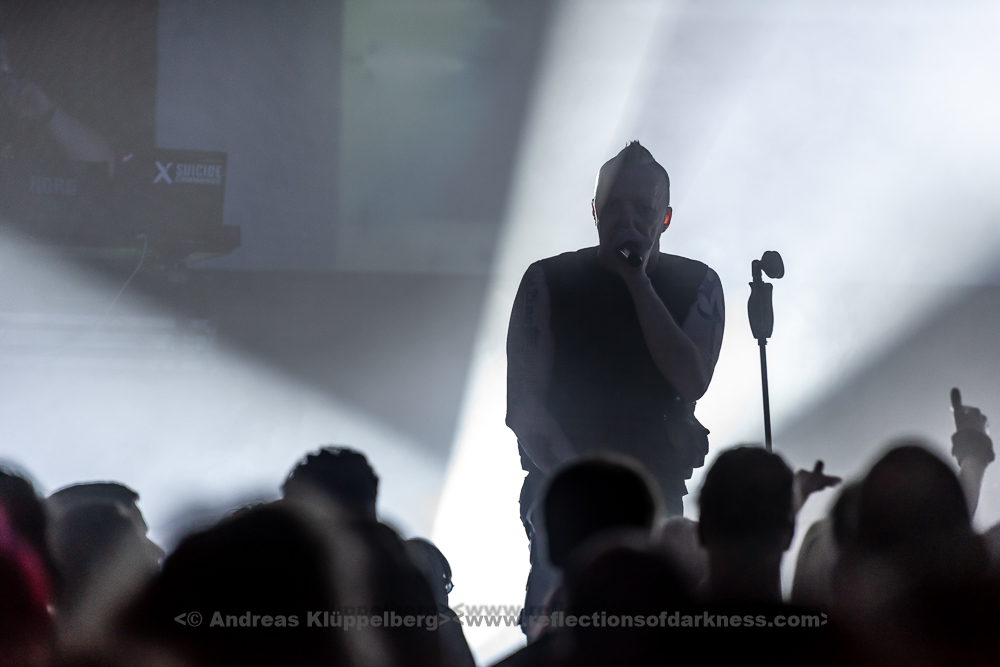 Bahnhof Langendreer, Bochum, Germany
17th March 2023
Suicide Commando - Vintage Show 2023 - Special Guest: Fïx8:Sëd8

Bahnhof Langendreer has existed as a cultural centre for over 35 years and has had many different artists visiting. The Belgium music project SUICIDE COMMANDO by Johan de Roy, who played his vintage set on 17th March, has been around a little longer. As a special guest, Johan van Roy has invited Martin Sane and Vincent Uhlig of the German band FÏX8:SËD8.



Fïx8:Sëd8

What the visitors of the evening noticed directly on stage were the white tops of mannequins; these were then illuminated in the course of the show. Singer Martin Sane then entered the stage with a limp, masked in bandages and on crutches. In time, he freed his face from the bandages and was able to move more freely. With his gestures and his singing, Martin Sane underlined the industrial sounds produced by Vincent Uhlig in a very ingenious way. If you have the chance to see FÏX8:SËD8 live, you shouldn't miss it. https://www.facebook.com/Fix8Sed8 / https://fix8sed8-de.bandcamp.com/

Setlist
01. pROGNOSIs
02. mELTDOWn
03. The Needle
04. uNKNOWn tO vIRTUe
05. Baptism of Fire
06. Blood Delta
07. Monolith
08. cHLORINe cLEAn tEARs
09. mETABOLITe

Rating
Music: 9
Performance: 8.5
Light: 7.5
Sound: 8.5
Total: 8.4 / 10


Suicide Commando

SUICIDE COMMANDO is by history a one-man project of Johan van Roy, but in recent years Johan van Roy has been bringing in guest musicians for live performances. For the vintage show, Johan enlisted the help of Torben Schmidt and Geert, among others. The two were responsible for the sound while Johan did his show on stage. Johan van Roy had already worked with Geert many years ago. Johan delivered many of his old hits that night, like 'Hellraiser', 'See You In Hell' and 'Desire'. A fan gave him a national flag of Belgium, which he of course held up in the air from time to time. http://www.suicidecommando.be / https://www.facebook.com/IIXIII
Rating

Music: 9
Performance: 8.5
Light: 7.5
Sound: 8.5
Total: 8.4 / 10
All pictures by Andreas Klüppelberg
See also (all categories):