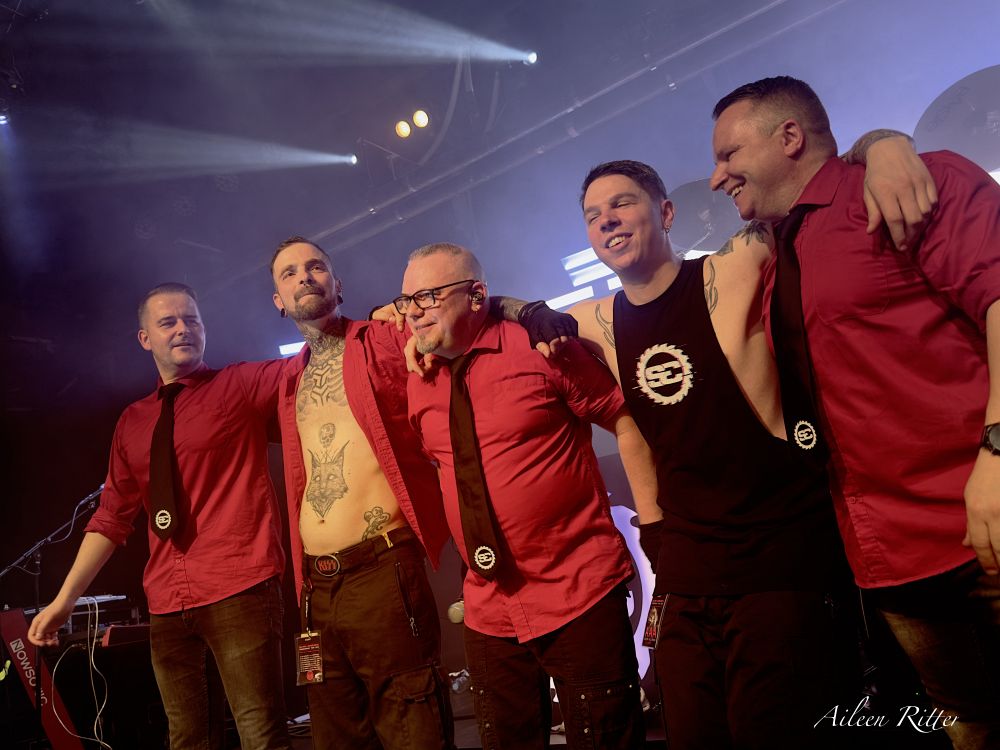 Das BETT, Frankfurt/ Main, Germany
24th March 2023
Solitary Experiments - "Transcendent" Tour 2023 - Support: Vanguard & Mental Exile

After the successful first part of their "Transcendent" tour in autumn 2022, SOLITARY EXPERIPENTS with their special guests VANGUARD and MENTAL EXILE have been on the road again since 11th February to present the new album to the rest of Germany. After the cultivated "demolition" at Hellraiser, Leipzig, I'm really looking forward to being there again. Sebastian (Seppo), the man on the percussions, had to pause for the last tour weekend due to illness. And singer Dennis was also stricken, which is why he had to do without the last encore in Munich. Today SOLITARY EXPERIMENTS are complete again and obviously ready for any turpitude.


Somehow everything is just right today: technology that enthrals. Three fantastic bands that put the audience in ecstasy with their joy of playing and good mood. A cheerful audience that absorbs the positive vibes and gives them back warmly. Promotion of young talent in a special way. Lots of nice people that I was able to see (again). What more do you want? So let me tell you right away. I can't help but give full marks to the entire evening. Now some may complain that these days the reports are far too positive and that criticism is no longer practiced. I don't give a shit to that. A great evening is a great evening. Full stop. This tour doesn't feel like a headliner tour with special guest(s), but like a very fine mini-festival that's just traveling across Germany. Apparently, it's not just three bands standing together on stage, but good friends. You can tell that the musicians get along very well with each other and that comes across clearly in the conversations after the shows. They like each other and have fun together. And that's contagious. But first things first, but not necessarily in that order.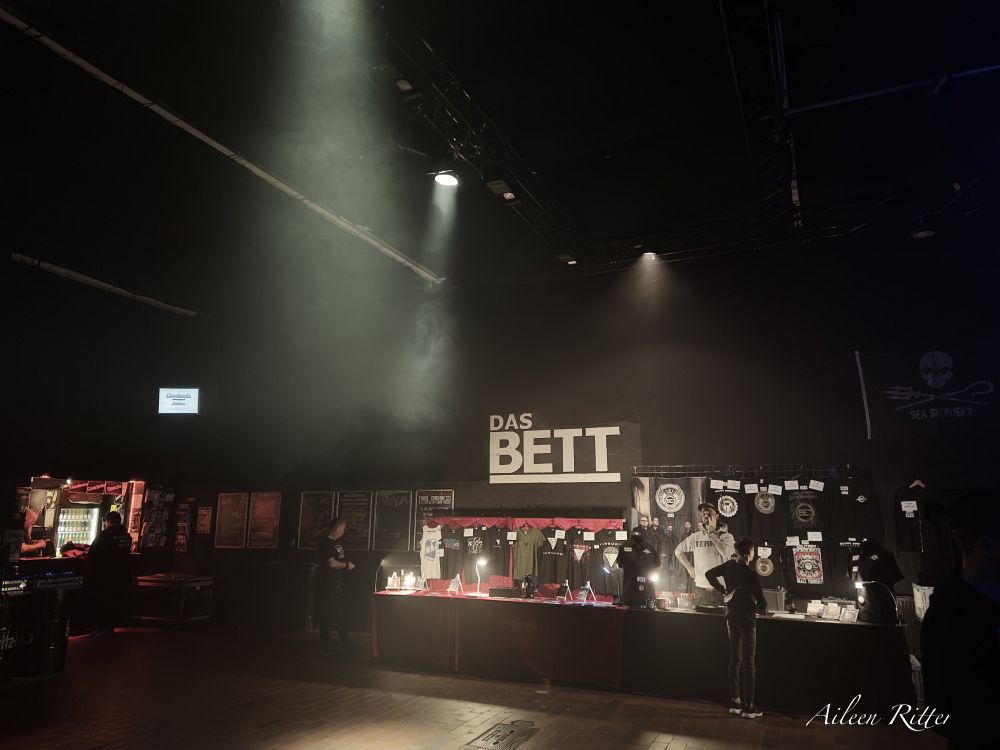 If you are wondering how "Das BETT" ("the bed" in English) got its name, you can read the following on the Frankfurt club's homepage: The club was originally located in Sachsenhausen's Klappergasse and since September 2005 it welcomed up to 80 guests in a relaxed and comfortable atmosphere. Many of the artists performing there spent the night on the upper floor of the BETT after their show. In 2009 the club moved to a new, larger location in the western Gallhausviertel and has since offered space for up to 500 spectators. In June 2017, the BETT was renovated and equipped with new stage technology in order to offer guests and performing artists a special listening experience. The club has kept its idiosyncratic name and the family atmosphere has also been preserved. For me it was the first visit in BETT but certainly not the last. I will gladly come again.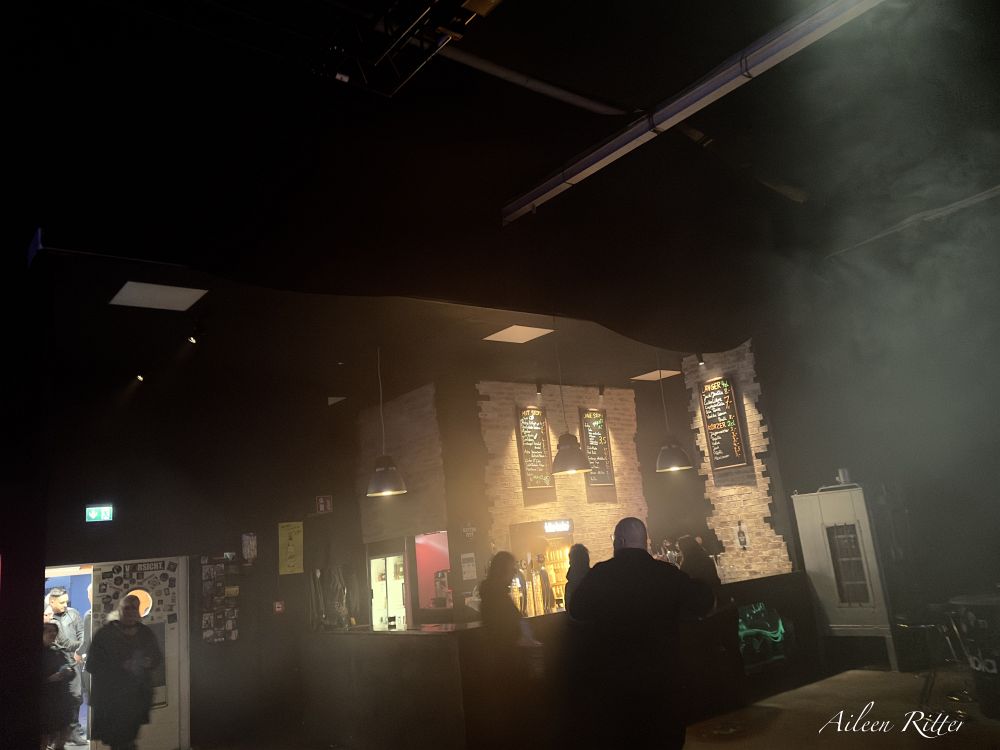 I had taken vacation for today's concert evening and so I'm already in the Main metropolis in the early afternoon. Since I don't know how's the parking situation at the hotel, I park right next to the club. There's a large parking lot right next to it and it's only a 20-minute walk. Before I go on my way to the accommodation, I take a round around the house to see where´s the entry. And as luck would have it, I meet Frank and Seppo. A short hello and then to the hotel, check in. I'll be back shortly before six and just the fourth in front of the door. However, the time moves by fast. In front of the door, I first meet the VANGUARD boys Patrik and Jonas, who are chilling in the evening sun a bit and then Marc, who came by spontaneously from Gelsenkirchen. So far, we've only read each other and boom, you chatter an hour along - so it is in our bubble. We are a little surprised about the number of the delivery services appearing. Apparently the "heroes" of tonight are hungry. Some of them let themselves be seen in front of the door and still chat with the few guests waiting. Shortly before seven, the BETT is prepared for us too and the door opens.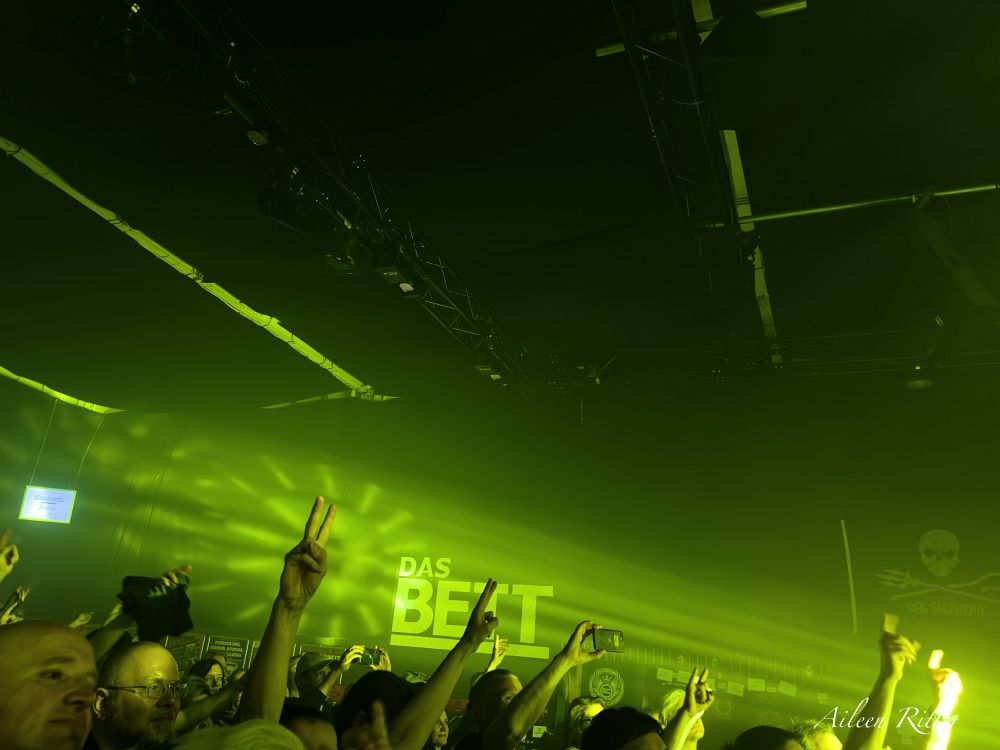 In the club, we are already welcomed by 'Memento Mori' from the speakers, the new DEPECHE MODE album released today. It will be played before the show and between the bands' performances. Guests can win a few posters in order to the today's release. Lots are distributed at the entrance. I can't really convince myself of the album today (yet) - it kind of purls along. But maybe I just have to take a listen unhurriedly. Guess I'll give the album a chance. At least some songs sound not bad, even if today I don't fall off my imaginary chair in case of enthusiasm. But I'm digressing.


Mental Exile

Vocalist Damasius Venys' voice may sound familiar to some of you. The extremely charismatic and likeable artist was singer at MONDTRÄUME from 2011 to 2021. After Tom Lesczenski ([:SIDT:]) had left FUTURE LIED TO US in winter 2020, Vasis Vallis (FROZEN PLASMA) and Krischan Wesenberg (ROTERSAND) had welcomed Damasius as a new singer in December 2021. (fun fact: today Krischan is also man behind the scenes and responsible for the sound). MENTAL EXILE released several EPs and singles as well as the album 'Exile Nights' since Damasius started the Synth Wave solo project in 2018. The singer is supported from his partner Daniele Jaeger on keys. For more information, please check the projects Facebook and Bandcamp sites: https://www.facebook.com/mentalexileproject / https://mentalexile.bandcamp.com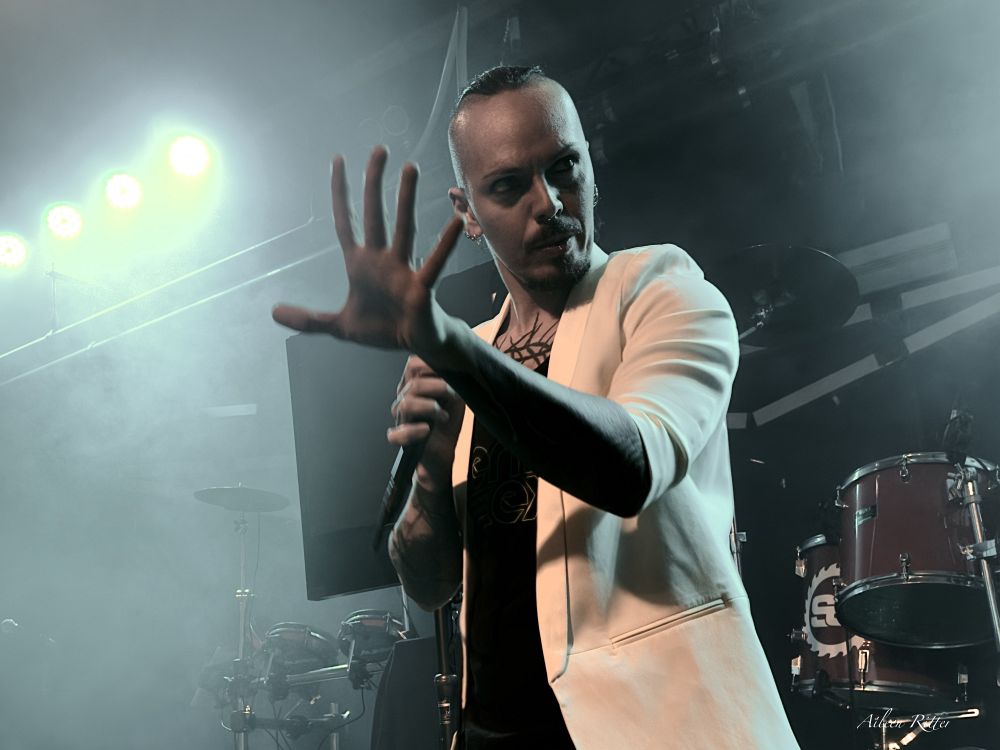 Music & Performance
At point eight the lights go out and the music starts. There's already a lot going on in BETT, although the club isn't completely sold out. The evening starts with the single 'Strangers' released in December, a beautiful song that gets the people clapping along right away. I let my eyes wander for a moment and realize that people are already dancing. It's fascinating how Damasius elates the audience from the first second. The spark jumps over immediately and the man has already prepared the BETT before we are greeted with a hearty "Hello Frankfurt". The thunderous applause is interrupted by a cheerful "Are you okay? Are you up for it? Would you like to run? Then we run together". However, to 'Run Away' we dance away with Damasius rather than run.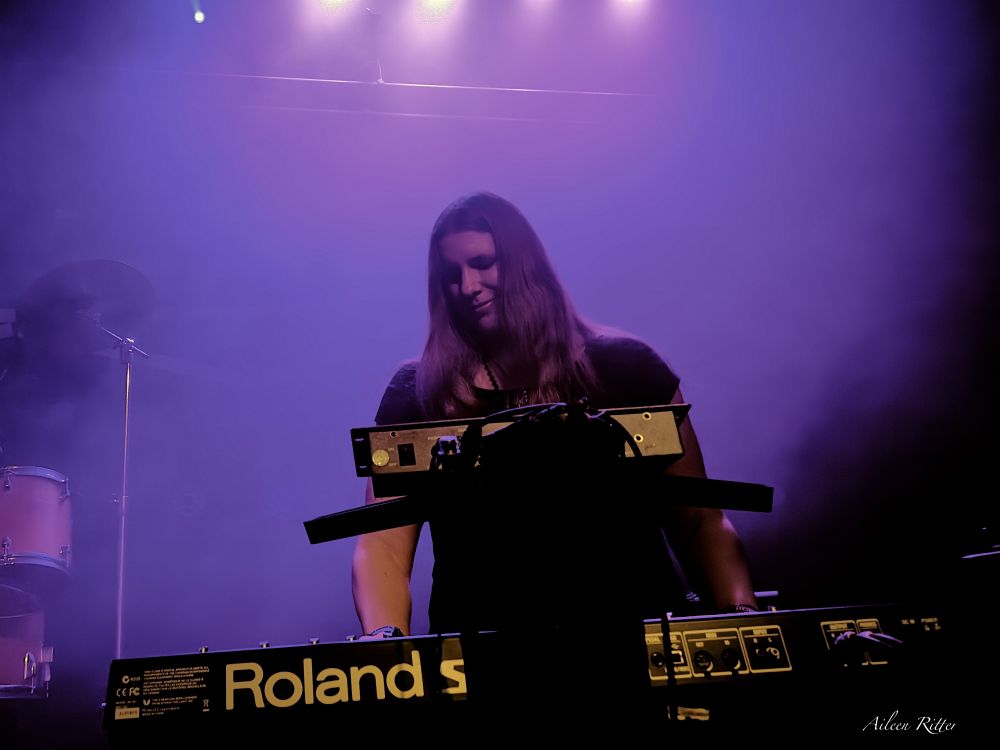 After a friendly "thank you", there is silence for a few seconds because the technique has to be set up briefly. That triggers the first calls for an encore. Damasius and Daniele can't help but smile. With 'One of us' not only Damasius´ fantastic voice and stage presence enthrals. Light man Frank also seems to be giving everything today. At this point, a big compliment to the technical team. The light show is extremely impressive and seems even more coherent to me today than at the concert in Leipzig in autumn. The artists are also illuminated from the front sometimes, which creates additional atmosphere. I think the man surpassed himself and integrated the existing equipment perfectly. And there is nothing to criticize in terms of sound either. Krischan also does a great job, even if Dennis says afterwards "Krischan, the music could be a bit quieter". But first things first, well you already know...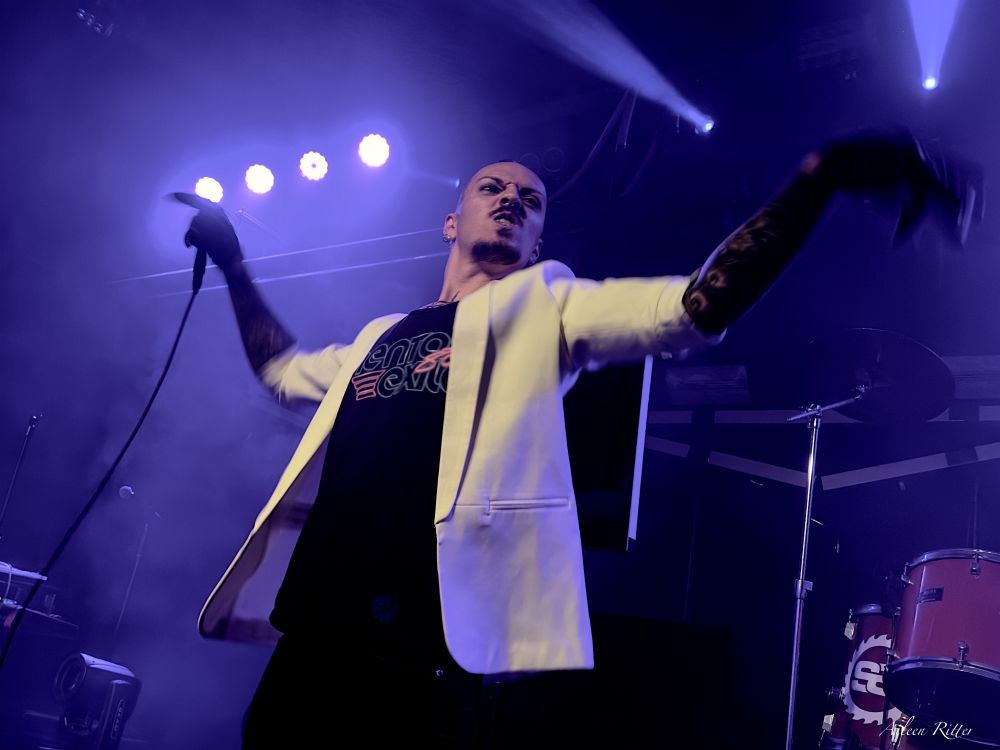 With 'Renegades' we stay straight away on the 2018 released EP 'Exile Nights'. "We are the wild ones", at least as far as the exuberant mood is concerned. And it's slowly getting cuddly in the BETT. So, for 'The Top Model', Damasius takes off his blazer and cheers us on with his hands. With this song, I'm really enthusiastic about the play of colours of the spotlights too. It's great what Frank is conjuring up today. For 'From The Dark' Damasius asks us to show him our hands. Everyone is happy to respond to the charming request "Come on guys, a little more" and there is clapping, cheering and dancing to the back rows. Then comes 'The Night Is Mine' and the title of the song seems particularly fitting for a young fan today. The approximately 11-year-old boy, who is standing right next to me and who, by the way, sings along every song, is summarily brought onto the stage by Damasius. There the both play an air guitar duo in a remarkably professional manner at the end of the song. This is frenetically celebrated. Maybe someone found his calling today. In any case, the boy will probably not forget the evening any time soon.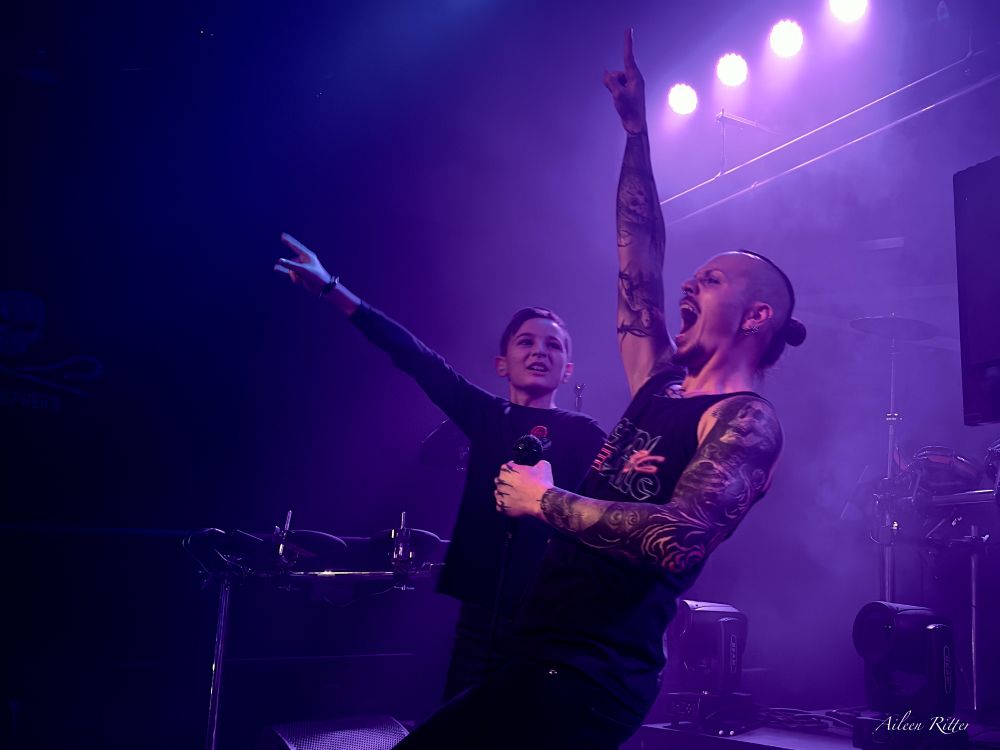 With the last song 'Falling' from the 2019 album 'Ride the madness', Damasius and Daniele really step on the gas again and say goodbye to the stage with an honourable Synth Wave cracker. "Frankfurt, it was very nice with you. We wish you a lot of fun with VANGUARD, with SOLITARY EXPERIMENTS! And don't forget, we are MENTAL EXILE. Thank you so much and have fun!" The couple bid farewell to frenetic cheers and sustained applause. Again, the two have elated me. They come across as personable and authentic. Damasius has already proved that he is a gifted singer and entertainer with MONDTRÄUME. With his expressive performance, the spark simply has to fly and even today he has the audience on his side from the first second. It's almost a shame that the set is already over after 35 minutes. First of all, I console myself with the fact that the tour is not over yet and that the singer will be seen more often this year.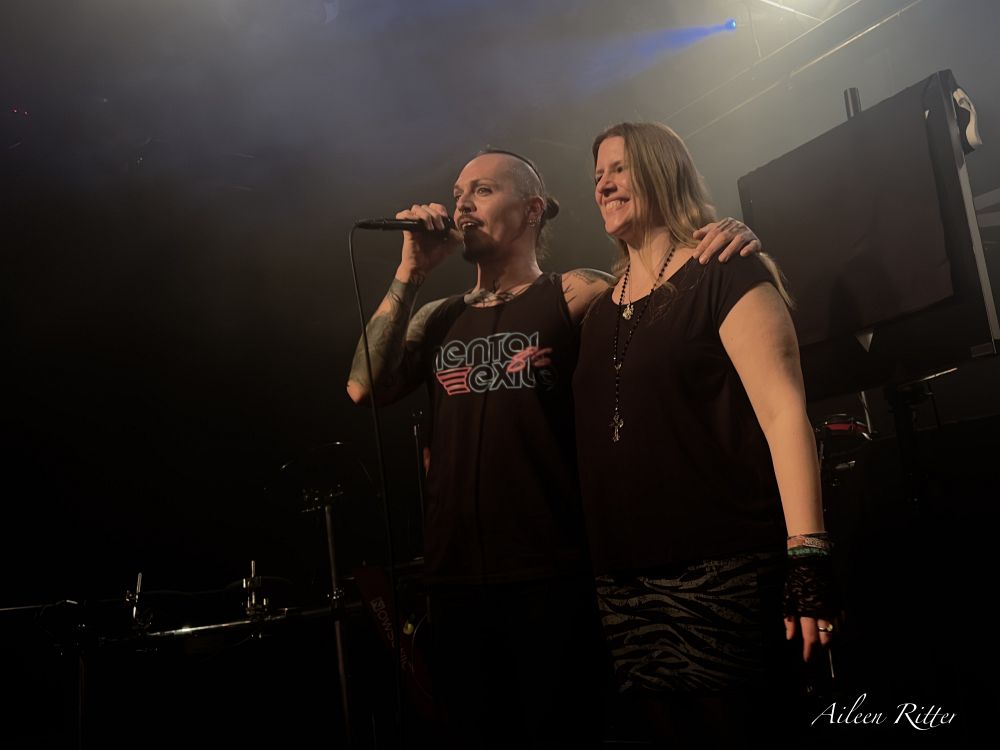 FUTURE LIED TO US can be seen at various festivals, as a special guest of SOLAR FAKE and at a full-time show in Hanover. In October there will also be an appearance for MENTAL EXILE at the exclusive SOLAR FAKE club concert in Oberhausen. So, keep an eye on our announcements.

Setlist
01. Strangers
02. Run away
03. One of us
04. Renegades
05. The Top model
06. From the dark
07. The night is mine
08. Falling

Rating
Music: 10
Performance: 10
Light: 10
Sound: 10
Total: 10 / 10


Vanguard

The Swedish Synth duo VANGUARD should also be known, after all Patrik (UNCREATED) and Jonas have been making music together for over twelve years. And at the latest since their appearance at last year's E-Tropolis Festival in Oberhausen, where Patrik and Jonas stood in for RROYCE at short notice, they must have caught the eye of some. Their fifth studio album 'Spectrum' was released last July. The duo straddles the line between traditional Synth Pop and modern Future Pop with strong melodies and pulsating, trancy beats. It combines angsty lyrics with their unique catchy and danceable Electro Pop sound - hard beats mixed with melodic elements and strong melodies. Please, check out their Facebook and Bandcamp sites for further information: https://www.facebook.com/vanguardofficial / https://vguard.bandcamp.com/music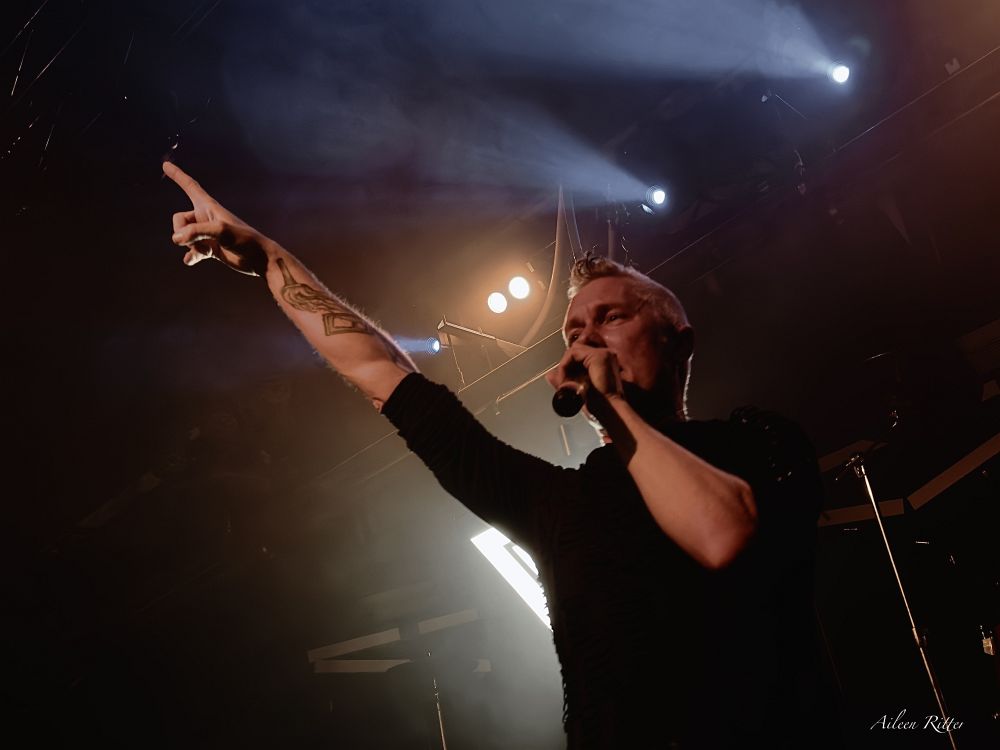 Music & Performance

During the change-over, it's getting some space in front of the stage again. Some use the time to breathe deeply outside or get drinks at the bar. I'm grateful that the door is open now and a bit of cool air from outside sloshes in. In the meantime, it is more than just cosy and warm in BETT. When the VANGUARD boys come on stage at 8:50 p.m., all the guests are back. Even today, the guys from Sweden mainly present tracks from the last two albums. The set today differs from the show in Leipzig in one song. 'Unreachable' was replaced by 'On my own' (2014). A nice change and the song from the album 'Retribution' fits perfectly into the energetic set.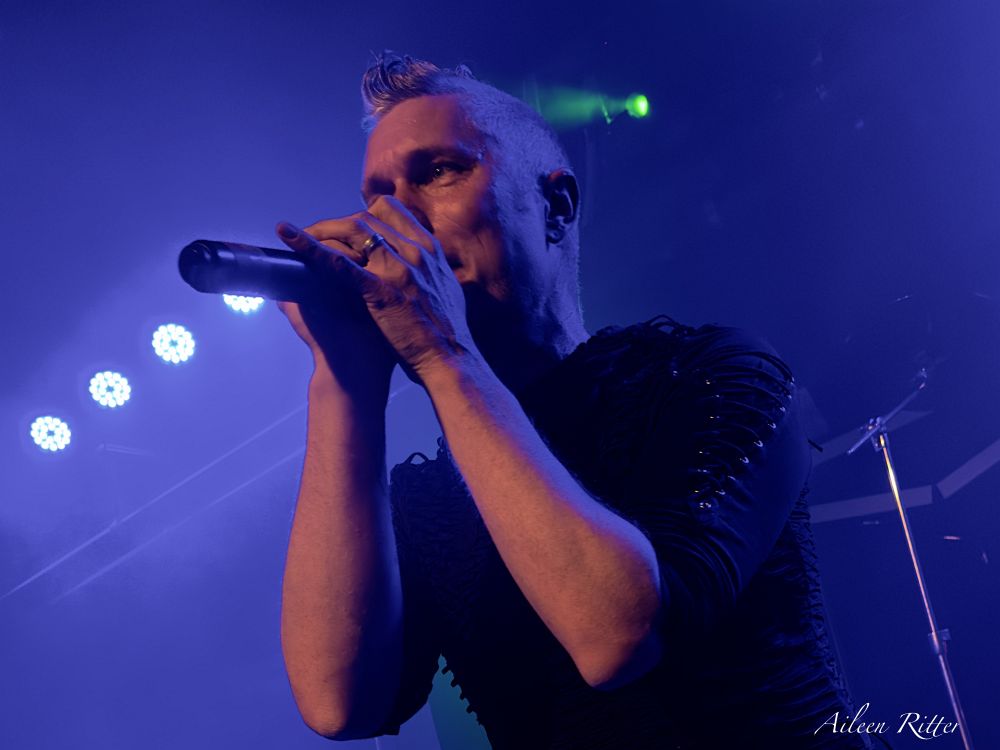 We start with 'Inside' from the current album 'Spectrum', which causes the temperature in BETT to rise again right away. "Hello! Wow! So many people! Hello Frankfurt! We are VANGUARD from Gothenburg, Sweden." And off you go. The Swedish Synth duo is also frenetically celebrated right from the start. "This is Grit!" Unlike in Leipzig, the duo has no Rob Dust to support them today. So, Jonas is always switching back and forth between e-drums on the one side and keyboard on the other. The song from the album 'Manifest' (2019) is pure energy and so there is a lot of movement between the sheets. At this point I apologize in all form for the stupid puns and "BETT stories" you are molested with. But I just can't help myself today.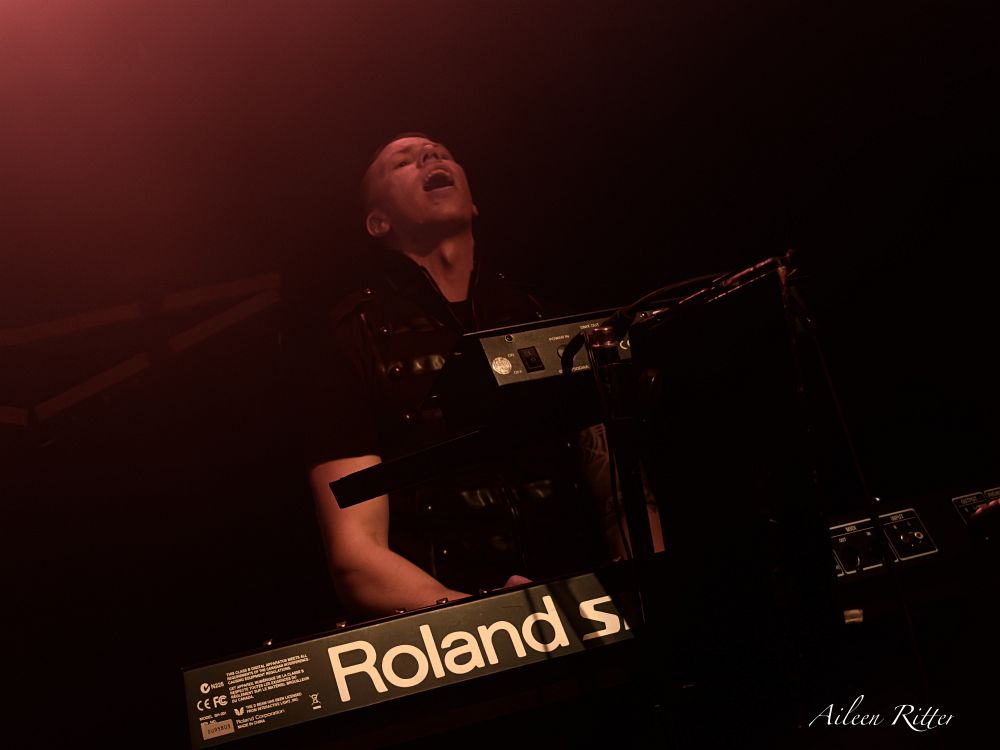 With 'Only Lies' and 'Move Out' we feel our way back to the current album. Both songs are literally celebrated by the audience. Jonas heats up the crowd and jumps up and down. Patrik leaves the chorus to 'Only lies' directly to the guests in front of stage and holds the mic out to us. The two likeable Swedes have no trouble winning the audience over to their side. The duo's extraordinary joy of playing puts the guests in a good mood, which also gives back positive vibes. So, it is not surprising that both musicians are beaming with joy. With the Synth-Pop anthem 'Open Sky' from the latest album 'Spectrum' the two go one better and are duly celebrated for it. And while we're on the subject of anthems, why not add another one.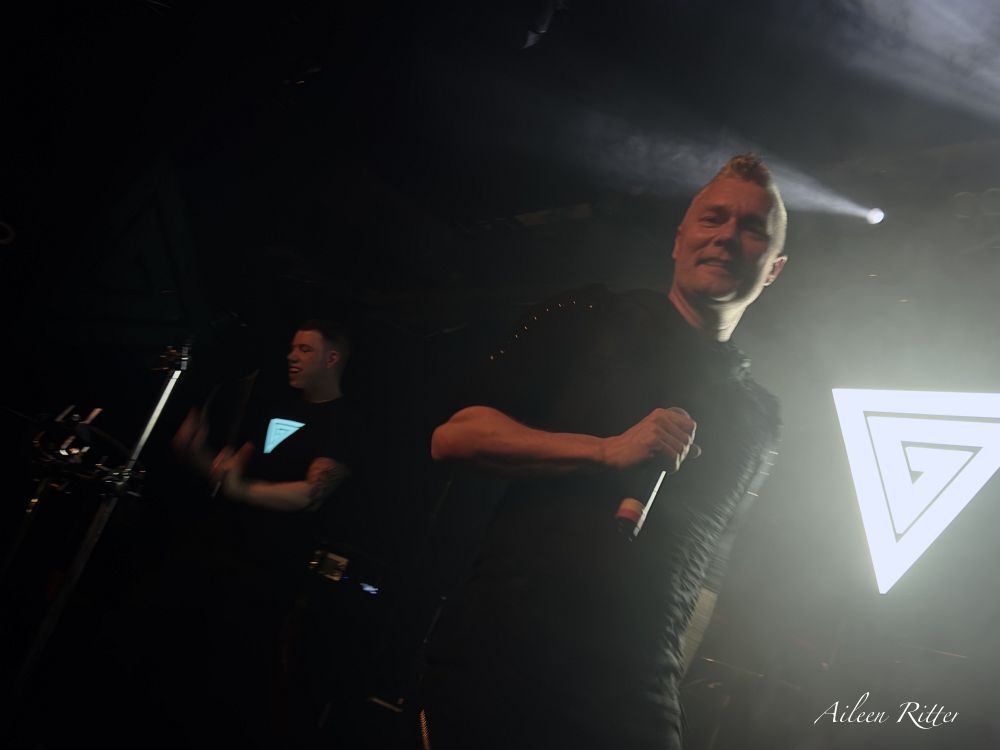 "This is Riot!" And now Jonas' megaphone is used. The energy the songs release live is unbelievable. The BETT sings and calls out loud, dances, jumps, claps... I wish I could make it to the Kielectric festival or to the Kulttempel in Oberhausen at Easter, where the duo will rock the stages in good company. I'm grateful that the tour with SOLITAY EXPERIMENTS and MENTAL EXILE is not over yet (I know, I mentioned before). And fortunately, the Swedes are guests on German stages many times this year, including a full-time show at Fuchsbau, Chemnitz. So, you should make a note of December 15th.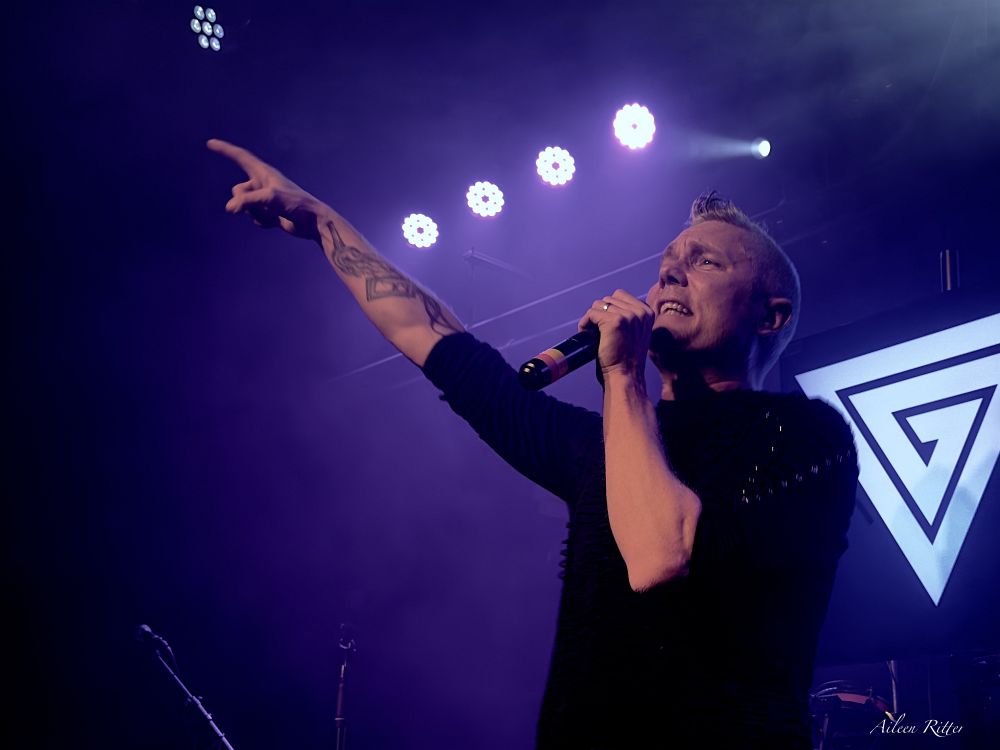 But back to the present or rather to the 2014 album 'Retribution'. The above mentioned 'On my own' comes as a surprise to me. Old Swede, what's up now? A few rows behind me, a couple sticks their tongues down each other's throats up to the uvula. Patrik pulls a T-shirt out of nowhere. "Okay, I have a T-shirt here! Who wants the T-Shirt?" With this he heats up the crowd before catapulting the shirt into the audience. "Okay, I have a little friend here tonight." So, it's clear where the shirt ends up, with the young fan next to me. He is very happy and folds it up admirably before he lovingly lets it disappear into his bag. "One more t-shirt" sounds from the off.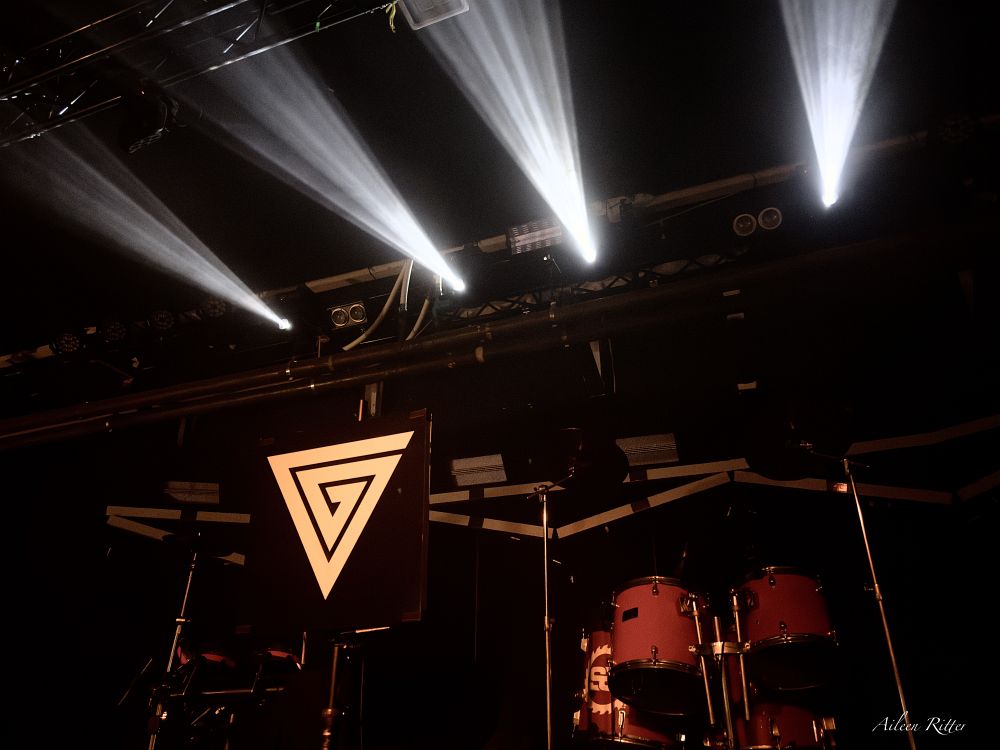 Since Patrick doesn't have any more in stock, he indicates to take off his shirt. But he knows he has "a bit of a belly" and prefers to keep it on. Too late, the Götterdämmerung has already set in (wink). "We are going to sing 'Ragnarök'" and that really gets the place boiling. "When we crumble, we are falling beyond control..." is sung so loudly that it's pure joy. Great song from the current album 'Spectrum'. "Two more songs to go, yeah. This is 'A Different Story' from 'Never Surrender' album". The song is one of my all-time favourites by the Swedes from 2016. A real catchy tune with a refrain that you just can't get rid of. I put my device aside and immerse myself completely in the song. See you later…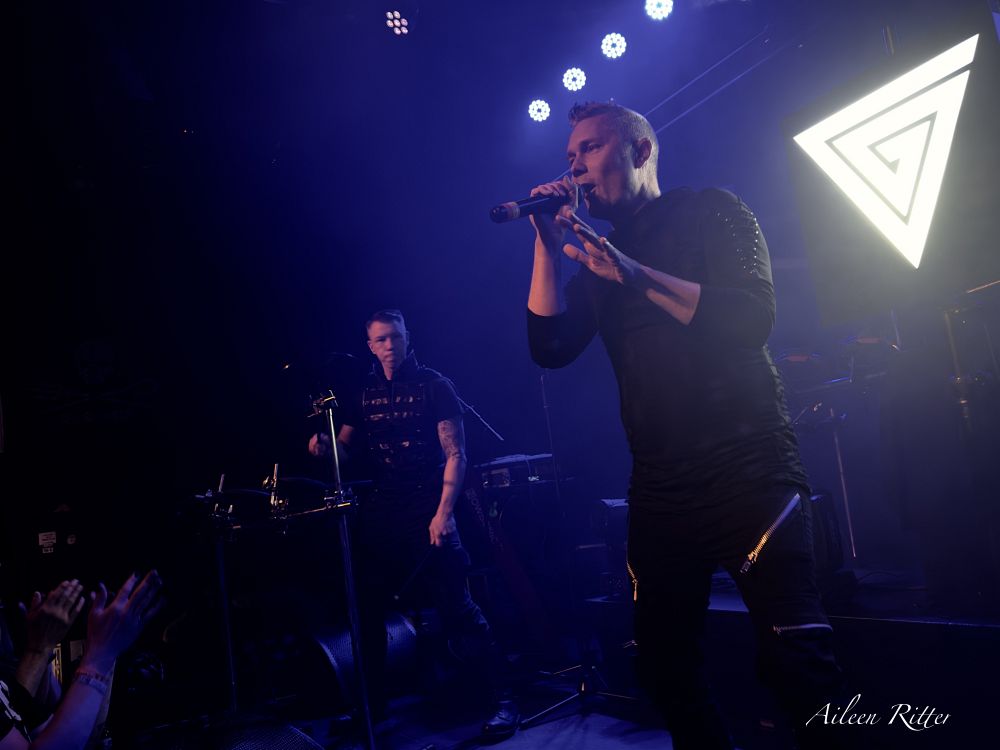 So, hoarse and ready for the "final song from us tonight. Then you are ready for SOLITARY EXPERIMENTS, I believe." 'Save Me' not only fluffs up the sheets but also gives us a good shake. It really gets down to business and the megaphone is used again. So woke up and joined in before after 45 minutes it is said "Thank you very much. You all, thank you". Jonas and Patrik bow and say goodbye to the stage with smiling faces. They are accompanied by shouts of "we want more". A great performance by the Swedes.
Setlist

01. Inside
02. Grit
03. Only Lies
04. Move Out
05. Open Sky
06. Riot
07. On my own
08. Ragnarök
09. A Different Story
10. Save Me
Rating

Music: 10
Performance: 10
Light: 10
Sound: 10
Total: 10 / 10
Solitary Experiments

What can I say about a band that can look back on almost 30 years of band history and has been an integral part by the dance floors of scene clubs for eons. Formed by Dennis and Michael in 1994 SOLITARY EXPERIMENTS brought their motto "solid, catchy, high quality electro sounds with attitude" to life on many releases. I don't want to ramble on for long here and prefer to concentrate on today's performance of the quintet. If you've gotten this far, you can obviously read. For more information just check out the band's websites: http://www.solitaryexperiments.de / https://www.facebook.com/solitaryexperiments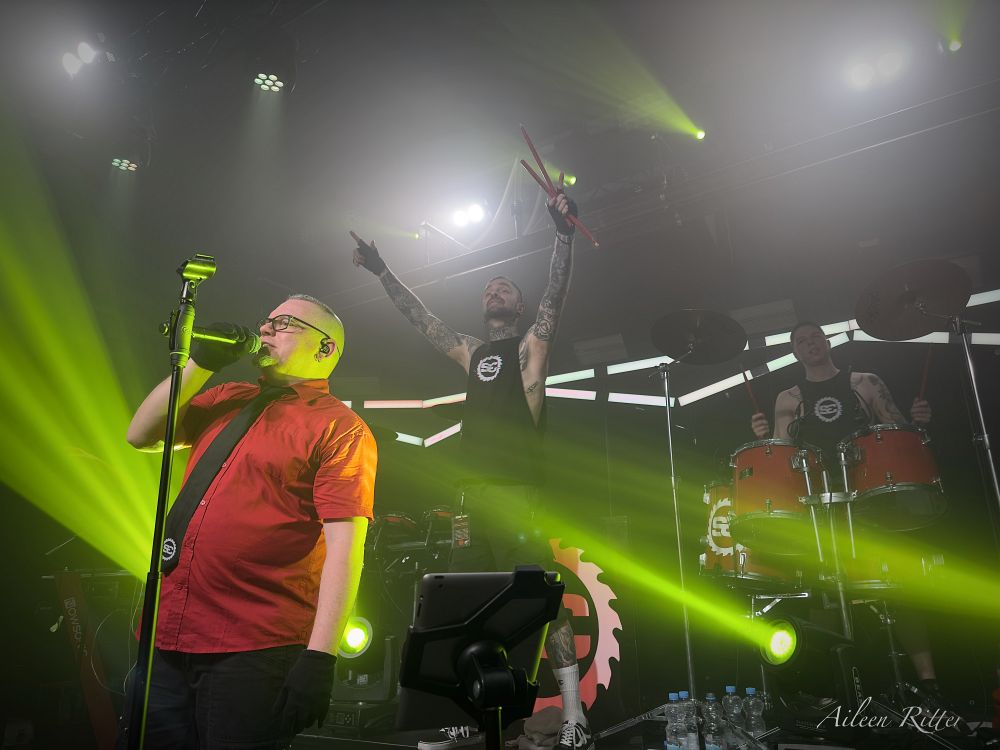 Music & Performance
There are also a few changes in the set of the main act of the evening. 'Self Deception', 'Point Of View' and 'Wasteland' will not be played today. Instead, there is 'Trial And Error', 'Die Zukunft' and 'I Am'. But before we continue, there will be a short reconstruction, fresh water and towels are placed. The temperatures in BETT are also slowly moving in the direction of sauna. One last sound check and on we go. At 21:49 (I took a look at the watch!) Markus gives the start signal and it gets dark again in BETT. To 'Transcendent', which also functions perfectly as an intro today, the "rhythm section" (Frank and Seppo) is first on stage. The stage has been fogged for visual effect and is sparsely lit with only a few spotlights. The whole thing seems very spherical and matches to the sounds.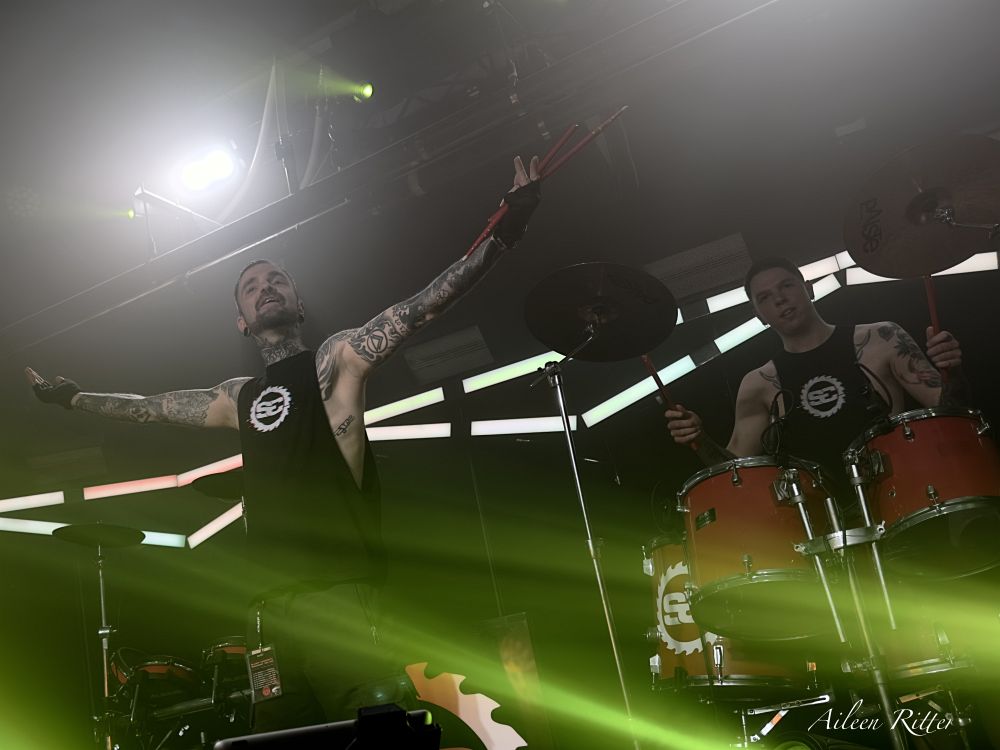 Micha and Markus follow and take their spaces on the left and right at their keyboards. Already the intro is enthusiastically applauded. Then 'Wonderland' sounds and front-man Dennis greets us with "Hallo Frankfurt! Now the cow is on fire!" (whatever that is supposed to mean). I'm pleased to note that Dennis' voice seems to play along. His vocals excite me even more today than in Leipzig. The cheers and applause at the end of the song, is transformed straight into rhythmic clapping as 'Crash & Burn' is starting. And I'm impressed again, this time by the light that light-man Frank is able to use perfectly. By the way, there is a lot of movement in BETT. No one stands still and the song is enthusiastically sung along. This is also the case with the following 'Immortal'. "Are you ready yet? Frankfurt, where are the hands?" At least now all hands are in the air. We really have fun in BETT.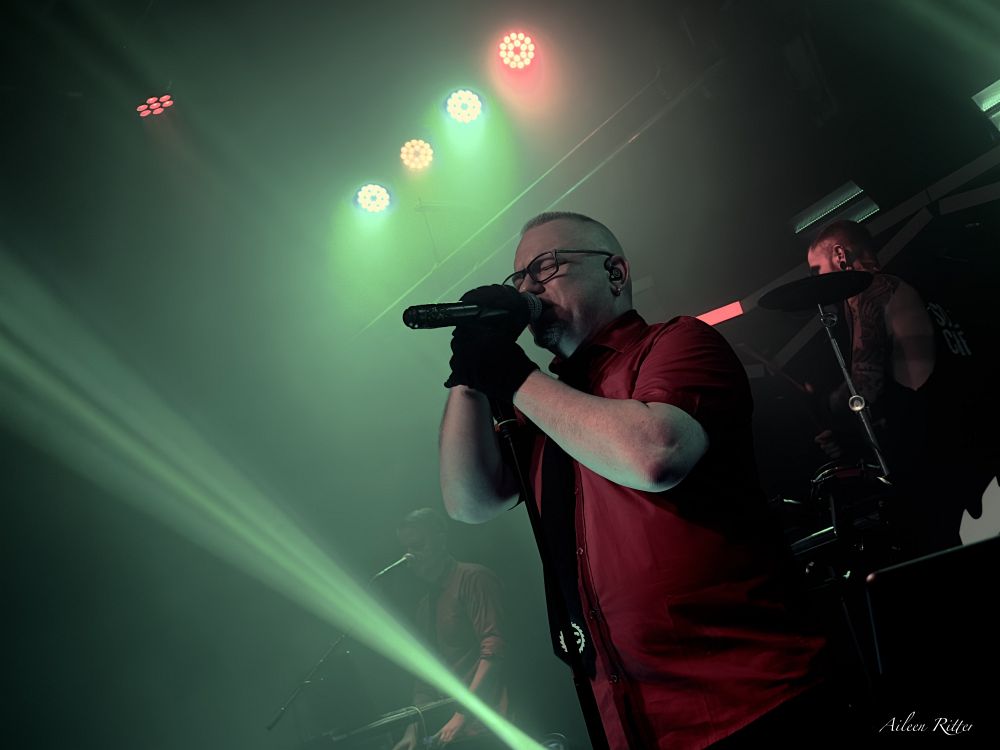 "Something new from the 'Transcendent' album." And two of them. At 'Heart Of Stone', the red and orange spotlights underline the lyrics "don't keep staring at the sun..." and during 'In Agony' green strobe lights flashing, while the stage is otherwise almost dark. The fact that the musicians can be guessed at rather than seen fits the atmosphere of the song. Perfectly staged. 'Trial And Error' takes us back to 2013 and the 'Phenomena' album. Now the cow is really on fire. Not literally but figuratively. I know I'm repeating myself. But Dennis' vocals impress me enormously on this song as well. The front-man really heats up the BETT and gets the sheets boiling. And then we hop back to 'Transcendent' again. 'Self-Fulfilling Prophecy' is accompanied by rhythmic clapping and the audience supports "Micha" on backing vocals. Terrific.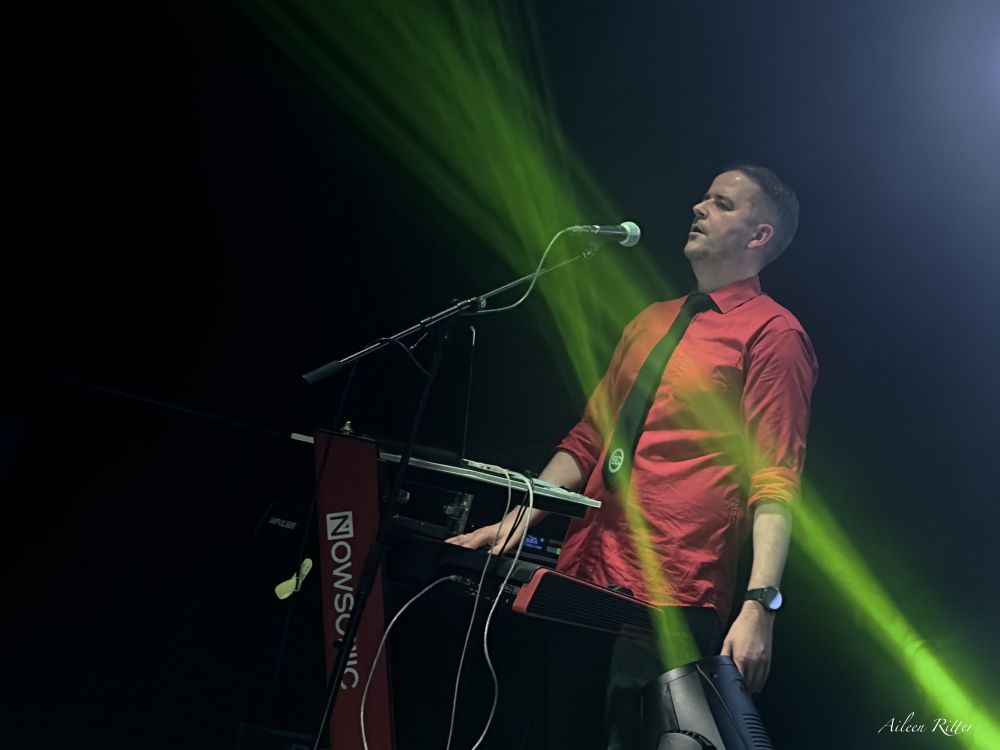 My gaze is drawn to the "rhythm section" again and again. Frank is just treating Seppo's drums and during the following 'Head Over Heels' the two prick each other with the sticks. Again and again, enormously entertaining to watch the two of them. Now, Frank tries to balance one of his sticks on his nose… 'Die Zukunft' heralds a "German round". Dennis seems a little bit out of breath, but vocally the front-man doesn't show any weakness. He also gets support from the audience. And the second German-language song 'Träumen' is fortunately a bit quieter. "Und du hältst daran fest, für den Augenblick, im Gesicht eine Träne, schaust du kurz zurück…". Dennis doesn't have tears on his face right now. On the contrary, the man is all smiles. "Frankfurt! Don't be afraid to dream!" In the audience I only see blissfully looking faces, simply connoisseurs.
"So, Frankfurt it's pretty warm here with you. But I'm wondering, are we going to get this room really boiling now?" Guess we were too quiet. "Frankfurt, I didn't understand you. Can we really get this room cooking now?" The approval is now loud enough. "Okay, then you can join now. I'll do it first, you'll do it then, three words: 'enough-is-enough'. Ladies and Gentlemen 'Pale Candle Light!'" And Frankfurt really brings the hall to a boil. The BETT not only screams the three words out loud, but also intones the chorus in a stadium-ready manner. "Thank you, Frankfurt that was randy." I can only agree (with Micha in this case). "And because you're all on the ball now, we'll push a classic right after." And how could it be other than everyone dancing in 'Delight'. But there is not only exuberant dancing, but also singing along loudly. Madness, Frankfurt. Simply amazing.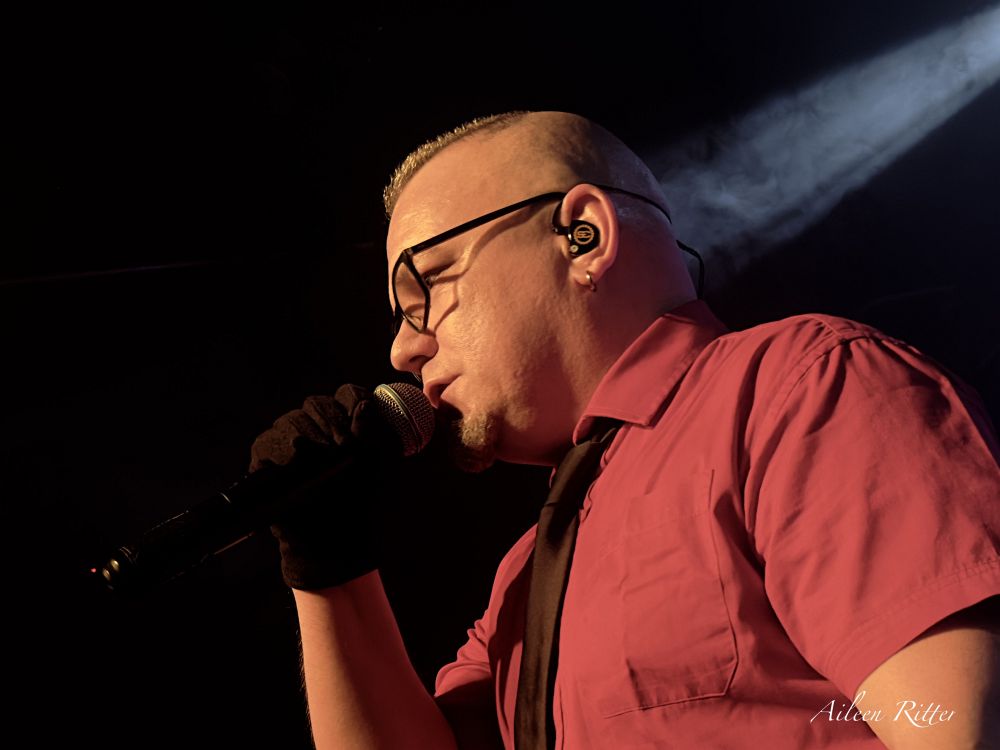 Little breather for Dennis and Patrik takes over the mic on 'Sea Of Love', which he also gives voices on 'Transcendent'. "Hello, I'm back. I will take a song together with these wonderful guys." The atmosphere here is also bombastic. Small downer: when I look around, I see a lot of filming. Some only briefly but some would rather look at their displays than celebrate with the others and are filming the entire song. I find that kind of a shame. At least they hold the display in front of their own gob and it doesn't spoil the mood either. When Patrik then leaves the stage to thunderous applause, he high-fives Markus and hugs Dennis, who only can say "Wat warn dette? Det war Patrik Hanson, from Sweden." (Berlin slang for "What was that? That was Patrik...")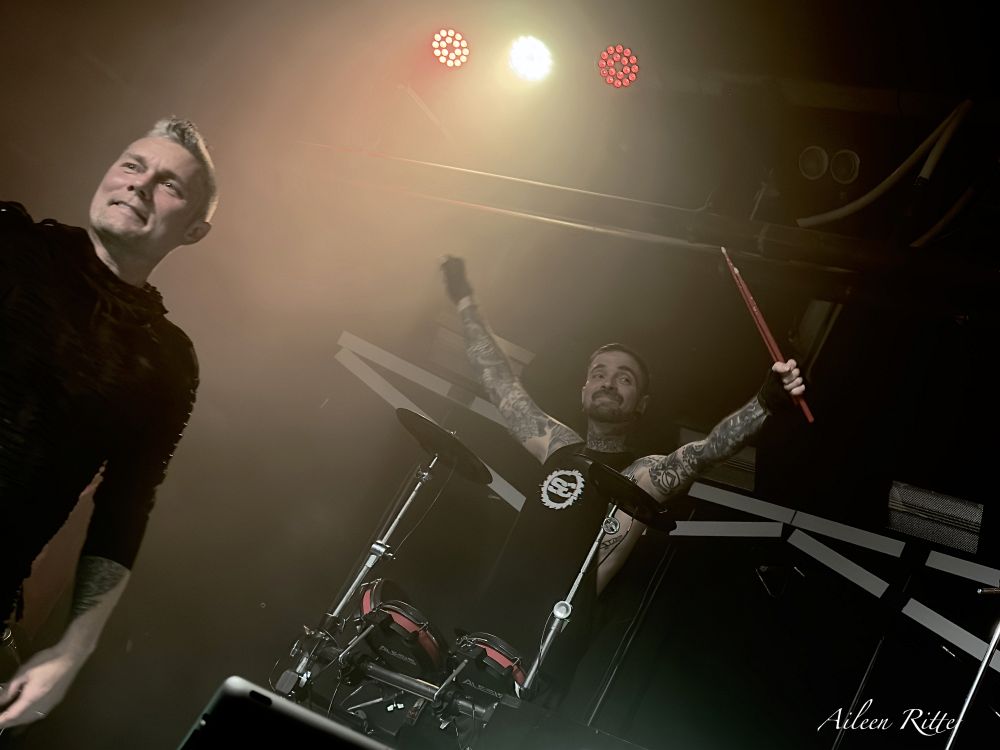 We continue with Dennis on the microphone, who introduces the EBM round with 'Zeitgeist'. This is continued with 'Game Over'. In the meantime, even the water on stage is gone warm. "Fucko mio." Dennis determines after he has had a drink and smiles all over his face. "Let's just play another song from 'Transcendent'." Or rather two: 'Discipline' and 'The Great Unknown'. "There are only cool songs on the 'Transcendent' album." Even if Dennis delivers a terrific vocal performance, I'm still missing the voice of KIRLIAN CAMERA singer Elena Fossi; at least a tiny bit. But somehow she is there in spirit and I have her wonderful voice in my ear somehow.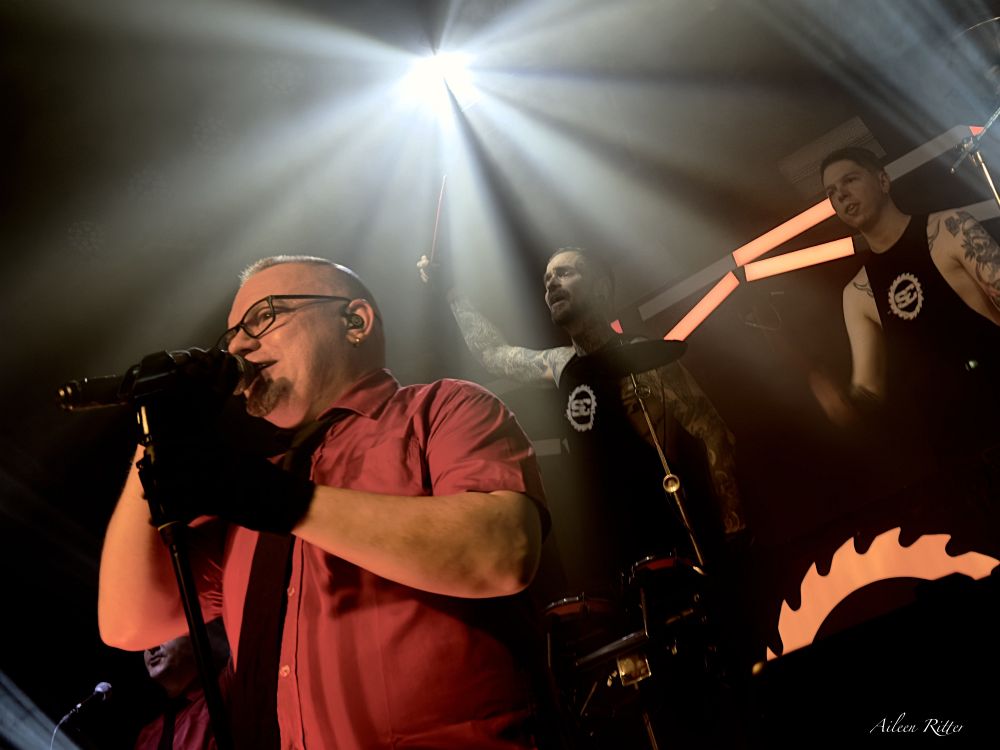 "Micha, what goes well afterwards?" A shout from the off: "Hey, Frankfurt still can!" Dennis ignores that at first and says "the last song fits quite well afterwards, doesn't it?" With this he reaps vehemently contradiction. "Just do it." and then 'Stars' gets started and the BETT fervently intones the song. Was that it? "Let's see", Dennis said earlier. A short bow and then the guys leave the stage shortly before half past eleven. They are accompanied by the cheers and applause of the Frankfurters (the audience, not the sausages; okay, let's leave on that). Of course, that's not all and 'I Am' gets started the encore block shortly afterwards. The way the chorus in particular is sung along here gives me goose-bumps. I don't see anyone in front of or on stage who doesn't have a smile on their face.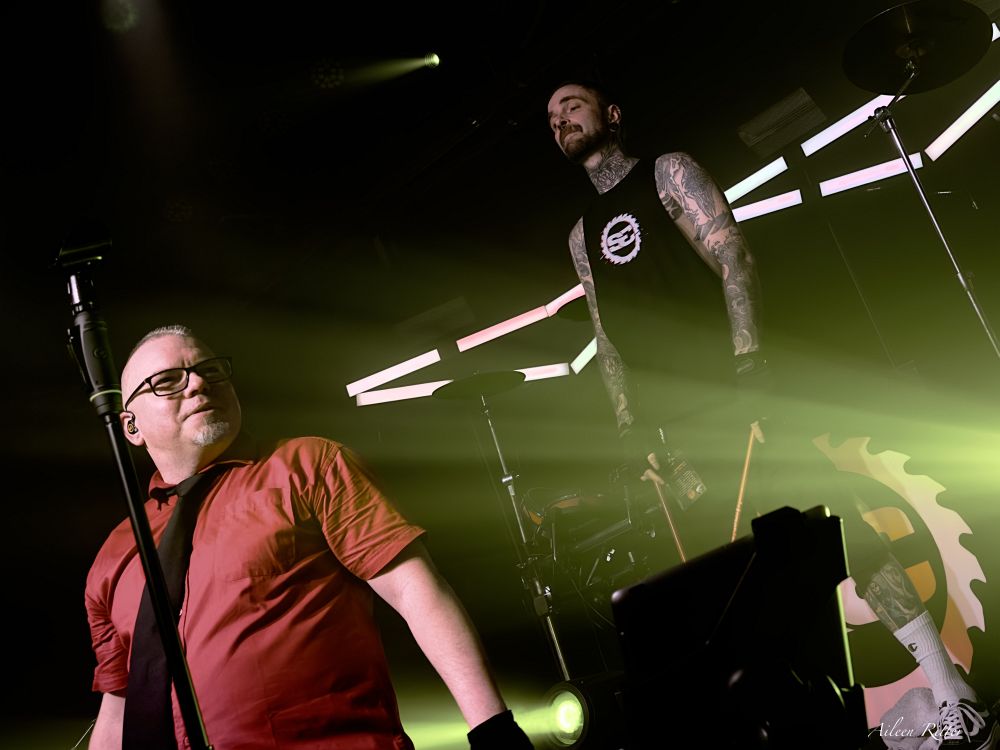 "That was cool. But the next one will be even better." Well, 'Every Now And Then' pushes the party further. "Do you want more? Hallelujah! One more is going!" Dennis dedicates the following song to Marc, who I chatted to earlier and who told me what SOLITARY EXPERIMENTS and especially 'Brace Yourself!' mean to him. "The best thing about music is, that it connects. And it's healing!" What a wonderful gesture! I can understand that Marc shed a few tears, as he tells me afterwards. "Everything OK with you? Then we'll do another one. If we are here already." 'Epiphany' is sung along loudly again and everyone dances. By the way, Dennis' voice still holds! Actually, the guys now want to say goodbye. But Frankfurt doesn't want to let them go just yet. Besides, "we can still do one more."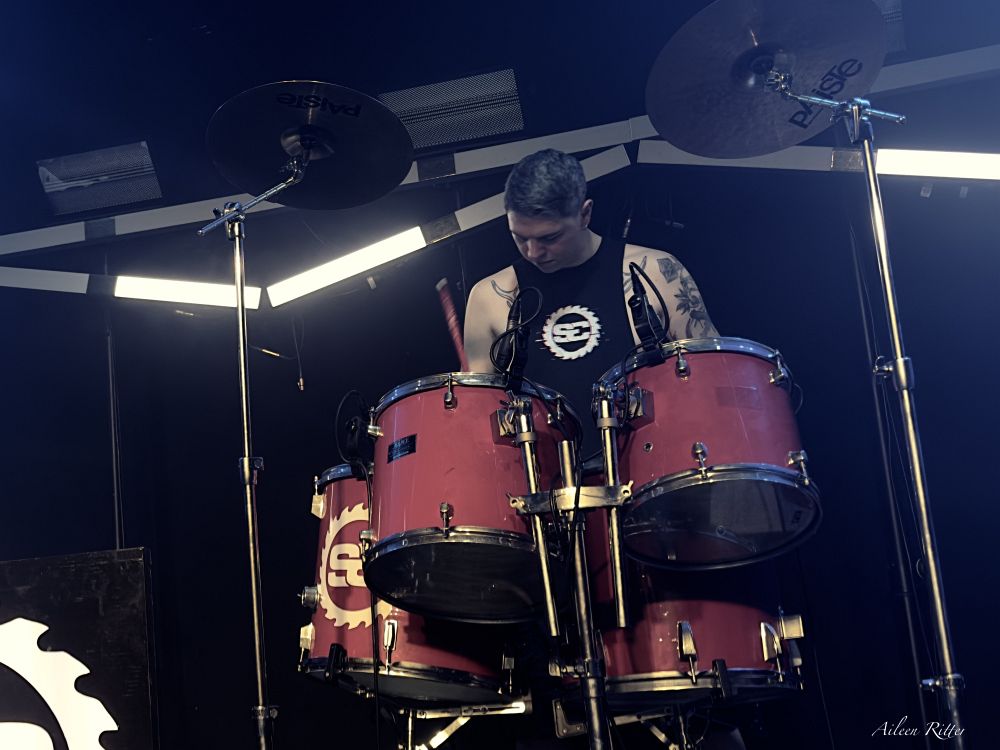 So, there's 'Rise And Fall' before the gentlemen can drink their well-deserved beer. In the meantime, the door is open and I am again extremely grateful for the cool breeze from outside. "One more time!" The BETT gives everything again and sings along loudly. Everyone dances exuberantly, including Markus behind the keyboard. "Thank you very much! Thank you very much Frankfurt! Also, to your thermal power station. That's it, we can't do more." A quick photo "for the poetry album" before the men finally say goodbye to the stage shortly before twelve. "So, children, now you are dismissed. Have a nice evening. Maybe we'll come out again soon..." The rest is drowned out by the jubilation.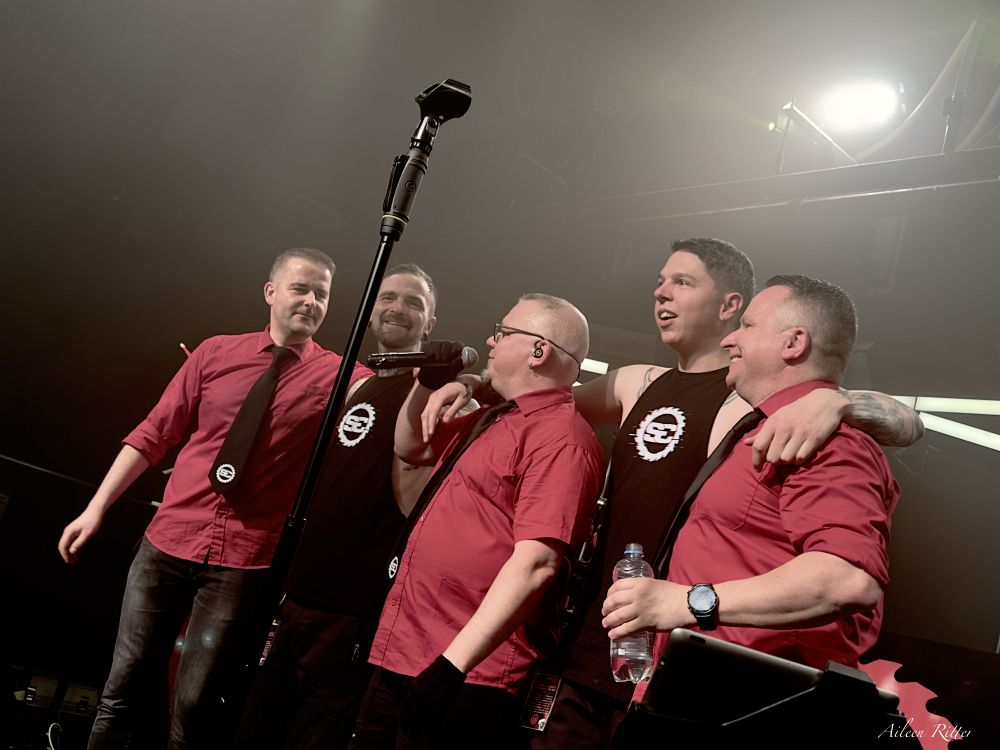 Afterwards there is not only the opportunity to shop extensively at the merch. By the way, I'm using this opportunity tonight. The musicians also turn up there again, all of whom look pretty tired and exhausted. They still take the time for autographs, photos and a chat or two. "The best thing about music is, that it connects. And it heals" and most of all, it makes me happy! I'm taking a short concert break now and will be back at the final tour weekend when it's "Hallo Erfurt!" on 21st April. Of course, Dennis has the last word today: "Thank you very much for being there. A great evening, nice audience. Madness. Until next time. Bye!"
Setlist

01. Transcendent (Intro)
02. Wonderland
03. Crash & Burn
04. Immortal
05. Heart Of Stone
06. In Agony
07. Trial And Error
08. Self-Fulfilling Prophecy
09. Head Over Heels
10. Die Zukunft
11. Träumen
12. Pale Candle Light
13. Delight
14. Sea Of Love (feat. Patrik Hansson)
15. Zeitgeist
16.Game Over
17. Discipline
18. The Great Unknown
19. Stars
---
20. I Am
21. Every Now And Then
22. Brace Yourself!
23. Epiphany
---
24. Rise And Fall
Rating

Music: 10
Performance: 10
Light: 10
Sound: 10
Total: 10 / 10
All Pictures by Aileen Ritter
See also (all categories):