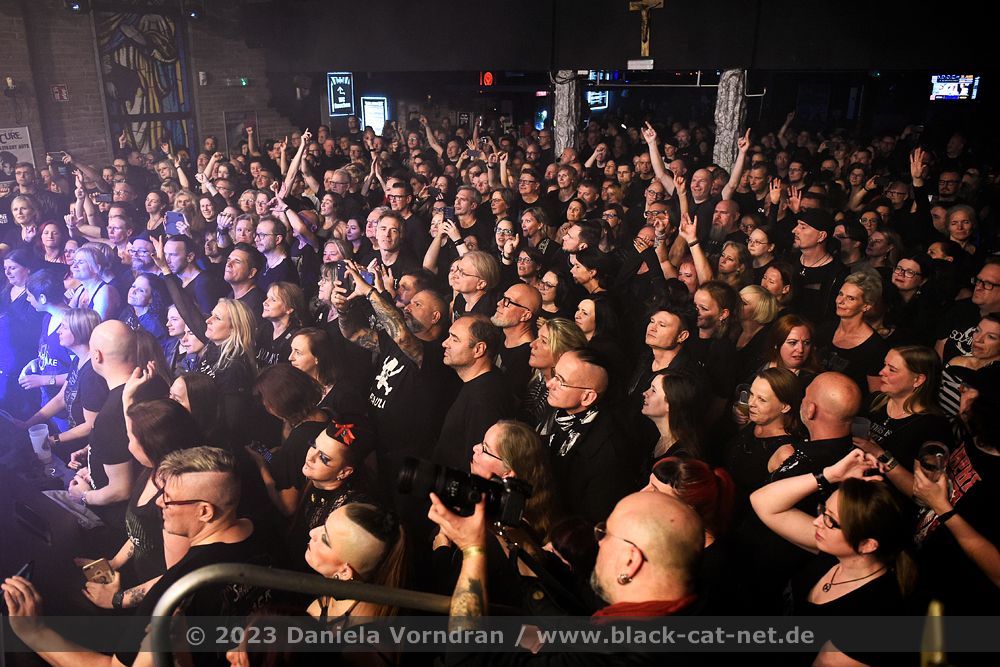 Kulttempel, Oberhausen, Germany
28th October 2023
Solar Fake - Support: Mental Exile

Yesterday, Sven Friedrich took the stage at Kulttempel with MORPHOSE, and today he's performing there again, this time with his colleagues from SOLAR FAKE, almost twice in a row. Joining them as a special guest is MENTAL EXILE. Singer Damasius Venys has already shared the stage with SOLAR FAKE as support multiple times this year. However, he did so with FUTURE LIED TO US, the collaborative project with Vasi Vallis and Krischan Jan-Eric Wesenberg. Today, he's performing with his solo project, MENTAL EXILE, where he is supported live by his partner Daniele Jaeger. And the two of them have a surprise guest with them as well, but more on that later.
SOLAR FAKE are performing only a few concerts this year due to their work on a new album. Tonight, they are hosting an exclusive and sold-out club show at the Kulttempel. For members of the Shadowplay e.V. (the official fan club of SOLAR FAKE, ZERAPHINE, and DREADFUL SHADOWS), Peter Jurjahn is opening his club at 4:30 PM for an exclusive fan club event. The event begins at 5:00 PM with a Meet & Greet for approximately 180 fan club members with Sven, André, and Jeans, followed by a 40-minute pre-show. During this pre-show, SOLAR FAKE performs songs that won't be part of the later official show and that many fans have wished to hear. The setlist for this "wish list concert" includes 'You Need The Drugs', 'Invisible', 'I'd rather break', 'Parasites', 'I can't remember', 'Creep', 'Too late', and 'The Pages'. But before that, there is some time for raiding the merchandise stand. This at least makes room for the many gifts brought by fans, for which the musicians would likely need a small truck for transport. The fan club event ends at 6:59 PM, just before the doors open for the remaining concert attendees.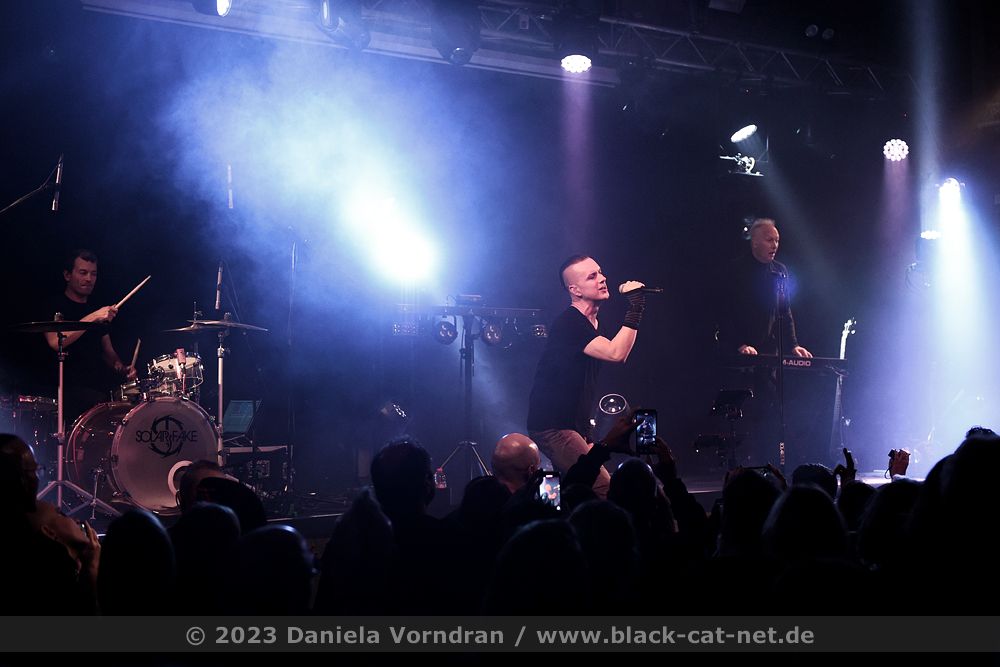 Mental Exile

With MENTAL EXILE, Damasius Venys expresses his love and passion for the 1980s Synth Wave genre. Under this label, he released his first EP, 'Exile Nights' in 2018. A year later, he followed up with his debut full-length album, 'Ride the Madness' and in the subsequent years, two more EPs titled 'Exile Nights II' and 'Inferno Hotline'. Starting in July 2022, the singer released several singles, which were compiled into the album 'Summer of '86', released on CD on October 27th (yesterday). So, todays show is kind of release-party. In 2022 and 2023, MENTAL EXILE can primarily be seen live as the support act for SOLITARY EXPERIMENTS during their 'Transcendent Tour'. The first live dates for 2024 are already scheduled. For example, Damasius and Daniele will share the stage again in March '24 at 'Kielectric' Festival.
https://www.facebook.com/mentalexileproject
/
https://mentalexile.bandcamp.com/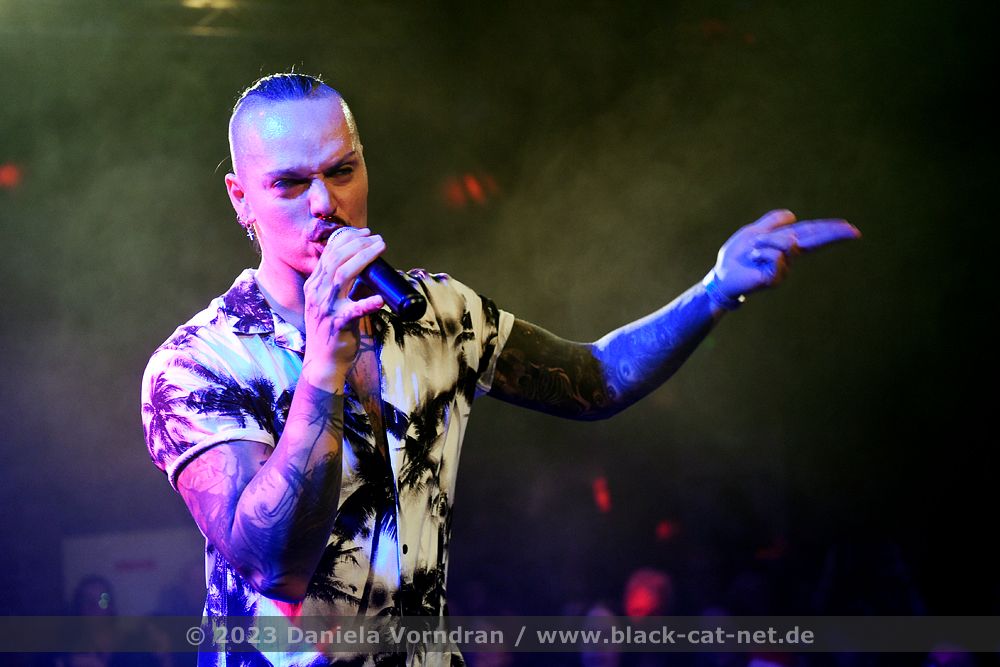 Music & Performance
When the doors of the Kulttempel open shortly after seven for all concertgoers, the participants of the fan event had already settled in front of the stage. The club filles up rather quickly. The show is sold-out, but nevertheless there is a sense of a family reunion again. The usual suspects seem to be everywhere, after all. So, hugging, toasting, and joking were happening as usual. There's still some time before it starts, and the later arrived friends are warmly welcomed. At 8:00 PM, the lights go off again, the intro starts, and we get thoroughly enveloped in fog. Daniele takes the stage and her place behind the keyboard. But what's this? Or rather, who is this? Next is not Damasius who comes onto the stage, but a gentleman in a Hawaiian shirt, Bermuda shorts, sneakers, sporting sunglasses, a blue sun visor on his head, and a Keytar around his shoulder. Damasius follows the guest musician and wears a white shirt with a black floral print. If that doesn't give you a "Summer of '86" feeling. Any guesses on who the second keyboardist and backing vocalist (introduced as DJ Laser) is? It's none other than the well-known and beloved moderator of various scene festivals and WIEGAND keyboardist, Jens Domgörgen.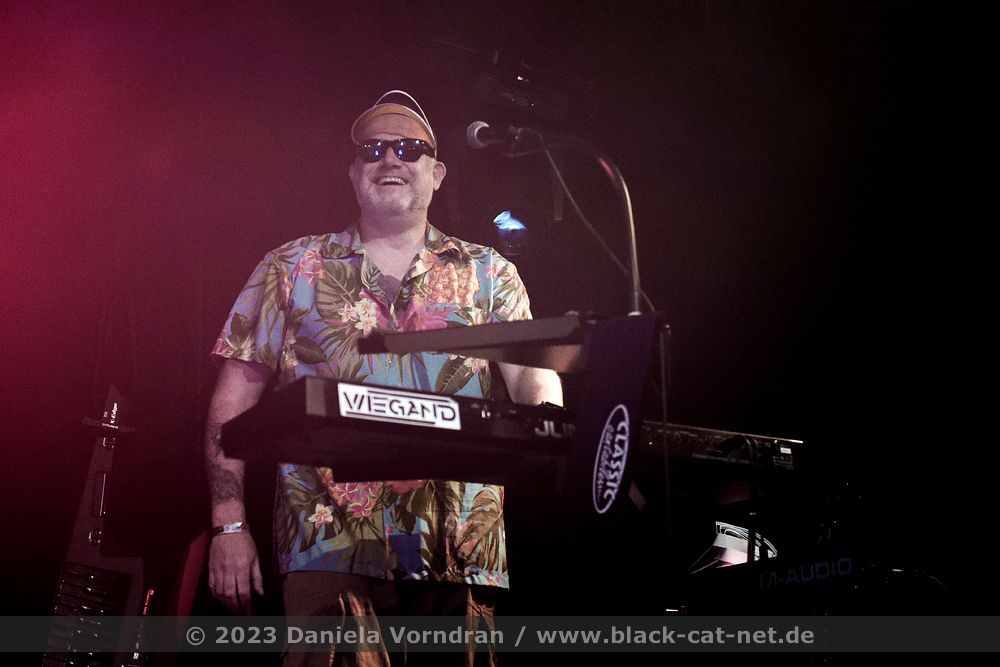 The show kicks off with 'Back to You', the opener from the new album. Unfortunately, they seem to have gone a bit overboard with the fog today. My visibility is limited to a maximum of five meters most of the time, and what's happening on the right or in the back rows escapes my perception. So, I can't see what Jens and later André are doing at the keyboard most of the time, and Sven is often just a shadow in a colourful cloud. It might look beautiful from a distance, and the lighting itself is wonderful otherwise, but when some in the front rows need their asthma inhalers just to breathe, it's too much. Enough of the criticism, and back to MENTAL EXILE. In our corner (I don't know about the rest of the club), the song immediately spreads summer vibes, and people start dancing and singing right away. We won't let the atmosphere be ruined. It's hardly possible to do so with the fun, the enthusiasm, and the good spirits that the trio brings to the stage.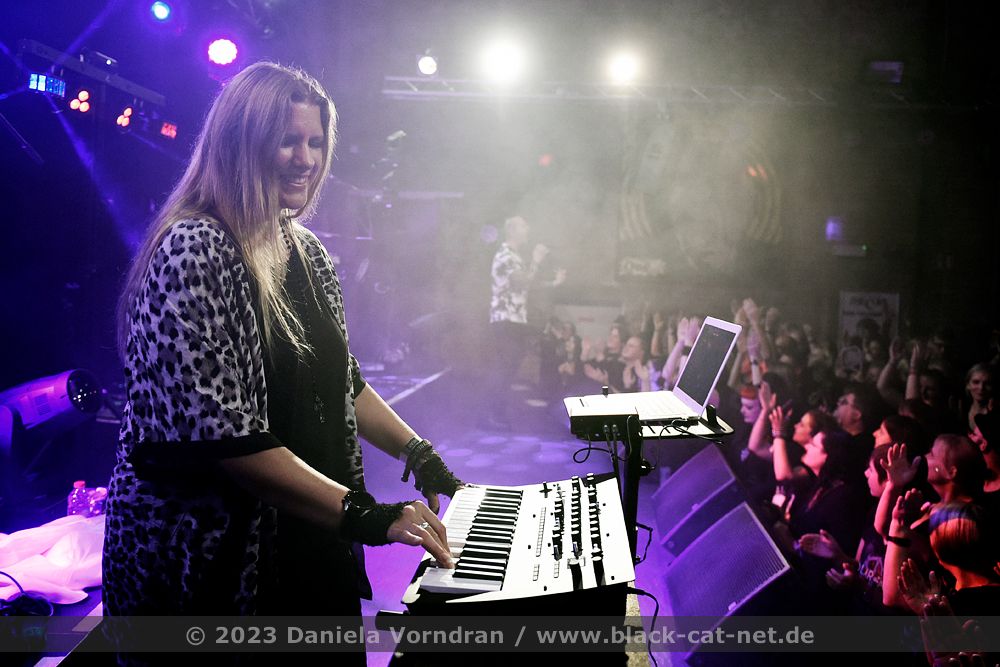 They continue with 'Run Away', where DJ Laser comes to the front and encourages the audience to clap. Playing on the keytar, he dances back-to-back with Damasius, who then properly introduces the guest. "We are MENTAL EXILE. Today, we have a special guest with us. Let's have an applause for DJ Laser!" Jens, who plays his role perfectly, naturally receives the applause. And then, "let's have some party" with 'One of Us' and 'Stalker Love'. For this, Damasius takes off his blazer. Even Jens, or should I say DJ Laser, finds it "very warm here in Germany". Usually, Damasius' second voice is electronically played, but today, DJ Laser sings these parts live, and it suits the songs excellently. The two voices harmonize wonderfully, and Jens adds an extra layer to the sound. I am impressed, and the subsequent applause speaks for itself. We're having a lot of fun! During 'Renegades', I particularly notice DJ Laser's backing vocals. And in our corner, we sing along loudly; "we are the wild ones". If someone has recorded the song and plans to release it... you'll hear from my lawyer.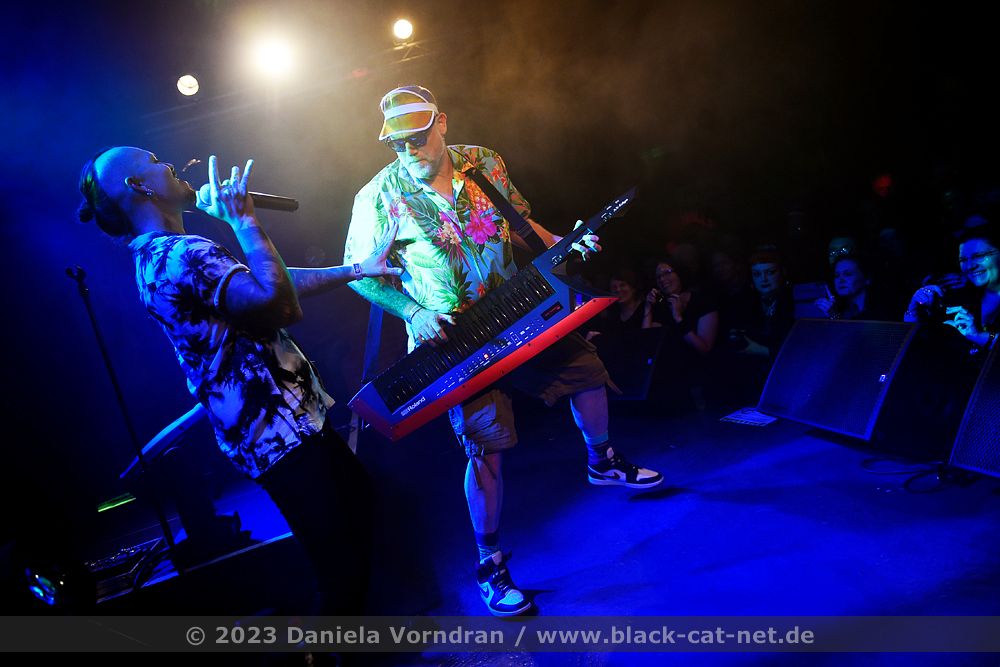 At the beginning of 'The top model', DJ Laser distributes more sun visors to the audience. Damasius turns it up, encouraging the audience to clap along. "Come on. Show me your hands." With his boundless energy, the likable musician simply infects everyone, and there's plenty of dancing. Then the trio sets the 'Streets on Fire'. Damasius' charisma and expression are, as always, fascinating, and the background vocals sound fantastic. Damasius moves from right to left and back again. During 'From the Dark' he lingers with Daniele and "flirts" with his partner. My highlight of the set today is 'The Night Is Mine' with a first-class Keytar solo. DJ Laser comes to the front again, competing with Damasius, who prefers the air guitar. The song receives enthusiastic applause, which turns into rhythmic clapping with the first notes of 'Falling'. DJ Laser takes over the backing vocals once more, and here too, there's enthusiastic singing, clapping, and dancing. "Kulttempel! It was very nice being with you. As always! We are MENTAL EXILE. And we wish you a lot of fun with SOLAR FAKE. Thank you very, very much! Until next time. Thank you!"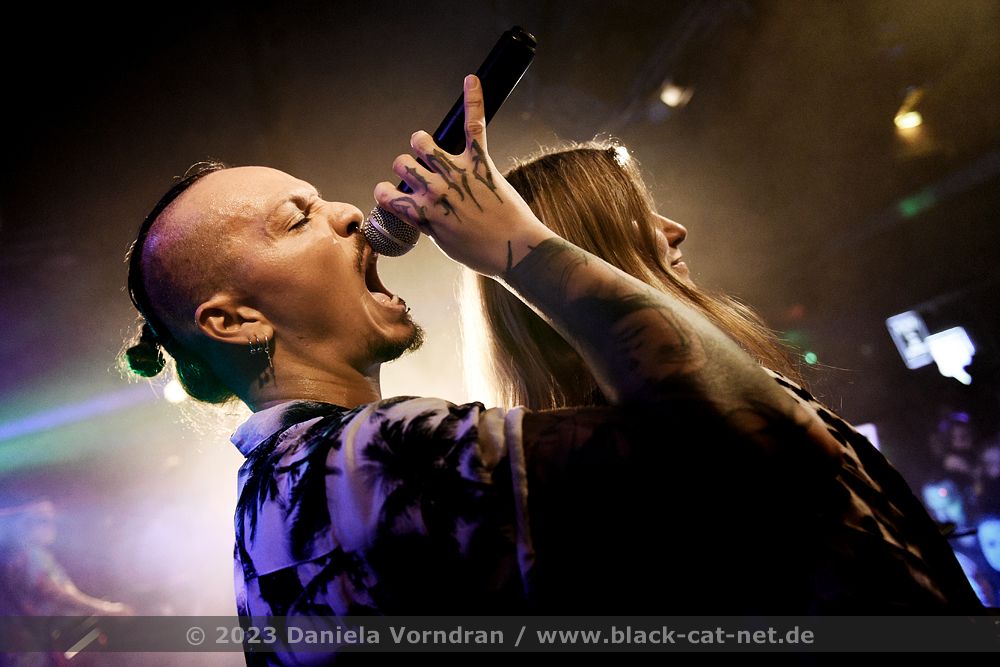 It's a shame the set ends here. Damasius asks for applause once again for his fellow musicians, "DJ Laser from America" and Daniele. He also thanks Thomas and Marina, who hold the fort at the merchandise stand, club-chef Peter, and of course, us. "Thank you very, very much! See you soon." With that, MENTAL EXILE leaves the stage at 8:45 PM to make way for SOLAR FAKE.
Setlist

01. Back to you
02. Run away
03. One of us
04. Stalker Love
05. Renegades
06. The top model
07. Streets on fire
08. From the dark
09. The night is mine
10. Falling
Rating

Music: 10
Performance: 10
Light: 8
Sound: 9,5
Total: 9.4 / 10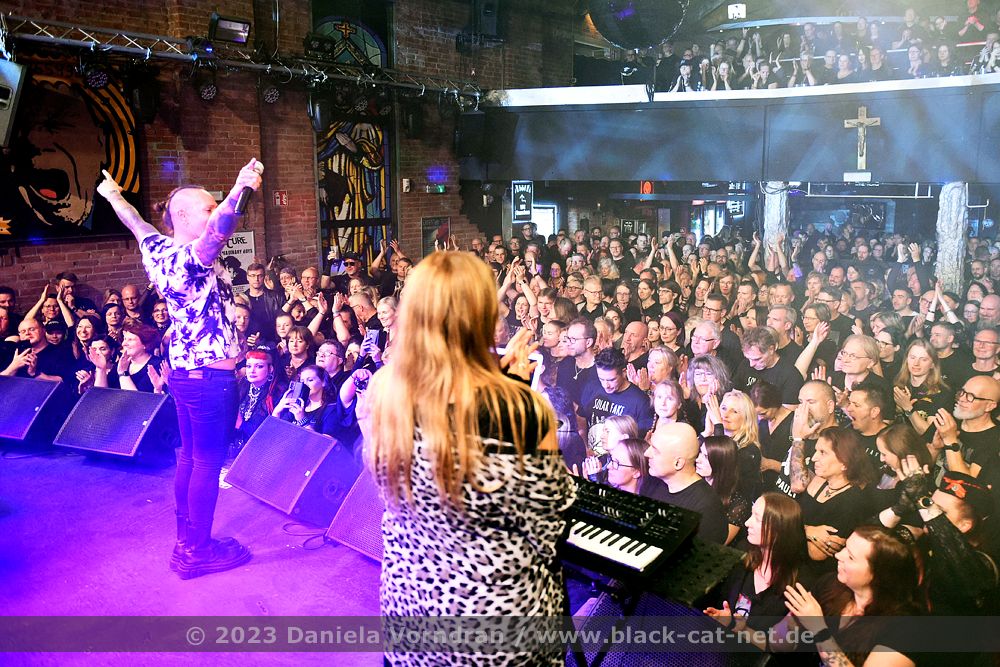 Solar Fake

With sixteen years of band history and six studio albums, the Synth Pop / Industrial / Indie-Electro act led by ZERAPHINE's singer, Sven Friedrich, has long become a staple in the dark music scene. Originally started as a solo project, it now includes André Feller (keyboard and bass) and Jens (Jeans) Halbauer (drums) as a permanent live line-up. The work on the new SOLAR FAKE album is nearly complete, and the full-length record is expected to be released in the spring of 2024. Prior to that, 'This generation ends' will be released as a single for your listening pleasure and for members of the official fan club also on vinyl. The Limited 12" vinyl will be exclusively available to fan club members through the Shadowplay e. V. and will come with some surprises. SOLAR FAKE can be seen again on stage at the Darkstorm Festival in Chemnitz on 25th December. Do you have your ticket yet?
https://www.facebook.com/SolarFake
/
https://solarfake.de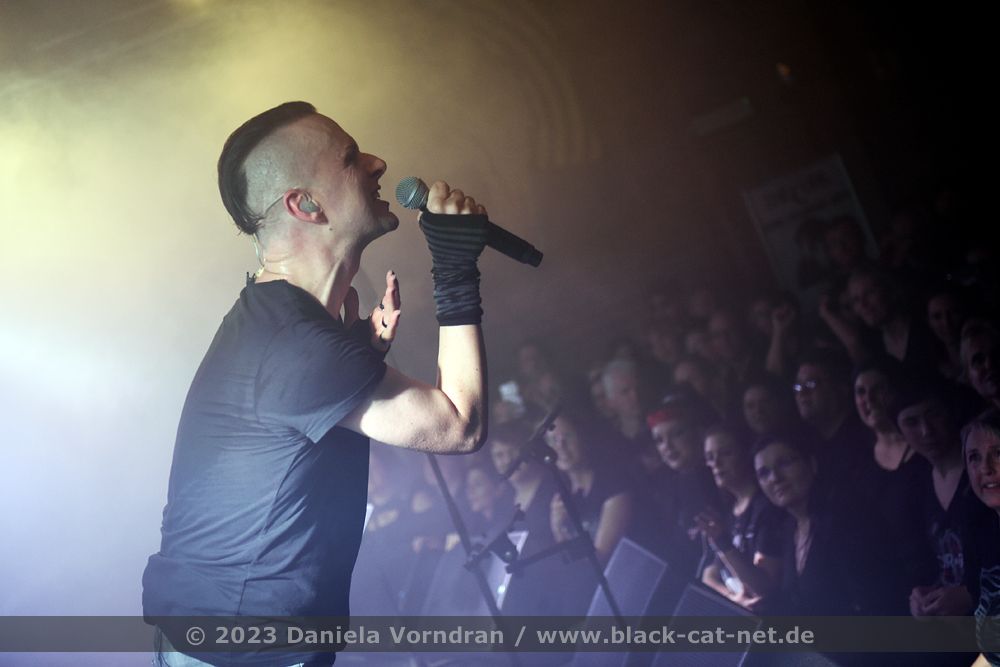 Music & Performance
As soon as Daniele, Damasius, and Jens cleared the stage, the changeover begins. Right on time at 9:00 PM, the lights go out again, and we find ourselves in the fog once more as Jeans and André take the stage. SOLAR FAKE kicks off with 'At least we'll forget', featuring André on bass. And when Sven joins his bandmates on stage, we're already right in the thick of it. André is up front with Sven, and they immediately get us all pumped up. "Unbelievable. If we weren't from Berlin, I'd say it's great to be home again." SOLAR FAKE maintains a high tempo right from the start with 'Reset To Default' and 'This pretty life'. The Kulttempel is buzzing, everyone is singing, jumping, and clapping along. Even though the guys have already been on stage for the second time today, they've brought an extremely high-energy set, and they continue full throttle with 'Under Control'. Sven, as we know him, utilizes the entire stage, moving from left to right and back to the centre. "So, now, here comes another old one." The first notes of 'All The Things You Say' sound, and the audience cheers. The song is celebrated, and everyone sings along.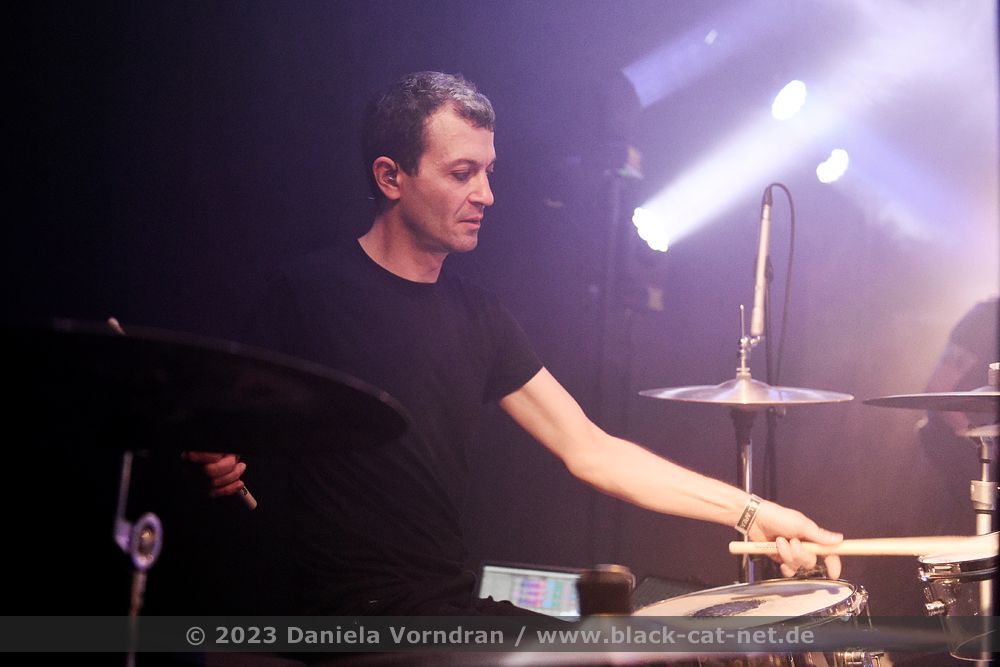 SOLAR FAKE finally give themselves and us a little breather, and they get emotional with 'I Don't Want You In Here'. The song from the album 'Another Manic Episode' always gets under my skin. And because it's so beautiful, we stay with the 2015 album and go straight to 'Not What I Wanted', with André going wild behind the keyboard once again. Sven jumps up and down on the stage, and the audience jumps along. Sven seems to think we're not singing loudly enough and keeps holding the microphone out to us. "All together!" It's unbelievable. The audience gives all, and I'm pretty sure you can hear us even outside the door. And then Sven lets us sing alone before he gears up for the final stretch, taking us into the present, or rather, the future. "If you've been listening to our podcast, you already know. Our new album came out on 31st September. (laughs) No, so, our new album comes out next year. And today, we're going to play a few songs from it. That's right, the first song is called 'Disagree'." And we're back in the fog. It's good that André is back up front with the bass and switches to our side. I still hear a bit of THE CURE and MUSE in the song, and I like it more with each listen. They continue with high energy with 'Arrive somewhere' from the current album and the audience is instantly going wild. Speaking of going wild, the only German-language song in the set, 'Es geht dich nichts an', is sung and celebrated just as loudly.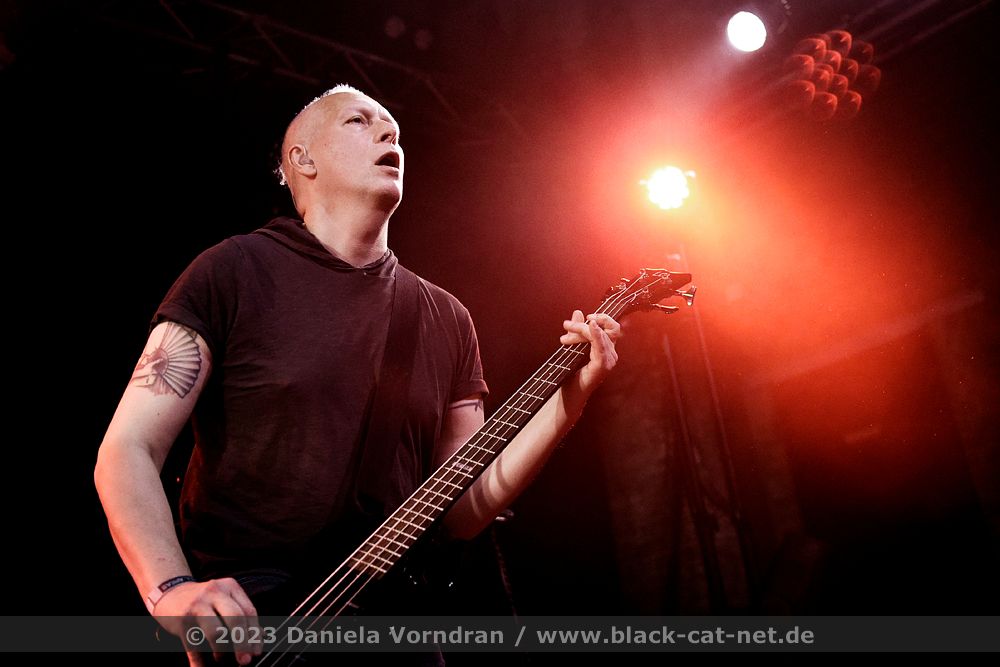 Then it's time for a new song again. Sven mentions that 'You keep breathing' is only being played for the second time today and was previously tested in Königstein. Even today, the slightly slower song is well-received. Then it's time to sing along again, and the chorus of 'More Than This' is loudly sung. And then, with a lot of power, they continue with 'I despise you' before Sven asks if we're up for another new song. As mentioned above, 'This generation ends' will be the first single. A great choice. I like this track more and more with each listen, and it's a blast live. Accordingly, it is celebrated, and some are already singing the chorus. With that, we take a step back to the current album, namely the current single, 'It's who you are'. And a SOLAR FAKE concert wouldn't be a real SOLAR FAKE concert if Sven didn't mess up at least one entrance. But that's why we love him, or rather for the extremely likable way he deals with such things. So, let's do it again. The party continues, and the tempo is kicked up a notch with 'The pain that kills...'. And we love that too: André, who gives the "dancing Queen" at the beginning of 'Observer'. By the way, this is the "last song", even Sven has to laugh about that. As if we would let them go without an encore... Sven then says goodbye with the words "maybe see you soon" twenty minutes past ten.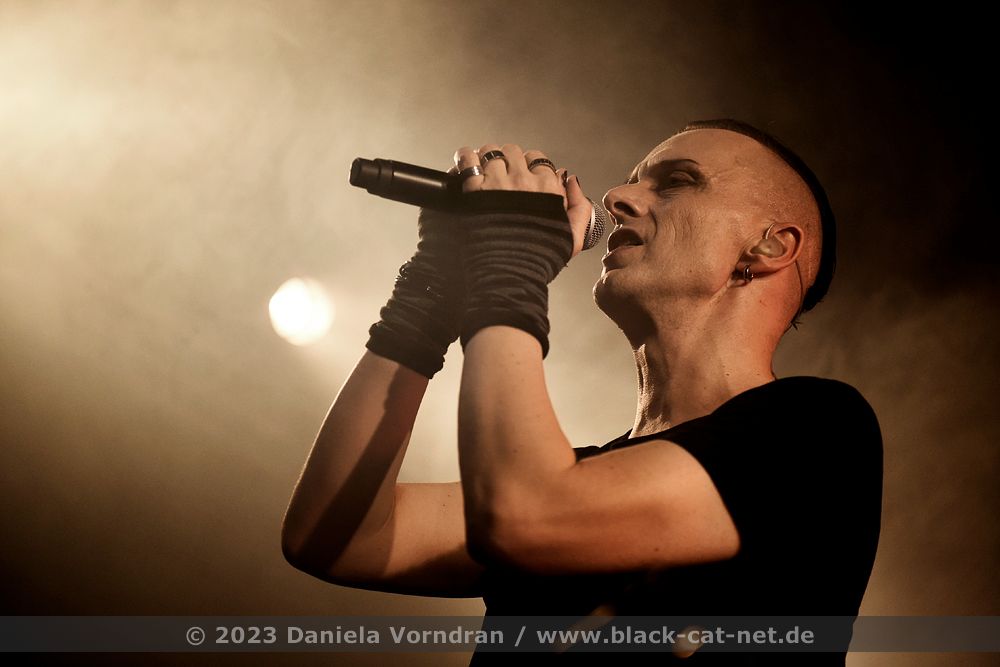 Actually, the three could have just stayed here. Applause and calls for an encore bring them back just a minute later. SOLAR FAKE is "now going to play a cover version". This cover version probably won't be released "because the strange publisher of this very unknown band simply hasn't responded yet". 'Ghosts Again' (DEPECHE MODE) was supposed to be on the new album. But Sven has "no desire and no time to wait forever now". It's allowed to be played live, so SOLAR FAKE play it live now. I've heard this cover a few times now, and I still like it better than the original by the "unknown band". And the background choir in the Kulttempel is also great. Why go to a stadium and buy overpriced tickets when it's much nicer here. And for the same money, I can party multiple times and also go home packed with merchandise and some autographs. Thinking about overpriced tickets, 'Sick of you' somehow fits quite well. That's up next.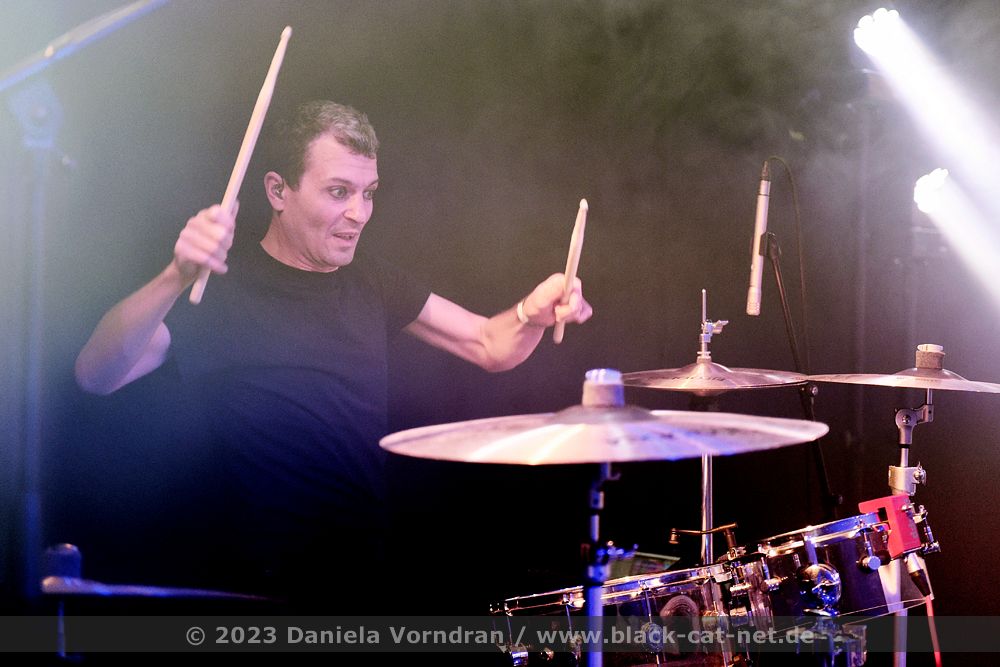 'Where are you' always used to be played in former times. Sven has no idea what happened and why the song hasn't been on the setlist for so long. As far as I'm concerned, it's more than welcome to come back. The somewhat quieter song invites you to dance and dream. The lights create various patterns on the ceilings and walls of the Kulttempel, creating a wonderful atmosphere. Just beautiful. And then there's something quiet to finish with. With 'Stay', goosebumps are guaranteed and quickly appear. The song always takes me on an emotional journey, and today, I can't hold back the tears, no matter how loudly I sing along. SOLAR FAKE says their goodbyes again from the stage, and when the guys are back, I've regained my composure. "So, if you can and want to, we're going to play a few more songs now." Of course, we can and, of course, we want to. 'Under The Skies' makes the hall shake, and with 'Papillon' no foot is standing still anyway. Both songs are sung loudly, and the whole hall jumps up and down. Before the really last song of the set, SOLAR FAKE fulfils one more wish and play 'Just leave it' from the current album. But SOLAR FAKE will definitely be back.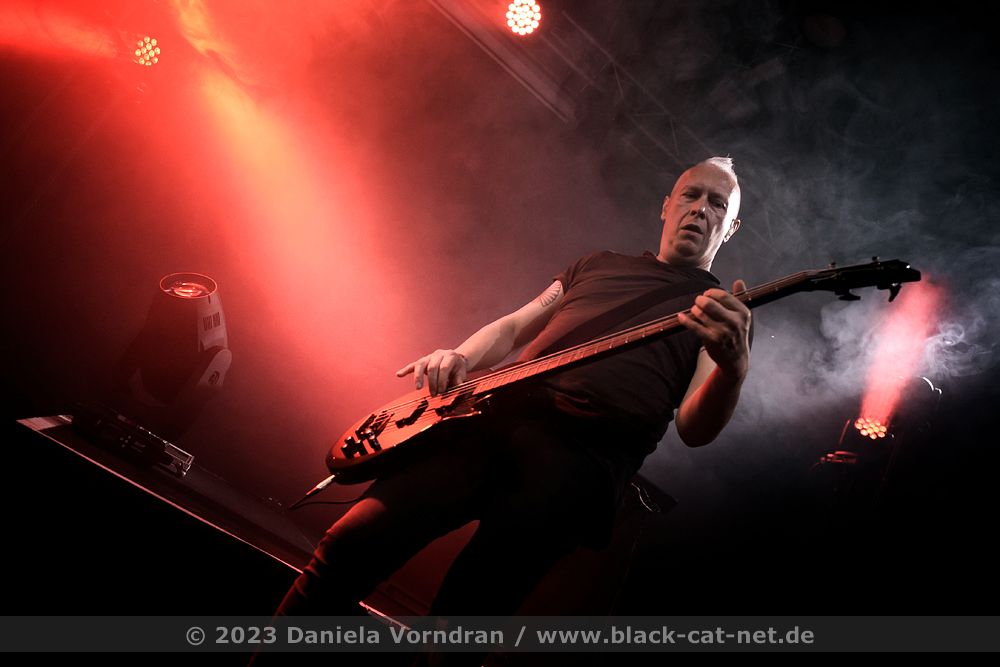 It will take a little while, but they will return, as Sven already reveals. He thanks everyone who made this possible and then comes the truly final track. Even encore calls won't help. When 'Wish myself away' begins, we know that this show is truly coming to an end. So, SOLAR FAKE leaves the stage for the last time at 23:05 after a final photo and release us into the night. If you don't want to go home yet, you can simply stay for the after-show party. We also celebrate a bit more before heading home and leave the final words to Sven. "Thank you very, very much! It was unbelievably great... Until next time. Take care."
Setlist

01. At least we'll forget
02. Reset To Default
03. This pretty life
04. Under Control
05. All The Things You Say
06. I Don't Want You In Here
07. Not What I Wanted
08. Disagree
09. Arrive somewhere
10. Es geht dich nichts an
11. You keep breathing
12. More Than This
13. I despise you
14. This generation ends
15. It's who you are
16. The pain that kills…
17. Observer
---
18. Ghosts Again (DEPECHE MODE cover)
19. Sick of you
20. Where Are You
21. Stay
---
22. Under The Skies
23. Papillon (EDITORS cover)
24. Just leave it
25. Wish myself away
Rating

Music: 10
Performance: 10
Light: 8
Sound: 9,5
Total: 9.4 / 10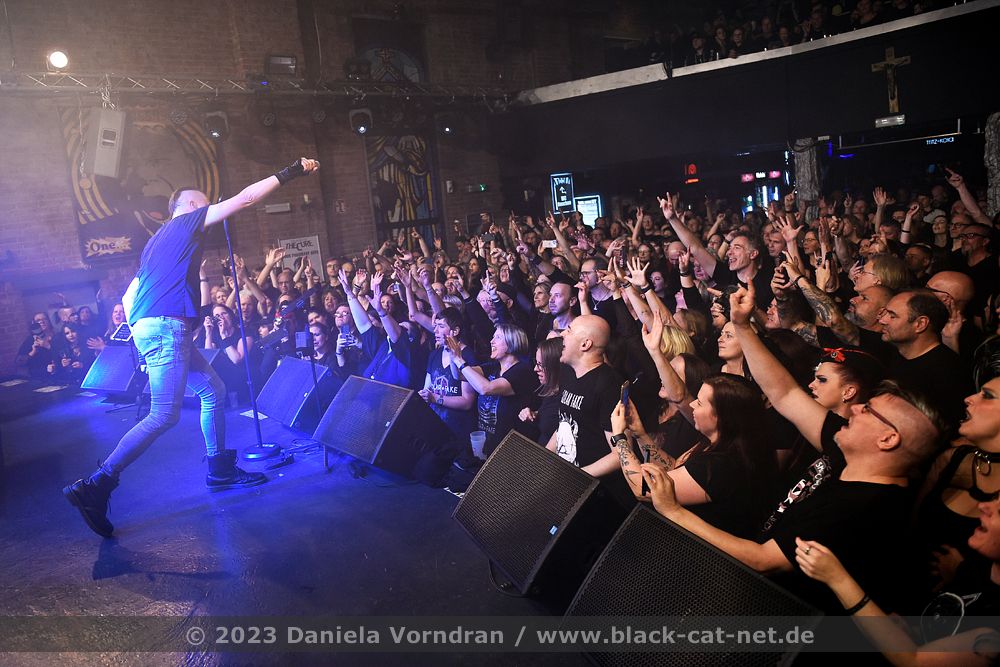 All pictures by Dani Vorndran (
http://www.vorndranphotography.com
/
http://www.facebook.com/blackcatnet
)
See also (all categories):