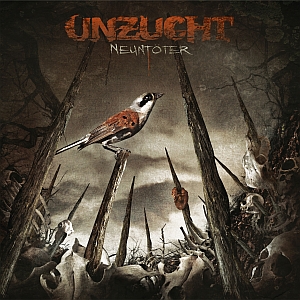 Artist: Unzucht
Title: Neuntöter (Deluxe Double Disc)
Genre: Dark Rock
Release Date: 2nd September 2016
Label: Out Of Line
Album Review

Back in 2009, German rockers UNZUCHT got together to create dark and smashing tunes. After their albums 'Todsünde 8' (2012), 'Rosenkreuzer' (2013), and 'Venus Luzifer' (2014), the year 2016 was marked by getting signed with a new label, Out Of Line who're based in Berlin, and the unleashing of their killer album titled 'Neuntöter'. The single 'Kettenhund', which we've already praised
here
, gave us a taste of UNZUCHT's fourth record on which the band is vamping up their hymnal anthems with surprising, brutal Metal intermezzos. Fittingly, the harmless-looking and beautiful "Neuntöter-bird" (red-backed shrike) graces the cover; this birdie is actually a deceiver as it impales its victims on thorns, mercilessly almost like Vlad Țepeș, before devouring them. Just like the "butcher bird" UNZUCHT's latest album entwines the beautiful and the brutal and all that in a brilliant way.
'Der dunkle See' is a wonderful opener spreading some melancholic vibes. There are hard and heavy guitar parts next to calm piano and strings notes while Schulz's clear vocals resound – a powerful and at the same time pensive first song. Crushing guitars introduce the second one; 'Widerstand' is a true head-banger convincing with whiplashing guitars and destructive drums and the interplay between Schulz's higher-pitched and melodic singing and the distorted harsh vocals of De Clercq. The following 'Lava' is more melodic, but nevertheless rocking. The touching lyrics tell a story about a disadvantaged and now dead girl and capture the listener's attention. The electronica, guitars, and rhythm in the C part build up the tension just as this dramatic songs requires. Then, UNZUCHT's already well-known 'Kettenhund' is on the loose again – what a neck-breaker! This sledgehammer is made to be played live with its staggering guitars, shattering drums, hey-shouts, and the vocals of both Daniels.
To catch our breath, the balladry and free-floating tune 'Hinter Glas' sets in with an atmospheric piano and strings intro; its chorus is powerful and sung from the heart – UNZUCHT melancholia as we like it! On we go again with another smasher: more rocking drum-beats, Metal guitars, aggressive growls, and an addictive chorus on 'Ein Wort fliegt wie ein Stein'. The heavy tune 'Judas' gives more food for thought with its chorus about the black hole within us, our need to want and to feel more and more because nothing is ever enough. And so Daniel De Clercq is screaming: "Ich will mehr! (I want more!)" The dark title track 'Neuntöter' kicks off with staccato guitars and shouts and deals with the fact that we all must die. This fierce memento mori tune also displays great electronics and ends calmly with a piano part surprising with a change in tempo. Another great track of the heavier kind and especially its beautiful ending – probably one my favorite sections on the record – is simply to die for.
The order of the songs on the entire album make so much sense as the ballad 'Schlaf' with its incredibly emotional vocals is up next for a change. If you're a sucker for melody you will find it just wonderful how the strings set in the background harmonize perfectly with the piano notes. Then the song grows in intensity as the lead guitars join in. One can almost see the lighters – or nowadays phones – swaying up in the air lighting up the dark venue while listening to this intimate and intense song. 'Piotrek', in contrast, begins in a rather noisy manner. This hard tune presents another typical UNZUCHT chorus that is melodic and the oriental-sounding flutes in the background that they built in towards the end don't fail to impress immediately. Finally, the Industrial 'Splitter' takes care of a really sinister outro. This one stands out being a short but soundtracky and doomy track with harsh Death Metal-ish screams only in its one stanza – both thumbs up! All in all, 'Neuntöter', made of eleven forceful tracks without exception, may be called the band's monster-piece – I mean, masterpiece!
UNZUCHT have released 'Neuntöter' as a regular album CD with all the 11 songs mentioned above and as a deluxe double disc which offers three more songs, two 'Neuntöter'-songs featuring guest vocalists, and a remix. The bonus tracks 'Parasomnia' and 'Das Lächeln der Gewinner' are Dark Rock at its finest with beautiful sing-along choruses and in the ballad 'Tränenmeer' vocalist Schulz presents his exceptional baritone vocals. There is a nostalgic feel to this "lacrimal lake ballad" and you can clearly "hear" the twinkling stars as UNZUCHT sing: "Eine Hand greift nach den Sternen. (transl.: A hand reaches for the stars.)" In addition, there's 'Widerstand' featuring Dave Grunewald of Post Hardcore act ANNISOKAY and one more time the song 'Ein Wort fliegt wie ein Stein' featuring Chris Harms of Dark Rock colleagues LORD OF THE LOST. As one might have expected, both guest singers do an amazing job taking over the harsh vocals.
At the very end, we get a remix of 'Ein Tag wie jeder andere' by Robert Andrew Bowman. It's an alternative, chill-out version of the song, however, at times it doesn't seem as a harmonizing whole with the vocals and beats appearing too much forced on top of the rest. There's more unity towards the end when guitars and drums are added, so on the whole, it's an average remix, indeed quite interesting for a listen, but I personally find the original tune way more enjoyable. It is particularly because of the three previously unreleased bonus tracks that this double disc is a must-have for all UNZUCHT fans. Moreover, there is also a fan box for all diehards, which is limited to 999 copies containing the double CD, plus, as exclusive content, the first official UNZUCHT live album 'Live From The Street', a hardcover photo book, a 'Neuntöter'-patch, and a hand-numbered ownership certificate.
To put it in a nutshell, 'Neuntöter' is without any doubt UNZUCHT's most versatile and powerful release – a must-hear for all dark rockers and metal heads out there! The high-class production and original compositions that sound characteristically UNZUCHT enriched with new intensity and aggression call for a 10 out of 10! Both, the calmer and melodic tunes and masterful clean vocals on the side, as well as the harsher head-banging outbursts and harsh shouts on the other, and also the perfect interplay of both parts, are unquestionably a success. With 'Neuntöter' the band embarks on the most diverse and masterful enterprise they have undertaken in all the eight years of their existence. Furthermore, the album proves once again that UNZUCHT are one of the few German acts that present convincing, thought-provoking, and truly poetic and meaningful lyrics in their native tongue that show sentiment and also social criticism. Such a pleasure to hear a great band becoming even greater! What's next after a release like 'Neuntöter', one might wonder. One thing is for certain: Expectations are high that the band is going to outdo themselves again as their talent and thirst are undeniable. Long live UNZUCHT!
Tracklist
Album CD
01. Der dunkle See
02. Widerstand
03. Lava
04. Kettenhund
05. Hinter Glas
06. Ein Wort fliegt wie ein Stein
07. Judas
08. Neuntöter
09. Schlaf
10. Piotrek
11. Splitter
Bonus CD
01. Parasomnia
02. Tränenmeer
03. Das Lächeln der Gewinner
04. Widerstand feat. Dave Grunewald (Annisokay)
05. Ein Wort fliegt wie ein Stein feat. Chris Harms (Lord Of The Lost)
06. Ein Tag wie jeder andere (Robert Andrew Bowman Remix)






Line-up

Daniel "Der Schulz" Schulz – vocals
Daniel De Clercq – guitar, vocals, electronics
Alex Blaschke – bass
Toby Fuhrmann – drums
Website

http://www.unzucht-music.com
/
https://www.facebook.com/Unzucht/
Cover Picture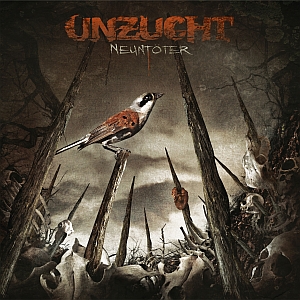 Rating

Music: 10
Sound: 10
Total: 10 / 10
See also (all categories):