Page 1 of 2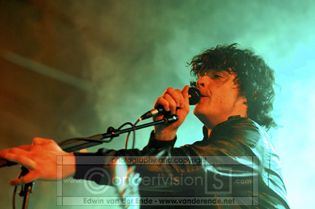 Liberation Festival, Wageningen, The Netherlands
May 5th 2006
Anathema and Transworld

It's amazing how a band like Anathema is able to change a truly lousy day into something beautiful. The day before I already went to Hengelo to see my favourite band play. So for me it was Anathema two days in a row…. Couldn't get any better…
Transworld


After having skipped the rest of the line-up of this Liberation day festival and arrived just in time to see the Dutch band Transworld the audience was just told that the band was only doing their second show ever.

Music
The band looks a bit different from what they sound like to be honest. If you listen to their music you hear touches of Rammstein but generally it reminds of Marilyn Manson & co. This doesn't say it's bad at all, it's just to give you a general idea where to place this band eventhough their looks are way more futuristic. The songs however are also more or less derived from these two bands and aren't really something new. But the audience clearly catches up with the music and seems less interested in inovative music than in having a good time. The sound is okay with the instruments and vocals well in the mix although the sound engineer might have to get used to this type of music. With easy accessable music this band just provides the crowd with music that's apealing, so let's stop worrying about originality and let's conclude they clearly fullfilled a need and did that well.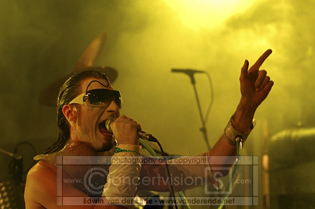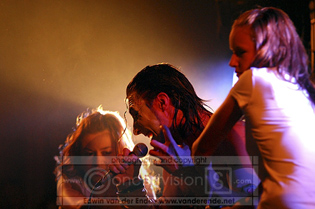 Performance
The band sounds like Marilyn Manson but it looks completely different. Yes they might just have started this band and this may just be their 2nd performance but they have put a lot of effort in their show. The outfits the guys are wearing have this futuristic look with the singer even carrying around a small lcd tv on his belly alongside all the tubes, plates and of course quite a bit of make-up. To add to the total joy of the concert the band even managed to get two beautiful dancers on stage in impeckable white outfits. No babes on stage for their looks but they were even very good at their dance. Like the whole show it was powerfull and over-the-top at times but it fitted the band's concept very well. The lights however were way too much at the wrong places sort of spoiling the fun for the people at the first rows with lots of stray lights obstructing your view. All in all this was quite an achievement for a band that only weeks before got their video of "Transworld Transsexual-Superstar" played on Mtv. If they are playing near you, by all means at least check them out.
Rating
Music: 7
Performance: 9
Sound: 7
Light: 5
Total: 7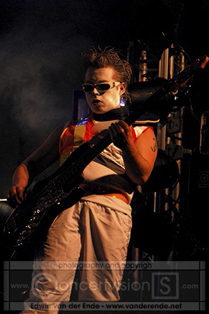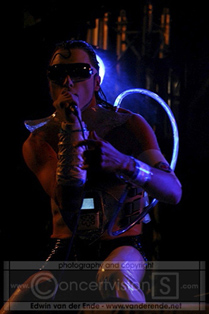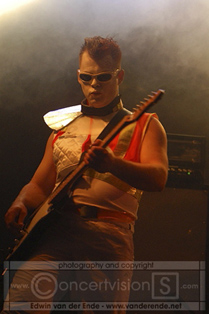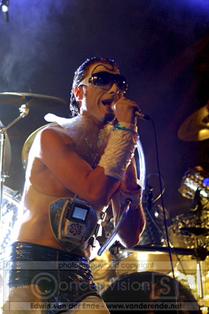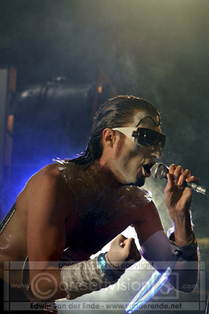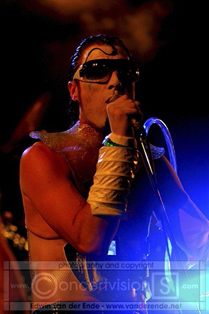 Anathema

The band was formed in summer 1990 in Liverpool by Daniel Cavanagh. They started as Pagan Angel in line-up: Darren White - vocals, Daniel Cavanagh - guitar, Vincent Cavanagh - guitar, Jamie Cavanagh - bass, John Douglas – drums. After a lot of line up changes the band is almost in the same line up again, except for Vinnie who has also taken over the singing part and ex-keyboard player Les Smith who joined Anathema 2000. Their music has developed from dark metal to melodic metal, with big Pink Floyd influences.
Music
Anathema had brought their own crowd to the festival: there were a lot of foreign fans present again; I heard some German, English en Belgium voices all around. Some loyal fans this band has… Just like the day before Anathema started of with the beautiful song 'Shroud of False' followed by 'Fragile Dreams'. Striking again was the setlist with the older material. Songs like 'Sleepless', 'Empty' and 'Lost Control' were played again, a high value of 'Alternative 4' songs.
Just before the end Danny (guitar, backing vocals) introduced their new song 'Space'. Anathema has recently released another new song 'Everything', but the song couldn't be played live, for they needed Lee Douglas (part-time member, vocals) for it. But to give us something new they played us 'Space' which was greatly received by the audience. In the end, the fans got what they were waiting for: 'Comfortably Numb', a cover song by Pink Floyd.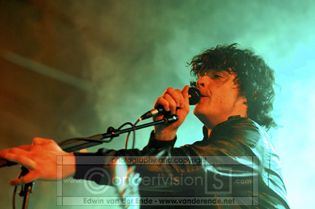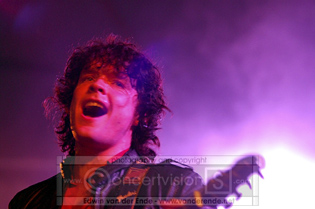 Performance

The band was already introduces by the presenter telling the occurrence what had happened the nights before. The fans who had been to Hengelo knew what the guy was talking about; Just before the last song John (drums) had to leave the stage to loose Mr. Wincky. By telling this the ambiance was already set. During the concert emotions like happiness (to see their favourite band again), fun (Vinnie (vocals) enjoyed the audience by telling jokes and stories) and moving moments (especially during the touching song 'One Last Goodbye') exchanged the moods among the fans. The band was obviously having a lot of fun and enjoyed their special gig. Vinnie (vocals) heaved a glas of wine to the fans' good health and their liberation. Surprisingly it was not Vinnie (vocals), but Danny (guitar, backing vocals) who drowned into his own world today when playing his beautiful solos. Jamie (bass) made a lot of fun with the audience again and enjoyed the reactions of the audience, especially when a girl came crowd surfing towards him while chanting his name.
And as always Less (keys) had to make a couple of jokes on Vinnie again. Despite the fact that it was just a free festival, there was a good light show. Maybe sometimes a little bit too much smoke, but that didn't harm the concert. As always Anathema was in shape again and proves themselves to be a great metal band.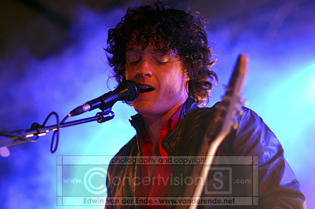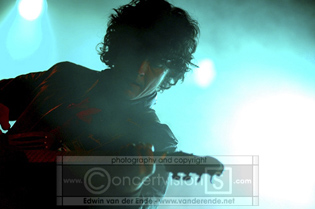 Setlist

01.Shroud of False
02. Fragile Dreams
03. Empty
04. Lost Control
05. Closer
06. One Last Goodbye
07. Hope
08. Judgement/Panic
09. Flying
10. Sleepless
11. Space
12. Comfortably Numb

Rating
Music 9
Performance 9
Sound 8
Light 8
Total 9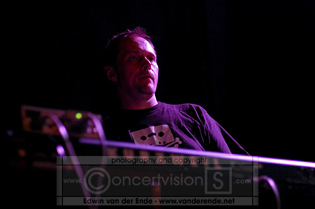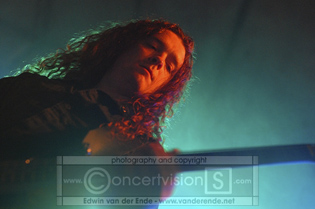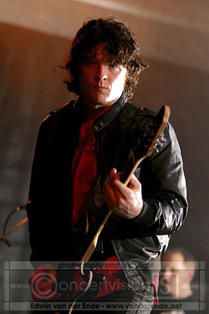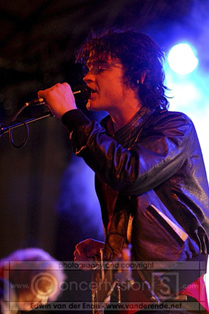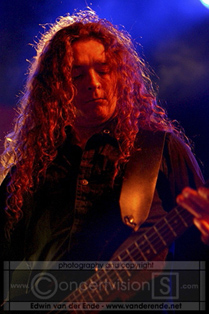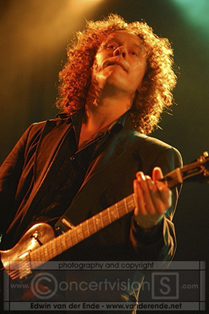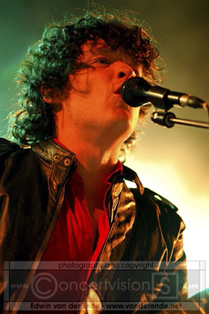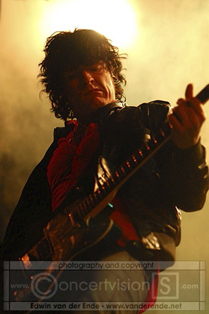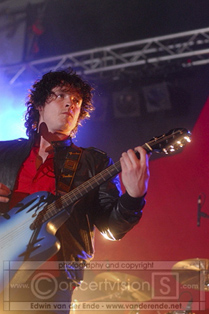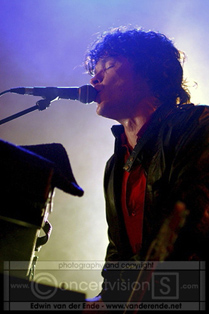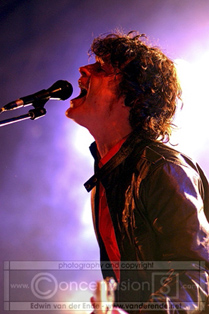 More photos on page 2
{jos_sb_discuss:17}