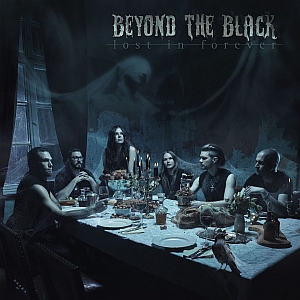 Artist: Beyond the Black
Title: Lost In Forever
Genre: Symphonic Metal
Release Date: 12th February 2016
Label: We Love Music (Universal Music)
Album Review

So here we are again with BEYOND THE BLACK, not that we (sorry for the pun) already knew Beyoncé is black, but here we go with the second chapter of one of the recently most argued female fronted metal bands and their second chapter, entitled 'Lost In Forever'. Looking at the origins of BEYOND THE BLACK almost instantly leads to a philosophic debate whether commercially targeted music is bad in the first place, or if music cannot be great and entertaining anyway despite being commercially focused and successful. And how serious can you take a band anyway, taking into account the song credits in the booklet, indicating a rather limited, if not even inexistent involvement of its musicians in the studio recordings, beyond singer Jennifer Haben and a few shouts by guitarist Christopher Hummels.
Admittedly all of that looks like your cold hearted formula of the notorious puppet master behind the scenes, literally pulling the strings – everything a moral compass despises so deeply. Well, is it really that simple or ain´t the "Master Of Puppets" metal anyway? For those in doubt I recommend to visit a BEYOND THE BLACK concert and tell the difference. Even when it comes to the highty mighty godfathers behind the band you´ll find more metal background than most people would expect. Despite the involvement of Elephant Music (SANTIANO / FAUN / OONAGH), the studio production team includes one of the most experienced and recognised capacities in (epic) metal with Sascha Paeth, accompanied by contributions from his partner in crime MiRo, vocal expert Amanda Somerville and others - names that ring in the ears of every KAMELOT, EPICA or AVANTASIA fan. In fact the songs breathe a lot of that DNA – spiced up with cunning solos, on which lead guitarist Nils Lesser does an impressive job of recreating them on stage.
After the streamline symphonic-metal debut 'Songs Of Love And Death', the second coming of BEYOND THE BLACK basically continues the successful formula, while taking its moments to pick up a little more diversity and depth along the road. Little surprising the songs on 'Lost In Forever' are once again centred around Jennifer Haben´s clear and distinct vocals. There´s always a catchy tune around to set the lady in the perfect moonlight and lord she does an incredible job in selling those tunes without stumbling into one of those awkward soprano-trap. No, Jennifer Haben ain´t the operatic singer you´d expect from a symphonic cast. Instead the way she approaches her parts in this fantasy Lord-Of-The-Rings flavoured Elven-style let´s her live up to the image of a pretty impressive German Sharon den Adel equivalent. The way she grooves and sometimes even grinds the edges of her vocal lines emotionally picks you up instantly without spiking your eardrums on the higher notes. One might lack some edges in her vocals here and there, but they relentlessly refuse to sound expendable in the given context – they just feel right in service of the song.
The opening songs, including the title track 'Lost In Forever' and 'Beautiful Lies', are pure fan-service then. The latter in particular reprises one of the debut´s strongest moments, as heard in 'Pearl In A World Of Dirt', this time with Rick Altzi from MASTERPLAN taking on the male part in spine-chilling manner. However I wished to speak equally of Christopher Hummels' guttural metal shouts, introduced in the opener and some other parts of the album. They mostly add nothing to the songs but some generic "I´m SO metal that I must overact it like this" attitude. They seem obsolete and awkwardly out of place. Sorry pal... been there, done that - a thousand times! Play your axe and leave the damn talking to the girl. This becomes even more apparent as the progressing album does not openly attack you with a metal-storm that would have justified grunts. Gladly those parts are seeded sparsely, instead allowing Jennifer Haben to flourish for example in the power ballad "Against The World", which also strolls along with just another finger-twisting guitar solo.
Despite its recurring mellow parts and somewhat easy approachability 'Lost In Forever' still knows to pick you by the sleeve just when the time is right. 'Halo Of The Dark' will most definitely become one of the leading smashers for the upcoming live-shows, whereas 'Dies Irea' charges towards the listener with open ventail, as the choir rides ahead to the driving drums and racing riffs. Together with the dramatically pounding and brilliantly chasing 'Heaven In Hell' we get top-notch widescreen metal. Big screen goes also for 'Shine And Shade' that contributes hints of rock opera by concluding in a broad almost musicalesque chorus (however the tide of the element remains rather shallow). It ain´t until the very end that we encounter the obvious acoustic ballad. Unlike its forerunners on the debut album, which included a fairly respectable take on MOTÖRHEAD´s 'Love Me Forever', 'Love´s A Burden' comes along literally bare-naked with gentle acoustic guitars and subtle string arrangements instead of piano. It´s well interpreted, melancholic and plays it hand wisely – no metal outburst halfway through here!
What generally struck me once again about 'Lost In Forever' is how extremely well-crafted songwriting, production and overall focus appear. Despite the album straying here and there it still stands as one piece, much like 'Songs Of Love And Death' that caught me and many others (who made this record to the best-selling metal debut of 2015) by sheer surprise. New elements and branches were added very carefully to keep things thrilling and lend the album a slightly different flavour than its older brethren. Not all of them work, but those who do are highly welcome to the world of BEYOND THE BLACK, regardless they run danger to take an extra spin in order to get familiar with the twist (which isn´t the worst thing after all).
Despite its qualities within the symphonic metal genre it needs to be pointed out that 'Lost In Forever' doesn´t re-invent the subject itself, nor undertakes it huge efforts to sound overly technical. It wanders the well-trodden paths of the shire and it walks them boldly with almost 60 minutes of delightfully entertaining tunes, uncaring of all allegations being a soulless product off the draft-table. Fans of the genre will pick this one up and love it in an instant. Everyone who enjoyed the debut will find himself in an equal haze of excitement after a few rounds, even without the buzzing momentum of surprise of last year´s release. And here we are again at the start. Purists debate about ethics and the credibility of the band, whereas everyone else simply enjoys an expertly crafted, rock solid, entertaining piece of music. Like Taylor said: haters gonna hate, hate, hate, hate...
Tracklist

01. Lost In Forever - 4:46
02. Beautiful Lies [feat. Rick Altzi] - 4:08
03. Written In Blood - 4:20
04. Against The World - 4:04
05. Beyond The Mirror - 4:13
06. Halo Of The Dark - 4:20
07. Dies Irae - 4:00
08. Forget My Name - 6:03
09. Burning In Flames - 4:13
10. Nevermore - 4:18
11. Shine And Shade - 6:14
12. Heaven In Hell - 4:26
13. Love's A Burden - 3:41
Line-up

Jennifer Haben - Lead Vocals
Nils Lesser - Lead Guitar
Christopher Hummels - Rhythm Guitar / Backup Vocals
Tobias Derer - Drums
Erwin Schmidt - Bass
Michael Hauser - Keyboards
Website

http://www.beyondtheblack.de
/
https://www.facebook.com/beyondtheblackofficial
Cover Picture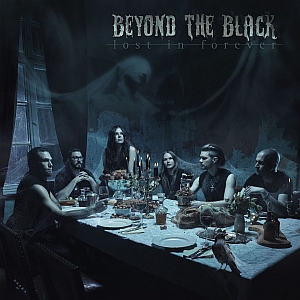 Rating

Music: 8
Sound: 9
Total: 8.5 / 10
See also (all categories):