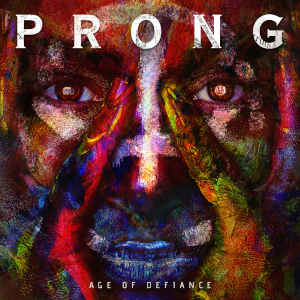 Artist: Prong
Title: Age Of Defiance EP
Genre: Crossover / Thrash Metal / Groove Metal
Release Date: 29th November 2019
Label: Steamhammer / SPV
Review Flash

I honestly don't think PRONG needs an introduction but I am prepared for the unlikely case they do. PRONG has been around for a felt eternity, formed in 1986 in New York these guys did a lot and released a lot since the birth of the band (2 Demos,12 LPs, 5 EPs, 13 Singles and a few splits). To think what these guys managed to release despite doing nothing between 1997 and 2002 is fucking crazy. Let's check an excerpt of the press text:
"Like few other contemporary Metal bands, PRONG are synonymous with a down-to-earth attitude, stamina and a close bond with their fans. 'Since the beginning of our career, we've done almost everything ourselves,' guitarist, vocalist and band founder Tommy looks back at the group's intense and extremely strenuous early phase in the 1980s. 'Not only did we write songs and record albums, we also managed the band, looked after the merchandise, sent demos to clubs and booked vans. Then there were a few years with record companies and agencies involved to support us. Today we're back to the beginning, we've come full circle.'"
'Age Of Defiance' has two new songs to offer: 'Age Of Defiance' and 'End Of Sanity'. The rest of the material on the EP are live versions of 'Rude Awakening', 'Another Worldly Device' and 'Cut Rate'. The two new songs are pretty cool, 'Age Of Defiance' is pretty catchy to be honest, melodic and groovy whereas 'End Of Sanity' is more of a steel-chair to the cakehole kinda song, a Thrash Metal hymn with a good sized side order of New York crossover feeling on top of the mix.
Conclusion: If you are a fan of thrash and crossover which is neither of one but both at the same time providing an interesting mix you are in for a treat, check it out.
Rating: 7 / 10
See also (all categories):