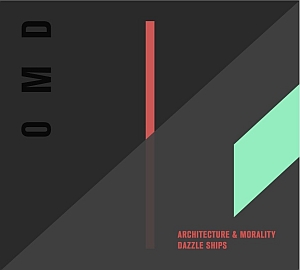 Artist: OMD (Orchestral Manoeuvres in the Dark)
Title: Dazzle Ships / Architecture and Morality Live at the Royal Albert Hall
Genre: New Wave
Release Date: 9th May 2015
Label: Live Here & Now / OMD
Album Review

It's almost 10 years now since the cult band OMD has reformed in its original line-up, and like a couple of other New Wave acts, this past decade has been very, very productive (2 great albums, many tours, some unique live projects such as the Royal Philharmonic or the Dazzle Ship Live at the Liverpool Museum). The band doesn't give any signal of slowing down as they come up now with this 4 gigs concept (London's Royal Albert Hall + Berlin, Frankfurt and Hamburg): performing back to back two cult albums, the least successful and most experimental 'Dazzle Ship' vs the chart topping and one of their highest sales, 'Architecture & Morality'. As you can imagine what it does represent for a fan, try to figure at DEPECHE MODE deciding to perform 'Construction Time Again' and 'Some Great Reward'...
I guess you already all seen by now the live reports from the first gig at the Royal Albert Hall on social network and this Live Here Now recording is there to prove it: YES, this gig was probably one of their best gig ever. I could go track by track, but the comments will be the same for all: Andy's voice is absolutely outstanding (what a performance on 'Of All The Things We've Made' and 'Maid Of Orleans'), jokes between Paul and Andy are representative of the good atmosphere in the band, some mistakes here and there demonstrate how live this is (very few sequences, live drums, bass, guitar and synth), new arrangements that include some samples from recent tracks blended in those oldies are mind blowing ('Time Zone'). Let's point out some never performed tracks like the post punk 'This Is Helena' or 'Telegraph' which wasn't plaid since 1983.
As the band is generous, they don't just stick to the two albums and include a couple of pre 1983 hits like 'Messages', 'Electricity', 'Enola Gay' or first album tracks like 'Almost' or 'Julia's Song'. Smartly, they remind that they do have some strong tracks from the 2010's with 'History Of Modern' as an encore. More than just a nice "souvenir" for the thousands of fans who attended the gig, (and a compensation for those like me who sadly missed it), this live album is a statement. OMD was certainly one of the most experimental synth/ new wave band of the 80's. They managed to mix perfectly some timeless melodies, great musician performances and built the foundations of synth pop, industrial music and minimal electro. The mix is outstanding, to the point it's hard to realize it's a live recording mixed during the concert and sold straight after the show.
You get it? If you're in Germany - or if you fancy jumping in a plane - in the coming days, run to one of the gigs!
Digital / Double CD / Double Vinyl only available at
https://omd.pmstores.co/
or in Germany after the coming gigs:
Berlin – May 11th
Hamburg – May 13th
Frankfurt – May 15th
Tracklist
CD1: Dazzle Ships
01. Dazzle Ships Part II, III, VII
02. Radio Prague
03. ABC Auto Industry
04. International
05. Silent Running
06. This Is Helena
07. Genetic Engineering
08. Telegraph
09. Radio Waves
10. Time Zones
11. Of All The Things We've Made
12. 4 Neu
13. Julia's Song
14. Almost
15. Messages
CD2: Architecture & Morality
01. Architecture & Morality
02. Sealand
03. New Stone Age
04. Georgia
05. She's Leaving
06. Souvenir
07. Joan Of Arc
08. Maid Of Orleans
09. The Beginning Of The End
10. Electricity
11. Enola Gay
12.History Of Modern Part I
13. The Romance Of The Telescope



Line-up

Andy Mc Cluskey – Vocals, Bass, Guitar
Paul Humphreys – Keyboards, Vocals
Martin Cooper – Keyboards, Bass
Stuart Kershaw – Drums, Guitar
Website

http://www.omd.co.uk
/
https://www.facebook.com/omdofficial
Cover Picture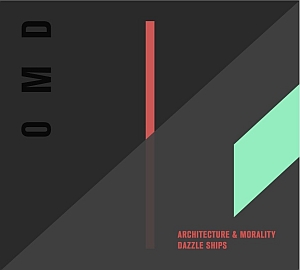 Rating

Music: 10
Sound: 10
Total: 10 / 10
See also (all categories):