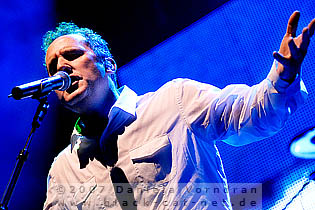 Palladium, Cologne, Germany
26th May 2007
Orchestral Manoeuvres in the Dark (OMD), Lovers Electric


These were such great news when OMD were guests in the German TV-Show "The ultimate Chartshow - the most successful artists of the 80ies" in 2005. After this performance Andy McCluskey and Paul Humphreys said in an interview they are planning to work together again. There was it once again - wonders can always happen. In January 2006 there was written on their official homepage they want to produce a new album and want to go on tour in 2007 with the original members. Before that, they had already performances in different German cities during "Nokia's Night of the Proms" in late 2006. There is still no new album out, but we had the opportunity to celebrate the old hits with OMD in Cologne. It seemed many fans were waiting for this moment, because they had to change the venue from the E-Werk to the bigger Palladium. Too many people wanted to see the guys again. OMD - Forever live and (never) die!
Lovers Electric

Eden and her six sisters grew up together in their motor home in Australia. David with his poet dad and pianist mum also grew up in Australia and played his first gig at 11. Eden and David met as children. Eden moved to Britain, became a designer and started her own fashion label. Eden and David met up again in Australia, fell in love, got married and started travelling all around the world with a street theatre company. They set up a mobile studio and recorded their first album and so begin LOVERS ELECTRIC…
http://www.loverselectric.com/
/
http://www.myspace.com/loverselectric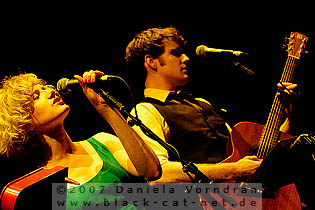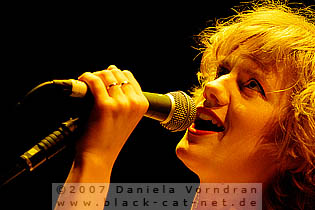 Music

Though there was a small Casio keyboard on stage, David started with playing acoustic guitar, Eden played on a little toy piano and they were both singing. Except from two songs during which they used the Casio, David was playing guitar and I was wondering why they are called 'lovers electric' and not 'lovers acoustic'. The most impressing thing was Eden's voice - a great, warm and powerful voice and with David's voice it was a wonderful combination. But David was singing just as the second voice and Eden did the main part and her voice really caught you.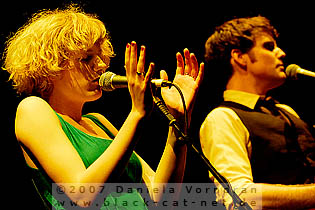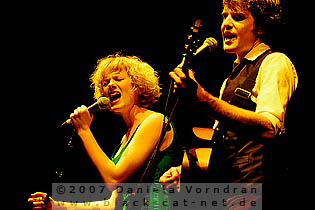 Performance

They were only Eden, David, an acoustic guitar, a Casio and a little toy piano on stage. Eden and David were really sympathetic and you could see they had fun and enjoyed what they were doing. They were talking a lot with the audience which was really nice. Eden introduced the Casio and when they were talking about that they are from Australia, David mentioned the Australians are eating kangaroos. But at least they don't eat koalas. They knew already three German words: Danke, Guten Abend and Album (Thank you, good evening and album). They played about half an hour and got a really positive resonance.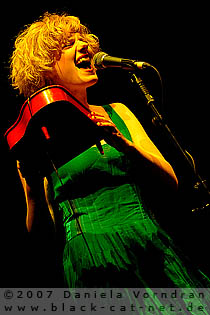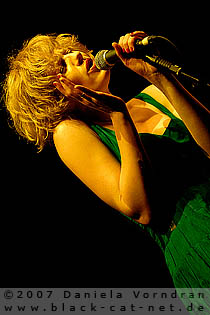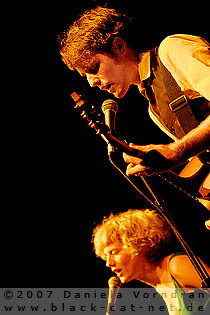 Setlist
01. Won't give in
02. Honey
03. Love waits (new song not on album)
04. Morning sun
05. In love
06. You got it
07. Start again
Rating

Music: 8
Performance: 7
Sound: 9
Light: 8
Total: 7.9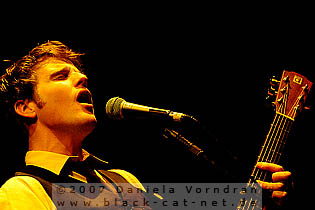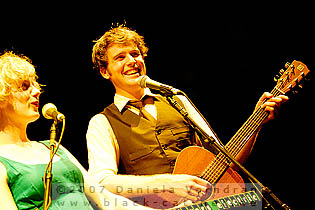 OMD

OMD (Orchestral Manoeuvres in the Dark) was formed in the late 1970's by Andy McCluskey and Paul Humphreys. Inspired by the experimental electronic music of German bands such as KRAFTWERK and EINSTÜRZENDE NEUBAUTEN they launched their own unique style of catchy electronic melodies. Songs like 'Electricity' or 'Maid of Orleans' were well-known and present over the years. After the prospering period in the early 80ies followed a five years break. After it, McCluskey tried a comeback, released some new stuff and kept OMD alive. Though Humphreys left the band after 'The Best of OMD', he collaborated with McCluskey on the song writing for Universal, the band's 1996 swan song.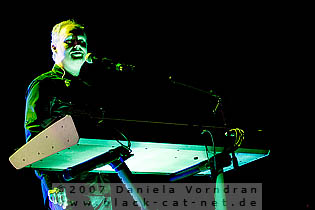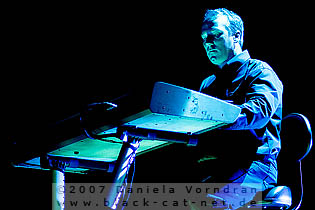 McCluskey decided to focus on management and song writing for such Liverpool based acts as ATOMIC KITTEN and THE GENIE QUEEN. With McCluskey focusing his talents elsewhere, Humphreys decided to play many revival shows using the OMD banner, whilst also recording with Claudia Brücken, of the ZTT bands PROPAGANDA and ACT, as ONETWO. Finally in 2006, the reunion was announced, a tour with original line up and a new album release. OMD have now the original members again. OMD are Andy McCluskey (vocals, keyboard, guitar, bass), Paul Humphreys (vocals, keyboard), Malcolm Holmes (drums) and Martin Cooper (keyboard, saxophone).
http://www.omd.uk.com
/
http://www.myspace.com/officialomdmyspace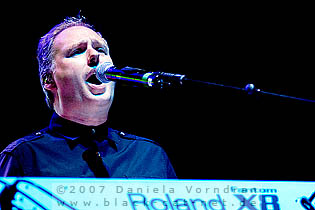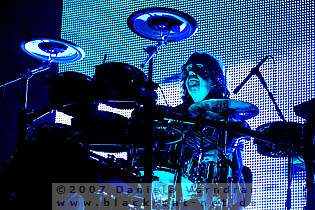 Music
The setlist was a succession of the greatest hits of OMD, a fireworks of wonderful electronic ballads. Because they didn't have to promote a new album, they could concentrate on their greatest hits and the audience was very satisfied with it. After the intro ('Architecture & Morality') Paul, Malcolm and Martin entered the stage and their instruments and finally during the following 'Sealand' Andy entered the stage too - welcomed with resounding applause. The setlist consisted of all the great hits like 'Maid of Orleans', 'Electricity', 'Enola Gay', 'Seven Seas' etc. Sometimes after any songs, the audience applauded more than normally at other concerts finalizing.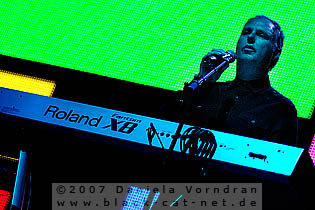 The wonderful smooth melodic Synth sounds were perfected by the powerful pushing drums and the charismatic melodic vocals. During most songs, Andy played additional a guitar and at 'So in love' Martin played a saxophone. During 'Forever Live and Die' Andy and Paul changed their places - Andy played the keyboard in the background and Paul stepped forward and sang the song from ahead. Both thought the other one has the easier job on stage. They played also their "Hollywood-song", how Andy called it, 'If you Leave'. This song can be found on the soundtrack of the movie "Pretty in Pink". The main set was finished by 'Enola Gay', followed by an encore with three more songs and after about 100 minutes OMD finally left the stage.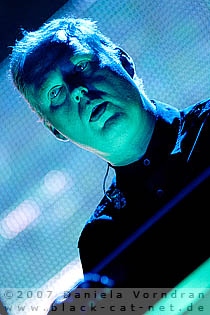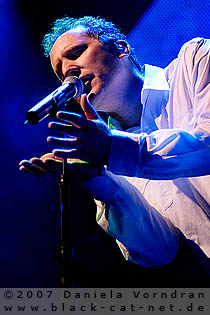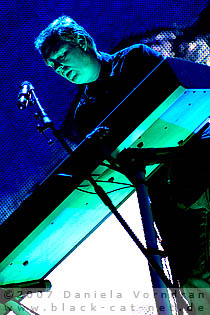 Performance
During the intro, the stage was lighted in blue and in the background started an interesting industrial-like video projection on a large video screen. After the intro the musicians entered the stage and took their places - Malcolm back in the middle behind the drums, Martin and Paul on the both sides behind their keyboards and finally Andy entered the stage during the first sounds of 'Sealand'. The entertainer on stage was Andy, he was running and dancing all the time and had to change his shirt three times. Between the songs he was talking to the audience and they followed him unhesitant when he tried to get them clapping, dancing or singing along.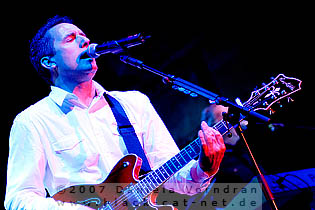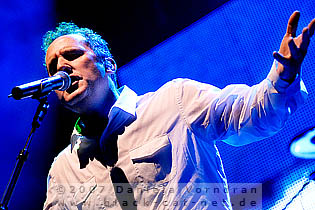 Band and audience were in a very good mood and the spirit went over quickly. Early the first sparklers were lighted and at the song 'She's Leaving' some fans in the first rows showed a banner inscribed with "Don't leave us. We waited for so long!" while Andy was singing: "She's leaving. She waited for so long". During the whole show, there were very beautiful video projections displayed on the large video LED screen. All in all a successful show, a band young at heart, an excellently sound and a great light-video-show. OMD are back!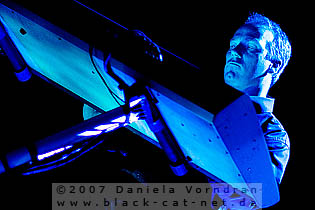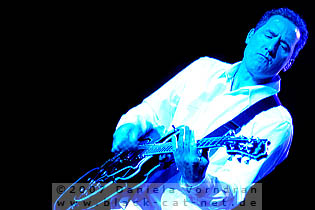 Setlist
01. Architecture & Morality
02. Sealand
03. New Stone Age
04. Georgia
05. She's Leaving
06. Souvenir
07. Joan Of Arc
08. Maid Of Orleans
09. Begin And End
10. Messages
11. Tesla Girls
12. Forever Live & Die
13. If You Leave
14. Pandora's Box
15. Talking Loud & Clear
16. So In Love
17. Locomotion
18. Seven seas
19. Enola Gay
---
20. Walking On The Milky Way
21. Electricity
22. Romance
Rating
Music: 10
Performance: 9
Sound: 10
Light: 9
Total: 9.6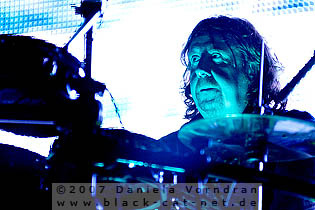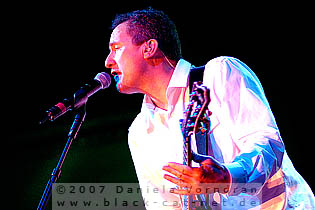 Written by Nicole Kizina (Lovers Electric) and Carsten Leopold (OMD)
All pictures by Daniela Vorndran (
http://www.vorndranphotography.com/
/
http://www.black-cat-net.de/
/
www.myspace.com/vorndranphotography
)
{jos_sb_discuss:17}
See also (all categories):