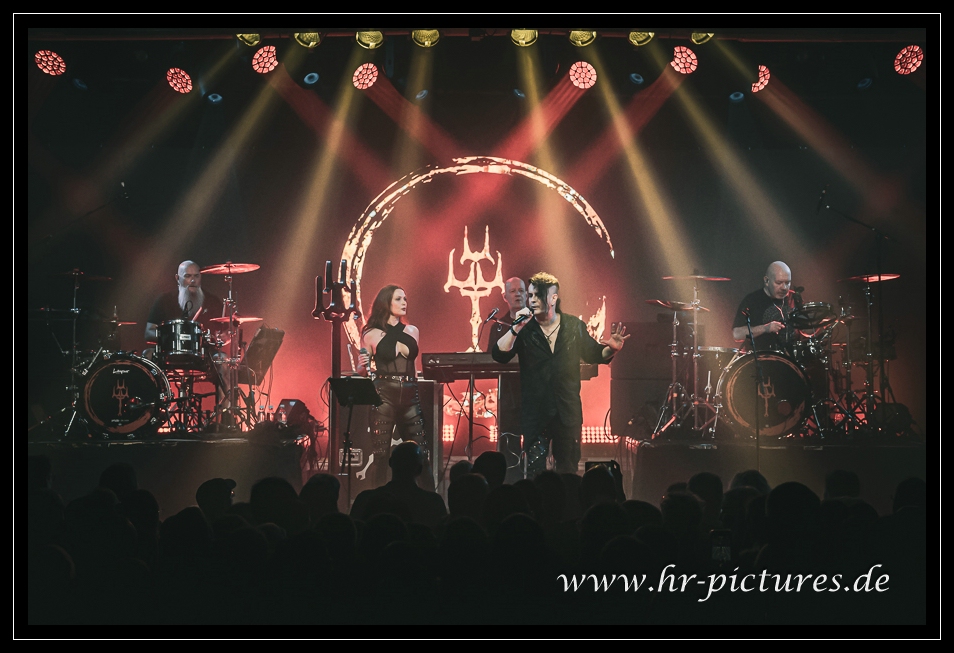 Backstage (Werk), Munich, Germany
9th November 2023
Project Pitchfork - "Tour 2023" - Support: Chemical Sweet Kid


Since 1990, PROJECT PITCHFORK has been on tour almost every year. In doing so, Peter Spilles and his bandmates often take their ways not only through Germany but also across Europe or even to the other side of the Atlantic. Attending at least one PROJECT PITCHFORK concert each year has become a lovely tradition for me. Whenever possible, I try to go more often. And when a new album finally seems to be on the horizon after what feels like an eternity, the anticipation is even greater. We'll have to wait a bit longer, though. It looks like the new album won't drop until March 2024. But don't worry, Peter and the gang have some fresh tunes in the bag. And sticking to the whole "never change a running system" vibe, they've brought back CHEMICAL SWEET KID as special guests, who were already on the track on last year's tour.
Today, my journey takes me to the Bavarian capital, where PROJECT PITCHFORK and CHEMICAL SWEET KID are performing at the Backstage (Werk). It's my first time at this venue, so I started the three-hour trip around noon and headed straight to the scene of the event. A quick check on the parking situation, then off to the hotel to settle into my room. With some time to spare, I decide to leave the car behind and walk over to the venue. There's still time before they open the doors, and as luck would have it, I bump into a dear acquaintance right when I arrive, who's also flying solo. So, we spend the evening together and rock out in the front row. But as always, first things first, but not necessarily in that order.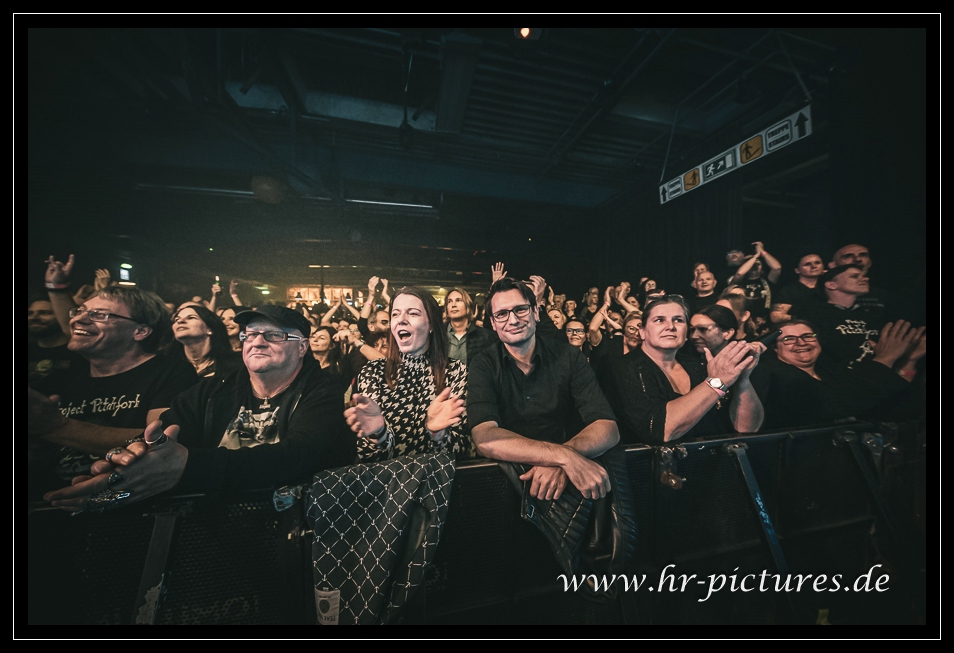 As mentioned, this is my first time at this venue, so today I'm taking a closer look around. There are several spots on the grounds, including a cosy beer garden. The entry starts almost on the dot and goes smoothly. Inside the club, it's got a friendly and comfy atmosphere, nice staff and reasonable prices. The area in front of the stage is surrounded by some steps, so even if you're further back, you've got a good view. It kind of reminds me of Markthalle Hamburg a bit. Towards the back of the hall, opposite the stage, there's a long bar, and right beside it, they've set up the merch stand. That's where the first guests head straight away. Most of the tour's concerts are already sold out, but for the spontaneous ones, tonight there's still some tickets at the door. The club, though, is filling up pretty fast for a Thursday night, and by the time CHEMICAL SWEET KID hit the stage promptly at eight, it's almost packed.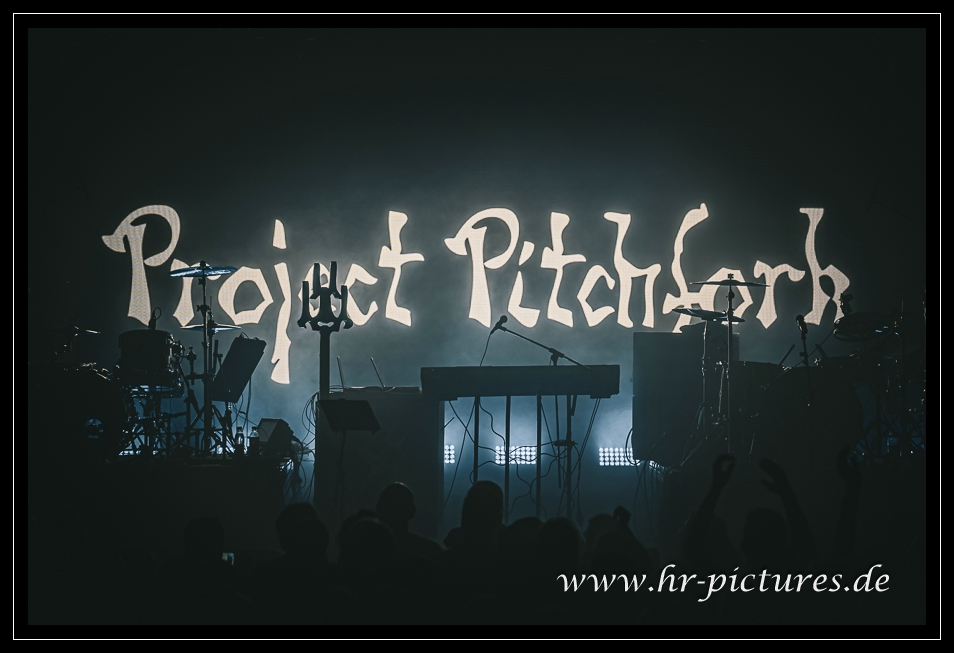 Cemical Sweet Kid

The Electro Industrial Metal Rockers from CHEMICAL SWEET KID really won over the hearts of the PROJECT PITCHFORK fanbase during last year's tour. And it seems they've grown on Peter Spilles and his crew as well, leading them to decide to bring the trio along again. CHEMICAL SWEET KID's mastermind Julien Kidam was already working on new songs last year and announced a new album to come. They gave us a sneak peek with 'A Beautiful Madness' during the last three concerts of the last tour. The new album 'Kiss The Monster' saw the light of day on 13th October and naturally takes centre stage in the current shows. So today, we'll be treated to many new songs, and they've also spiced up the stage performance for them.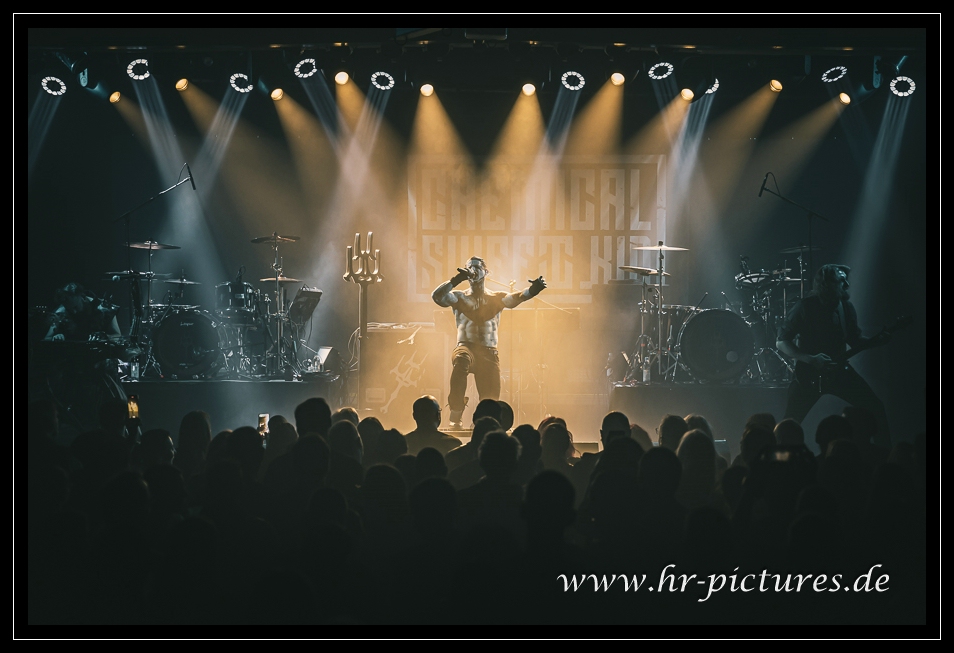 Plus, there's been a change in the band line-up. Guitarist Waik Schöner, who's living in Hamburg, has been working as a backliner for PROJECT PITCHFORK since last year, where Julien and Gautier got to know him. But it wasn't until early 2023 that they found out Waik is also a musician, quite accidentally at a concert in Luxembourg. Waik was on stage with EISBRECHER as their bassist. Somehow, things clicked, and now Waik brings even more dynamism to the stage with CHEMICAL SWEET KID. The former RABENSCHREY guitarist is also active in other band projects, like the Post-Rock band EDEN CIRCUS and the Metal band ABANDON HOPE. www.facebook.com/chemicalsweetkid /
https://chemicalsweetkid.com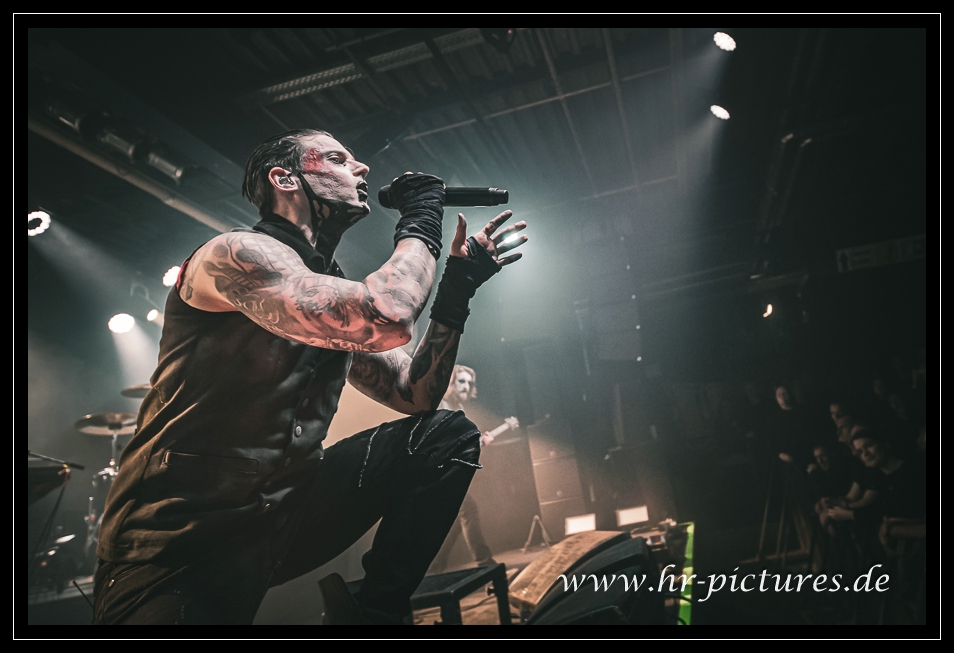 Music & Performance
So, in the intro to 'A Beautiful Madness' the guys from CHEMICAL SWEET KID dive into the theme of the music video. Picture this: with circus music playing in the background, the female dancer (we've seen before in their performances) now steps onto the stage as a clown ballerina. Gautier, just like in the video, rocks a white dress and a brown long-haired wig. Waik got on some matching makeup too. But hey, it's not all fun and games - there's a bit of a creepy vibe intentionally thrown in. Then Julien shows up. He's sporting a rugged vest and some intricate dusty makeup. If you caught these guys on stage last year, you'd recognize this. And those laser gloves Gautier wears? Some folks have seen those in action before too. They're out tonight, shooting colourful laser beams across the room. The song, which used to be the "closer" at previous shows, kicks off this one fantastically. They dive right in! Waik keeps switching sides, and every now and then swaps places with Julien.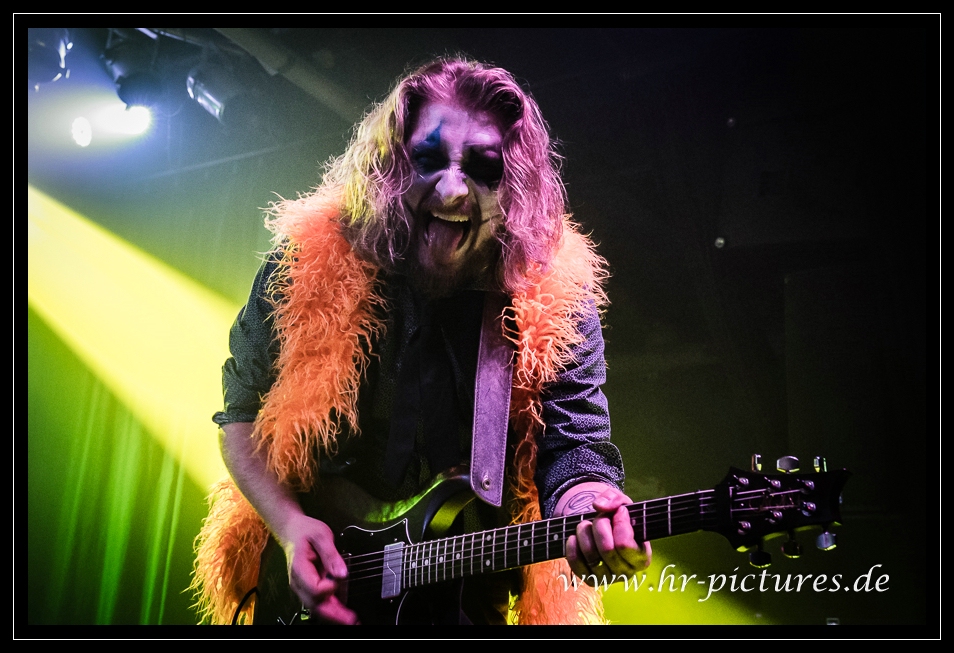 Next up are three more new songs from the current album. It's clear the guys are focused; they want to showcase their new stuff. And they do it with loads of energy and pure joy. Speaking of joy, the lighting today is once again on point. The spotlights really do a fantastic job of highlighting the music and the artists, setting the vibe just right. The artists are getting some direct spotlight action too, so you can really see them well. Whoever's handling this knows their stuff. I noticed this during 'A Trip Inside My Soul' and it keeps shining through the whole evening. Plus, the sound in this cosy club is well balanced. Aside from 1 or 2 minor feedback moments, there's nothing to complain. When 'Kiss The Monster' kicks in, the stage lights up in bright red, and fog fountains shoot up from the stage floor. The Munich crowd is in high spirits, and quite a few already know the lyrics. They're swaying and singing along. Julien gives a shoutout for that before ditching his vest for 'Empty Pleasure'. Gautier switches it up too, swapping his dress and wig for a kilt and leather vest.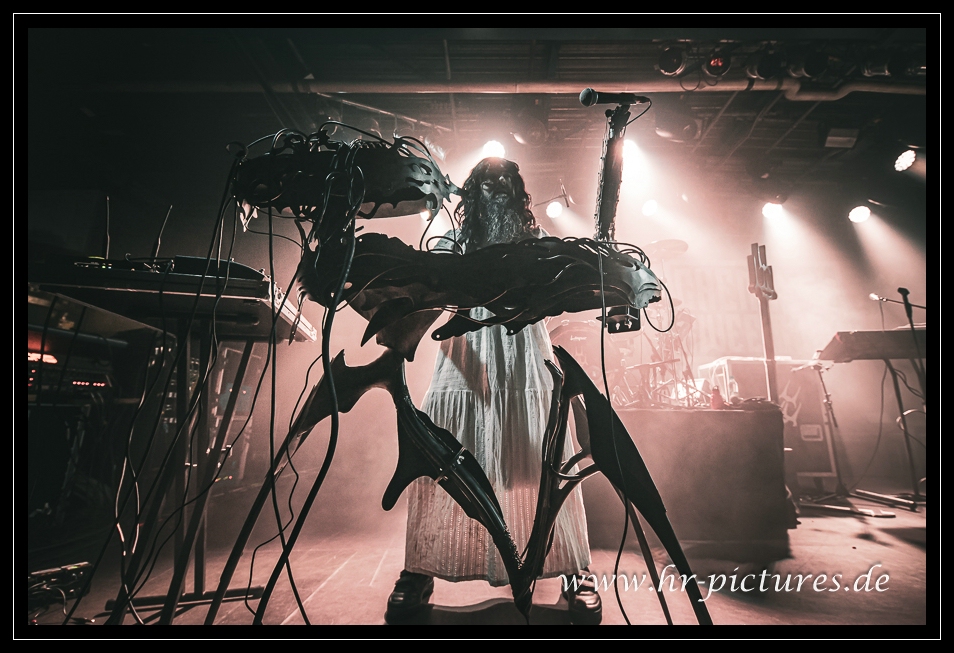 'A New Day' is also on the current album, but it was released as a single back in 2021. The track has already proven itself live and today, it's still getting everyone hyped up. Gautier switches from the keyboard to the keytar, alternating sides with Waik now and then. Julien's call of "show your hands everybody" is met with enthusiasm. Everyone's hands go up, and the clapping begins. Next up is 'Dirty Romance', another new song that Julien introduces by saying, "next one sounds like a love song". Gautier returns to his spot behind the keyboard, and Waik takes his place on the other side of the stage. Once again, the stage is bathed in red light. Our female dancer returns to the stage. She's dressed in a new, sexy outfit and playfully dances around Julien and Waik. Just before she exits the stage, the umbrella she brought along opens up, revealing to be a big red heart. It's a wonderful sight, and then, in the blink of an eye, she disappears.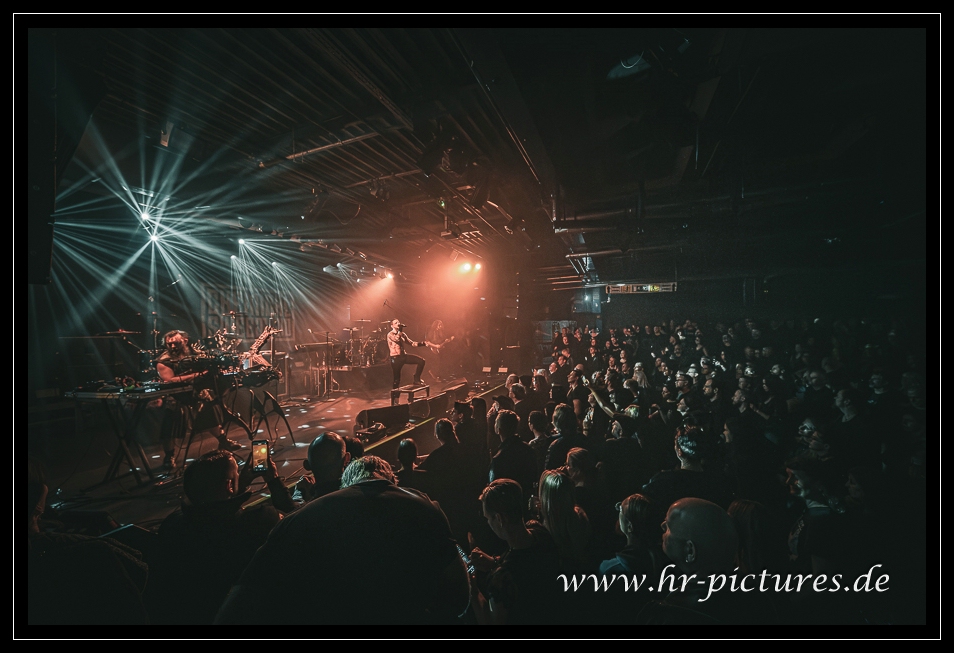 Now it's time for 'Pass Auf' again! We're familiar with the partly German title, so the chorus gets belted out loudly. CEMICAL SWEET KID have brought along their CO2 gun for this song and are fogging up the room nicely with it. Waik and Julien strike poses against each other while Gautier stands behind the keyboard, providing backing vocals for Julien. 'Down' is also a track we already know, and the crowd joins in singing along. Heavy guitar riffs fill the space, lights flicker, and the audience cheers. This is how it's supposed to be - final stretch. With 'Tears Of Blood' they present to us a "very old song" and then it's happening. Julien wants to make sure once more, "are you still okay? Let me hear you!" Gautier switches into his fluffy pink vest, Julien puts on his sunglasses, and Waik also throws on a fluffy vest, not pink, but orange. And there they go again, huge balloons catapulted from the stage into the audience, bouncing over our heads through the room. 'We're Not Gonna Take It' is always a blast. Everyone seems to know this cover, so it's sung, clapped, and danced to wildly.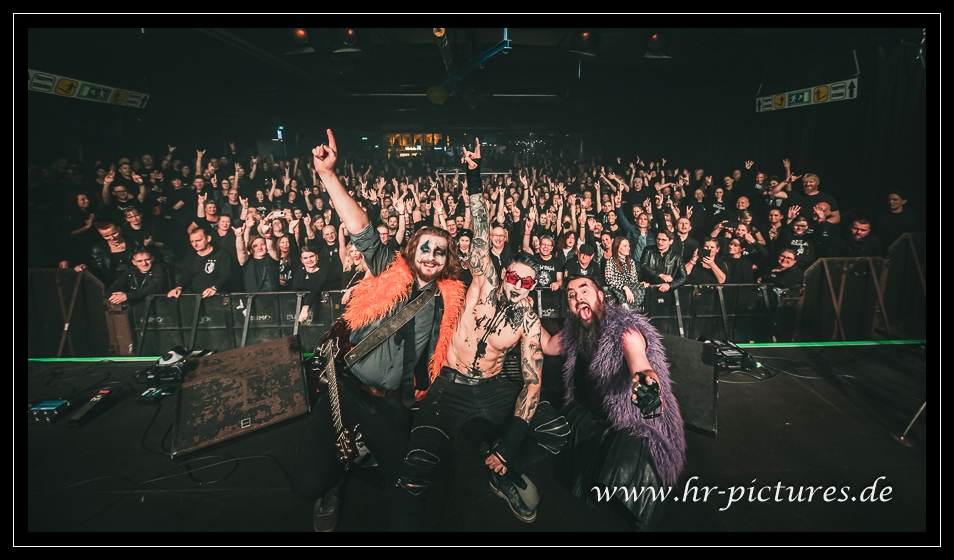 We create some more "noise for PROJECT PITCHFORK" and then after 45 minutes, CHEMICAL SWEET KID bid farewell from the stage. The trio really got us fired up, and we're in high spirits and ready for tonight's heroes.
Setlist

01. A Beautiful Madness
02. A Trip Inside My Soul
03. Kiss The Monster
04. Empty Pleasure
05. A New Day
06. Dirty Romance
07. Pass Auf
08. Down
09. Tears Of Blood
10. We're Not Gonna Take It (TWISTED SISTER cover)
Rating

Music: 9
Performance: 10
Light: 9.5
Sound: 9.5
Total: 9.5 / 10
Project Pitchfork

Introducing the Dark Electro veterans of PROJECT PITCHFORK is probably unnecessary. For over three decades, the Electro / EBM / Industrial group led by Peter Spilles, has been an integral part of the dance floors and stages at scene clubs and festivals. The fanbase is eagerly awaiting a new album. It's been a good five years since their last album 'Fragment'. Finally, in March 2024, it's supposed to happen. PROJECT PITCHFORK gives us a taste of the upcoming record today, which is expected to be titled 'Elysium', presenting three tracks from the forthcoming album alongside many classics. This sneak peek definitely amps up my excitement for what's to come. www.facebook.com/ProjectPitchfork /
www.project-pitchfork.eu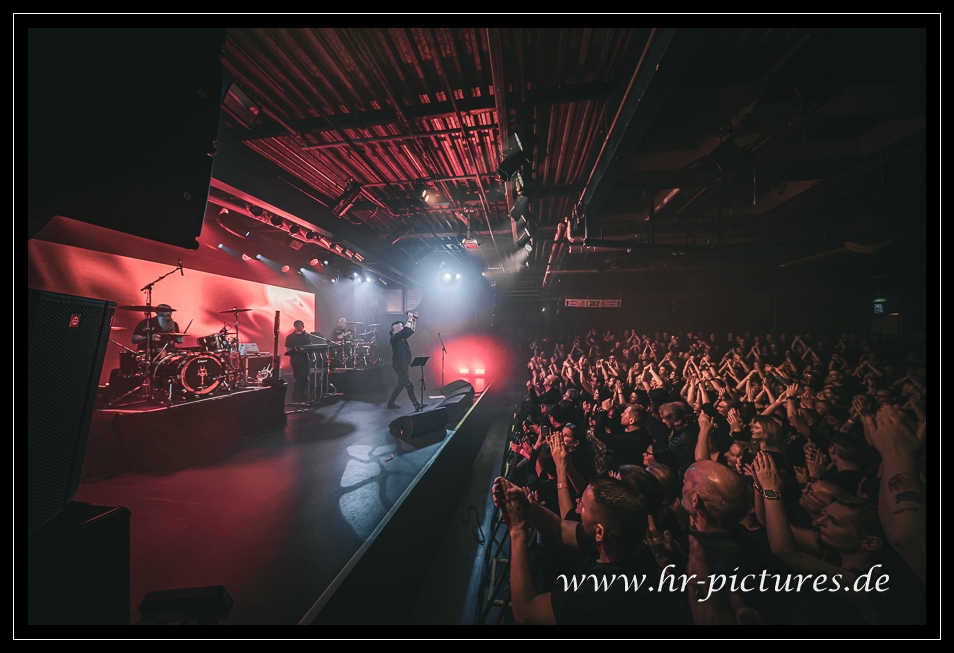 Music & Performance
The changeover happens quickly. A brief sound check and after just 15 minutes, it's time again. Lights and music fade, and the intro begins. The two drummers, Léo and Achim, are the first to appear on stage, closely followed by keyboardist and backing vocalist Jürgen. The stage is bathed in blue light, and Peter joins his bandmates. PROJECT PITCHFORK kicks off today's hit fireworks with a true classic. Peter pauses 'Conjure' for a brief greeting. "Hello Munich" is met with a thunderous cheer, and Peter's already beaming from ear to ear. With 'Alpha Omega' the gentlemen immediately follow up with another classic. Peter uses the extended version to introduce his bandmates before hitting Munich with 'Titânes'. Both songs are passionately sung along by the audience. The Backstage is already a buzzing hive of excitement.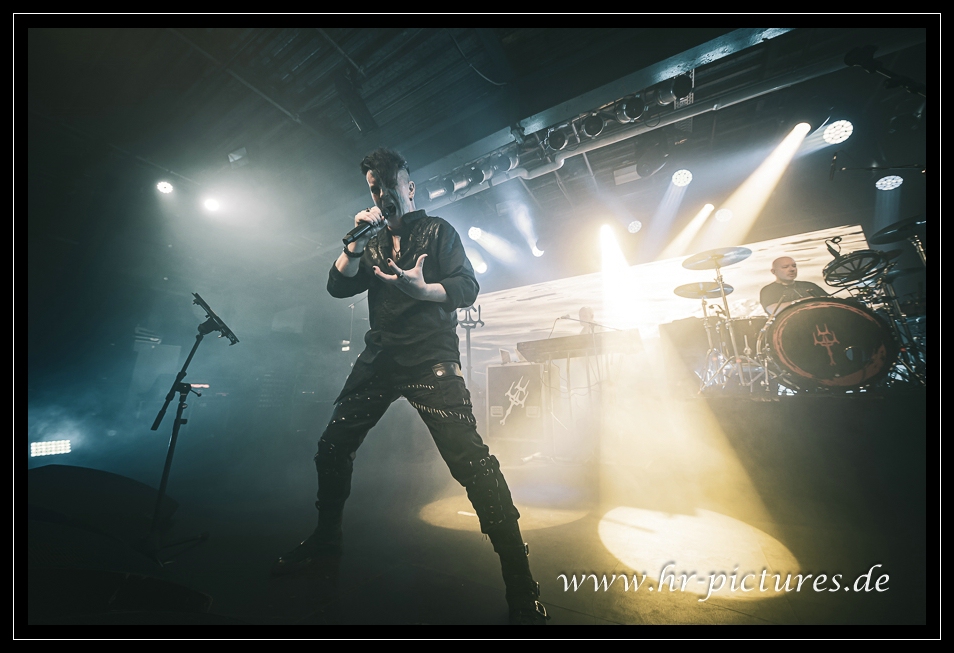 Next on the list is 'And The Sun Was Blue'. However, they start off by playing 'An End'. Whether they decided last minute, for dramatic reasons, to swap these two tracks, we'll probably never know. But that doesn't matter. Both of these songs are sung along loudly, which once again brings a satisfied smile to Peter's face. The man seems to be having a blast, and it's infectious. Munich is celebrating in high spirits. For the next song, the frontman initially puts on his coat. On the screen, the video for 'Rain' plays fittingly. The related album 'Black' is already celebrating its 10th anniversary this year, and 'Rain' has been one of the absolute crowd favourites since then. Therefore, it's no surprise that everyone is singing and dancing along. Moving two more years back in time with 'Queen Of Time And Space', before taking a small step towards the present on the timeline with 'Volcano'. The audience immediately starts clapping along. The crowd seems to be familiar with every era, singing along loudly here as well. And towards the end, Peter's partner Sue joins him on stage, chiming in on the chorus.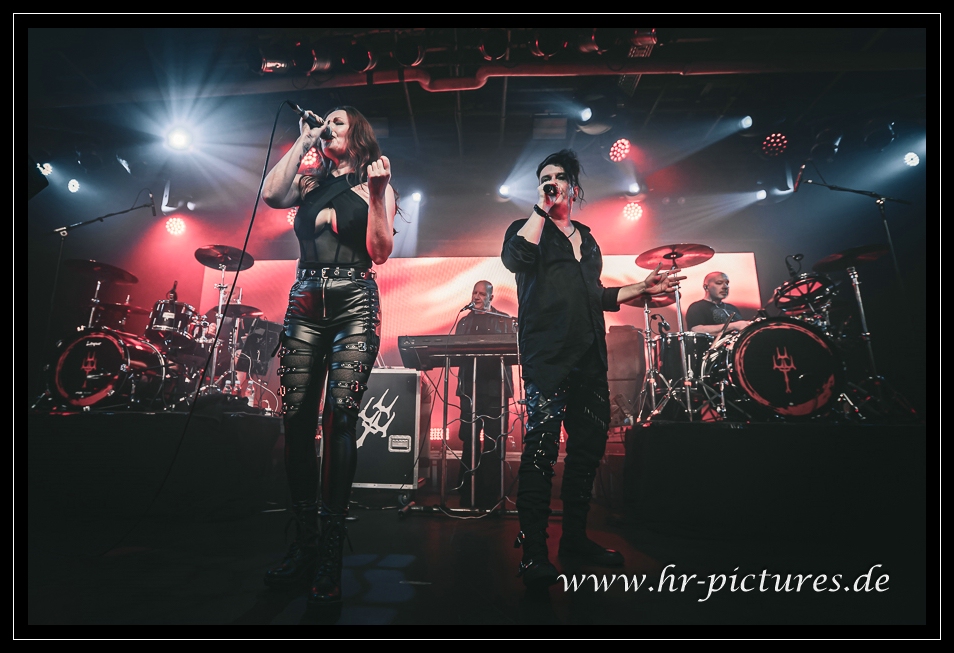 And then comes what we've been waiting for so long; finally, a "song from the upcoming album. The album is coming out next March. And this song is called 'Unity' and it's all about you." Most people are hearing the title for the first time today, yet they start clapping along right from the start. It seems like having Sue by Peter's side is giving him an extra boost. The couple radiates so much dynamism and harmony. Always a beautiful sight. This isn't their first duet, and hopefully not their last either. The track musically resembles 'Ascension' a bit and is incredibly pleasing. I'm curious to see what else the new album will offer. Sue bids farewell to the cheers and applause from the audience with a "Thank you" from the stage, at least for now.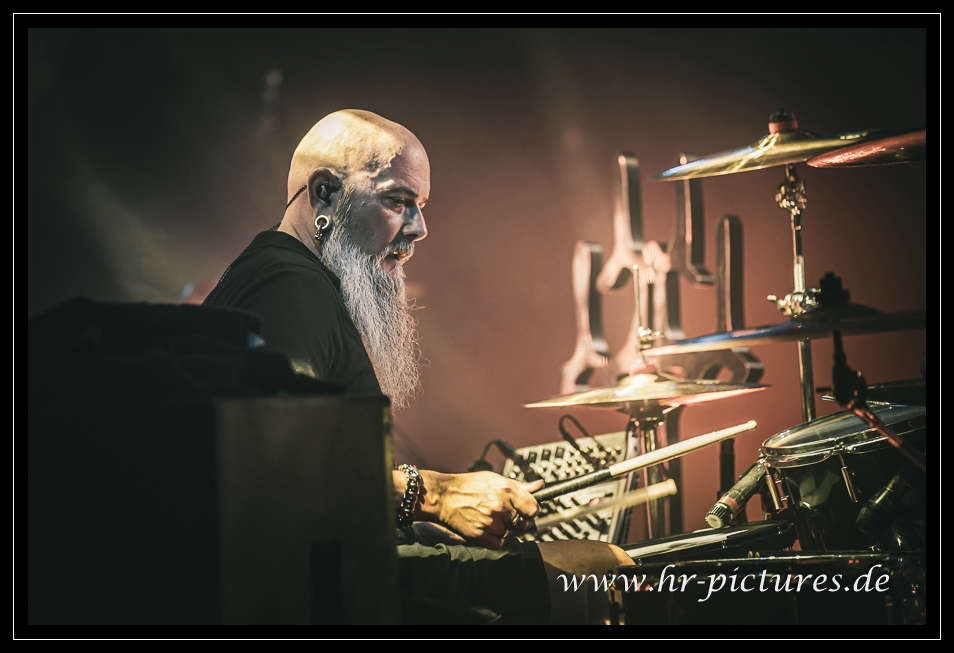 With 'Acid Ocean' we return once again to 'Black' and my voice is slowly failing me. But that won't be spared even during the next song. We all know 'Timekiller'. It's sung so loudly that at times Peter's voice gets drowned out. So, he just hands over the entire field to us and listens to our singing with his hand to his ear. The whole venue is jumping, and the floor is vibrating. That's what I appreciate about PROJECT PITCHFORK. Peter weaves into the setlist songs that have rarely or haven't been played live for a long time. And precisely one of those comes up next. 'And Everything Reflects' is from the last album 'Fragment', but it has hardly been played live so far. Today is my first time hearing this song live. In contradiction to that, we've heard 'Blood-Diamond (See Him Running)' several times live, and 'The Circus' has also been played before.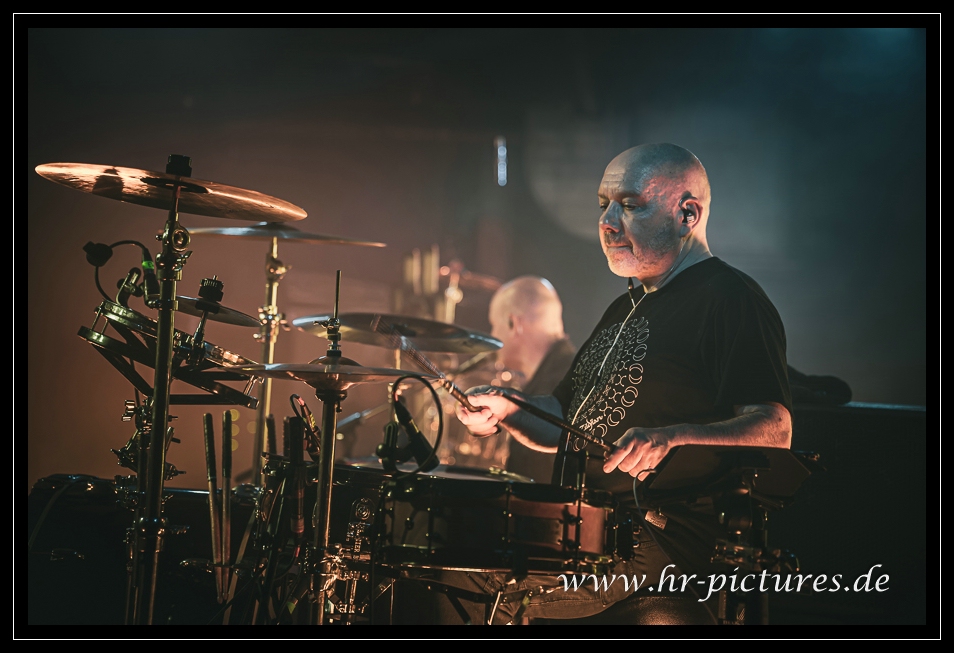 "Thank you, Munich! Does anyone happen to have a birthday today?" and suddenly Peter starts a quick 'Happy Birthday' chant. But today, it's not just one birthday; there are several. So, Peter dedicates the next song to the birthday girl next to me. 'KNKA' in the extended version is sung along loudly. Then, Peter steps aside for a moment, giving the stage to the drummers - Drum Duo! I've mentioned it several times, but the synchronicity and harmony in the drumming of these two men always fascinate me. Achim and Léo are a well-oiled team, and it's a delight to watch them play. Absolutely brilliant. "Life, all of it, is kind of like a dance. That's why the next song is called 'Der Tanz' and it's on the next album." And dancing is on the agenda in front of the stage as well. This song comes in German and with a lot of power and an almost hypnotic beat. This track also works really well and creates excitement for the upcoming album.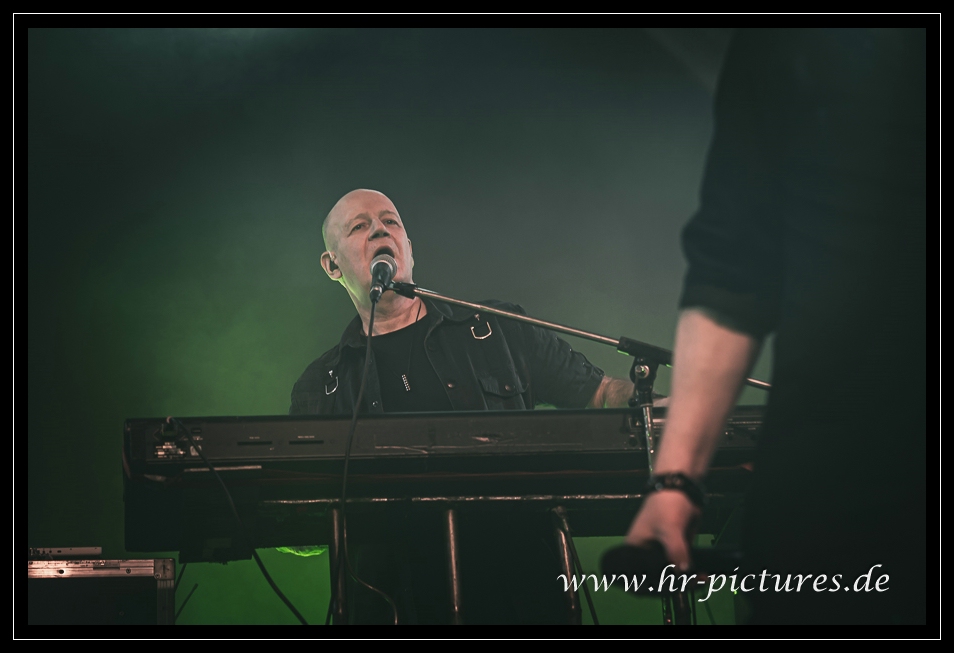 At 'Beholder' no foot stays still. There's jumping and dancing, the track is sung loudly and 'Existence' also gets the room moving. The tempo picks up again for the final stretch, which treats us to another drum duo, and then PROJECT PITCHFORK bid farewell after an hour and a half for a brief breather. But the musicians don't have much time for that. Continuous applause and the vehement demand for an encore quickly bring the gentlemen back. The encore kicks off with 'Onyx', which has also become a crowd favourite live. The atmosphere in Munich is just fantastic, and it's a wild celebration. "Thank you. Great being with you!" Peter says, and then 'Souls' begins. The song has accompanied me through highs and lows for over 30 years and still remains one of my absolute favourite songs. Therefore, please excuse me for a moment. I'll be right back; we'll see or read us again shortly.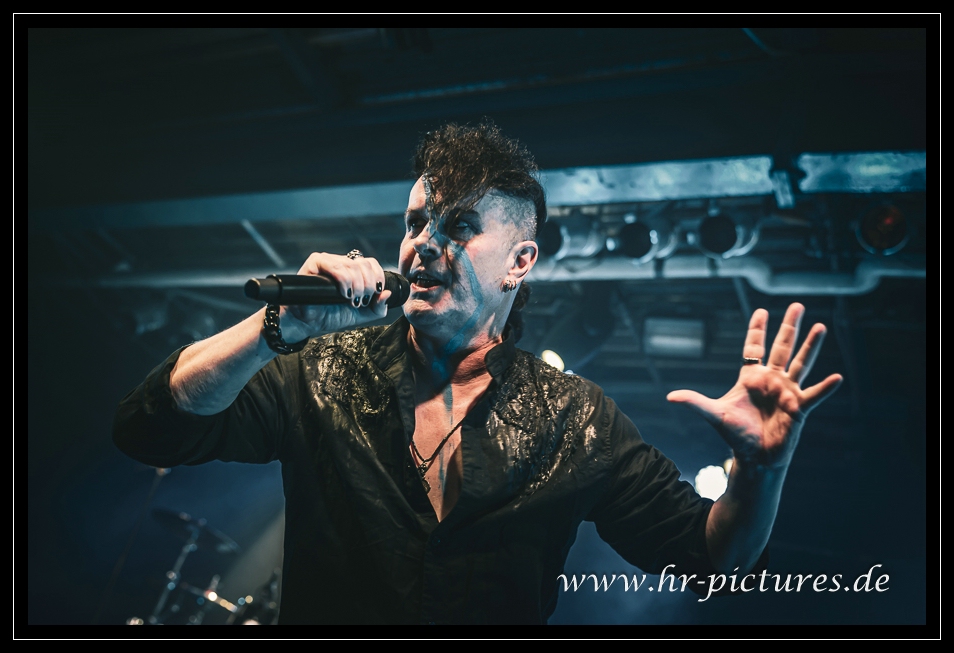 So, now it's time for Peter to thank the "most captivating opening act, CHEMICAL SWEET KID," before we get another preview of the new album. The beginning of 'Learning to Live' reminds me a little of 'The Clockwork'. So, it's getting somewhat calmer, and Peter proves that he can really sing. An incredibly soulful track that sends shivers down my arms and brings the wonderful Sue back on stage once again. The refrain sounds even more intense in a duet, and there are some in the audience who are already singing along. The artists briefly leave the stage once again before entering the last encore block. This starts again with a very old track. 'Pan' is played in a wonderful version, and the play of spotlights echoes the lyrics of the song. And 'Insomnia', which I haven't heard live in ages, comes across fantastically. Both songs are loudly sung along by the audience, and everyone is dancing. Unfortunately, it's now time for the last song of the evening.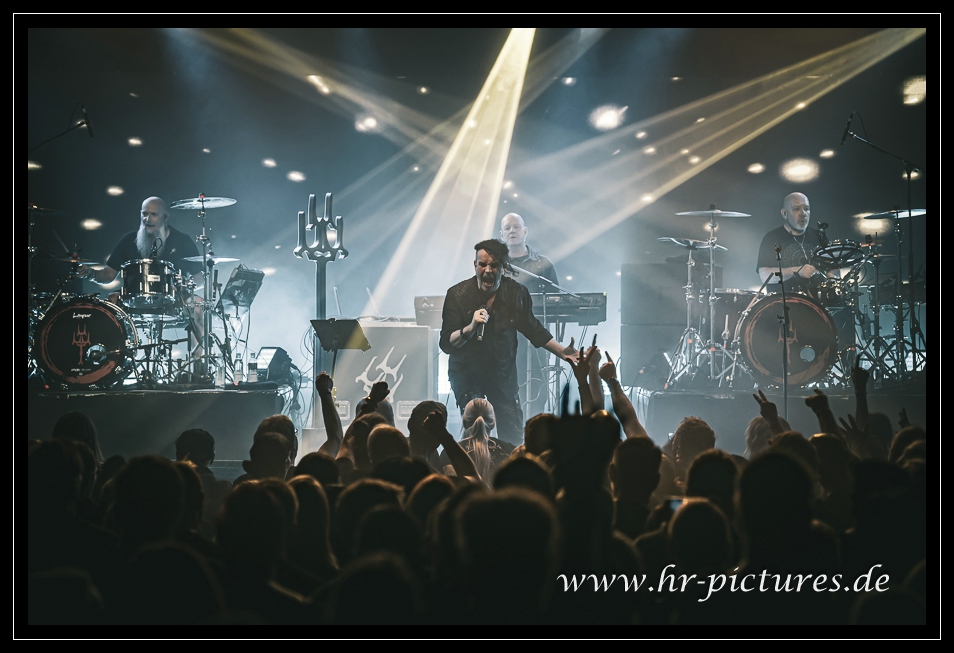 I'm particularly excited about 'Pendulum' as this is only the second time, I've heard it live today. So, for me, it's the perfect ending to a perfect evening. Although, like everyone here, I'm a bit sad that the evening is coming to an end and PROJECT PITCHFORK finally leave the stage shortly after eleven. But the tour still has a few dates left, and for me, I'll be seeing them again soon in Erfurt.
Setlist

01. Conjure
02. Alpha Omega (long)
03. Titânes
04. An End
05. And The Sun Was Blue
06. Rain
07. Queen Of Time And Space
08. Volcano
09. Unity
10. Acid Ocean (RMX)
11. Timekiller
12. And Everything Reflects
13. Blood-Diamond (See Him Running)
14. The Circus
15. KNKA (long)
16. Der Tanz
17. Beholder
18. Existence (long)
---
19. Onyx
20. Souls
21. Learning to Live
---
22. Pan
23. Insomnia
24. Pendulum
Rating

Music: 10
Performance: 10
Light: 10
Sound: 9.5
Total: 9.9 / 10
All Pictures by Helge Roewer (HR-Pictures)
See also (all categories):