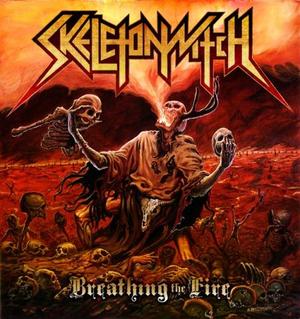 Title: Breathing the Fire
Artist: Skeletonwitch

Genre: Black/Death Melodic/Thrash
Release Date: 13th October 2009
Label: Prosthetic Records
Album Review

Anthens, Ohio has delivered something extreme to the table this year: not anything, that they haven't done before though, this is just a continuation to a past creation, that being 'Beyond the Permafrost' (2007) by metal thrashers SKELETONWITCH. The Witch's almighty return has been a "making in the process" aside from all the numerous touring and believe it or not, side spot on the "Blackest of the Black Tour" alongside classic rocker Danzig, which took place late last year, The Witch has gained the momentum required to create an ever-lasting exposure that is 'Breathing The Fire' (2009) the third achievement to call their own and one they are most proud of.
SKELETONWITCH headed off to Seattle hooking up with the legendary producer Jack Endino who's worked with such acts as, Nirvana, Soundgarden, and High On Fire, and made this fire ignite into a blaze of glory. These 12-tracks surely do not disappoint in any possible manner. For instance the thrashers rhythm's, comes from 'Where the Light Has Failed' and 'Crushed Beyond Dust' while the melodic death metal portion settles in, with 'Longing for Domination' and 'Blinding Black Rage' throwing out some black metal 'Released from the Catacombs' and some of your everyday modern metal with 'Stand Fight and Die' easily tossing around the genre mixture to ease up the album's mixing process.
The Witch's style is unique and well-rounded creating an overpowering sensation of creativity that builds up the metal being presented, having a long-ever-lasting sense of solos and leads that can easily be well remembered each time through, in short let the Witch be heard!
Tracklist

01. Submit to the Suffering
02. Longing for Damnation
03. Where the Light Has Failed
04. Released From the Catacombs
05. Stand, Fight & Die
06. The Despoiler of Human Life
07. Crushed Beyond Dust
08. Blinding Black Rage
09. Gorge upon My Soul
10. Repulsive Salvation
11. Strangled by Unseen Hands
12. And Into the Flame
Line up
Chance Garnett
Nate Garnett
Scott Hedrick
Evan Linger
Derrick Nau
Website
http://www.myspace.com/skeletonwitch
Cover Picture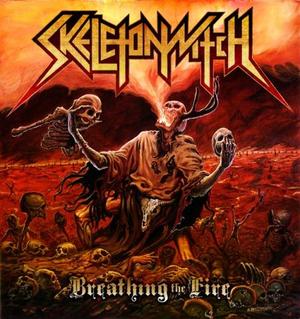 Rating
Music: 9
Sound: 9
Extras: -
Total: 9 / 10
See also (all categories):