Airfield Drispenstedt, Hildesheim, Germany
13th - 14th August 2011
M'era Luna Festival 2011 Day 1 Hangar Stage: Patrick Wolf, Atari Teenage Riot, Klutae, Funker Vogt, Nachtmahr, Julien-K, Fetisch:Mensch, Blind Passenger, The Mission Veo, Blitzmaschine

Also the hangar stage had a lot to offer. There was a good mix between electronic bands such as KLUTAE, BLIND PASSENGER or crazy ATARI TEENAGE RIOT but also some guitar bands like THE MISSION VEO or JULIEN-K. Extraordinary headliner surely was PATRICK WOLF…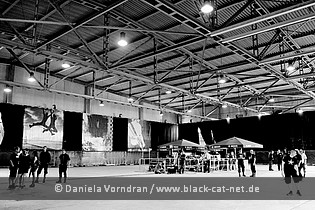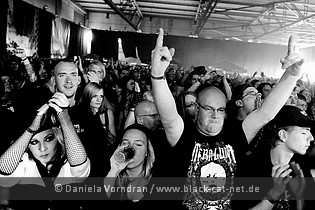 Blitzmaschine (Ben Blaschke & Daniela Vorndran)

Early NITZER EBB and D.A.F. are very obviously the main influences of the duo BLITZMASCHINE. Maybe as a result of the financial crisis these two money brokers (Holger & Matze) from Hamburg, Germany, were looking for a new field of activity in 2009 and decided it was about time to appreciate their mutual passion for Electronic Body Music. The first result was the album 'Faustrecht', released this March on DAS ICH's Danse Macabre label. For live show, the duo is supported by drummer Rudolph Naomi, who plays also in SWEET SISTER PAIN. www.blitzmaschine.com / www.myspace.com/blitzmaschine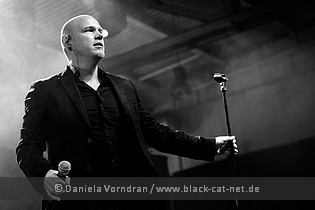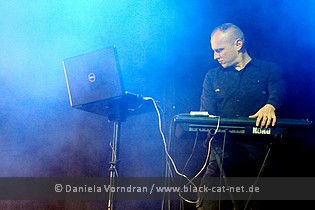 Music & Performance
Holger and Matze, aka BLITZMASCHINE, presented themselves in a minimalist and stylish way with a black stage, wearing black suits and having just a banner with a lightning (=Blitz) on it. With a new interpretation of DAF's 'Liebe auf den ersten Blick', BLITZMASCHINE opened the Saturday at the Hangar. Danceable rhythms, strong shouts and minimalist melodies followed. Due to the early stage time and the short show, the band could only play six songs. Within the audience, the mood was only slowly increasing. Just a few were moving, dancing and marching along with the music. But the Hangar was quite well filled and Holger was playing and flirting with the audience. Different to the first show I've seen of the band, there was more movement and interaction with the audience visible now. Keyboarder Matze had a special for us right at the end of the show: He was unpacking his accordion and accompanied Holger during 'Blute jetzt'. With quite some applause, BLITZMASCHINE were big farewell at this early hour.

Setlist
01. Liebe auf den ersten Blick
02. Useless Pain
03. Blondes Mädchen
04. Do Not (Sonic rebuild version)
05. Vorwärts
06. Blute Jetzt

Rating
Music: 7
Performance: 7
Sound: 7
Light: 7
Total: 7 / 10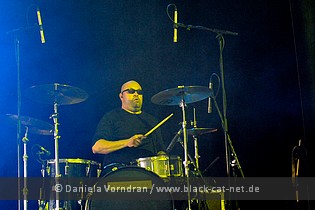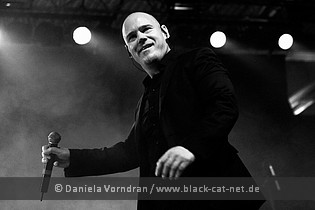 The Mission Veo (Stephan Hartung & Daniela Vorndran)

THE MISSION VEO was founded in 2004 and shared a stage with a lot of other bands (DEAD STARS ASSEMBLY, SURFER BLOOD, FOXY SHAZAM, PARAMORE, THE SOUNDS etc.). 2007 saw a release of a debut, self-titled album in USA. This album was released as a re-mastered version entitled 'Strangers' in Europe in February 2011. THE MISSION VEO is Jonny (vocals), Ben (guitar, effects), Ryan (bass), Michael (synth, samples) and Karsten (drums). http://www.themissionveo.com / http://www.myspace.com/themissionveo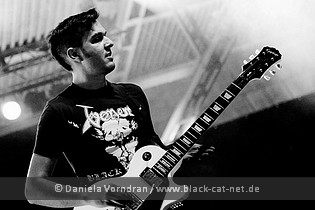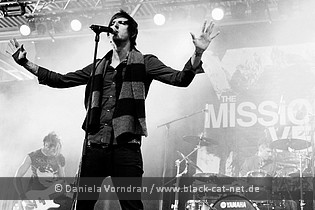 Music & Performance
This band from Florida was a special find at the hangar stage. Currently, the guys are up do conquer Europe with their 2007 in USA released album 'Strangers'. Already during the sound check, singer Jonny impressed with his first class voice. Like always at this quite early hour, the hanger was just sparsely filled with interested people. Luckily this changed in the course of the concert. The high quality mix of Indie, New Wave and Post Punk was well acclaimed by the audience, even though people still were a bit reluctant at the beginning. This changed latest when singer Jonny left the stage and entered the security pit to get in touch with the people. The ice was broken and the joy in playing was transported to the audience. We are really curious now if the guys well be equally successful here as in their homeland.

Setlist
01. Fuchsia
02. Modern Rules
03. Cuts Both Ways (new, yet unreleased song)
04. The Jacket
05. Photo
06. New York Scum
07. Take Everything (new, yet unreleased song)
08. Phoenix Down (new, yet unreleased song)

Rating
Music: 9
Performance: 8
Sound: 7
Light: 7
Total: 8.5 / 10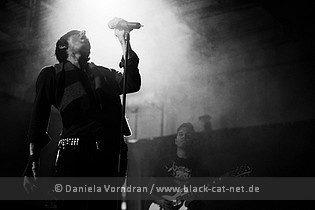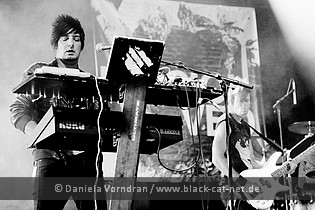 Blind Passenger (Stephan Hartung & Daniela Vorndran)

BLIND PASSENGER is the follow-up project of BLIND PASSENGERS consisting of Nik Page, Mr. Stewart and R6. Synth Pop band BLIND PASSENGERS dates back to 1987, founded by Nik Page and Rayner Schirner, and releasing several albums even entering German album charts with 1999 album 'Bastard'. 2001 saw the last studio release 'Neosapiens'. After the burial of BLIND PASSENGERS in 2005, Nik is now back with the solo project BLIND PASSENGER releasing the sci-fi Synth-Pop album 'Next Flight to Planet Earth' in summer 2010. http://www.blindpassenger.de/ / http://www.myspace.com/blindpassengerofficial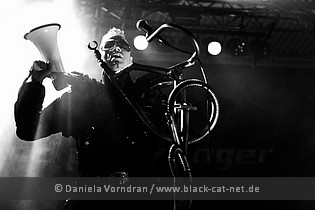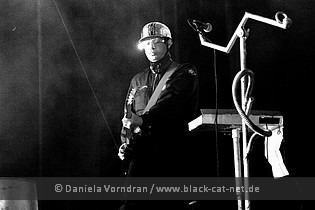 Music & Performance
Bach to the 90s was the headline on Sunday afternoon in the hangar. BLIND PASSENGER Nik Page invited to a concert full of nostalgia and memories, combined with a portion of cool science-fiction. After the split of BLIND PASSENGERS (please remember the small but important difference) and several other music projects, Page now returns to the origin of his works, just as kind of comeback, and presents his newest works 'Next Flight to Planet Earth'. Sci-Fi-Synth-Pop is the name of this new mixture of retro sounds and modern electronic compositions. Also the outfit of the band was accordingly designed. Futurist suits and mechanical movements marked the live performance. After a very long intro, BLIND PASSENGER presented the powerful song 'Sincity' from the current album to the still quite sleepy audience. But the attendees were really woke up with the already mentioned memories of old times, when Page announced songs from the old PASSENGERS times, like 'Born to Die' or 'Absurdistan'. All in all, this was a pretty good show making you already curious for the new album. Well, cheers to future!

Setlist
01. Intro + Sincity
02. Born To Die
03. Absurdistan
04. You (Boytronic Cover)
05. Electrocop
06. Don't Drag Me Down
07. The Cross (Oil Barrel Performance)
08. Neverland

Rating
Music: 8
Performance: 8
Sound: 7
Light: 7
Total: 8.8 / 10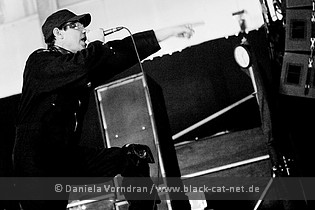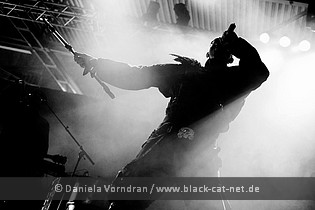 Fetisch:Mensch (Ben Blaschke & Daniela Vorndran)

This project is the brainchild of Oswald Henke, mastermind of GOETHES ERBEN. The centre of the lyrical content is the human being with all its facets, its weaknesses and strengths; in its beauty and scum. The credo of FETISCH:MENSCH is to deny themselves the mechanisms of the industry as far as possible. Music should be something special; and shouldn't just be consumed, that's why they don't release any albums and put their main focus on live performances. The line-up is as follows: Oswald Henke (lyrics), Tim Hoffmann (guitar, programming), Jochen Schoberth (guitar & guitar synth) and Dirk Törppe (drums). http://www.fetisch-mensch.de/ / http://www.myspace.com/fetischmensch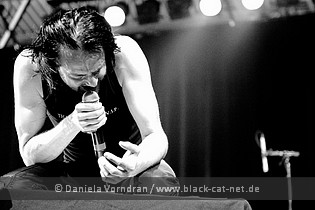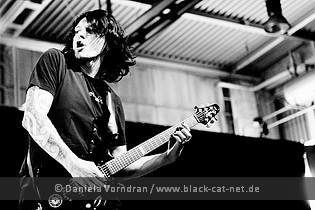 Music & Performance
For years now, Oswald Henke is an inherent part of the "dark scene". With several projects, the musician spreads his not easy accessible messages and stories. With his more electronic project FETISCH:MENSCH he entered the Hangar stage right after Nik Page offering an unusual look to the audience: Oswald Henke, the slim guy with long hair and rather gentle face was wearing a full beard, a keen male accessory that at first sight seemed to be out of place. 'Nicht heute Abend' was the first song of the day. Sinister melancholy of the songs cauth the audience. Right during the second song, he was throwing some band t-shirts into the audience, making the fans happy with such munificence. During third song 'Narbengarten', Oswald surprisingly left the stage climbing the barrier to the audience, moving closer to his fans, a hands-on musician. Singing and screaming together, the musical message was spread. A successful show to the core!

Setlist
01. Nicht heute Abend
02. Manchmal
03. Narbengarten
04. Zwischenseelenträume
05. Sonnenkinder
06. Kinderherzen
07. Schwarzer Schnee
08. Ich fang dich auf
09. Erschießen

Rating
Music: 7
Performance: 8
Sound: 7
Light: 7
Total: 7.3 / 10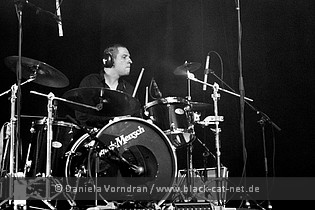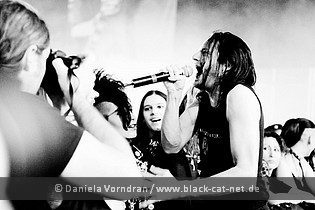 Julien-K (Lisa Young-In)

The US Synth-Rock band JULIEN-K was originally formed in 2003 by the ORGY guitarists Ryan Shuck and Amir Derakh. With the addition of Brandon Belsky (who left the band in 2011 and was replaced by Anthony 'Fu' Valcic) and Elias Andra, the line-up was complete. In the USA the guys already played support shows for bands such as LINKIN PARK, EVANESCENCE and MINDLESS SELF INDULGENCE and, among the rest, worked together with Tim Palmer (co-producer and mixer) who had already worked with artists like U2, HIM and THE CURE in the past. JULIEN-K are also the backing band of the side project of LINKIN PARK's front man Chester Bennington, DEAD BY SUNRISE. In March 2010, JULIEN-K finally published their first album 'Death To Analog' here in Germany, containing 14 songs. The band now consists of Ryan Shuck (vocals / guitar), Amir Derakh (guitar / synthesizer), Elias Andra (drums / backing vocals) and Anthony 'Fu' Valcic (keyboard / bass / sampling). https://www.facebook.com/julienk / http://www.julien-k.com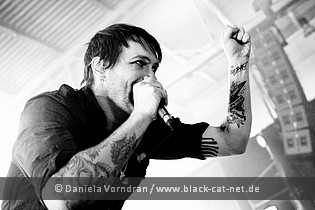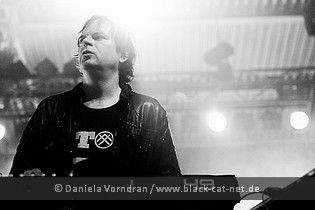 Music & Performance
Yes - it was about time. The band that made me want to go the whole festival in the first place was supposed to go onstage: JULIEN-K. And yes, even though I had already attended many other shows of them this year, I was really looking forward to seeing them again because one thing is for sure: This is by far one of the most entertaining, intense and energetic live bands I've ever seen, and thus, all their live shows are always a great pleasure. Today shouldn't be any different, even though the band started out with some slight technical difficulties in terms of the guitar sound of front man Ryan Shuck. Right after the first song (which is also the title track for the upcoming second album), Shuck started heating up the crowd with a passionate and powerful performance which sometimes even made him move and jump across the stage like a whirlwind. It was mainly his performance that really drew the attraction of the crowd, and even before half of the songs on the setlist had been played, the band had successfully turned over most people in the audience who clapped and sang along. Even though they played only two songs ('Kick The Bass' and 'Futura') from their debut album (two other songs were played in a special remix version), they could impress with their new stuff that shows an incredible musical variety. From pounding, industrial-like songs such as 'We're Here With You', they went over to calmer songs like 'Breakfast In Berlin' that not only had a strong 80ies vibe but also saw drummer Elias Andra take over some prominent backing vocals, and finally closed their set with the poppy, melodic hit song 'Cruel Daze Of Summer' and the electro-influenced Koma + Bones remix of 'Maestro' which was kind of the topping on the iceberg and finished up a great and lively show full of energy, passion, and strong songs that really lured the audience.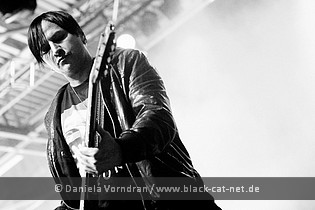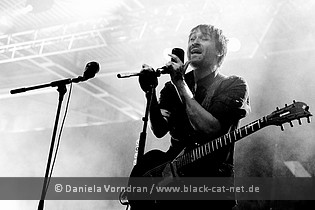 And I think that is really impressive for a band that hasn't been around that long in Germany and that had to play in the dark hangar with rather bad stage lighting, all the while competing against the synth rock heroes MESH which were playing at the main stage. I'm sure we will see these guys at M'era Luna again very soon - most likely on the main stage when it's dark!

Setlist
01. We're Here With You
02. Futura
03. Kick The Bass
04. Someday Soon (Headcleanr Remix)
05. Breakfast In Berlin
06. Fail With Grace
07. Cruel Daze Of Summer
08. Maestro (Koma + Bones Remix)

Rating
Music: 10
Performance: 10
Sound: 8
Light: 7
Total: 9 / 10


Nachtmahr (Ben Blaschke & Daniela Vorndran)

The only purpose of NACHTMAHR is to make people dance. The song 'BoomBoomBoom' makes that perfectly clear: "I don't care whether you live or die. I only want to see you dance". Thomas Rainer, known as a member of L'AME IMMORTELLE, unleashes a full force of Electro / Industrial beats on the clubs with his new project. The first EP 'Kunst ist Krieg' is meanwhile sold-out but the album 'Feuer Frei' followed it up quite quickly and fed the hungry crowd with new destructive material. With 'Alle Lust will Ewigkeit', the second NACHTMAHR album was released on 7th August 2009 followed by album 'Semper Fidelis' und 2010 and EPs 'Mädchen In Uniform' (2010) and 'Can You Feel the Beat?' (2011). NACHTMAHR is "Supreme Commander" Thomas Rainer with live support by "First Lieutenant" Massimo Moscato, "Staff Sergeant" David Chapman, "Private First Class" Gregor Beyerle, "Private First Class" André Steinigen and the "Imperial Guard". http://www.nachtmahr.at / https://www.facebook.com/nachtmahrprojekt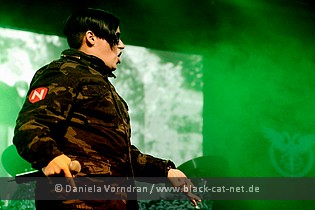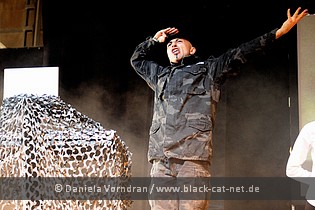 Music & Performance
NACHTMAHR, that means Thomas Rainer as evil dance dictator with an urge for provocation. Girls in uniform are standing still on stage stare into space. Camouflage nets, army pants and two podiums. Music is stomping. Hard beats, simple melodies and lyrics. 'Mädchen in Uniform', 'Feuer frei!' and 'BoomBoomBoom' sound across the stage. Thomas Rainer jumps adrenalised from left to right, shouting short passages into his microphone. The concept works, people are dancing and celebrating. Lots of strobe lights and smoke accompany the Austrian guy during his show which ended after nine songs and left a sweating audience.

Setlist
01. Wir schreiben Geschichte
02. Tanzdiktator
03. Verräter an Gott
04. Feuer frei!
05. Weil ich's kann
06. Can You Feel The Beat
07. BoomBoomBoom
08. Mädchen in Unifrom
09. Katharsis

Rating
Music: 5
Performance: 6
Sound: 7
Light: 6
Total: 6 / 10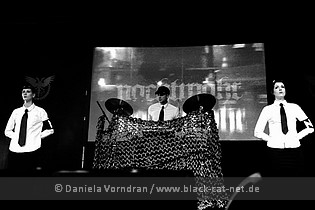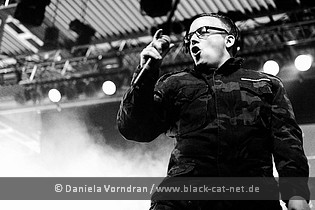 Funker Vogt (Birgit Riedmüller & Daniela Vorndran)

The band was founded in 1995 by band members Gerrit (Route X), Thomas and Jens Kästel. FUNKER VOGT was originally a side project to Gerrit's main project (at the time) RAVENOUS. Well, things didn't work out too well for RAVENOUS and FUNKER VOGT quickly became front stage for Gerrit and the rest of the group. The majority of the songs of FUNKER VOGT revolve around war and some involve politics and others deal with world problems. Although the band sings much about war, they are almost militantly opposed to it. FUNKER VOGT produced four full albums before introducing a fourth member to the band Björn Böttcher (who now also manages the band with Kai). More recently the band also brought Frank Schweigert on board. The last studio album was released in 2007, in 2009 they released a live album followed by the studio album 'Blutzoll' in October 20110. FUNKER VOGT is Gerrit Thomas (composition, production, backing vocals, keyboards) and Jens Kästel (lead vocals); live they were supported by Thomas Kroll (guitar). http://www.funkervogt.de/ / http://www.myspace.com/funkervogt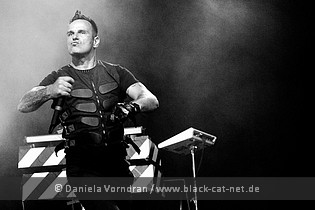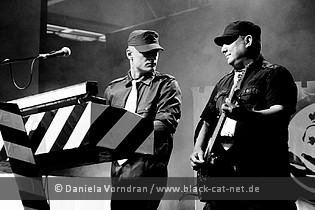 Music & Performance
One of the dinosaurs of German electronic music, FUNKER VOGT, were up next at the Hangar stage. The band can already look back to a 15 year lasting career. The show was pure EBM – Industrial. It was loud, the Hangar was packed and audience as well as band obviously enjoyed the show and danced a lot along such songs as 'White Trash', 'Gunman' or 'Tragic Hero'. Singer Jens was excited about the cheers of the audience commenting it with "nice that you are here and not there…" meaning with "there" the main stage, where BLUTENGEL currently were playing…

Setlist
01. Intro
02. Arising Hero
03. White Trash
04. Fallen Hero
05. Date of Expiration
06. Fire & Forget
07. Maschine Zeit
08. Genozid
09. The State within
10. 2nd Unit
11. Krieger
12. Gunman
13. Tragic Hero

Rating
Music: 6
Performance: 6
Sound: 7
Light: 7
Total: 6.3 / 10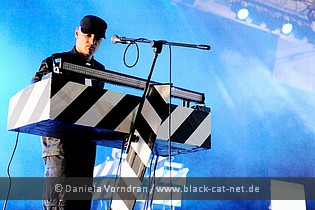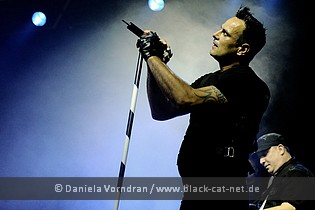 Klutae (Ben Blaschke & Daniela Vorndran)

Claus Larsen (LEAETHER STRIP) launched this solo-project in the early 90's. KLUTAE traditionally stands for a more punkish "in ya face attitude" with tongue-in-cheek lyrics and "angst-til-ya-bust" old-school electro arrangements. KLUTAE is in fact harsher than Larsen's main project LEAETHER STRIP and will musically certainly not deceive the LEAETHER STRIP fan base, while keeping its appeal to followers of the Ministry gang for its aggressive attitude. https://www.facebook.com/KLUTAE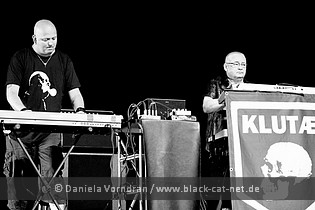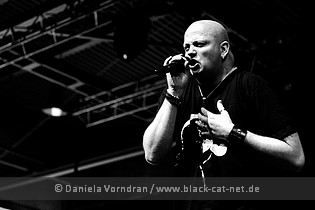 Music & Performance
From EBT to EBM-Industrial… this more or less describes the difference between LEAETHER STRIP and KLUTAE, the second project of Mr. Larsen. Since 2006, it remained silent regarding KLUTAE, but finally, this year a new EP, 'Slippers when Dead', was released. Visually, there was nearly no difference between both bands, there was just another band banner. Also with KLUTAE, Claus was supported by his partner on the machines. As you are used to, the big man was rushing across the stage with huge energy, spitting one song after another into the audience. The shouts were habitual powerful and distorted, the music was spiced up with some hard guitar riffs. Brutal noise with a system combined with sparse, flickering lighting, that's a brief description of the show. The mob was dancing and was going wild, surely a great show!

Setlist
01. Bones in the furnace
02. Long live EBM
03. You define me - I destroy you
04. Slippery when dead
05. I know it's sick but it's so much fun
06. We are nothing (but nothing lasts forever)
07. Tired of you
08. Stagnant water
09. They fucked me over again
10. Electro Punks Unite
11. Desert Storm
12. Tequila Slammer

Rating
Music: 8
Performance: 8
Sound: 7
Light: 5
Total: 7 / 10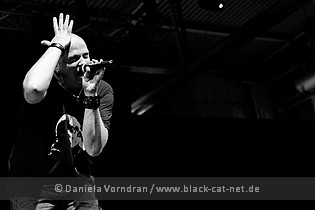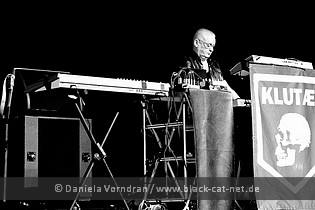 Atari Teenage Riot (Lisa Young-In)

Founded 1992 in Berlin by Alec Empire, Hanin Elias and Carl Crack, the line-up of ATARI TEENAGE RIOT (ATR) was later on extended by classical trained soundscape artist Nic Endo. After some successful years and several album releases even reaching gold status in the US with 'Burn, Berlin, Burn!' as well as amazing tours with such artists as MOBY or RAGE AGAINST THE MACHINE, the band split up in 2000. A re-union of ATR happened in 2010 without Carl Crack Hanin Elias but with additional member MC CX Kidtronik finally leading to a new album, 'Is this Hyperreal?', in 2011. ATR is Alec Empire (vocals, programming), Nic Endo (vocals, programming) and MC CX Kidtronik. http://www.atari-teenage-riot.com/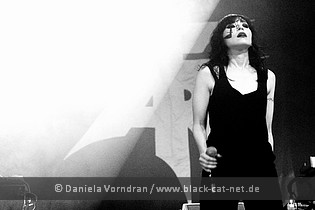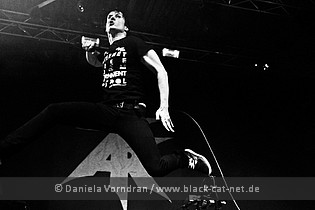 Music & Performance
I had only heard good things about ATARI TEENAGE RIOT so far and of course I had known some songs before, and the name Alec Empire also sounded really familiar in my ears. But never had I thought that they would tear apart the whole hangar in SUCH an aggressive and powerful way... But let's tell that story from the beginning: In the second when I entered the hangar stage and heard some of the tunes, my mood completely changed and I just had to get to the front. All I saw were a lot of flashing and blinking lights, people jumping onstage while screaming stuff into microphones and hitting stuff around them, and people going completely berserk in the audience. This was a happening of total insanity, and I was immediately proud to be a part of it. You could simply not stand still at all, so I started to move along with the crowd and just have a huge party that made you sweat a lot and lose your breath. It was simply impressive: All the while you felt as if you were about to get an epileptic seizure, but you just had to go with the flow and felt completely hypnotized by the stage performance of Alec, Nic, and MC Kidtronik.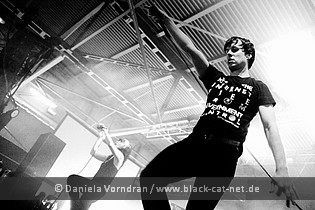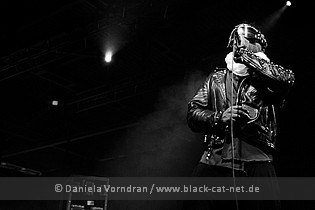 Hard-hitting electro hits such as 'Activate', 'Is This Hyperreal?', 'Speed', and 'Start The Riot' were quite self-explanatory and in fact activated a hyper real, almost speed-indulged riot. This band was definitely one of the more exotic bands in the line-up, as they focused on electronic sound with a heavier and 80ies-influenced edge but without any dark or gothic influences, but in this moment I'm sure that the majority in the crowd wouldn't have wanted to be at any other place than here. ATARI TEENAGE were definitely the biggest surprise for me on the festival, and I had to get all their records afterwards, which shows how much they impressed me with their energetic show. It was all just a huge brain fuck - and I loved it. After they were finished, I in fact felt a bit lost and was quite sad that this was over and the real world around me appeared again. Yes, I felt like a kid coming out of a rollercoaster, completely hyped up with adrenaline and wanting to take the ride again.... Well.. Next time - for sure!

Setlist
01. Activate
02. The Only Slight Glimmer of Hope
03. Black Flags
04. Shadow Identity
05. Into The Death
06. Too Dead For Me
07. Atari Teenage Riot
08. Sick To Death
09. Rearrange Your Synapses
10. Is This Hyperreal?
11. Codebreaker
12. Blood In My Eyes
13. Speed
14. Start The Riot
15. Collapse of History
16. Revolution Action

Rating
Music: 10
Performance: 10
Sound: 9
Light: 9
Total: 9.5 / 10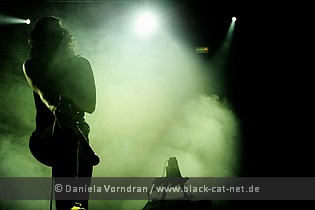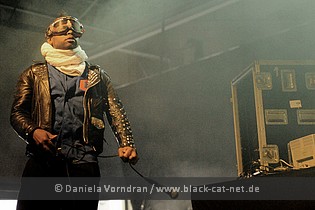 Patrick Wolf (Ben Blaschke & Daniela Vorndran)

The phenomenon PATRICK WOLF has been involved with music ever since he was a little child, to become a multi instrumentalist extraordinaire while the years passed on. In 2003, he found a label that would go on to release his very first album 'Lycanthropy'. With the follow-up 'Wind In The Wires' he ventured into darker musical territory which met with positive recognition. Rolling forward to 2011 PATRICK WOLF has released his fifth album 'Lupercalia' and gathered a big following around him. http://www.patrickwolf.com/ / http://www.myspace.com/officialpatrickwolf / https://www.facebook.com/patrickwolf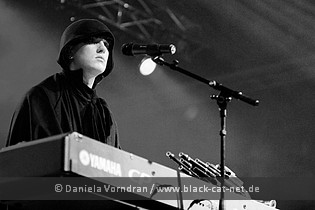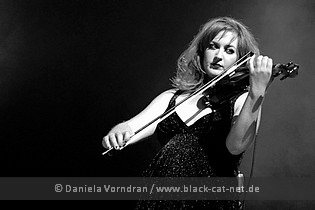 Music & Performance
PATRICK WOLF was the exotic bird of the festival, classic to oriental and still extravagant and poppy to the max. Art or chaos, one might have asked during the evening, when Saturday's headliner at the Hangar entered the stage. Accompanied by guitar, keyboard and strings, PATRICK WOLF presented his mix of music and show. 28 year old Patrick is not just making music, his show is an overall concept of music, performance and outfit. In noble threads being undressed in cosy red light during the show, the was jumping from the stage to get in close touch to his fans. In-between, multi-instrumentalist was hitting the keys himself while singing at the same time. This was surely an interesting and unusual performance causing a lot of discussions afterwards.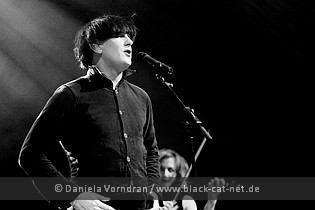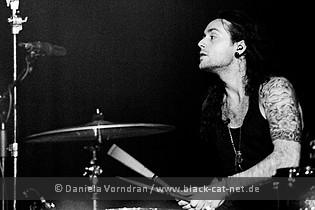 Setlist
01. Armistice
02. Hard Times (Alec Empire remix)
03. Time of My Life
04. The Bachelor
05. Teignmouth
06. Bluebells
07. The Childcatcher
08. Black Is The Colour
09. Damaris
10. Tristan
11. Vulture
12. Together
13. The City
14. Wolf Song

Rating
Music: 7
Performance: 9
Sound: 7
Light: 8
Total: 7.7 / 10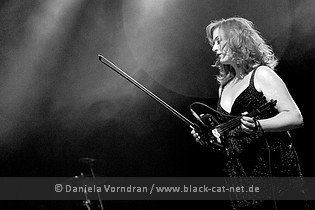 All pictures by Daniela Vorndran (http://www.vorndranphotography.com / http://www.black-cat-net.de/ / www.myspace.com/vorndranphotography / www.facebook.com/blackcatnet)

Written in English by Daniela Vorndran (Intros & Common Parts) & Lisa Young-In (Julien-K, Atari Teenage Riot) and in German by Ben Blaschke (Blitzmaschine, Fetisch:Mensch, Nachtmahr, Klutae, Patrick Wolf), Stephan Hartung (The Mission Veo, Blind Passenger) and Birgit Riedmüller (Funker Vogt). Translations German to English by Daniela Vorndran
See also (all categories):