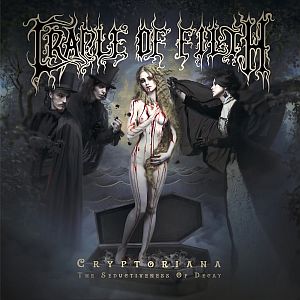 Artist: Cradle Of Filth
Title: Cryptoriana - The Seductiveness Of Decay
Genre: Symphonic Black Metal
Release Date: 22nd September 2017
Label: Nuclear Blast
Review Flash

"Back to the Goth roots…" you might think, if you read the title of CRADLE OF FILTH's latest release and you are not entirely mistaken, but the band has some nice surprises for the Metal fans. The album opens with 'Exquisite Torment Awaits' and as a long time COF fan, you might expect a more classic prone intro and a Horror themed opener. You get, what you want until the back decides to kick some ass and a full blast of Metal kicks you out of the harmonious orchestral world. 'Heartbreak And Séance' takes you back to the Victorian age and reminds you a bit of the bands earlier days with Heavy and Death Metal parts, merged with Thrash and contrasted by symphonic arrangements and in this song, the dark mood is supported by a choir and many orchestral elements. 'A Dream Of Wolves In The Snow' and 'Ebony Dressed For Sunset' have the same style and compared to the bands last releases, there are significantly more choir or better said choral elements in these songs, that partly gives them a more Goth atmosphere. 'Achingly Beautiful' sounds as the title indicates, Death Metal parts pain your ears, while Melodic female vocals by Lindsay Schoolcraft in the chorus give the song a very soft aspect as well.
This was too painful for your ears? Try 'Wester Vespertine'. The song focuses on Symphonic elements and is nearly joyful for a COF album. 'The Seductiveness Of Decay' is an ode to Extreme and Heavy Metal. Two lead guitars play the main theme at the same time involving Thrash, Death, Dark and Heavy Metal riffs while the drums attack your ears showing no mercy. A short break and the chorus with its stomping and simple structure will remind you of a Victorian age IRON MAIDEN until the guitars kick in again. 'Vengeful Spirit' is pure COF shrieking, screaming and growling vocals and good melodies, but still it remains the song COF should have left out or better said the guest vocalist. Liv Kristine as a guest and mainly known in the Goth scene doesn't make the song better. Lindsay Schoolcraft could have performed the vocals, maybe even better than LIV, because if you ever heard Lindsay's live performances with COF, you know what I mean. But maybe the band hoped to reach the fame of 'Nymphetamine' again and chose LIV as a guest again.
'You Will Know The Lion By His Claw' will distract you from the aspect of guest singers on this album as pure guitar and drum virtuosity will occupy your mind, your neck and your ears with before the very dark and moody 'Death And The Maiden' kicks you out of COF's Victorian age Metal universe.
Conclusion: Seven rather long songs consisting of uncompromising CRADLE OF FILTH, with all forms of Metal merged with Symphonic elements that remain a bit more in the background on this album, no compromises a bit more Goth than the last releases, but still one of their best albums so far.
Rating: 8 / 10