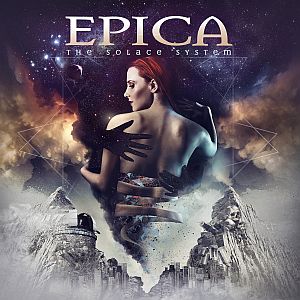 Artist: Epica
Title: The Solace System
Genre: Symphonic Metal
Release Date: 1st September 2017
Label: Nuclear Blast
Review Flash

With 'The Holographic Principle' EPICA released in 2016, they won over man new fans, though some claimed, that the album was overloaded. Since EPICA didn't want to release a double album but had written so many high-quality songs, they decided to release the ones that didn't fit perfectly into 'The Holographic Principle' on a separate EP 'The Solace System'. The album follows the same structure as its predecessor. Vocalist Simone Simons gets the chance to display all aspects of her vocals from highly dramatic to very soft and is perfectly supported by Mark Jansen's growls or clear voice. While 'Fight Your Demons' is very up-tempo and the focus is on Mark Jansen's vocals that will leave you very motivated.
'Architect Of Light' has wonderful choir elements, that fame the vocals in a very special way and make the chorus line one, that might be on your mind for a while. 'Wheel Of Destiny' is full of deeper thoughts and the orchestra arrangement supports the darker mood of the song. The absolute highlight is 'Immortal Melancholy' that in a way breaks with EPICAS opulent orchestral arrangements. It's a beautiful acoustic ballade with a clear focus on guitars and only very soft and very classical instruments in the background and it makes you wish for more of these songs. EPICA see you off with 'Decoded Poetry' that has strong choir elements framing the main vocals again and some brilliant guitar parts.
Conclusion: If you like EPICA and 'The Holographic Principle' was a bit too much of everything for you, try 'The Solace System', for most of the songs are not so overloaded with a million different sounds and styles, the guitar parts are more audible and the guitar solos more emphasized and don't get lost in all the classical arrangements.
Rating: 9 / 10