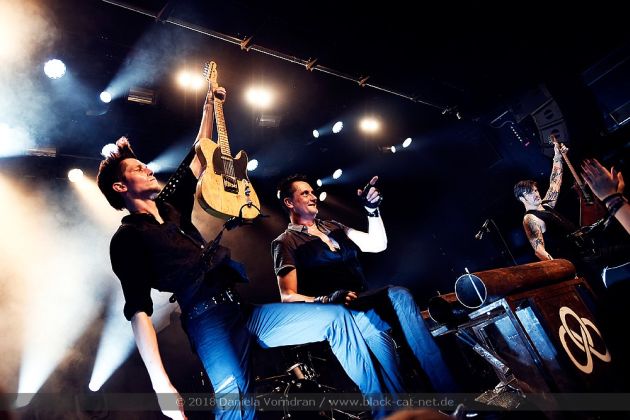 Kulturfabrik, Krefeld, Germany
22th August 2018
Machinists United Tour with Die Krupps, Front Line Assembly and Tension Control

Machinists United! The motto of this European tour said it all. EBM/ Industrial Rock legends DIE KRUPPS and FRONT LINE ASSEMBLY know each other well and had some split-releases in the past. Now they finally played a double-headliner concert journey but did not forget to bring some newcomers with them to open up the evening.
Tension Control

Founded in 2016, TENSION CONTROL bring the old-school EBM on stage. Michael Schrader, Eli van Vegas and Marcel Lüke are playing heavy-pounding, monotonous classic Electronic Body Music. Their first album, 'Im Rhythmus der Maschinen' (some old Krupps lyric, haha) came out in November 2017. Since then the group from Osnabrück has played some support gigs for bigger scene bands like APOPTGYMA BERZERK. www.facebook.com/tension.control.ebm / tensioncontrol.bandcamp.com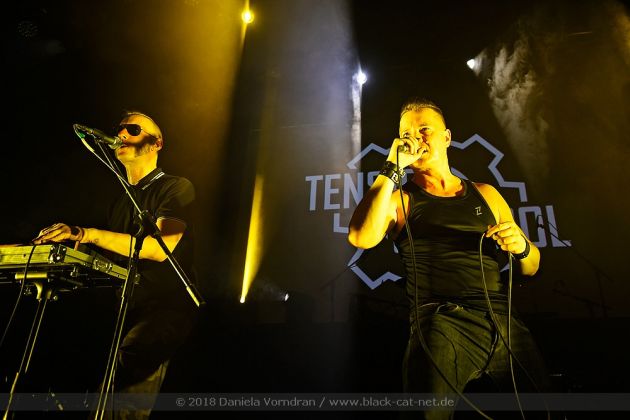 Music & Performance

For sure TENSION CONTROL did some detailed studies of music by DAF or ORANGE SECTOR. In a nutshell: TENSION CONTROL is a mixture of ORANGE SECTOR beats with DAF-lyrics. Their performance did what it ought to be: to warm-up the crowd for the two upcoming legends. After 35 minutes and some stompers like ´'Das ist Sex', 'Passion for Agression' or 'European Body Music' the trio got a well-deserved applause for a solid performance.
Rating

Music: 6
Performance: 6
Sound: 8
Light: 7
Total: 6.8 / 10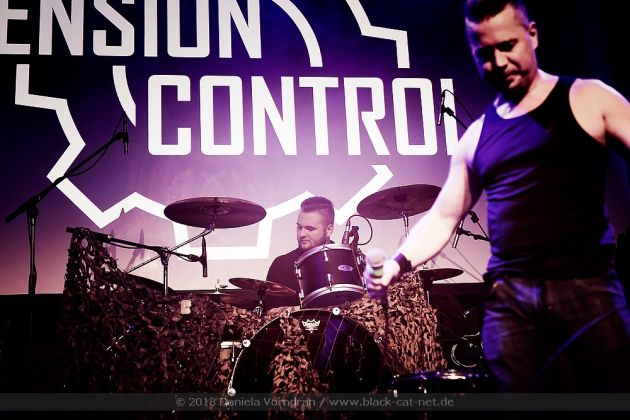 Front Line Assembly

The band that is always "one bass line ahead of the others". The Austro-Canadian project of Bill Leeb und Rhys Fulber constantly releases records since debut album, 'The Initial Command' in 1987. Although flirting with Dubstep, Drum & Bass, Metal and lots of other musical styles in their 32 years of existence, FLA's music has always been based on EBM and Electro-Industrial. Their most recent work is the soundtrack for the videogame WarMech. Unfortunately it is the last record with former musician Jeremy Inkel who passed away in January 2018. www.facebook.com/frontlineassembly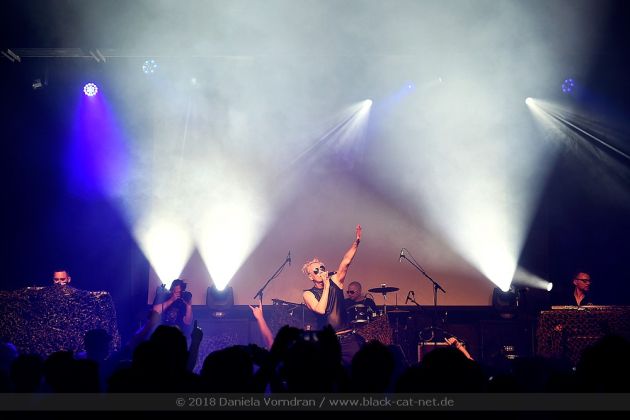 Music & Performance

FLA surprised with two new songs: Some people may know 'Anthropod' from the WarMech album, completely unknown to everyone was 'Eye On You'. This tune will be on the forthcoming release - maybe it comes out at the end of this year. After that FLA played a good mix of old and not so old tracks. As always it was a high-energy performance by Leeb and his bandmates, deep-pounding beats combined with loud synths and some extra percussion. So you could forgive that Leeb sometimes messed up some lyrics and bars. For luck, everything went fine during 'Vanished', the song that the band dedicated to Jeremy Inkel. The classics 'Millenium' and 'Mindphaser' finished the 60-minute-set - now it was really hot and sweaty in the Kufa. Time for a beer!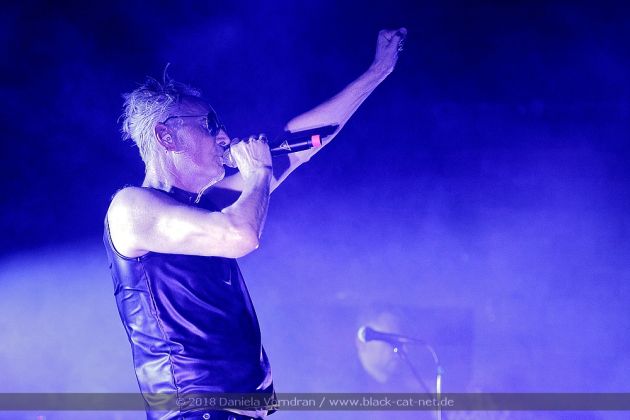 Setlist
01. Anthropod
02. Eye On You
03. Neologic Spasm
04. Killing Grounds
05. Vanished
06. Shifting Through The Lens
07. Gun
08. Plasticity
09. Deadened
10. Millenium
---
11. Mindphaser
Rating
Music: 9
Performance: 7
Sound: 7
Light: 8
Total: 7.8 / 10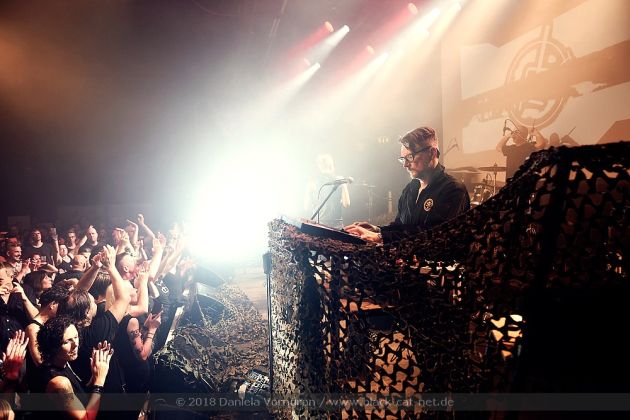 Die Krupps

There are not many bands and artists that contributed more to the development of Industrial over the duration of 37 years. Jürgen Engler's bandmates changed a lot during this period, the music did so as well. Noisy industrial on their inaugural 'Stahlwerkssinfonie', Minimal-Electro on the second LP 'Volle Kraft voraus', lots of EBM classics in the late 80s and early 90s, pure Metal on 97s 'Paradise Now' - at the moment they seem to have fun turning up their guitars and synthies to create heavy but danceable 'Metal Machine Music'. www.diekrupps.com / www.facebook.com/diekruppsofficial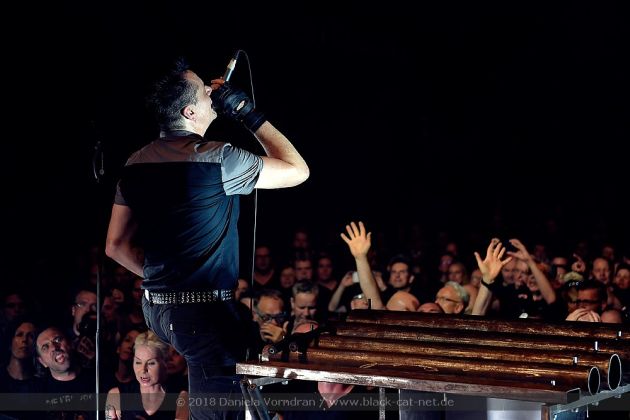 Music and Performance

"Nice to be here again!", said Jürgen Engler after entering the stage. Of course it's something special for him and keyboarder Ralf Dörper to perform in the Kulturfabrik. In 1980, DIE KRUPPS played one of their very first shows there. The good thing is that the band still sounds as fresh as possible. If you've seen some other shows of the band in the last two years the setlist didn't deliver any surprising changes - except for one. And the EBM-heads in the crowd had their fun with the revitalized 'Germaniac' that hasn't been played for six years. All in all it was well-balanced set with classics and newer hits, the atmosphere was phenomenal and the sound was on a high quality level. At 11 pm the noisy 'Bloodsuckers' finished a loud and pleasuring night of EBM and Industrial Rock-music.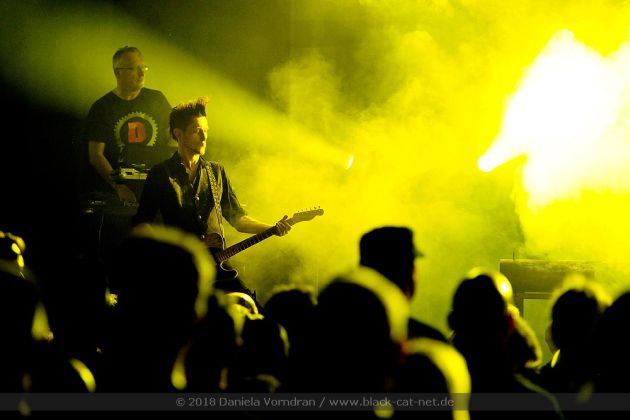 Setlist

01. The Dawning Of Doom
02. Der Amboss
03. Schmutzfabrik
04. Germaniac
05. Fly Martyrs Fly
06. Black Beauty White Heat
07. Fuck You
08. To The Hilt
09. Metal Machine Music
10. Robo Sapien
11. Nazis auf Speed
12. Fatherland
---
13. Machineries Of Joy
14. Bloodsuckers
Rating

Music: 8
Performance: 8
Sound: 9
Light: 8
Total: 8.3 / 10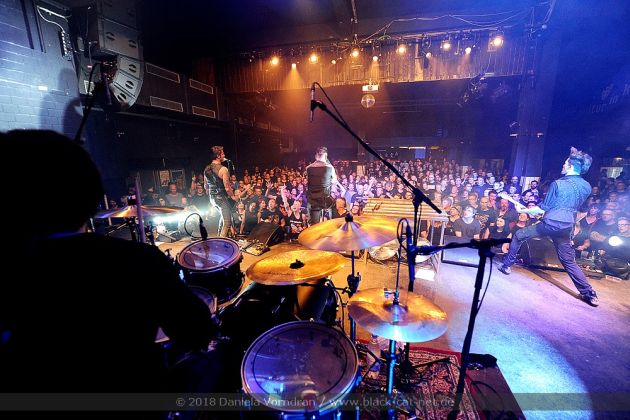 All pictures by Daniela Vorndran (
http://www.vorndranphotography.com
/
http://www.facebook.com/blackcatnet
)
See also (all categories):