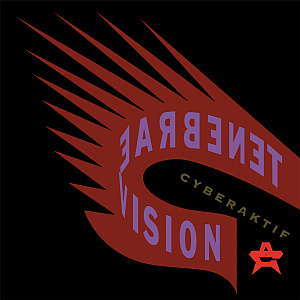 Artist: Cyberaktif
Title: Tenebrae Vision
Genre: EBM / Industrial / Electronic
Release Date: 7th September 2018
Label: Artoffact Records
Album Review

Bill Leeb of FRONT LINE ASSEMBLY has always had a plethora of side projects, some of them were just to pay the rent and with others he pursued musical visions which somewhat didn't fit his main project. CYBERAKTIF kinda falls in a third category, as it's a one-off project to collaborate with other leading artists of the scene. First and foremost there are cEvin Key and the late Dwayne R. Goettel of SKINNY PUPPY, who are featured as co-writers of most of the album's song. This collaboration alone was, and is, nothing short of spectacular as Bill Leeb infamously started his career as a short-time member of SKINNY PUPPY before he left to start FLA.
The fourth celebrity in this project is Blixa Bargeld of EINSTÜRZENDE NEUBAUTEN fame, an old hero of the other three CYBERAKTIF contributors who felt honoured to work with one of their idols, as they liked to mention in interviews back in the day. Regrettably Bargeld is only featured on two tracks, the marvellous 'Paradiessiets' which features his signature vocals and the bonus track 'Meltdown (Parody)' for which Bargeld added some piano playing and sound effects.
Absolute centre of attention is, of course, the song 'Nothing Stays' which was also released as a single in 1990 and quite some airplay at Industrial & Goth clubs around the globe back in its day. It's an epic, spine-tingling EBM ballad (if there's such a thing) and it's only fair that this 18-tracks bundle features no less than four version of this anthem, including a rare edit by Beatbox Inc. and the original extended version. This song alone is worth the money!
Not all the songs stood the test of time as well as 'Nothing Stays' but there are no actual fillers and the whole things is a great document of late 1980s/early 1990s FRONT LINE ASSEMBLY and SKINNY PUPPY merging into one, with an absorbed dose of 'Haus der Lüge' era NEUBAUTEN and a taste of the cut'n paste sample orgies which Goettel and cEvin Key brought to an extreme with their DOUBTING THOMAS and DOWNLOAD side projects.
Artoffact Records released this package including everything CYBERAKTIF has ever produced on double vinyl last year, and finally this nice package is also available as a remastered 2CD digipak and FLAC download bundle. A special treat are the songs from the two CYBERAKTIF EPs, 'Temper' and of course 'Nothing Stays', and the non-album tracks certainly are on par with the original 'Tenebrae Vision' songs. And in case you read on Wikipedia that 'House Of Pain', a CD only song back in the 1990s, was a cover of the VAN HALEN song of the same name - not true!
Tracklist

01. The Road Kill
02. Brain Dead Decision
03. Acid Cripple
04. Paradiessiets
05. Nothing Stays
06. Ruptured Freaks
07. Dis Coarse Illusion
08. Temper
09. Face To Face
10. House Of Pain
11. Nothing Stays (Ext Remix)
12. Nothing Stays (Version)
13. Black + White
14. On The Reign
15. Temper (Extended Mix)
16. Meltdown (Parody)
17. Dream Needle
18. Nothing Stays (Beatbox Inc Edit)
Line-up

Bill Leeb
cEvin Key
Dwayne R. Goettel
Blixa Bargeld
Website

https://cyberaktif.bandcamp.com/
Cover Picture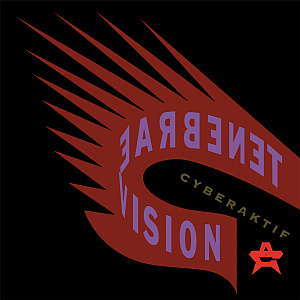 Rating

Music: 9
Sound: 9
Total: 9 / 10
See also (all categories):