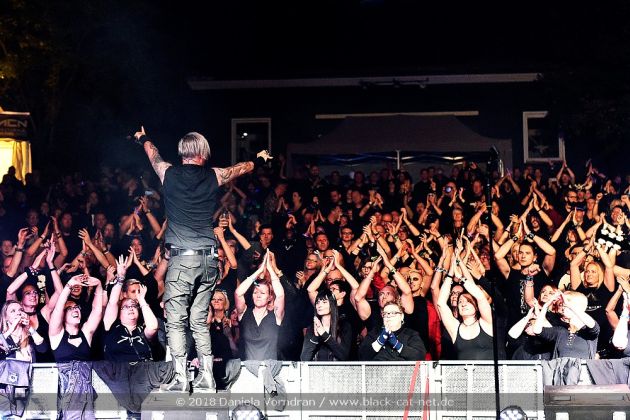 Kulturpark, Deutzen, Germany
7th to 9th September 2018
NCN 2018 Day 3 with Nox Interna, Steril, (no) Popsimonova, White Birches, Harmjoy, St. Michael Front, Rue Oberkampf, Assemblage 23, Red Cell, Orange Sector, The Foreign Resort, D:uel (Propaganda), UV Pop, Welle:Erdball, I Like Trains, Stalingrad (Valkyrie), Zeromancer

There we are already at the final festival day. Even though it was already early autumn, we got best, sunny festival weather. With the show of D:UEL, the day promised a real classic. And later on, also kind of a sad moment as ZEROMANCER guitarist Dan played his second last show with the band today…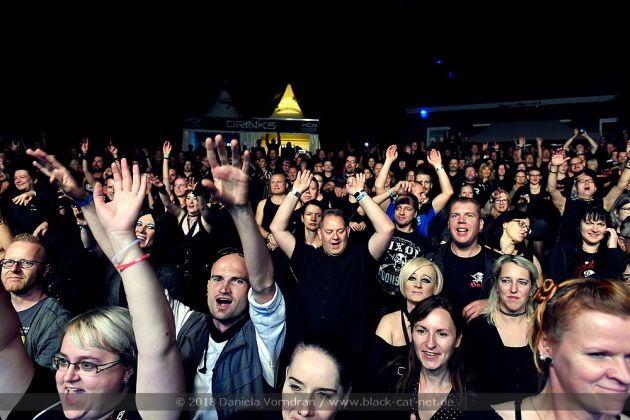 Nox Interna - Weidenbogenbühne (Nastja)
It paid absolutely off to wake up pretty early after a long festival day to get to Deutzen just right to the beginning of the last day. I have never seen or heard NOX INTERNA before and I'm totally surprised about it. Because they were just amazing! Honestly, beside of the headliner who I was looking forward to for months now, NOX INTERNA became my festival favourites just like in five minutes. The band, originally from Spain, now located in Berlin, has an intense performance and is absolutely energetic and dark. The singer and frontman Richy Nox plays perfectly with the Horror-Goth-Rock-Punk attitude. For one song he got a portrait of himself to the stage and while singing he first draw in a very cool way more to it in different colours, using his fingers, until the portrait was only hard to recognise, just to destroy the whole picture at the end of the song.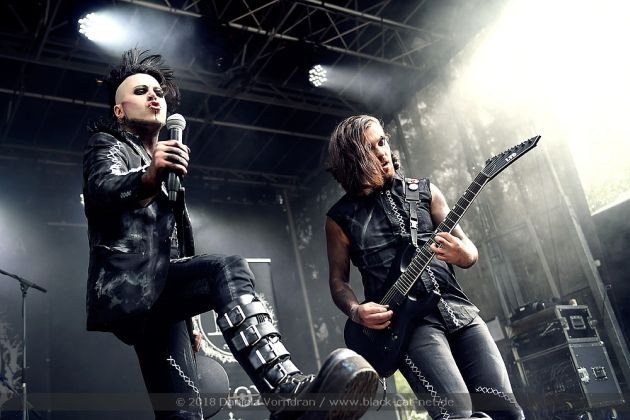 I totally loved it! So refreshing and different… really cool! Also a nice black tattered umbrella with small lamps on it played a role in a song, and another fan had an umbrella like this in the crowd, too. I enjoyed all the little extras around the performance. But of course, it was not only about it. Very entertaining was also their cover of the HÉROES DEL SILENCIO song 'Entre Dos Tierras'. I really loved the music, the energy, the theatrical performance, also the visual appearance of the guys. Everything was just on point and I really hope to get to see them more often. // http://www.noxinterna.com / https://www.facebook.com/noxinternaofficial // Setlist: 01. Intro / Doomed Generation / 02. Kill Yourself (And Be Reborn) / 03. The Seeds Of Disdain / 04. Pray / 05. A Minor Road / 06. 1984 / 07. Entre Dos Tierras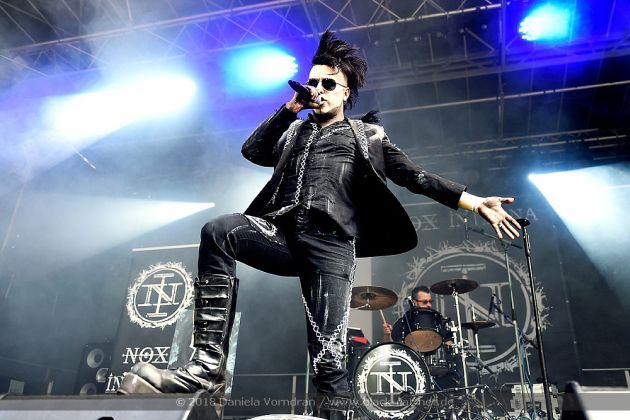 Steril - Amphibühne (Marcel)

The band STERIL was founded in 1990 in Oldenburg. Their music is extremely diverse and characterized by a mixture of Electro, EBM and Industrial, as well as Ambient, Dance and Hip-Hop elements. STERIL created several club classics, but their disgust and the negative view of the people do not want to let Axel Tasler, Jan Willing and Stephan Meenen rest. Their music is influenced by many different styles of music that create an unmistakable explosive mix and unmistakable sound of their own. The band combines club sounds with aggressive Metal / Punk guitars to create complex arrangements with very catchy vocals. The actual song structure is always in the foreground. STERIL are driving powerful sound in combination with a fun and energetic live show.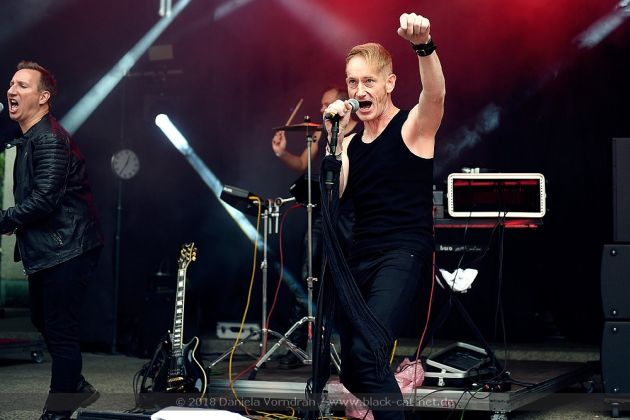 With full physical effort and energetically charged the NCN show started. There were more spectators in front of the stage than at the opening bands on the other days. 12:30 was probably no one too early to start full with the Oldenburg boys. The sound was clear and they proved their craftsmanship again and again for years. The audience was swept away and even the new songs went straight into the ear and leg. In the text, "Dieser Tanz gehört mir" (this dance belongs to me), the brute EBM sound got an unstoppable dance character. As an announcement to the last song, the latecomer was made clear what they have missed, and rightly, there could not be a better opening on that stage for that day. STERIL were charismatic, slightly crazy and full on point! If a recommendation at this moment is alright: here you get it directly! // www.frankahdafi-records.de / https://www.facebook.com/sterilmusic // Setlist: 01. Glas / 02. Drop it / 03. Lies / 04. Tanz / 05. Black Jesus / 06. No Remission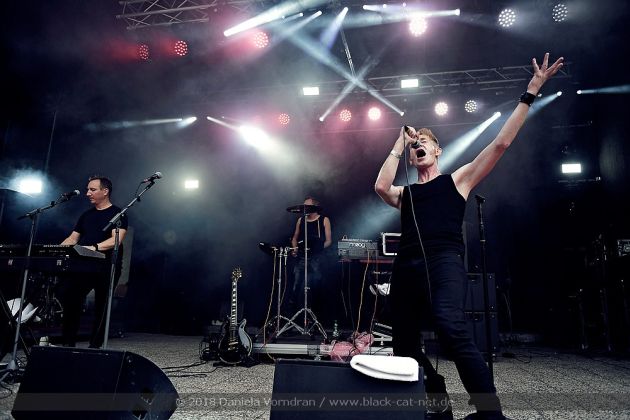 Popsimonova - Parkbühne (Nastja)

While it was pretty crowded in front of the stage, the organizer Holger Troisch got on stage on time for POPSIMONOVA with no good news: the band cancelled their festival appearance just about an hour before the show start. Though I don't know the reasons, Holger said that the band won't get any other chance to play the festival again. After all, they cancelled their show on last year's edition already on short notice.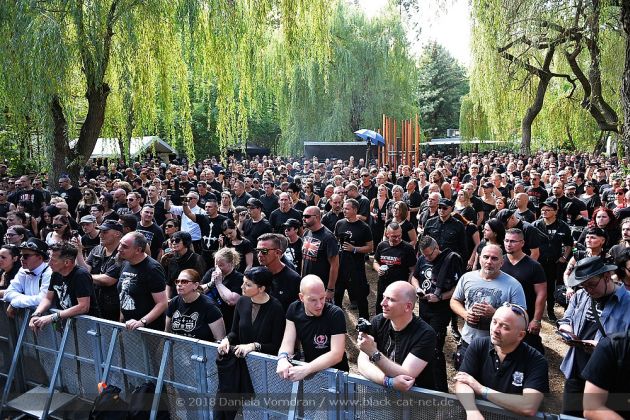 White Birches - Weidenbogenbühne (Marko)

Swedish band WHITE BIRCHES was founded in 2013. In 2015, they released their debut album, 'Dark Waters', followed in 2018, with the current album, 'When The Street Calls'. WHITE BIRCHES cleverly mix together the sound of wave synthesizers and guitars. When the first notes sounded, the audience rose from the surrounding sitting areas and came closer to the stage. The fog and the light on the stage achieved a lovely effect even at lunchtime. There was a great atmosphere in these surroundings, but this band would also be cool to see in small, cosy clubs. The two musicians did not seem lost on this open air stage and during the course of the concert lured more and more people in with their extravagant and performance.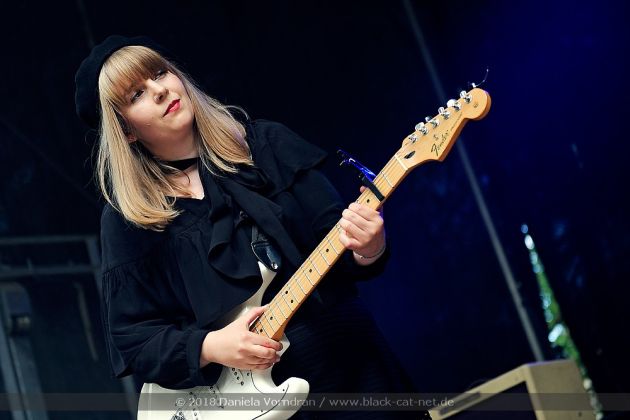 Everyone stood spellbound in front of the stage. The band today presented exclusively titles from the current album except for two songs. Then singer Jenny put aside her guitar, and one realized even more, how much she loses herself in the music. Through skilful movements and posing she merged with the slow and spherical sounds that can be found in such bands as PORTISHEAD. This performance was really a beautiful, melancholic symbiosis made of both synthetic and guitar sound. // http://www.whitebirches.se / https://www.facebook.com/whitebirches // Setlist: 01. Gravity / 02. Hunting / 03. The River / 04. Trouble / 05. Under My Spell / 06. You Will Find A Fire / 07. Howl / 08. When The Street Calls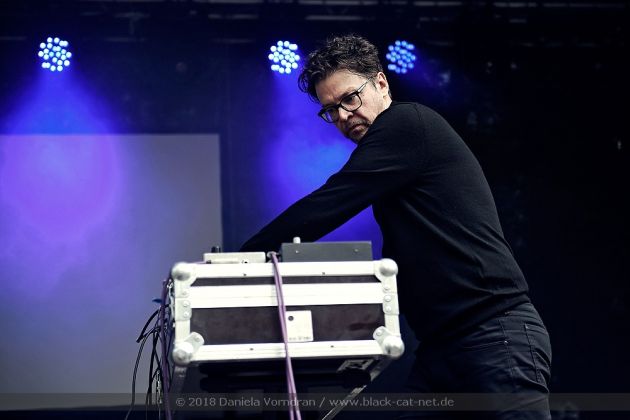 Harmjoy - Amphibühne (Nastja)
HARMJOY played a powerful Synth Pop set at Amphibühne on Sunday. The singer Dan von Hoyel from San Francisco has a very expressive and kinda soft voice. The combination of his voice and the energetic music by Ølåf Å. Reimers (TYSKE LUDDER) is unique. Songs like 'Inside Out' force you to dance or at least to move your feet a bit, even if it is still just afternoon. Also a new song was presented to the audience ('Dont keep me waiting'?). All in the show was fun and a good chance to relax or dance and enjoy the lovely Sunday afternoon in Kulturpark Deutzen. // http://www.harmjoy.com / https://www.facebook.com/HarmJoy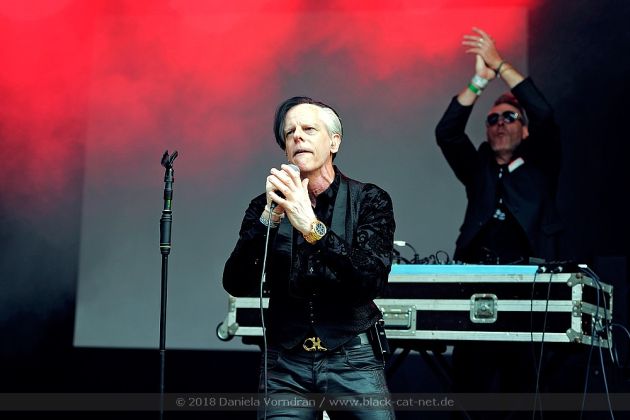 St. Michael Front - Kulturbühne (Marko)

ST. MICHAEL FRONT is a Dark Pop duo from Hamburg. In 2016 came their EP, 'In The Wake Of A New Dream', and was followed this year by the long-awaited debut album, 'End Of Ahriman'. On time, the band appeared on the great Kulturbühne. The singer was wearing sunglasses and a black suit, the guitarist with short leather pants. With their very rhythmic sounds they appealed exactly to the taste of the people who had come to the Kulturbühne. For a short time there was a few technical problems on the acoustic guitar, but the break was short and soon everything worked again without problems. One song started with drums like a march, they sounded more effective live than on the album.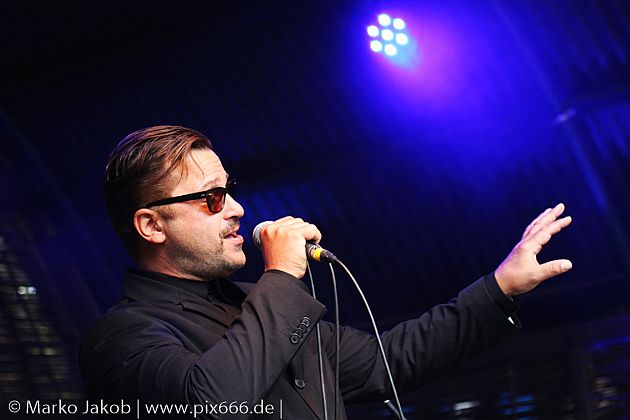 Spiritual Dark Pop is extraordinary music, but the Hamburgers played their songs very sympathetically and therefore many fans came looked very happy. There was definitely always neat applause after the songs. ST. MICHAEL FRONT played their current album with the exception of two songs I guess, the singer got pretty sweaty in his suit during the forty minutes they were on the stage as it was awesome late summer weather in Deutzen. The band gave the audience a great concert and in November you can experience both musicians live again at a few concerts. // https://www.facebook.com/stmichaelfront // Setlist: 01. Rifles & New Gods / 02. Lucky Prince / 03. Doom Of Your Living Room / 04. Bootlicking For A Dream / 05. Higher Source / 06. They Burn / 07. Drones Block My Way / 08. White Lights Shine / 09. Once / 10. Thank You For Nothing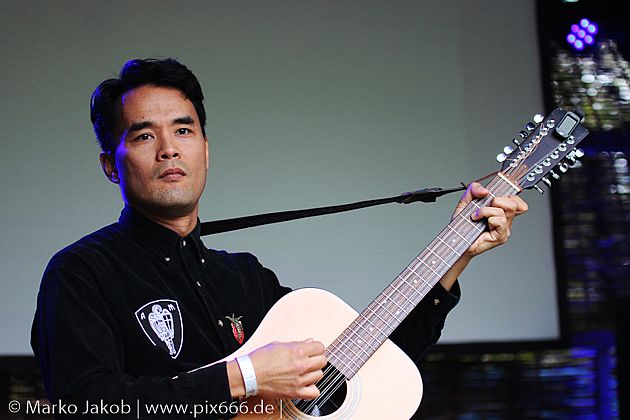 Rue Oberkampf - Parkbühne (Marcel)
RUE OBERKAMPF from Passau / Munich are inspired by the Cold Wave and the ecstasy in the dance temples of the 80s, urban electronics and contemporary light and video art. They create cross-scene pieces between construction, outbreak and rest. After first dancefloor fillers such as 'Caméra' and 'Congélation' in 2017, the debut album, 'Waveclash', was released by No Emb Blanc / Genetic Records in March 2018. With flashlight pyramid, a voice of gold and sequences I wouldn't have come up with in a million years, the Munich band with French-born singer started into the day. The concert looked like a successful staging of the band's story and began with the words "I breathe". The cover of the ABSOLUTE BODY CONTROL song 'Melting Away' was almost better than the original. Danceable, touching and thought-provoking, everything in purple white light. An experience for the ears! // https://rueoberkampf.bandcamp.com / https://www.facebook.com/RueOberkampf // Setlist: 01. Agitation / 02. Congélation / 03. Le soir bleu / 04. Caméra / 05. Es versucht (unreleased) / 06. Kalt / 07. Sourires / 08. Le train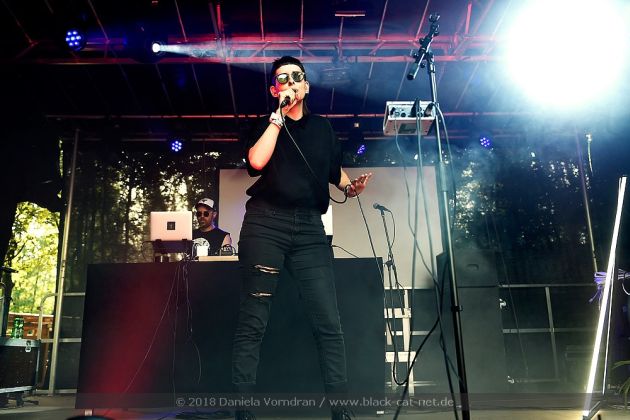 Assemblage 23 - Weidenbogenbühne (Nastja)
ASSEMBLAGE 23 offered the visitors a very powerful show. I got to dance, sing along and enjoy myself a lot during their performance. The sun was shining, the atmosphere was amazing and partying in the first row at the beautiful Weidenbogenbühne was just lots of fun. ASSEMBLAGE 23 presented the audience this time songs like 'Naked', 'Document', 'Drive', 'Disappoint' and 'Let The Wind Erase Me'. The last song, 'Don't Change', a cover of INXS, was beat-heavy and stomping and a perfect end for this cool gig. // http://www.assemblage23.com / https://www.facebook.com/Official-Assemblage-23-138651156153800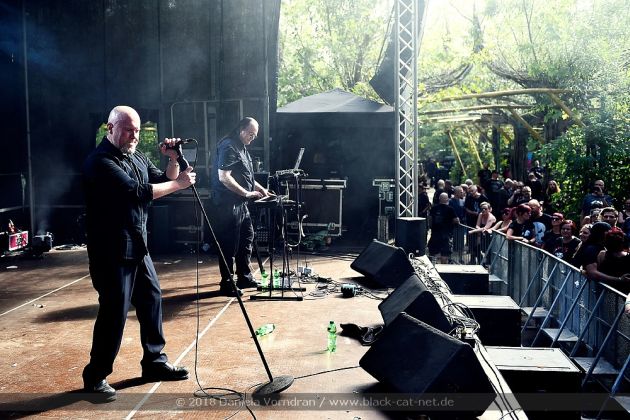 Red Cell - Amphibühne (Marcel)
RED CELL is based in Stockholm / Örebro and founded in 2002 by the trio of Jimmy Skeppstedt, Stefan Aronsson and Per Linnerblad. They position themselves in the middle of the classic Synth Pop, which is dosed with modern sounds and also contains some alternative guitar parts. RED CELL often melts analogue-sounding electronic backgrounds with drums and acoustic instruments. The album relies on pleasant melodies without big edges, which at times have great depth and also include one or the other alternative musical element. Good alternative to MESH or DE/VISION.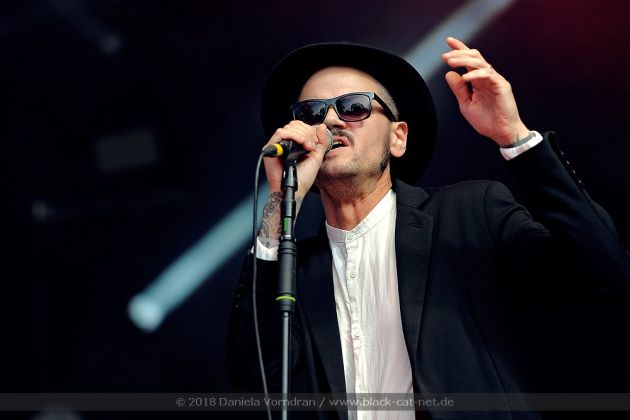 A great Synth Pop band that has found its inspiration among the big ones but does not make a copy! There were many influences from other musical genres that brought their very own sound to light. The audience was accordingly more mixed. Everyone could find something to listen to here and every song delivered a new surprise. I liked it! // http://redcell.nu / https://www.facebook.com/redcellmusic // Setlist: 01. Underground Windows / 02. Vial of Dreams / 03. New Condition / 04. Taking back the Crown / 05. Past the Pale / 06. The Ones / 07. Coloring My Bones / 08. (We'lll never have) Another Moment / 09. Shine / 10 The Ladder / 11. Lust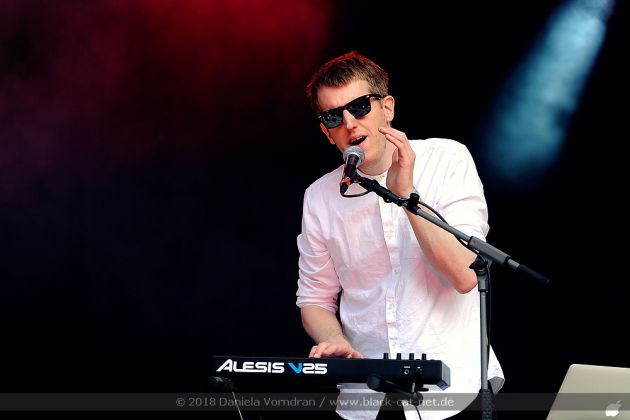 Orange Sector - Weidenbogenbühne (Marcel)
Hannover, write the year 1992. ORANGE SECTOR is founded by Martin Bodewell and Lars Felker after a chance meeting in a disco. The boys deal with social problems in their texts. The sound is very similar to DAF. In 1993, their debut album was released, but unfortunately this brightly lit star in the sky quickly went down because of various stumbling blocks. When EBM revived in 2004, label owner Torben Schmidt of Infacted Recordings came up with the idea to release a compilation of the band. Lars was quickly convinced, Martin had to be persuaded. Live, OS are additionally supported by René Nowotny. In March 2005, ORANGE SECTOR were back with the new re-mastered sound. ORANGE SECTOR remain true to their line and bring Old-School EBM on the eavesdroppers. Fast aggressive shouts, hard driving beat and a mercilessly minimalistic sound. Only German lyrics, purist machine sound, sweaty sequences and catchy melodies. These ingredients have led Martin Bodewell, Lars Felker and René Nowotny to the top of the EBM genre.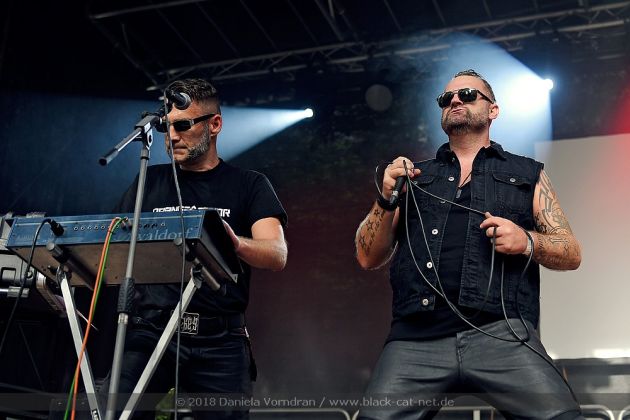 A band that flogged the beat in the heads with brute force. The first song, 'Monoton', quoted many of their own songs. Being able to afford this alone speaks for ORANGE SECTOR. The audience was very similar to TYSKE LUDDER's and so much was danced. Analogously and directly, the songs broke in at once and when 'Krieg & Frieden' was sung, there was more and more "Tanzflächenkrieg" (dance-floor war) in front of the stage. A demolition of the highest quality. // https://www.facebook.com/infactedworld / https://www.facebook.com/OrangeSector // Setlist: 01 Intro/ Assassini / 02. Monoton / 03. Alles dreht sich im Kreis / 04. Krieg & Frieden / 05. I Hate You / 06. Heute liebe ich dich / 07. Farben / 08. Der Maschinist / 09. Endzeit / 10. Terroristen / 11. Sturm / 12. Rest In Peace / 13. Bitch / 14. Für Immer / 15. Götter / 16. Kalt wie Stahl / 17. Dynamit / 18. Die Zukunft / 19. Arbeit ist Not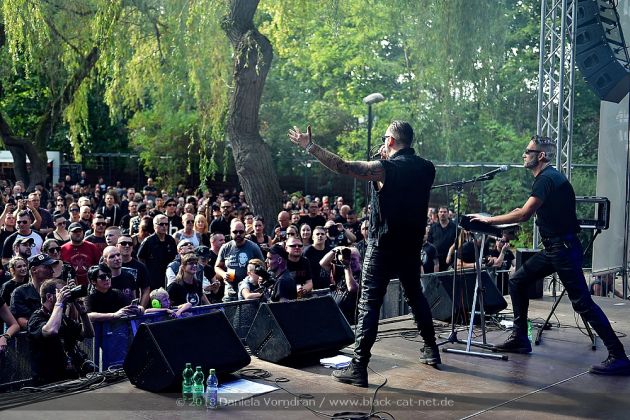 The Foreign Resort - Parkbühne (Nastja)
THE FOREIGN RESORT from Copenhagen did a very emotional show. With their catchy New Wave sounds it was easy for them to take the audience over. One of my favourites during this gig was the song 'Suburban Depression'. Energetic, dark, rhythmical song in the best tradition of New & Dark Wave. The kind I really love to dance to. The singer Mikkel B. Jacobsen apologized for his "accent in German" which was perfectly fine and almost perfect. He even made some little jokes that were just kinda cute. Mikkel had a very likable appearance on stage that was just enjoyable. Also the guys from THE FOREIGN RESORT presented a new song called 'Outnumbered' that worked very well with the rest of the setlist. // https://www.theforeignresort.com / https://www.facebook.com/theforeignresort // Setlist: 01. She IS Lost / 02. Suburban Depression / 03. Dead End Roads / 04. Ournumbered / 05. Take a Walk / 06. Flushed / 07. Orange Glow / 08. New Frontiers / 09. Onto Us / 10. Dark White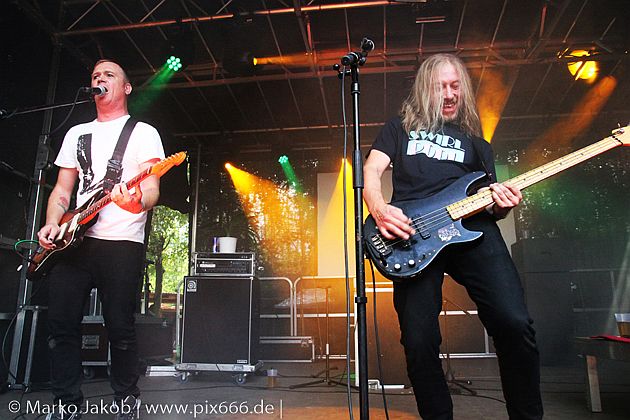 D:uel (Propaganda) - Amphibühne (Nastja)
I guess I am the wrong person to write about this band, formerly known as PROPAGANDA back in the wild 80ies. But as I saw all the people dancing around and the glow in the eyes of all the guys who probably spend their teenage and young adult years in the 80ies, I am sure this was a great and memorable show to many of them. To me the performance was very 80ies like (not in a negative way, actually) and kinda experimental and very unusual compared to all the other bands playing at the NCN. Another fun fact I didn't know just before the gig: one of my absolute favourite bands SEIGMEN actually covered their song 'p:Machinery' back in the 90ies and I had no clue that this was a cover. D:UEL also performed this one, but well, it is so much different from the version I am used to from SEIGMEN. That was a very interesting Easter egg for me.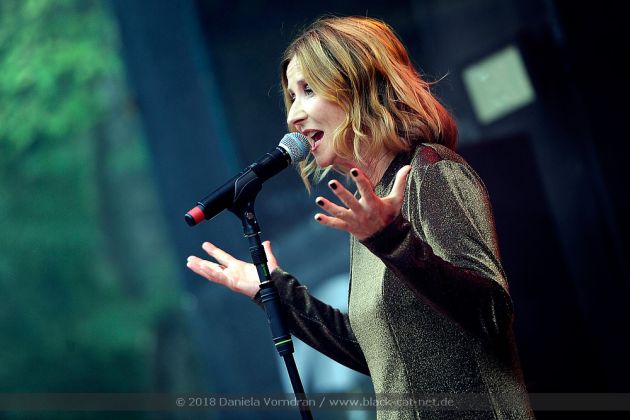 Fun fact no. 2: 3 of the SEIGMEN guys are also playing in ZEROMANCER who were going to enter the same stage just in a couple of hours. D:UEL brought the audience immediately back to the 80ies and it happened in a very magical way. I hope that my eyes will still glow as much seeing my favourite bands in 20-30 years as it happened to many people on this early Sunday evening in cosy Deutzen (not quiet at all on this weekend though). // https://www.facebook.com/claudiaandsusanne // Setlist: 01. Strength to Dream / 02. Dream Within A Dream / 03. The Murder of Love / 04. Jewel / 05. Dr. Mabuse / 06. Frozen Faces / 07. p:Machinery / 08. Sorry for Laughing (Josef K cover) / 09. The Chase / 10. Femme Fatale (The Velvet Underground cover) / 11. Discipline (Throbbing Gristle cover) / 12. Duel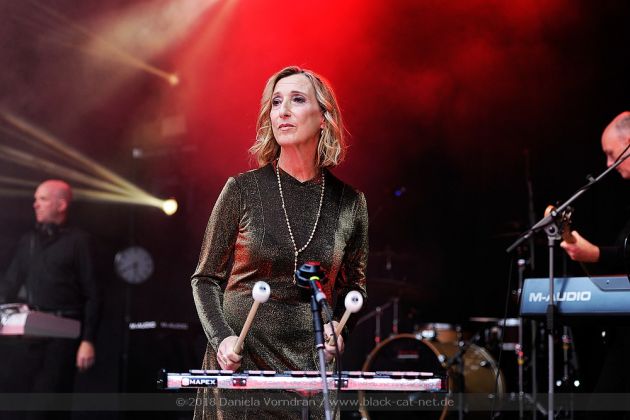 UV Pop - Kulturbühne (Marko)

John White founded the British band UV POP in 1981 as a one-man project. He made his first recordings and toured with IN THE NURSERY and CULTURE CLUB and in 1983 released the debut album, 'No Songs Tomorrow'. The song 'Serious' from 1986 even became a popular New Wave anthem of the 80s. In the late 1990s, the band withdrew from the public, then came back 2010 with new recordings of old songs and some live performances. The concert of UV POP was actually scheduled for 15:10, but had to be moved 17:20 as on the way to the festival there was a traffic jam and the band did not make it on time. Singer John then welcomed the fans with the words: "Why are they blocking the street when there's a festival?"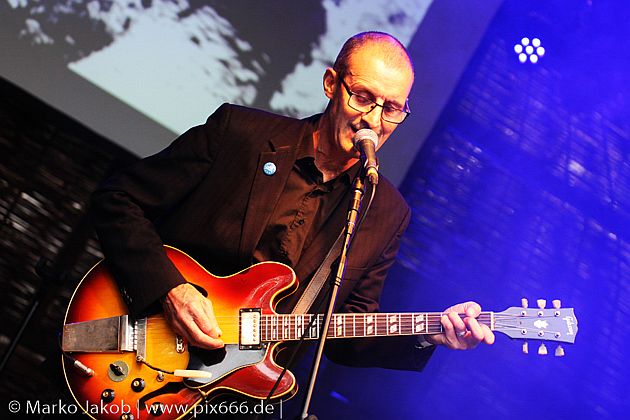 It was a pity that not all visitors have heard of the time shift as it was relatively empty. A shame for the band. At the same time as UV POP were playing, D:UEL played on the Amphibühne to a full crowd. However, UV POP offered beautiful music for some relaxing and slow dancing – great hypnotic, wavy guitar sounds. The spectators clapped enthusiastically especially at their hits from decades before. Even though the concert had been postponed, everything went smoothly and the band still seemed happy to have played at NCN Festival. // uvpop.bandcamp.com / https://www.facebook.com/UVPOP // Setlist: 01. Anyone 4 Me / 02. Portrait / 03. I Only Want You / 04. No Songs Tomorrow / 05. Serious / 06. See You / 07. Music To Yeah To / 08. Black City / 09. Over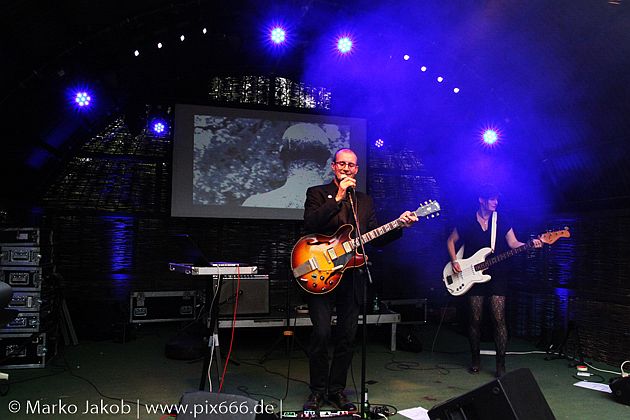 Welle:Erdball - Weidenbogenbühne (Marko)

For more than 25 years "Honey" and "A.L.F." have been around. With WELLE: ERDBALL their success grew steadily upward over the course of this time. They have released numerous CDs, some of which even had small chart successes. The band is of course already well known in the big scene events, such as the M'era Luna Festival and the Wave Gotik Treffen. Their mix of New German Wave, 80s Wave and the sound of the Commodore C64 have a large number of supporters throughout Europe. The weather was still summery on the evening of the last festival day. Long before the beginning of the concert, the fans secured the places in the first rows. The familiar white canvases were already set up and a giant backdrop was attached to the back of the stage with "Hallo hier spricht Welle:Erdball". Shortly before 7 o'clock there began a countdown.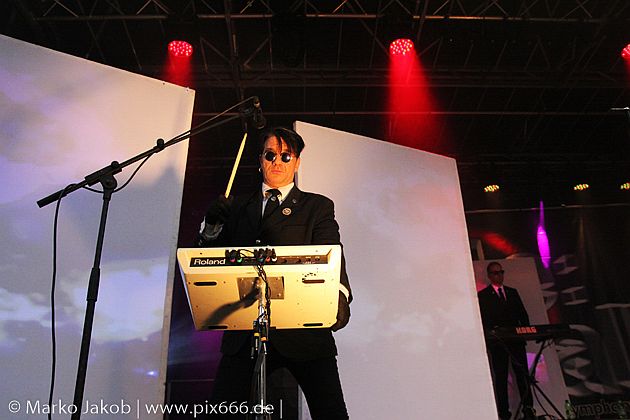 'Wir wollen keine Menschen sein' from the album 'Der Sinn des Lebens' opened up the 80 minutes long concert. The fans were welcomed with: "Wunderschönen guten Abend - Meine Damen und Herren sie hören WELLE:ERDBALL". (in English: "A wonderful good evening to you all, ladies and gentlemen! You are listening to WELLE:ERDBALL"). Half of the audience danced from the beginning until finally all joined forces together. During the second song, singer Honey had forgotten the lyrics and laughed. Sometimes the microphone of the backing singer was too quiet, but the mood in the audience was good, so not a problem. Then the vibrations on the stage caused the monitor speaker to move independently. Honey said: "he monitor moves more over the stage than me - please glue it to the ground firmly!" Honey, as always, was full of energy on the song 'Arbeit Adelt!' There was a metal barrel full of confetti, which served as a substitute for drums.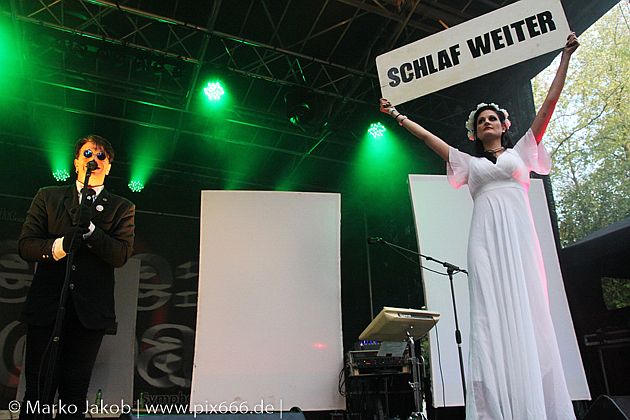 As always with the song 'Schweben, Fliegen, Fallen' there was a totally great mood. Huge balloons flew through the audience and flew around. It was great fun! The super atmosphere continued with the songs that have since become classics. So many dancing people, there is always really something of a disco feeling at their live concerts. After the song 'Türspion', the band said goodbye: "When it's at the most beautiful, you should stop, before they get too tired". But of course it was not over yet; the band soon was back and played another six songs. The band and audience celebrated together in one giant party and everyone had fun. That was a great finale and the last concert of the festival on the Weidenbogenbühne. // http://www.welle-erdball.de / https://www.facebook.com/WelleErdball // Setlist 01. Wir Wollen Keine Menschen Sein / 02. 20.000 Unter Dem Meer / 03. Ein Mensch Aus Glas (C=64) / 04. Die Liebe Der 3. Art / 05. Hoch Die Fahnen / 06. Arbeit Adelt! / 07. Schweben, Fliegen, Fallen / 08. Super 8 / 09. Der Telegraph / 10. VW-Käfer / 11. 23 / 12. Der Türspion / 13. Feuerwerk / 14. Ich Bin Nicht Von Dieser Welt / 15. Deine Augen / 16. Monoton & Minimal / 17. Startfighter F-104g / 18. Es Geht Voran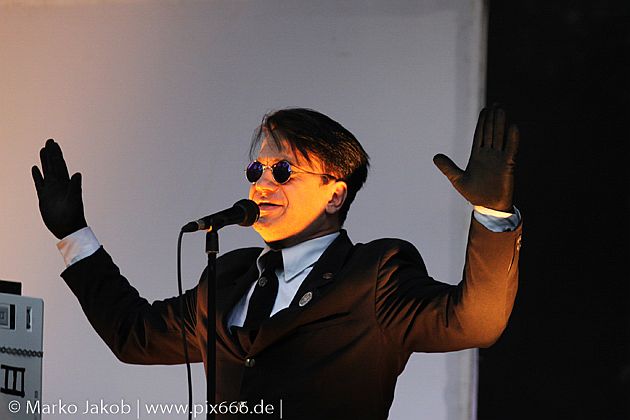 iLiKETRAiNS - Parkbühne (Marcel)

Founded in 2004, the Post Rock band from Leeds, you can certify in good conscience a veritable obsession for past characters and events. In their songs, the band deals with tragic historical events and shows how especially the dark chapters of human history are repeated again and again. Supported by the band with guitars, bass, drums and keys, songwriter Dave Martin sings of the Great Fire of London, the historic murder of a British prime minister or the witch hunt. Musically, iLiKETRAiNS spread between elegiac Post Rock, Shoegaze and bleak Alternative Rock. In 2005 they released their first single, 'Stainless Steel', in their own production. After the EP 'Progress Reform', published in June 2006, the first album, 'Elegies to Lessons Learned', was released in January 2007. In December 2008 followed the instrumental EP 'The Christmas Tree Ship', in October 2010, the second album, 'He Who Saw The Deep', and in May 2012 the third album, 'The Shallows'. It took four years for iLiKETRAiNS to wake up from their hibernation and release a movie about their life after the lost record deal with A Divorce Before Marriage and then they also deliver the matching soundtrack.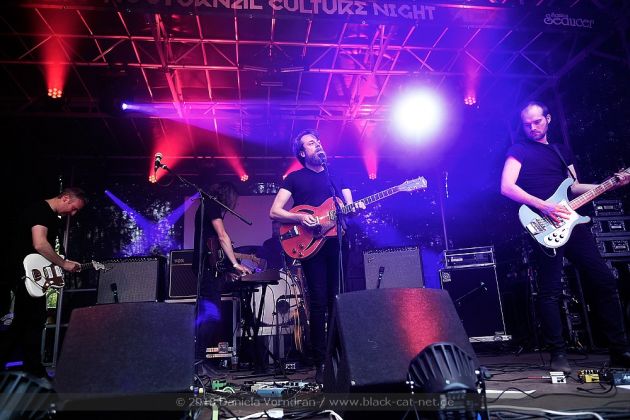 Extensive music with clean vocals, the percussion broke through structures built up in each song and was changeable within a song. Great performance that showed that there were no beginners. They always created the right mood for the content of the song. Bass run straight through and tried not to hide behind the rest of the music. During the show, they sounded completely new every now and then and gave their own touch to the music. "You scratch my back, then I scratch yours" also applied to band and audience: the music gave everyone a smile, the applause did the same to the band. An when "we will burn in hell for this" it was worth it! // http://www.iliketrains.co.uk / https://www.facebook.com/iLiKETRAiNSmusic // Setlist: 01. Terra Nova / 02. A Father's Son / 03. Dig In / 04. Mnemosyne / 05. October / 06. A Rook House for Bobby / 07. Bodies / 08. Patience/ 09. Reykjavik / 10. Spencer Perceval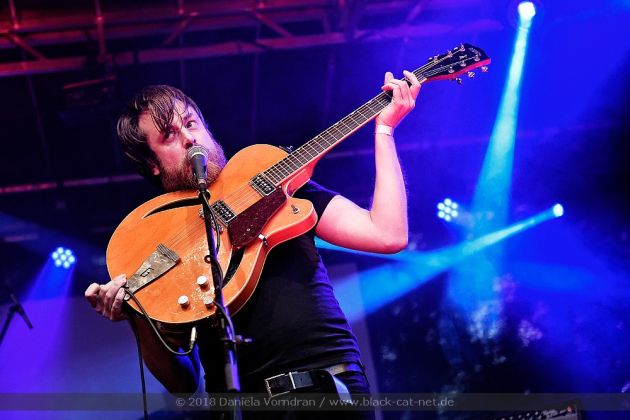 Stalingrad (Valkyrie)
- Kulturbühne (Marcel)
STALINGRAD VALKYRIE is a side project of the Italian cult band Kirlian Camera. This band from the Darkwave environment released the album "Court-Martial" in 2002. The pieces of STALINGRAD VALKYRIE are darker, but of course you can also see the handwriting of Kirlian Camera. Elena Alice Fossi is an extremely charismatic and vocally powerful singer and performer. One of the rare appearances after 10 years after the release of the album. Similar to a devotion, the concert begins with melodies that get under your skin. The music tells about longing and hope, but also about despair and fear.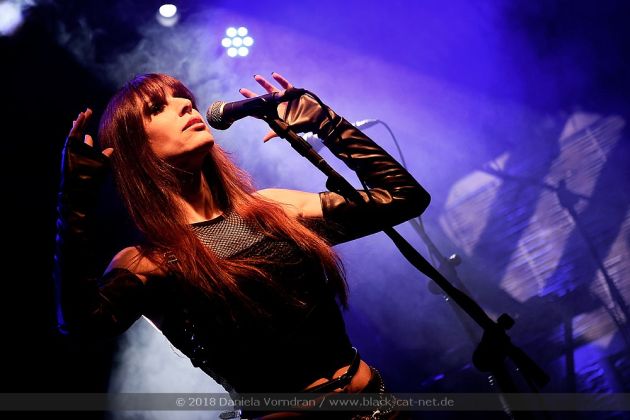 It conveys a range of emotions and tells stories from the war and the suffering of men and women. A nice conclusion that rounds off the festival's entire look and reminds the listeners of all the emotions they have experienced in this festival in and with the music. If you do not want to come back now, was not there. // https://www.facebook.com/stalingradvalkyrie // Setlist: 01. Neither Honour Nor Glory / 02. I Dimenticati / 03. Slavonija / 04. Martyrium Europae / 05. I Stood Beside Your Mothers / 06. Anomalous Mass In Hell / 07. Roma MMXXXIII / 08. No Absolution / 09. The Road On Which You'll Die (Morriconiana) / 10. Borders Of Salt / 11. Banned Books (Vendetta) / 12. Sky Collapse (Stalingrad Valkyrie Version) / 13. Banned Books (Vendetta)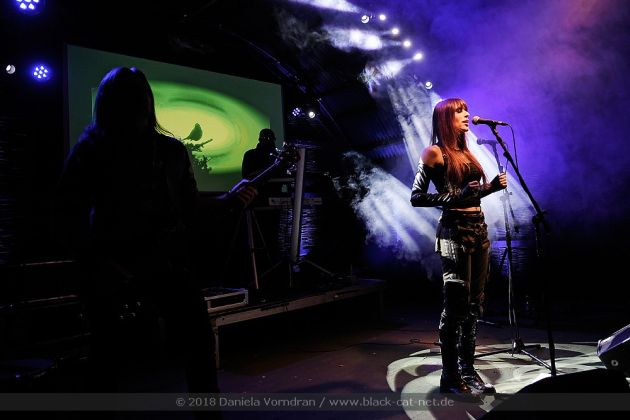 Zeromancer - Amphibühne (Nastja)
Finally it was time for my personal and Sunday's headliner ZEROMANCER. The band from Norway had only a few festival gigs during the last years, so every appearance on stage became a real highlight. Anytime I see them live, they bring all that incredibly powerful energy on stage that is quite unique in that kind to me. The start was scheduled for 20:30 and many fans were waiting passionately for the band in front of the Amphibühne for a long time. Another more sad fact made the gig very special: it was going to be the last show in Germany for the guitarist Dan Heide who just recently announced to quit the band due to personal reasons right after the gig in Oslo that was about to happen six days after NCN.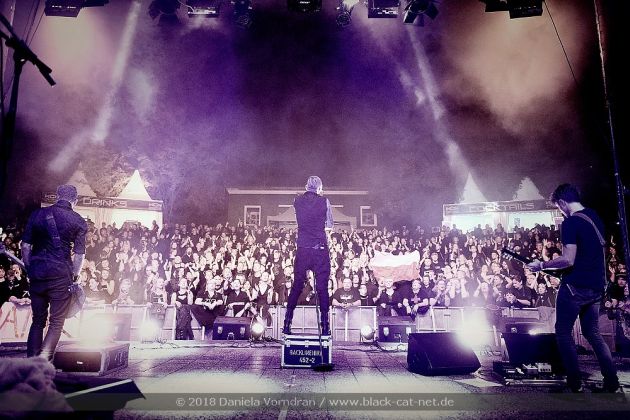 Though if you don't know the band you might think "Oh, he is quitting? Any stress between the band members?" NOT AT ALL. You could literally feel all the love between the guys. The gig turned out very emotional for everyone. Fans from many different countries appeared to enjoy the talented band from Tønsberg. The perfect interaction between them all, but especially Dan and Kim, made me sad one more time though I know they are going to keep sharing the stage as LJUNGBLUT. Still, the 15 years with ZEROMANCER, that's a long time. The crowd, the atmosphere and the setlist were killer. The guys had so much fun on stage, it was absolutely catching. Many of my favourites appeared in the setlist, like the epic SEIGMEN cover 'Opelwerk', the dark, aggressive and amazing 'Fade To Black' or the fragile ballads 'Mint' and 'Cupola'.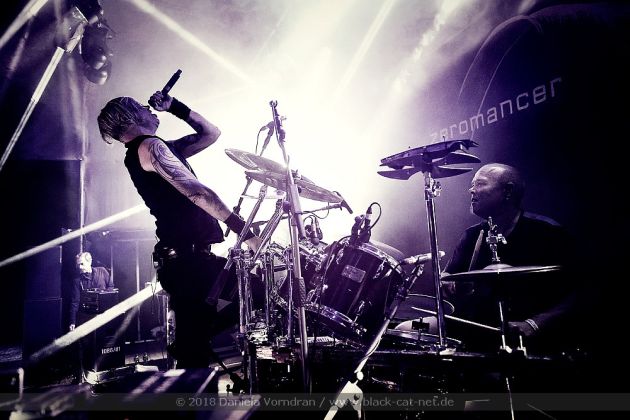 No feeling was left out. One could dance, jump, shout loud out or just stand there and cry. There are not many bands who can give you all this variety of feelings in one single show. During 'Ammonite' that includes a few Norwegian lines, with the epic drum-water-show, some Norway flags appeared in the first rows. Also a huge banner with a 'DANke' ('Thank you' in German) was given to the band and gratefully used for the last photo of the gig with Dan sitting in front of it surrounded by his bandmates & friends. The one and only 'Dr. Online' closed this memorable night with a bang. A mix of smiling faces and watery eyes was left behind. And another show full of memories for the eternity passed by like in no time. // http://www.zeromancer.com / https://www.facebook.com/zeromancerzentral // Setlist: 01.V / 02. Auf Wiedersehen Boy / 03. Opelwerk / 04. Clone Your Lover / 05. Stop The Noise / 06. Sinners International / 07. Mercenary / 08. The Pygmalion Effect / 09. The Hate Alphabet / 10. Cupola / 11. Fade To Black / 12. Mint / 13. Ammonite / 14. Photographic / 15. Dr Online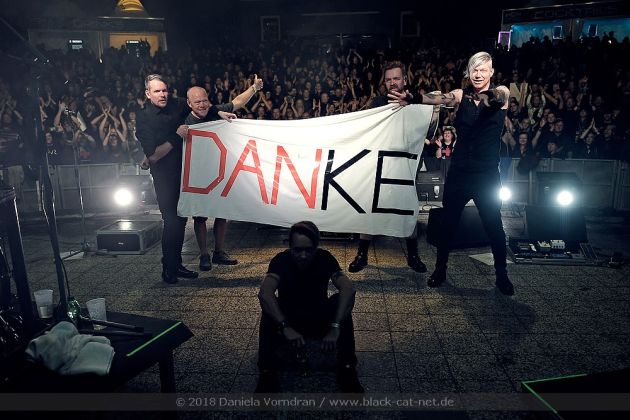 The Nocturnal Culture Night Festival 2018 ends, but the anticipation for the next year is consoling it. The cultural park and the organizers, the entire team, the merch and beverage dealers and the musicians made this festival one of the most beautiful in Germany once again. It was more a short vacation with good music. You could rekindle the old love to bands and get to know new bands. Established acts that have not played for years, bands that simply do not play that often in Germany, and newer formations come together in a well-balanced mix in Deutzen and the distribution on four stages is suitable to get something from each band, thanks to the short ways. It was fun and we are happy to be back next year to celebrate and dance at one of the best scene festivals with family and friends.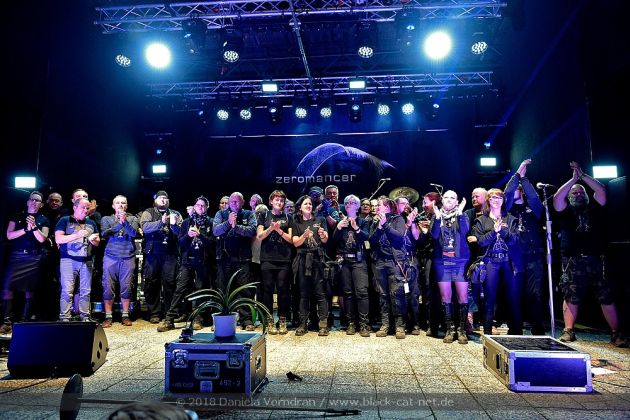 All pictures by Daniela Vorndran (
http://www.vorndranphotography.com
/
http://www.facebook.com/blackcatnet
) and Marko Jakob
See also (all categories):