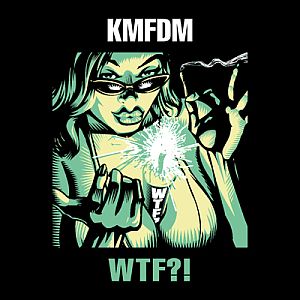 Sascha Konietzko (KMFDM) about

WTF

Legendary industrial group KMFDM has released the new studio album entitled "WTF?!" in April this year. In our series of articles "In My Own Words", co-founder and band leader Sascha Konietzko speaks about the newly released album.


01. Krank
KMFDM: The original (album) version of the track that also was remixed and edited for the 'Krank' single release. It features Morse-code as well as a TB-303 riff played by legendary Belgian DJ and tekno-producer Frank De Wulf in 1991 (!) Instantly fits into the long legacy of tracks with KMFDM's trademark sound, i.e. Megalomaniac, Light, D.I.Y, Tohuvabohu and many more...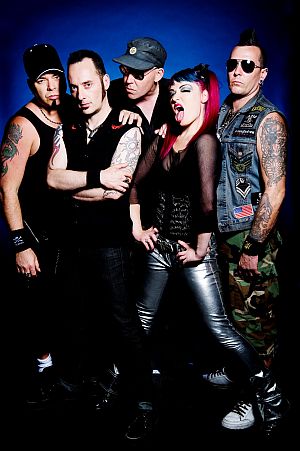 02. Come On - Go Off
KMFDM: The title of this song inspired the 'WTF?!' album cover illustration. A seductively beckoning woman ("Lady Temptation") with a stick of TNT in her cleavage, fuse already lit... come on - go off!! Guitarist Koichi Fukuda (Static-X) is making a shredding guest-appearance on this track.

03. Rebels In Kontrol
KMFDM: KMFDM shut down their website temporarily in protest against the arrest of Wikileaks' founder Julian Assange, offering no access whatsoever but instead streaming (and allowing free downloading of) this track. Over 75,000 streams were counted within the first 48 hours. A few days afterwards the KMFDM servers were under DoS attack for several hours! Go figure...

04. Lynchmob
KMFDM: Offers a well-calculated balance between scathing lyrical content, massively crushing guitar-riffs and frenzied drumming paired with a haunting, almost ballad-esque eeriness. Can you buy another day of this hell on earth? Lynchmob! "Pigs in a motorcade"

05. Take It Like A Man
KMFDM: Features a duet between KMFDM's front woman Lucia Cifarelli and Free Dominguez (The Kidneythieves co-creator / vocalist). This song picks up exactly where 'Strut' from KMFDM's previous studio album 'Blitz' had left off.

06. Vive La Mort
KMFDM: And what exactly would a KMFDM album be without mercilessly and poignantly speaking out against organized religion, casting eternal damnation against the dogmatic tyranny of any belief-system? And all that comes packaged in a track that dwarfs anything that would previously have been termed "Big Beat", with rage and spittle flying out of the speakers!! "Long Live Death", indeed... as long as people define others as infidels or unbelievers, as long as fundamentalist thinking prevails, the reaper will grimly harvest.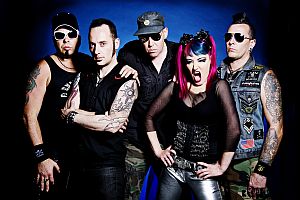 07. Dystopia
KMFDM: From a lyrical point-of-view, this song is somewhat the thematic hub of this album. A loud and clear statement for the tending of even the smallest flame of hope in a world rapidly failing to sustain any positive outlook, a full-on dystopian nightmare unfolding around all of us. Bill Rieflin (Ministry, R.E.M.) collaborated on this one, providing nervous chatter and jaw-shivers as only he could!

08. Panzerfaust
KMFDM: A song sung entirely in Italian. Hardly surprising on an album named 'WTF?!' KMFDM continue to branch out into languages rarely associated with the genre in general. After having written and or performed songs not only in English and German but also in Spanish, Russian and with elements in Latin, Lingala and Hebrew this is yet another step to further international-ize KMFDM. Globalization by corrupting the world's youth!!

09. Spectre
KMFDM: After the collaboration with William Wilson of Seattle based LEGION WITHIN, a band on KMFDM's own label KMFDM Records, on the 7" vinyl-only release of the final song of the 24/7 series, 'Day Of Light', it was a logical continuation to involve William on 'WTF?!' William brings a load of cynical lyrics and snarling vocals to the table.

10. Amnesia
KMFDM: Just when you thought that this beast of an album might slowly switch into wind-down mode, you got caught with your pants dangling around your ankles. Up-tempo rip-roar, anthemic and epically sweeping, this bad-boy has you by the proverbial balls ! Possessed and deranged, enveloped in mayhem, this is what audio-warfare sounds like in the 21st century ! Additional production was provided by Sebastian Komor (Icon Of Coil, Zombie Girl, Komor Kommando).

11. Death & Burial Of C.R.
KMFDM: As if the listener wasn't pummelled enough by now, one last time the question raises itself when breathlessly reaching the finish-line: WTF?! were you smoking? If this track is any indication of things to come, we'll most certainly stay tuned to KMFDM! WTF?!

This article was originally published at wiadomosci24.pl



See also (all categories):