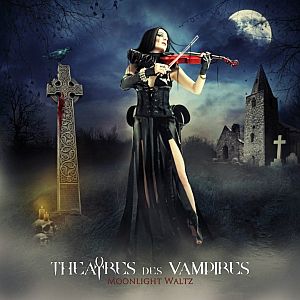 Fabian Varesi (Theatres des Vampires) about

Moonlight Waltz

Italian gothic metal group THEATRES DES VAMPIRES, famed for their live appearances with theatrical atmosphere mixed with Vampiric image, has released their ninth studio album entitled 'Moonlight Waltz' in January this year. In our series of articles "In My Own Words", keyboard player and main composer in THEATRES DES VAMPIRES, Fabian Varesi, speaks about the album.


01. Keeper Of Secrets
Theatres des Vampires: The album starts with 'Keeper Of Secrets', a heavy gothic metal song that perfectly opens to you the doors to what Theatres des Vampires are today. Aggressive guitars for a 100% rock song. This opener will bring massacres during gigs! In this song we have the first guest of the album, Mr. Snowy Shaw of Merciful Fate and Therion. We already used it as entering song for our concert, and the impact it's impressive. Personally I love the big choir of the song.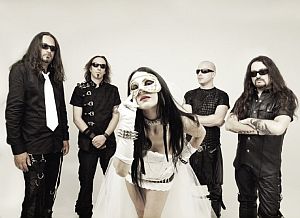 02. Fly Away
Theatres des Vampires: We wrote this song together with our Orchestral Director, Maestro Luca Bellanova. It's a mid time Gothic Metal song. I think the fans will love this. There is a little touch of electro sound just at the beginning, then it start a gothic metal sound, nice guitar and a duet of vocals between male and female. Often we like to use in our songs this kind of duet.

03. Moonlight Waltz
Theatres des Vampires: This is the "title track" of the album, is a dramatic and romantic song, and we used for this the lyrics taken from a 1800 poetess Christina Georgina Rossetti. The original poetry was: "Is the moon tired? She looks so pale within her misty veil: She scales the sky from east to west, and takes no rest. Before the coming of the night The moon shows papery white; Before the dawning of the day She fades away." She was a fantastic poetess...

04. Carmilla
Theatres des Vampires: For this song we made a video clip, that you can find on the special edition of the 'Moonlight Waltz', directed by David Bracci (often involved with Dario Argento for his special effects), and the songs tells about the story of Carmilla, that it's a vampire / ghost story of 1800 written by Sheridan Le Fanu. You can find this video at Theatres des Vampires official YouTube channel here . Another interesting fact about this video is that the main actor is Abraam Fontana, that worked with Mel Gibson on the movie 'The Passion'.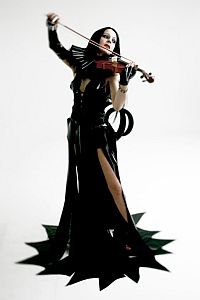 05. Sangue
Theatres des Vampires: The word "Sangue" it's the Italian word for "blood", and this is quite natural for a band like Theatres des Vampires that was often obsessed by the Vampiric theme. I think this song will be one of the "hit" of the Gothic Metal dance club in 2011! And as far I know already a lot of DJs all over Europe are using in their sets! For some reason there is something in this song that remind me a bit another huge success of the band in the past that is 'La Danse Macabre du Vampire'.

06. Figlio Della Luna
Theatres des Vampires: This a cover from Mecano, that was a Spanish band very popular in the mid 80's, of course we made our personal interpretation to everything, trying to make it more dramatic and gothic, with the nice touch of orchestra in it. We also decided to use the "Italian" version of this song. The original song lyrics was in Spanish, but we decided to use the version of the song with the Italian lyrics, because Italian it's our main language, so Sonya Scarlet can give much more expression singing in her own language.

07. Black Madonna
Theatres des Vampires: I love this song, because it talks about our own vision of the history of Mary Magdalene. I was often obsessed by this figure in history... Everybody know that Magdalene was actually the wife of Jesus Christ, but for some crazy reason, the Catholic church forced the person believe she was not.. Probably for some kind of misogyny that is inside the Catholic religion..

08. Illusion
Theatres des Vampires: This is a kind of "ballad", it's the romantic song of the album, very dark and with a touch of gothic beauty in it. Often in our albums we place one ballad or two. I think Sonya Scarlet voice and her interpretation fit perfectly in this kind of songs, where the romantic and the beauty have a perfect mix.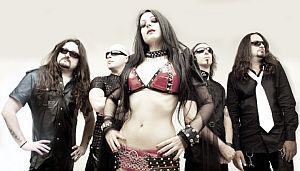 09. Le Grand Guignol
Theatres des Vampires: In this song you will find the second guest of the album that is Cadavaria, I really appreciate this artist and I think her voice fits perfectly with Sonya Scarlet vocals.. Of course it's a very aggressive song, because Cadavaria often use the growl voice style. I think that the mix it's incredible here, with Cadavaria growl and Sonya Scarlet vocal style that mix each other, in a perfect duet.

10. Obssesion
Theatres des Vampires: This is an "experimental" song, very electronic, where a 3/4 time tempo give the background for an obsessive melody. I still like the mix of metal with electronic music, and even if this album is very "rock and acoustic" we decided to include a song that for some reason it's a bridge between Anima Noir and this album.

11. The Gates Of Hades
Theatres des Vampires: Another gothic metal classic, with a catchy rhythm and nice powerful guitar. Here we explore the myth of the Greek Hades, that was the Greek underworld. In older Greek myths, the realm of Hades is the misty and gloomy abode of the dead, where all mortals go after the dead. Later Greek philosophy introduced the idea that all mortals are judged after death and are either rewarded or cursed. Very few mortals could leave his realm once they entered. So a perfect place for a THEATRES DES VAMPIRES song!!!

12. Medousa
Theatres des Vampires: This is a very "horror style" song, with a dark choir inside and beautiful orchestration all over the song. Of course it tells the story of the ancient Medousa the Greek legendary monster. Again we used the theme of Greek legends. Medousa was a Gorgon. Gazing directly upon her would turn onlookers to stone. Personally I love to play this song in our concert, because it's one of my favourite of the album! This song feature the last guest of our album that is Eva Breznikar from LAIBACH! I hope you will enjoy it!

This article was originally published at wiadomosci24.pl



See also (all categories):