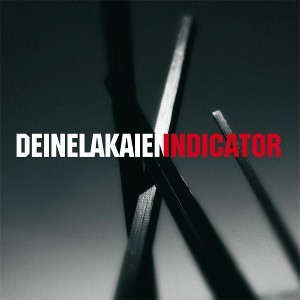 Alexander Veljanov & Ernst Horn (Deine Lakaien) about

Indicator

Dark-Wave scene legend DEINE LAKAIEN released their new studio album entitled 'Indicator' this year. In our series of articles "In My Own Words", both band members of DEINE LAKAIEN, vocalist Alexander Veljanov with composer & pianist Ernst Horn, spoke about newly released album.


01. One Night
Deine Lakaien: Someone falling in love, anxiously waiting for a signal. He does not show his emotions in his daily life, while the night brings imaginations that go far beyond all borders.

02. Who'll Save Your World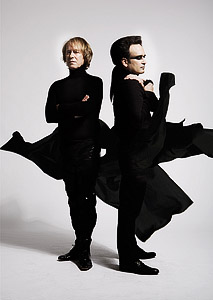 Deine Lakaien: One of the first songs we wrote for the new album 'Indicator' and already played live at our acoustic concerts last winter. It is a very positive and powerful song which tries to express that everybody should try to improve the circumstances of life in general. We are all responsible for the future of ourselves and of all our friends and neighbours.

03. Gone
Deine Lakaien: Two people in love. They're trying to get together but never succeed and finally they recognize: "it's too late!"

04. Immigrant
Deine Lakaien: The typical situation of young Africans in Europe. Their families had raised the money for his illegal immigration and now they expect from him the periodical payments. Due to his illegal status he will be dependent on low-paid-jobs. His personal wishes and ambitions become irrelevant.

05. Blue Heart
Deine Lakaien: A song full of hope and an invitation to leave behind sad and grey moments. Everybody is able to learn from disappointing experiences and should take the chances offered to escape and reach for better times.

06. Europe
Deine Lakaien: If we really want to reach a better situation of a maybe rich and equal multinational Europe, maybe this song could be a hymn to dance and listen to.

07. Along Our Road
Deine Lakaien: A song for all the people who are lucky to share the long way through the ups and downs together with a dedicated and helpful, caring and daring person.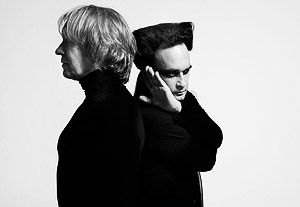 08. Without Your Words
Deine Lakaien: A song written in a kind of chanson-like way. There were lyrics in different languages, English, French, German. This version is in English and tries to describe the power of words although maybe music is sometimes stronger than words.

09. Six O'clock
Deine Lakaien: An angry comment about the way children and women get often abused in the name of religion, economy and society.

10. Go Away Bad Dreams
Deine Lakaien: Simply what the title says: Peaceful illusionary dreams that fall into disaster. Nightmares, you can't eliminate from your memory.

11. On Your Stage Again
Deine Lakaien: Dedicated to all or fans and to our history... all these years ,ready to travel from stage to stage in the name of music.

12. The Old Man Is Dead
Deine Lakaien: With a prominent person in mind, not that sort of primitive fascist, but a follower of Nietzsche's ideas, authorizing the superior to declare war on "low-value-humans".

This article was originally published at wiadomosci24.pl



See also (all categories):