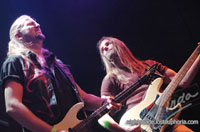 Dynamo, Eindhoven, the Netherlands
October 29th 2005
One Inch Men, Feed Forward, Treadstone 71, Xenomorph, Sun Caged, Seraphique, Prostitute Disfigurement, Up The Irons

This Saturday I went to the opening festival of the Dynamo venue, because I was invited by their promoter Joyce. Eight Dutch metal bands from different metal genres would perform in two parts of the venue; the basement where the cafe is and a concert hall that can hold about 500 people. We arrived an hour early so we first sought a café in the sun where Joyce joined us for a while, before we went back to the venue to see the first bands.
The basement was about the size of a small cafe and it had a small stage with fixed lights (no lightshows) and unfortunately four of the front lights were red. Since the stage was quite small, this often resulted in red light on the guitar-players and vocalists. On the other hand, the drummer always had some good light shining on him.

The concert hall was slightly smaller than the old Effenaar and it also had a balcony. The hall had enough potential, both regarding sound and lights. Now, up to the bands; they were the ones to officially open the new venue.

Schedule
One Inch Men (Basement)
Feed Forward (Basement)
Treadstone 71 (Hall)
Xenomorph (Basement)
Sun Caged (Hall)
Seraphique (Basement)
Prostitute Disfigurement (Hall)
Up The Irons (Hall)

One Inch Men

First to play was One Inch Men. This stonermetal band from Tilburg surprised us with the diverse set of songs they performed.
During the first couple of songs the band was quite static, which was probably due to the size of the stage, but after a couple of songs the guitar-players and the vocalist warmed up a bit more and their stage performance got more interesting to watch. Also, the drummer seemed a bit intimated by me when I tried to take pictures of him..
Because of this combination of diverse music and stage performance, they filled the 45 minutes without boring us a single moment. The sound was good, apart from the bass which could barely be heard. The bass player was also badly visible, being stuck in his tiny little corner. The stage was too small for the band but they made the best of it, and they did so very well. The songs were diverse as well. After the concert I managed to score a promo CD; this is definitely a band I'd like to hear more from.
Setlist

01. Remote
02. OIMIB
03. Don't despise me
04. Remain
05. Coma
06. Them Bones
07. Potential
08. Just Shoot Him
09. Opinionated
10. Memoria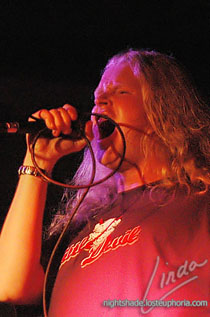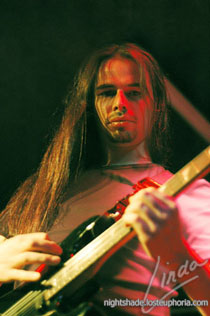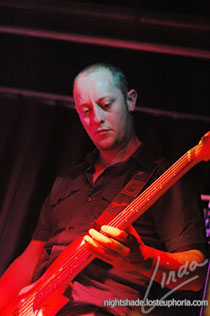 Feed Forward

I had never seen Feed Forward before, so I didn't know what to expect from this melodic metal band. The first couple of songs began to bore me quite soon, so me and my friend left for a couple of minutes. When I got back, they continued with some diverse and interesting songs. Especially some large instrumental parts and a new song made quite an impression.
Unfortunately every now and then the sound was influenced by a feedback loop in the microphone, which was already causing trouble during the soundcheck. The soundcheck took a lot of time and that didn't really improve the atmosphere.
The stage performance was a bit static, but again, considering the small stage, the band members didn't really have a chance to move around much. The drummer was quite dynamic though, standing up while playing every now and then. And the singer may smile more, in my opinion. Her face looks kind of cranky, but when you know it, you can do something about it. She did have a very clear voice, though, which was pleasant to listen to.
Setlist

01. 143
02. Words You Told
03. Silent
04. Innocence
05. Moving
06. J & B Song (experiment with keys and vocals)
07. Fade Away
08. Run The Race
09. Stop To Think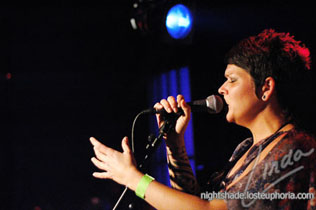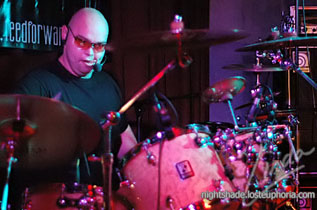 Treadstone 71

Then the first band in the concert hall, Treadstone 71, a melodic metal band from Eindhoven. The sound in this concert hall was quite good though the band had a bit of troubles with the sound during the first couple of songs. This was soon corrected. This band combines an uncomplicated sound with great vocals and the Savatage cover "Edge Of Thorns" made these qualities very clear.
In contrast with the cafe, there was a lot of light and a great lightshow, so taking photographs was relatively easy. The band was really enthusiastic and gave away a great show. The players stuck at their place except for the bass player who sometimes walked to the middle of the stage, but all were very extravert and emotional at the same time, especially Bram (vocals & guitar). After a couple of songs they loosened up. It was wonderful to see the emotion at Brams face while he sung or when he played his guitar. Bass player Henk started to walk up and down the stage some more, fooling around with Bram which gave the audience something to watch to with pleasure. The audience loved the band, and they should, because it was a wonderful piece of music they created. In the end they called for an encore but alas, it could not be so. Xenomorph was ready to begin.
Setlist
01. Wrong Side Of Men
02. This Journey Ends
03. Painless Tragedy
04. Blinded Visions
05. Endless Blue
06. Edge Of Thorns (Savatage cover)
07. That Would Be Me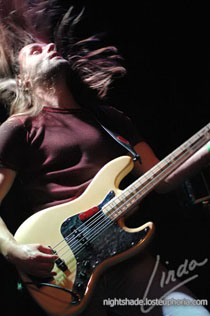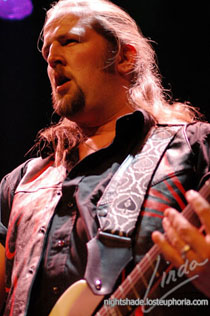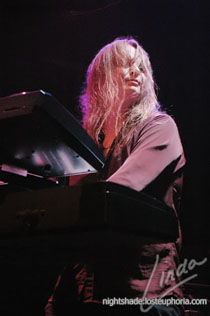 Xenomorph

Next up in the cafe was Xenomorph, a death/black metal band from Leiden. Although this style of metal quickly makes me tired, the raw growls combined with enough variation in the speed of the riffs kept me interested.
Although the small stage was hard to do any kind of stage performance, the band did their best to make a real show out of it. Their faces were barely visible because of their hair, which was constantly bouncing in front of their faces and guitars. Because of their positions on stage, almost all band members were constantly flooded in red light, which made taking photographs a difficult job especially because they were moving quite fast too at their own place on stage.
Setlist
01. II (*)
02. Treblinka
03. Lues
04. I (*)
05. Necrophilia Mon Amour
06. Neon Black Stronghold
07. V (*)
08. Magnificat, My Soul Doth Magnify The Lord
09. Bestia Infernali
10. Monster
(*) songs have no name yet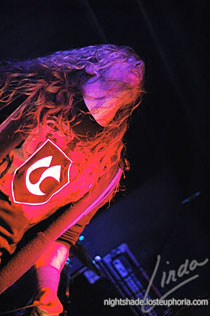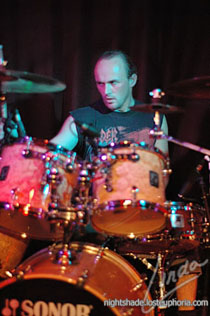 Sun Caged

Finally it was time for Sun Caged, a progressive metal band. I had seen them only once before on a small stage in Den Bosch so I was anxious to see them play, wonder how they would do on a bigger stage. I was interested in their bass player especially, who plays a 7-strings bass guitar. And yet again, he amazed me with the way he plays his instrument and the sounds he produces as a result of it. Add the great vocals and a bunch of other talented musicians and you have a great band with a good sound, right? Well, not exactly. Each musician knows how to use his instrument really well and the different solo-parts are really good, but most songs just consist of interleavings of solos. It was as like parts of different songs were stuck together in one.
Somehow the low sounds were often sounding deformed in this hall. Also the guitar-sound was often just painful for your ears; it sounded like either the amplifiers or the speakers were having a hard time coping with the guitar-sound. The high tones were far too loud which left an annoying beep in your ears. The lights and their stage performance were great though, although they should talk less in between songs. They were having fun on stage and you could see it. Their new vocalist (all the way from America!) sometimes seemed a bit insecure but his voice is amazing. Yet, we left after around 20 minutes because we grew tired of all the solo's and took a bit rest.
Setlist

00. Intro
01. Sun Caged
02. City Walls
03. A Fair Trade
04. BumbleBee / Four Guilders
06. Closing In
07. The Missing Third
08. Unborn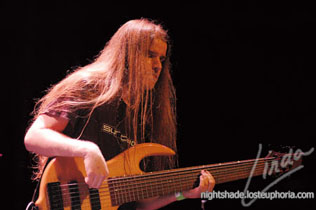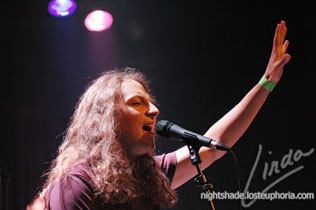 Seraphique

Then Seraphique, a progressive metal band, performed in the cafe. Again the red light and the little space on stage made the show a bit less enjoyable to watch. There was barely any place for this expressive band; their singer was almost situated IN the keyboard. This was the band who definitely had the least space on stage. It didn't keep the musicians from enjoying themselves though. With the keyboards in front and Rein (vocals) next to it, there was only little space left for the two guitar players and bass player. But they made the best of it.
The raw vocals gave a nice touch to the kind of music they played, but somehow it couldn't keep my interest for very long.
Setlist
01. Troy
02. Anywhere You Are
03. Next Stop Oblivion
04. Extend The Sympathy
05. Umbra
06. Elohim
07. Foil
08. 7 Hours At 1600 Degrees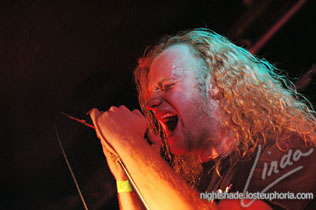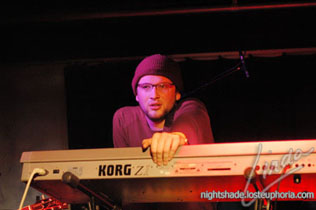 Prostitute Disfigurement
A totally different kind of music was performed by Prostitute Disfigurement, a grind metal band that plays songs with morbid titles and lyrics. The dark atmosphere is set by the music, powerful vocals and the absence of light on stage (even though they performed in the concert hall). The flickering of lights did add some extra dimension to the music, but in some periods there was so little of it that the band was covered in darkness. The crowd loved it and even started building a moshpit every now and then, shouting along (although it didn't seem they actually knew the lyrics), and got more and more drunk. Whether that was because of the music, I leave in the middle. The sound was balanced but very loud, even with earplugs in.

Setlist
00. Intro
01. In Death's Decay
02. Body to Ravage
03. Postmortal Devirginized
04. Disembowelled
05. Left in Grisly Fashion
06. Deeds Of Derangement
07. The Corpse Garden
08. Chainsaw Abortion
09. She's Not Coming Home Tonight
10. Victims of the Absurd
11. Insides To Expose
12. Bluedrum Torso
13. Repulsive To Kill
14. Bloodlust Redemption
15. Freaking on the Mutilated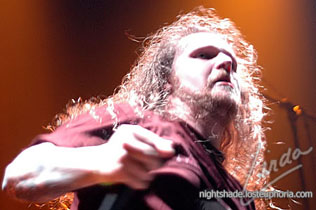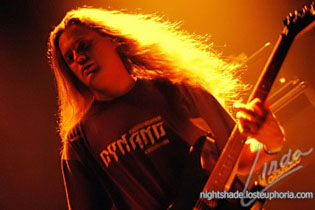 Up the Irons

The headliner Up The Irons, an Iron Maiden cover band started out very enthusiastic right from the moment they entered the stage and whenever they saw a camera, they were tempting you to take a photograph. They kept the crowd captivated by moving around a lot, looking people straight in the eyes and most importantly by performing the Iron Maiden songs very well. I know the music but I am not an Iron Maiden fan myself, but I was severely impressed by the way they brought the songs and their performance. Up The Ironscompleted the show by having a great matching lightshow (during "Fear of the Dark" the stage was mostly dark) and even had the well-known Iron Maiden figure Eddy come on stage.
The crowd was singing along, people were really letting themselves go and both the band and the crowd enjoyed it.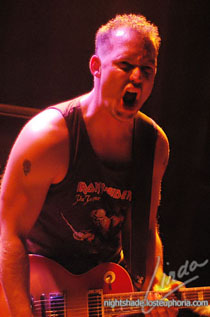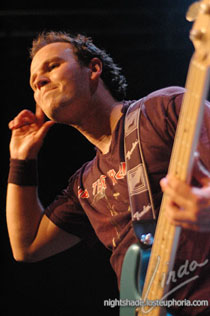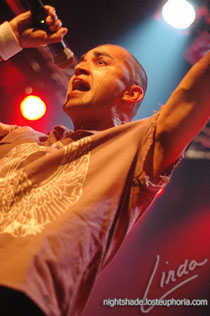 Conclusion

It was a nice day, filled with a nice selection of bands, although it was a bit too much for us. One or two bands less and a bit more time between performances would have been nice. The new Dynamo certainly is worth visiting more often, especially if there are some bands performing in the concert hall.
Most noteworthy bands of the day were Treadstone 71and Up The Irons, because they managed to impress me a lot. I hope to see them more often. :-)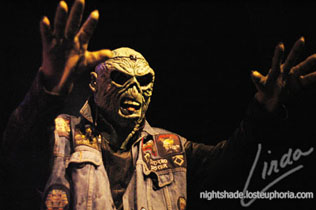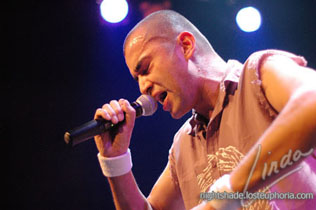 More Pictures
http://nightshade.losteuphoria.com