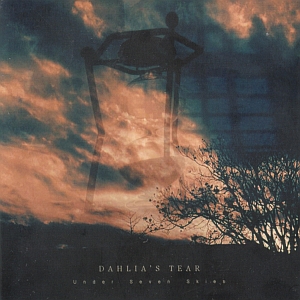 Title: Under Seven Skies
Artist: Dahlia's Tear
Genre: Ambient
Release Date: 10th December 2007
Label: Thonar Records
Album Review

DAHLIA's TEAR was formed in 2004 by Anil Emre Dedeoglu who is a former member of the band DIMNESS THROUGH INFINITY covering a musical genre which couldn't be more different than his explorations into Dark Ambient territory: Funeral/Doom Metal. The project has released three albums since its foundation with 'Under Seven Skies' being the latest one.
If you take a short look at the track list, you'll notice the categorization of the tracks into 7 skies. This concept should be familiar to those, who read the entire Divine Comedy by Dante Alighieri. In the third part (Paradise) Dante's travelling through different skies as well i.e. Jupiter & Saturn Sky.
The world of 'Under Seven Skies' is filled with an all overshadowing darkness and a wind made of despair is wafting through the gloomy soundscapes Anil is painting. The 7th Sky begins with a threatening appearing wall of synthesizers and field recordings. He also initially introduces wailing guitar sounds into the mix; what sounds kind of strange in that dense entity of ethereal and floating sounds. Rhythmic sounds are mostly used as a gentle and not too obtrusive accentuation, except for the 6th sky, where they beco0me a major part of the composition as a demanding percussion whirlwind which gives the song a ritual feeling. There seems to be a sort of common re-appearing ambient theme in some of the songs, appearing in a different shape every time; sometimes as a male choral or just as an extremely widened synth layer. The highlight for me and the final track is the first sky with the title 'Minimalism' which begins with a recording of a thunderstorm and you can hear the rain falling down on earth and slowly electronic elements sneak into the storm of which the most beautiful surely is the violin whether it's a synth or a real one doesn't matter; the feeling of endless melancholy it creates is what counts and this is deeply touching.
'Under Seven Skies' is ambient in a very pure form and conjures up dark pictures in the listener's mind. The music unfolds its true beauty when listening to it in twilight, then just close your eyes and drift away.
Tracklist

01.7th Sky She Winnows the Galanthus, Synaptic State - 7:12
02. 6th Sky Spellbound the Circles - 6:26
03. 5th Sky Within a Dying Single Ember - 8:52
04. 4th Sky Convergence & Pointless - 8:11
05. 3rd Sky In Perfection, From the Past Subconscious - 3:05
06. 2nd Sky Between Lights, Unreleased Colours and Earth - 8:48
07. 1st Sky Minimalism - 5:33
Line-up

Anil Emre Dedeoglu - Production, Arrangements, Keys
Website

http://www.dahliastear.com
/
http://www.myspace.com/dahliastear
Cover Picture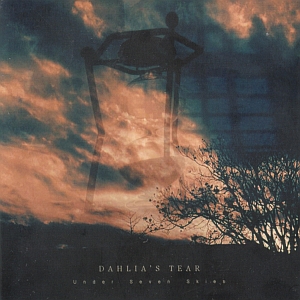 Rating


Music: 9
Sound: 9
Extras: -
Total: 9

{jos_sb_discuss:19}