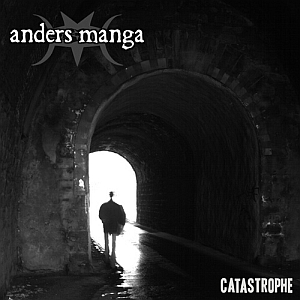 Title: Catastrophe
Artist: Anders Manga
Genre: Gothic Rock
Release Date: 2009
Label: Vampture Records
Album Review
After appearing in the electronic scene all of a sudden in 2005, ANDERS MANGA has gone from obscurity, to dance floor favourite, to respected live act. Four years down the line it seems as though it's time for a change as Anders and co. release their first guitar heavy album. Anders began exploring his rock roots under a different moniker, but apparently the reaction was a positive one and the material was re-christened with the familiar brand name.
The funny thing about this album is that, despite being devoid of all overwhelming electronic elements and the "real" instruments being more upfront, it is still recognizably ANDERS MANGA. I've always thought that, despite being principally an electronic act, Anders' music has always been of typical rock construction, enough so that most of his songs would transfer well to a straight guitar + bass + drum format. What ANDERS MANGA create on this album is fairly straightforward guitar based Gothic Rock (not Trad-Goth!!!) in the vein of CHRISTIAN DEATH, MEPHISTO WALTZ, BAUHAUS, THE DAMNED etc.
The album opens up with 'Murder in the Convent', a nice Death-Rock by way of THE 69 EYES' brand of "Goth'n'Roll" - a strong up-tempo first step into this territory. The title track 'Catastrophe' feels very familiar in its CHRISTIAN DEATH bass line and Daniel Ash style guitar work before going into its big chorus in an ode to the 80's. 'The Last Alarm' goes into punkier waters by way of THE CRAMPS and THE DAMNED in particular with Anders' familiar vocals providing the only solid link to his previous albums. 'Infinite Gaze to the Sun' implies that this might be an attempt at "Stadium Goth" as the NME would call it, and yes there is a mix of FIELDS OF THE NEPHILIM and THE MISSION going on here but surprisingly it comes out a little like one of TIAMAT's Atmospheric Gothic Rock singles.
'The Transit Begins' heads into atmospheric post-punk territory with a nod to JOY DIVISION, NICK CAVE, and SIOUXSIE AND THE BANSHEES though it doesn't really pick up until around the three minute mark. 'Lead' is very NICK CAVE in its jarring guitar and Murder Blues feel and is definitely a highlight on the album even if it would fold when being compared to a NICK CAVE original. 'The Monster Demands a Mate' is very much in Horror Punk / Death-Rock town with it's jangling guitars and punky beat - toe tapping while it's playing but not very memorable beyond its runtime. The album closer 'Taste of Blood' is a more upbeat and up-tempo slice of New Wave meets Goth with the most distinctive use of electronics on the album to create a very catchy number.
ANDERS MANGA has crafted a very solid Gothic Rock album that draws from different aspects of its thirty year history. The songs, despite lacking electronics, are constructed in that familiar ANDERS MANGA way, so those that are principally fans of his electronic albums shouldn't be too thrown by the change of direction. I would however say that many of the tracks would benefit more from some more keyboard work to give them a sound that bridges the dance floor friendly sounds of the electronic records and the traditional rock band dynamic - in part to minimize the risk of alienating a large chunk of the audience, but also to make the songs stand out. They are all solid songs, well written and performed excellently - but the album does have a 'listened to all my old vinyl and wrote this' feel to it as well that could have been hidden with the modern electronics of his previous work.
Tracklist

01. Murder in the Convent
02. Catastrophe
03. The Last Alarm
04. Infinite Gaze to the Sun
05. The Transit Begins
06. Lead
07. The Monster Demands a Mate
08. Taste of Blood
Line-up

Anders Manga - Vocals, Bass & Synth
Sco - Synths
Devallia - Keyboard
Curse - Drums
Website

http://www.andersmanga.com/
/
www.myspace.com/andersmanga
Cover Picture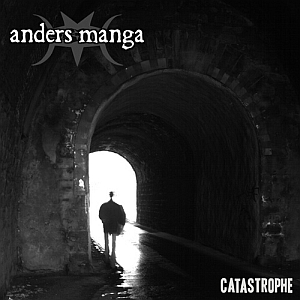 Rating

Music: 7
Sound: 7
Extras: -
Total: 7 / 10
{jos_sb_discuss:19}