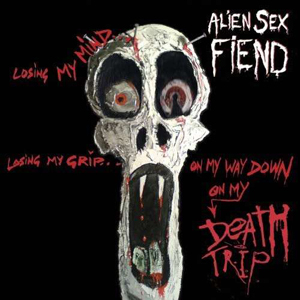 Title: Death Trip
Artist: Alien Sex Fiend
Genre: Gothic / Industrial
Release Date: 14th May 2010
Label: 13th Moon Records
Album Review
It's been six long years, but finally the mayhem that is ALIEN SEX FIEND has returned with inflatable bananas in hand. So for all the Deathrockers, Batcavers, and Horror Punks out there it's time to sit down, shut up, and get a lesson from the original B-Movie fiend team in glorious Hallucinosound! The Fiends last outing was the sensationally fun 'Information Overload', that proved that even in the EMB saturated post-millennium ASF still have what it takes (as if there was any doubt) to get the Gothic faithful of their zombiefied arses and onto the dance floor. So… another decade and another outing for the band… will it live up to expectations?
From the outset of the nightmarish sci-fi drones of 'Erazerdrone' it's clear that Mrs Fiend, even in today's digital world, retains her analogue charms. 'Land of the Living Dead' kicks off proceedings properly in classic ASF groove instantly recalling albums like 'IT' and 'Acid Bath' - Nik's maniacal distorted voice ties the whole package together for a truly infectious track. The playful beat of 'One Way Ticket' is a great twist on the bands classic endearing sound that will tickle the ears of long-time fans. 'The Hills Have Eyes' recalls the band at their spookiest with tracks such as 'April Showers' coming to mind through the industrial noise. 'B.B.F.C' is just a glorious Punk anthem that is a playful two fingers up to the censors in the same tongue-in-cheek way as 'Burn Motherfucker' did on the previous album.
The mad samples of 'Intensify the Treatment' overlying this simply psychotic sounding instrumental makes it sound like a nightmarish form of electro shock treatment. 'Dance of the Dead' with its groovy drums, Punk guitars and Nik's distinctive vocals is an instant classic in keeping with 'RIP' and 'I Walk The Line' - I'd be surprised if this didn't top most club DJ's play-lists. 'Voodoo' is a great piece of dark-electro that makes for a creepily funky track to dance too with its repetitive drum beat. 'Beyond a Psychic Evil' breaks out the sitar (yes I said sitar) for the intro to this slice of psychedelic electronic nightmare that could have come from the nether regions of Hunter S. Thompson's brain. The album closes on the Dalek-like vocals and Dr. Who style groove of 'Oops! Wrong Planet' - which is another song that you can't help but want to dance to.
Well, they're back and they're as great as they ever were. The sound of ALIEN SEX FIEND is unmistakeable - they've never bought into musical trends and have always stuck to that independent spirit that has kept them endeared to us for the past 28 years (I bet that made a few of you feel old!). B-Movie shrieks, Sci-Fi synths, and Slasher guitars wielded like Voodoo as only ASF can do. So grab your inflatable bananas, jump on the Blue Crumb Truck because IT lives again!
Tracklist

01. Erazerdrone
02. Land of the Living Dead
03. One Way Ticket
04. The Hills Have Eyes
05. B.B.F.C
06. Intensify the Treatment
07. Dance of the Dead
08. Voodoo
09. Beyond a Psychic Evil
10. Oops! Wrong Planet
Line-up

Nik Fiend
Mrs. Fiend
Websites

http://www.asf-13thmoon.demon.co.uk/
/
http://www.myspace.com/aliensexfiend
Cover Picture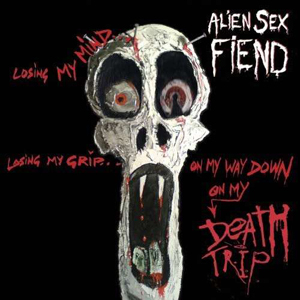 Rating

Music: 9
Sound: 8
Extras: -
Total: 8.5 / 10
{jos_sb_discuss:19}