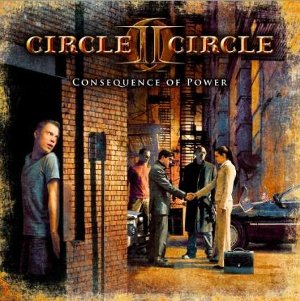 Artist: Circle II Circle
Title: Consequence of Power
Genre: Progressive Metal
Release Date: 10th September 2010
Label: AFM Records




Album Review
US based CIRCLE II CIRCLE rose from the ashes of the departure of SAVATAGE'S Zachary Stevens, who originally performed vocal duties. Not wanting to forsake music altogether, in 2001 he and fellow musicians dreamt up CIRCLE II CIRCLE, a progressive heavy metal band similar to SAVATAGE but following Stevens' more unique style of progressive metal. Throughout CIRCLE II CIRCLE's career there have been many line-up changes, but Stevens' has remained the sole original member. Their third album was a breakthrough for the band, being a delicate but enjoyable concept album. At the time, CIRCLE II CIRCLE designed a sound that was a blend of heavy metal, power metal, and also progressive metal that wasn't too complex, but still made fans think when they heard it. Now, in 2010, they've still retained that sound but are continuing to stick with a non-concept album that still tells a story. 'Consequence of Power' is a politically based album that shrouds its message in metal music.
The album begins with the aggressive 'Whispers In Vain' that features exciting riffs and an echoing vocal style that sounds akin to TOOL if they ever decided to do progressive power metal. Stevens' vocal abilities of course can range into to more traditional wail of heavy metal from bands such as DIO, but it is this "echo effect" that really makes him stand out. The guitars performed by Andrew Lee tend to stay in a repetitive chugging format, but they have a clean sound that also allows the bass to be heard along with the drums. 'Consequence of Power' is more traditionally power metal sounding. 'Out Of Nowhere' showcases some great bass work and a catchy hard rock tune while retaining a power metal sound. There's even a solo here that has some progressive flavour to it, rather than just the usual chugging of the guitars. 'Remember' features the echoing vocal effect for a bit more, but mostly it sounds like power metal. 'Mirage' is a strange track because it sounds just like 'Remember'- the only thing different is the solo. One can't really tell if it was meant to be an extension or not, but if it isn't it is a slight let-down for those who are expecting a diverse set of music.
'Episodes of Mania' has some very clear drum work- possibly the first in the album so far- and the guitars aren't as upbeat. Instead, they carry an apprehensive tone that matches Stevens' vocal patterns. 'Redemption' is hard and heavy, sounding a bit like some of the more popular mainstream rock songs that are heard on the radio. If there was ever a single off this album, this would probably be the song. 'Take Back Yesterday' is a sudden one eighty switch for CIRCLE II CIRCLE, and possibly the most progressive track on the album. It is still heavy, but features clear and concise classical piano that is a wonderful addition to the band's musical instrumentations. Just like 'Take Back Yesterday' is beautiful, its antithesis, 'Anathema' is brutal and uncompromising, but still features some beautiful and lengthy solos. Finally, 'Blood of an Angel' brings the piano sound back for an excellent closer and the guitars take a slow, jazzy melody, creating the only ballad of the album. Of course, things start to get thick with distortion later, but it is clear that this song was orchestrated to be one of the "soft songs" in heavy metal.
For those who have been following CIRCLE II CIRCLE, 'Consequence of Power' will not disappoint. The band certainly has not lost its touch at making an album sound heavy, but also taking the intrigue at experimenting with the way riffs are used. The ballads are soft and a nice break from the heavy riffs and distortion of the traditional metal sound. And of course, there's that hint of SAVATAGE still there with the way Stevens' sings. For newer fans, CIRCLE II CIRCLE will be enjoyed by fans of MACHINES OF GRACE and JON OLIVA'S PAIN.
Tracklist
01. Whispers In Vain - 5:34
02. Consequence Of Power - 4:24
03. Out Of Nowhere - 4:10
04. Remember - 5:29
05. Mirage - 5:05
06. Episodes Of Mania - 5:08
07. Redemption - 5:30
08. Taking Back Yesterday - 5:02
09. Anathema - 5:15
10. Blood Of An Angel - 5:05
Line-Up
Zak Stevens - Vocals
Andrew Lee - Guitars
Paul Michael Stewart - Bass, Keyboards
Johnny Osborn - Drums
Website
http://www.circle2circle.net/
/
http://www.myspace.com/circleiicircle
Cover Picture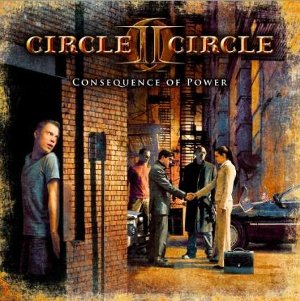 Rating
Music: 8
Sound: 8
Extras: -
Total: 8 / 10
{jos_sb_discuss:19}