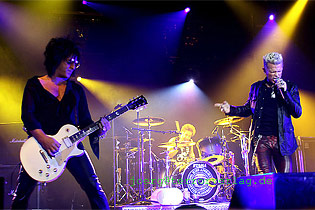 Philipshalle, Düsseldorf, Germany
08th December 2005
Billy Idol

Age doesn't matter – Sex, drugs and Rock ´n´ Roll are still alive! Do you know William Michael Albert Broad? No? It's Billy 'Fuckin' Idol and he is back! This year he released a new album after a break of twelve years, which is called "Devil's Playground" and started touring again. At his side was his old friend and guitar hero Steve Stevens, who wrote the soundtrack for the award winning movie "Top Gun" for which he received a Grammy; he also played with Michael Jackson ("Dirty Diana") for example and put the finishing touches to the Idol songs. Now Billy Idol arrived in Düsseldorf, which was the last concert of a 10 months lasting tour. The show started at 20:00. No support was needed. Billy and the band were enough.
Music

The lights went down and while the band entered the stage a well-known voice asked: "Can you hear me? I have heard Billy Idol plays tonight. Do you want to see Billy Idol?" 5000 voices started to scream. He came on stage and opened the show with "Super Overdrive". Billy was in a fantastic mood and was posing just right from the start. But that is how we want him. He played classics like "Dancing with myself" or "Flesh for fantasy". He threw signed cardboard plates and drumsticks into the audience. After we heard already a few Greatest Hits, Billy said "we also have some Greatest Hits on this tour. Do you want to know how a Greatest Hit sounds like"? The fantastic "White Wedding" began. As we all weren't even loud enough Billy asked "Do you want to scream?" and repeated this question about three times before Steve started to play the first single release "Scream" of the new album. Is this man really 50 years old? He is full of energy, muscles, smooth skin and pure sex on legs. The first quiet song was the beautiful "Eyes without a face", when a picture of Idol's head (which you can find in the new booklet as well) was shown at the curtain in the background of the stage. Billy was also singing between the songs and talking to the crowd quite a lot. Now he told us the story why his friend Ed has built this amazing castle – it was for his "Sweet Sixteen".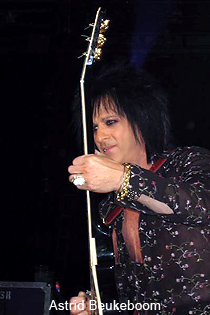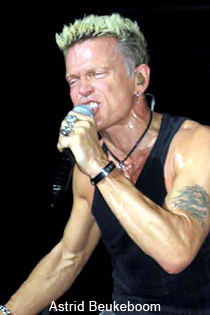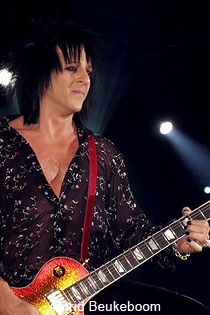 The disasters which happen in this world also don't bounce off at Billy. So he sang "Louisiana", a song from Randy Newman, with a little bit of change in the lyrics; that was the reason he needed to look at the words on the paper in his hand. He played this song on his tour in wake of hurricane Katrina and Rita. After this thoughtful moment, the lights turned into a wonderful violet, the stage was full of fog and there stood Steve with his guitar and started to play a solo for about at least 10 minutes. It's amazing what this man is doing with his guitar. It didn't matter if he was using either both hands or just one – it was perfect! Later he showed that he can also play with the guitar lying in his neck or using his teeth. It's really incredible how fast he can move his hands. A real guitar hero! But also the other members of the band are great musicians who know what they are doing: Brian Tichy on drums, Stephen McGrath on bass and Derek Sherinian at the keyboards. Billy himself seemed never to be younger with his great powerful voice and the strength of his body.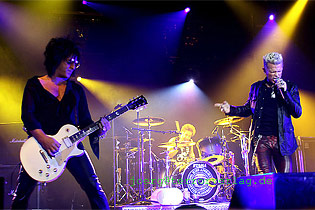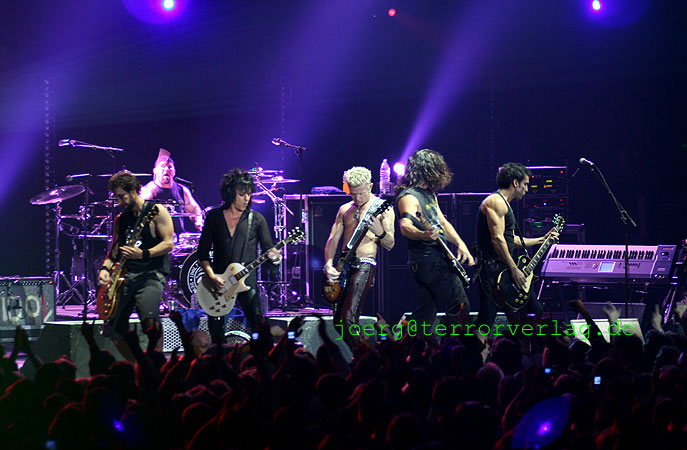 Performance

Sometimes when it was the turn of the other musicians, Billy was standing at the drums or trying to play a bit with Brian Tichy. The looked like a small boy then who has recognized a new toy. Billy also remembered of his wild youth and sang two songs of his band Generation X: "Ready Steady Go" and - as he said his favourite song - "Kiss Me Deadly". Also his cover of the Doors "L.A.Woman" couldn't be missed. The whole show was spreading a lot of power. Billy started to sweat just after the first song. No wonder because he was moving so much. Was this the reason he had to change his clothes that often - starting with a black shirt and leather jacket changing to black net shirt, tight white shirt or just bare. After "L.A. Woman" he was taking off his shirt: "I take my clothes off and get naked. Everybody in the audience should get naked! It's fucking hot inside. I'm getting hot! Do you want one more?" The last song of the main set was the famous "Rebel Yell" and Billy was singing an extra part with the audience. He began to sing "Do you feel alright? I feel alright". Next time he sang "Do you feel alright?" it was the audience's part to sing "I feel alright". It was a wonderful co-operation. When the band left the stage, the lights went out, but the picture of Idol's head was projected on every wall in the hall and on stage. Of course everyone wanted "more, more and more".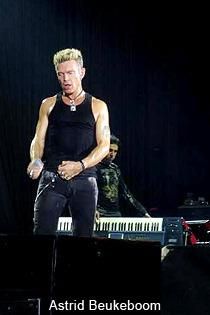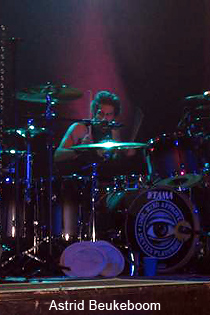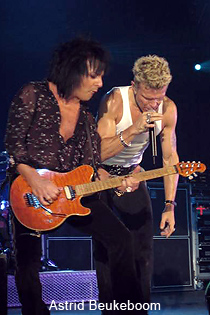 Billy came back in a kind of Christmas jacket in an army look and his guitar. He said: "I wanna thank all the people who worked for us on this tour. It was the longest tour since the Rebel Yell Tour. You shouldn't thank too much, otherwise you won't come back on stage again, but tonight I'm breaking my own rules". After that the lights turned red and 5001 persons were singing "Hot in the City". After half of the song, the band returned on stage as well. And we know that Billy likes to change the lyrics so he was that naughty to sing "Hot in the Pussy tonight". At the end of his song, some people in the first row gave different things on stage, like a photo with Billy or records and he got a pen, signed the stuff and the security man gave the things back to the people. A very nice idea if you ask me. There was also a black shirt given to him that he was placing on his back so people could read: "Billy is back!"
Billy asked from somewhere backstage: "Do you want another one?" We still hadn't enough. The last part was opened by a drum solo of Brian Tichy and turned into the great "Mony, Mony". This final part became a big party on stage. Brian - who proved that he can play guitar like drums as well - had a guitar duel with Steve; just like also keyboarder Derek Sherinian later. It seemed like everybody in this band can play guitar. While Brian played guitar someone of the crew was playing drums. Also other crew members joined them stage, one guy was wearing a hat which looked like a disco ball and another one got something on his head that looked like a wipe cloth. In the end there were seven guitarists on stage and everyone had so much fun that you wish it will never come to an end…
But there is hope… Billy announced to come back in 2007!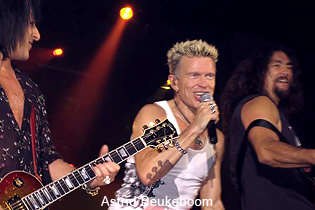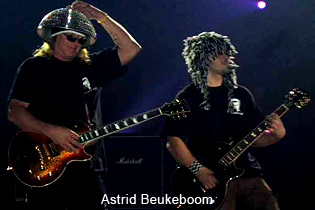 Setlist

01. Super Overdrive
02. Dancing with myself
03. Flesh for Fantasy
04. Body Snatcher
05. White Wedding
06. Scream
07. Eyes without a Face
08. Sweet Sixteen
09. 20 Flight Rock
10. To be a Lover
11. Cherie
12. Louisiana (Acoustic-Song from Randy Newman)
13. Guitar solo Steve
14. Rat Race
15. L.A. Woman (THE DOORS)
16. Blue Highway
17. World comin' down
18. Ready Steady Go (GENERATION X)
19. Rebel Yell
------------------------------------------------------------------
20. Hot in the City
21. Yellin' at the Xmas Tree
------------------------------------------------------------------
22. Kiss Me Deadly (GENERATION X)
23. Drum solo
24. Mony Mony
Rating

Music 10
Performance 10
Sound 7
Light 8
Total 9 (9.3)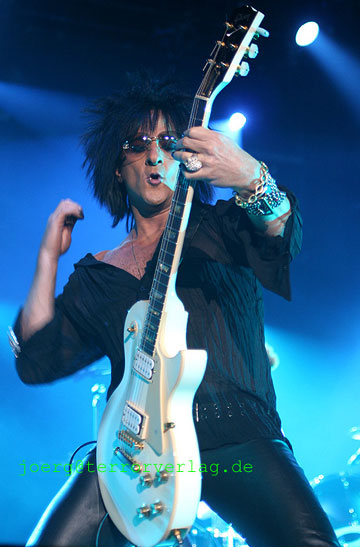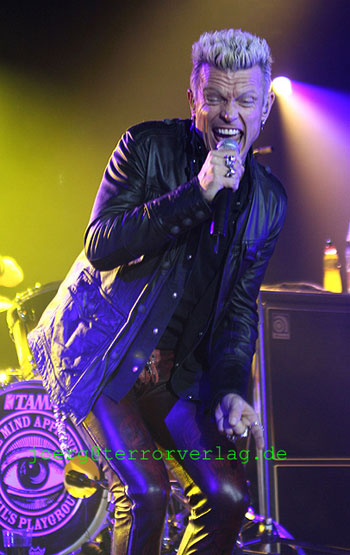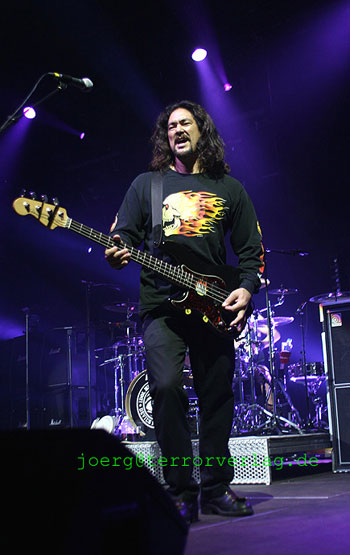 Thanks for the pics to Jörg Rambow (
http://www.music.terrorverlag.de/
) and Astrid Beukeboom