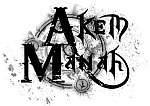 Interview with

Xavier (vocals, synths) and Benjamin (lead guitar) of AKEM MANAH

AKEM MANAH is a doom/ death metal band from Belgium formed in 2007. Recently they released their sophomore effort 'Beneath' which follows up on their debut 'The Testament Of Sealant Mound' (2010). AKEM MANAH is a great band that awakens your imagination from its slumber in that dreadful thing called reality, and is definitely one to watch/ listen out for. I had a great chance and pleasure to ask Xavier and Benjamin some questions...


Reflections of Darkness (RoD): Could you tell us a bit more about the band and its history?
Xavier: AKEM MANAH was founded in the autumn of 2007 when a few musicians from East-Flanders responded to an Internet ad. Unfortunately, it turned out we weren't as well matched as we had initially hoped. So even though we had a name and had come up with a concept and genre, it wasn't until Benjamin and his brother Michaël joined that we really started to make any progress. Some line-up difficulties remained as we were unable to find a suitable second guitar player. We hope we've now sufficiently intimidated Kevin –who joined last year– so that he will stay with us through rehearsals and cheese dinners. This year we're starting to increase the frequency of our live performances and hopefully, by the end of the concert season, we'll actually have increased the quality of said performances as well, haha. Seriously though, the whole live thing is pretty new to most of the band, as we're more accustomed to writing and recording tracks in the comfort of our own homes.
Benjamin: About that…after the positively received release of our first album, it became clear that we had to up our game in the sound department. This was one of the main reasons why we wanted to record 'Beneath' in a studio but that experience proved to be far from ideal and we lost a lot of time and money trying to repair the damage done by incompetent people with questionable intentions. Because of this we figured we'd go back to our initial recording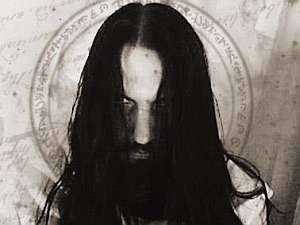 methods and spend our money on building a modest, but high quality home studio that will allow us to record our next album without the hassle of dealing with the arrogance of certain people in the industry.

RoD: According to my research "Akem Manah" is a Zoroastrian demon representing evil intentions. What made you choose this particular name?
Xavier: Well, when we first started out in our original line-up, I suggested Akem Manah for its mysterious sound and because of its meaning, which is –to us– the evil nature of mankind. In the Avesta, it is more of a spiritual externalization of malice in the human soul, an idea that would later give rise to the popular dualistic notions that monotheism now carries. Of course, we prefer our own take on the concept as it is less religious or ethereal and more philosophically misanthropic. Unfortunately, there is now also an American metal band by the same name and even though the music is very different, it sometimes causes confusion among the casual listener.

RoD: What are your musical influences?
Benjamin: In terms of musical influences, I guess I should name THE VISION BLEAK, CANDLEMASS, MAR DE GRISES, OPETH, IHSAHN, DEATH, KATATONIA, TOOL and REMEMBRANCE, in no particular order. All of these bands and many more, have influenced the way we listen to and write music although we're not trying to write something that sounds like a combination of band X and Y. The writing process is kind of random and unstructured at first until a song starts to appear and in hindsight, some of those songs will tend to sound more like OPETH, others more like MY DYING BRIDE.

RoD: You've been compared a lot to MY DYING BRIDE. Do you agree with this assessment?
Benjamin: Although we understand where the comparison with MY DYING BRIDE comes from, we (and especially Xavier) don't fully agree (he actually has a vein in his forehead that starts to throb when people mention them). I guess the main reason for the comparison is the fact that they are one of the best known doom metal bands out there who also use a combination of clean vocals and grunts.
Xavier: Haha, it's not nearly as bad as that. As a fan of these English doom/death pioneers, I take any comparison to them as a compliment. However, it does become rather tedious to hear their name reiterated as the only apparent musical analogy. Especially because we don't have THAT much in common with them, relatively speaking. All in all, none of it matters as long as people enjoy our music.

RoD: Why choose a 21-minute single for your latest release?
Benjamin: We've had a couple of lengthy discussions within the band whether or not we should split the song into three separate tracks or keep it in one piece. Of course, the biggest counterargument for the latter is that a 20 minute track isn't exactly easy to digest, especially in this day and age where most people focus on short bursts of information. But taking into account that the track was developing both musically and conceptually as one story, we figured we might as well release it as a whole.

RoD: You list existential philosophy and supernatural horror literature as your inspiration, could you elaborate? And if your creative musical process is 'random and unstructured at first' does the lyrical approach mirror this?
Xavier: Ever since I was a child, I have been fascinated with supernatural horror in English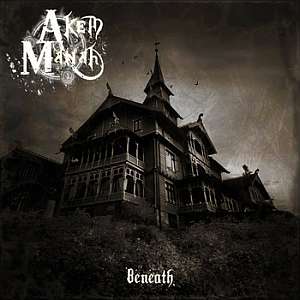 literature as written by authors such as Blackwood, Macken, Lovecraft, Doyle, Poe, Dunsany, Howard, Derleth and others. The sense of psychological and philosophical claustrophobia that emanates from the genre is a fantastic lyrical subject for any artist making so-called "dark music", which is probably why so many metal bands write about Cthulhu. Where VOIDWORK music and lyrics are mostly Mythos related, AKEM MANAH's influences are less specific. With AKEM MANAH I try to bring across a general atmosphere of foreboding by fortifying elements from the aforementioned supernatural writings with ideas rooted in my own existentialistic nihilism. To be fair, not all lyrics are that creative, for example "Dead for Days" or "Dark Millennium" were simply made to sound ominous. Which brings us to my method of writing lyrics... I don't really have one to speak of, hehe. I just sit down with a vague conceptual outline of what I want the song to be about and then start typing sentence after sentence, taking into consideration style and rhythm. Since I have a classical background and a modicum of talent for languages, this process usually seems to work well enough.
Benjamin: The cool thing about our "creative process" is that the combination of what I and my brother churn out and Xavier's vocal style really complement each other without putting any conscious effort into making it so. We work on our respective parts more or less alone and in the end, when everything is put together; the result usually works quite well without having to change a lot. To our ears at least, hehe.

RoD: When it comes to doom metal, some people perceive it to be a genre populated by a bunch of miserable sods who don't know how to enjoy life. What's your response to that?
Xavier: I've never cared much for these metal clichés and although I suppose it's true for some doom metal fans, I don't think AKEM MANAH falls in that category. We don't have an image that we're aware of and we don't really take ourselves all that seriously. We all have very different, yet fun-loving, personalities and all lead rich lives in our own way. That being said, I think that being miserable and enjoying life are not always mutually exclusive. For example, I have a rather bleak outlook on life that filters down in a propensity for nagging. And yet I'm probably the biggest jester in the band.
Benjamin: As far as (doom) metal stereotypes go, that's indeed one of the bigger ones (in a very long list). For many people, the melancholy that's inherent to the genre is kind of a turn-off, and I guess an easy way to dismiss it all together is to draw the "miserable sods" card. It's a discussion without an answer but personally, I consider myself more of a critical sod than a miserable sod.

RoD: Do you already have a vision for your next album? What can your listeners look forward to?
Benjamin: The last few months we've been very busy with the release of 'Beneath' and hazing our new guitar player so we haven't had much time to start working on new material. After the series of gigs we've got lined up in the coming months, we'll hopefully find some time to start writing again. It'll definitely be a full album this time (with shorter songs), but musically there's nothing set in stone yet. Personally, I'd like to see how we can evolve the style of 'Beneath' and take it to the next level. And as mentioned, we're also investing in some studio material to make sure the next album will have a production that is exactly to our expectations. As far as the concept goes, that's already starting to take shape…
Xavier: Although nothing has been put to paper yet, the next album will be a full-length concept album that tells the individual stories of the people resting in a peculiar little graveyard on the edge of town.

RoD: Are you planning a tour or a series of concerts to promote 'Beneath'?
Xavier: We'll be playing some local venues these coming months, but haven't made any arrangements for a tour. We're not the kind of band that puts everything on hold just to drive around for twelve hours so we can play at some derelict bar where no one cares whether we're even plugged in. Might be fun for some, but our jobs and families make our time-off too valuable to risk endeavours like that. To put it another way, if we ever embark on an international tour, it will be well-planned and in well-considered company.
Benjamin: Couldn't agree more.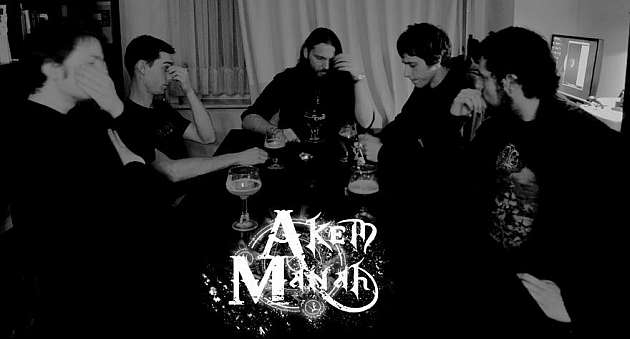 RoD: Please tell us about the artwork for AKEM MANAH and VOIDWORK, both of which have some atmospherically rich photography.
Xavier: For AKEM MANAH as well as VOIDWORK's 'Dark corners' and 'Kaos', I designed the artwork myself based on stock photos and custom images. I just look for something that fits the mood and then mess around with it in Photoshop until it looks okay. I am, at best, an amateur and so the other VOIDWORK albums were made by Harbinger Design and Venenum Photography.

RoD: Xavier, your involvement in VOIDWORK has brought some wonderful ambient elements into AKEM MANAH's music. What are the plans for the project and will the two ever be combined?
Xavier: I am working on a new full-length VOIDWORK, but am taking it very slowly this time. There were plans to work with a choir and chamber orchestra, but I am not sure those will actually be fulfilled. Despite very positive reviews, there aren't enough sales to warrant a large financial investment. Most people just downloaded the free albums via bandcamp and leeched the others from torrent sites. Fine by me, I have no qualms with illegal downloading, but it is a shame that so few of the leechers buy the albums, go to the Facebook page or take any interactive action whatsoever. Whether or not both bands will ever flow into each other is hard to predict. I suppose it will depend on practical matters more than creative ones.

RoD: Is there anything you'd like to say to your listeners and fans at this point?
Xavier & Benjamin: Go to our website (http://www.akemmanah.be/) buy our album, and come to our shows and... something something something dark side.

RoD: Thank you very much for the interview!