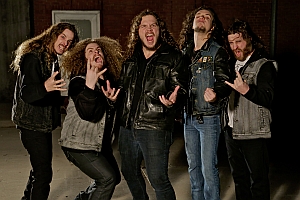 Interview with
Nevada Romo (Guitar) of Anti-Mortem

The fresh and new band ANTI-MORTEM which hails from Chickasha, Oklahoma is the bastard son of groove monsters PANTERA and a modern version of MEGADETH (add a bit Ville Laihiala from SENTENCED to the mix considering Larado Romo`s voice). With 'New Southern', the band will release its debut album in April. Reason enough to ask the band a few questions…
Reflections of Darkness [RoD]:
So where are you at the moment and what are you doing?
Nevada Romo [Nevada]
:
I am at home in Oklahoma; getting ready for tour as a group an individually finishing up other projects trying to build a studio (I'm sure that's going to be a lifelong process.

RoD
: Whose idea was the band`s name and what does it mean to you?
Nevada
:
When we were much younger, a friend who was in the band at the time had come up with something close to that and the group sort of adapted it to what it is now. I could say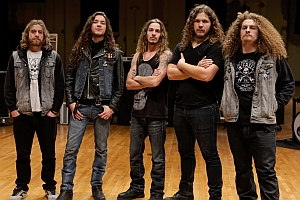 many different things as far as what it means to me but honestly it`s a word that has come to symbolize this journey and all that has come and will come with it.
RoD
: What are your favourite bands and is there some new stuff that gets you excited?
Nevada
:
Well the greats lead, at the top of course, SOUNDGARDEN, PRIDE AND GLORY, DEEP PURPLE, DOWN, CORROSION OF CONFORMITY, CLUTCH, TOOL, MASTODON, UNCLE TED, JOE WALSH, NEIL YOUNG, DEFTONES, MUDVAYNE and many more. As far as new stuff GRAVEYARD, SCORPION CHILD, TAME IMPALA, BEWARE OF DARKNESS, ROYAL THUNDER, GEMINI SYNDROME, ALL HAIL THE YETI & EVERYBODY PANIC.
RoD
: You guys are quite young, what was the first reaction of your parents to the decision to become musicians?
Nevada
:
Well at the time my family was pretty religious so there was plenty of times my parents got put in situations they were like "what the heck!" but it all worked out.
RoD
: Please tell me about your direct influences (aside from what everyone can see on Facebook).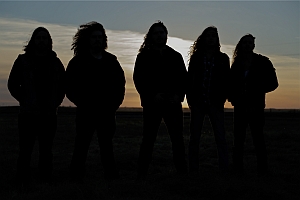 Nevada
:
I'd say as people Neil Peart, Neil Young & Eddie Vedder.
RoD
: What brought you guys into music (aside from music itself that is).
Nevada
:
Youth and the many emotions it brings. Growing up in a post 9-11 world as a young adult has been fuckin' weird and has given us many things to write about. I'd say as an outlet of being upset with the world it brought me to music.
RoD
: Considering the current situation in the music business, what are your goals as a band?
Nevada
:
TO MAKE MUSIC that's all that matters, CDs and downloads are cool and shit and may pay the bills but I want to bring a real heartfelt message to the world like my heroes who have stuck to their guns regardless of trends. I hope I and we as a band can do the same as many of the musicians I respect that have taught me so much through their music.
RoD
: What was the first thing you thought and did after scoring your first record deal?
Nevada
:
I was very excited to be out of label limbo. We had a turbulent year before with trying to hurry up and wait.
RoD
: What band would be the best one to tour with for you?
Nevada
:
TOOL, METALLICA or RUSH.
RoD
: Any ideas how long we will have to wait to see you guys in Europe?
Nevada
:
This year and soon at Download!
RoD
: Are there main songwriters at all or is every song a product of all members?
Nevada
:
Hm, yes and no, Rado, Zain and I tend to write music and lyrics. I and Zain split the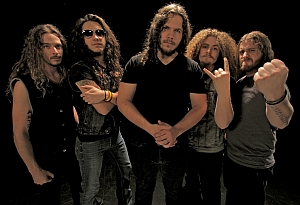 music and Rado writes the lion share of the lyrics. I help out and write and Zain writes some too. After that process we jam the tune and the band adapts it and the other members make the parts "theirs".
RoD
: How much did you tour from the formation of the band till now?
Nevada
:
I would say between touring and traveling to record it was at least a couple years.
RoD
: Can you tell me the pro and contra of touring?
Nevada
:
I like peace and quiet and not a lot of people in the same area. That's the opposite of touring. But playing a show seein' the world – it's wonderful and worth it. It's hard to leave your family and love ones though.
RoD
: What is the bands ritual before you hit the stage?
Nevada
:
I`d say there are more personal rituals. We all have 'em. Mine are yoga, vocal and guitar warm up. A cup of coffee and then a beer.
RoD
: Are there any funny stories to tell about the band, touring or living in Oklahoma?
Nevada
:
Too many to count :)
Thank you very much for answering my questions, see you on tour.