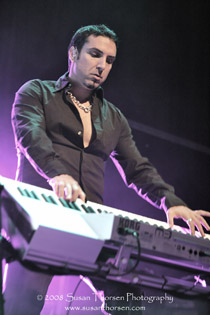 Interview with
Derek Sherinian and Brian Tichy - keyboard player and drummer of BILLY IDOL's band

In Friday, 27th June 2008, I took an interview with Derek and Brian of BILLY IDOL's band in San Francisco / California. Interviewing Billy Idol's band keyboardist, Derek Sherinian and drummer, Brian Tichy was a really exciting assignment for me. I have been a fan and supporter of Derek's for quite a while, following his career and always looking forward to reading about his forthcoming projects. From my prior research on Derek, I knew that he and drummer Brian Tichy were long-time friends, having worked together on many projects of Derek's amongst other big name artists, including co-writing new music with BILLY IDOL.
When Derek invited me to meet Brian during our interview, turning the assignment into a dual interview, I was incredibly honoured and privileged to say the least. These guys are multi-talented, (massively so!) with everything they get involved in and both are Berklee College of Music trained and educated - which could have been slightly intimidating, however both were so down to earth and nice, I felt like I'd known them forever. I greatly appreciate both Derek and Brian's compassion for my lack of interviewing experience and making the assignment so enjoyable! I also want to use this article to thank them both very much for their time
Susan Thorsen (ST)
: Here I am in San Francisco with Derek Sherinian, keyboard extraordinaire meeting for the first time to talk about his remarkable music career. Derek, first let me ask you about a quote you made about yourself years ago which I believe went, "Why scratch with turkeys when you can soar with eagles". What is the meaning behind that quote?
Derek Sherinian (DS)
:
Oh, ha-ha-ha! (laughs), that's one of my better quotes.
ST
: (laughing), it is a good one. That and the one off of Alice Cooper where he refers to you as Caligula (the Caligula of keyboards)...
DS
:
Yeah, it's funny! The attitude is just to think big and that you should always try to surround yourself with people that are higher up than you, and then pretty soon you'll just end up with them. That's all that I meant by that.
ST
: Yeah, yeah, but then, just to stay with that thought, you really have soared with many eagles…
DS
: Hmmm, well I try to, I try to…
ST
: Ok, go back to what you were thinking when you were in your 20's compared to now, as I know you're not in your 20's now…
DS
:
Yeah, I wish, ha-ha!
ST
: What would you now tell yourself about having a successful music career?
DS
:
Just to stay focused and always just keep at it; that you always have to be patient and things will happen if you stick to it long enough. I talk to young musicians in their beginning stages all the time and (I tell them) it's really discouraging at times and you're going to face a lot of obstacles, but you have to be strong and keep going and if you believe in yourself enough eventually things will happen. Good things.

ST
: Yeah, well, what if you are already older and just starting out?
DS
:
Well then you just have to be really honest with yourself. If you really believe in what you are doing then you just have to see it out. But, you just have to really assess your situation. If you have a family to support, you have to be responsible and make sure that you feed your kids first. But if you are a single guy and you're 40 and you still have dreams of glory, then you have to see it out - absolutely!
ST
: Right. There are a lot of older guys that are still kind of trying to do that, fulfil their dreams, but still floundering around and spinning their wheels, you know…
DS
:
That's one thing I've learned is no matter what success or whatever's on your resume, you're still always spinning your wheels and trying to get a leg up – it's always a struggle, no matter where you have your career – it's never easy. Especially with the industry with the way it is now, it's even harder. And everyone is having to reinvent themselves and figure out new ways to make money and sell records. It's a struggle. But you just have to at the end of the day, decide if you love what you're doing and if it's worth the effort and keep going if it is. And that's it.
ST
: What do you think is happening in the industry? Because I've seen some changes, a lot of enormous changes just in the last 10 years.
DS
:
Well, just in the last FEW years it's changed, and obviously the downloading of music has really killed the record sales, and that's a big negative there. So, people have to figure out a new way to market their music compared to the ways of yesteryear.
ST
: We saw this coming though, especially with the invention of the internet and people being able to pirate music from their computers. How does that get fixed; what are your thoughts? It's pretty crazy. Where do you think it is going to go as far as the industry is concerned? Do you think it's related to the woes of the current economy, people just being fickle about their music or what?
DS
:
Yeah, I think what it's going to come down to is people do what they are used to. These young kids now, they're used to just downloading stuff off the internet with the low-quality MP3's and they don't care if they are looking at the LP or the artwork. They don't mind because they don't know any differently. It's like a person if all they have eaten in their life is frozen fruit that's in the plastic bag and they've never tasted a fresh piece of fruit, they don't know what they are missing so they just keep eating the plastic bag fruit. Kids now don't know what a song sounds like on a vinyl record and haven't had the experience of opening up the LP and reading the credits and going into the record store and doing the whole thing, you know, the ritual.
ST
: ...of being in a record store for hours and hours just looking through the racks and reading the album covers…
DS
:
Yeah, it's like they don't know any differently, so that's what we're dealing with.
ST
: I think that as a society as a whole, at least with the younger generation, we've lost an appreciation for the kinds of things like we had when we were kids. The kinds of things we savoured doing. Like the record store thing. I loved going through the racks of albums and reading the liner notes and studying the cover art – the photos and the graphics.
DS
:
You gotta roll with the times. The guy that invented the horse and buggy was onto something great when it was popular, then the car came. You just have to reinvent. I don't have the answers. There are people a lot smarter than I am that will have to figure that out. Tower Records on the Sunset Strip just closed. It's like all the stand alone record stores are gone because they just can't stay in business.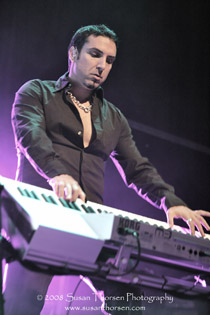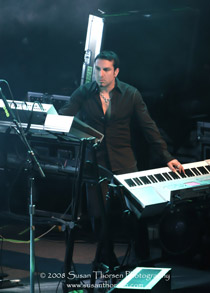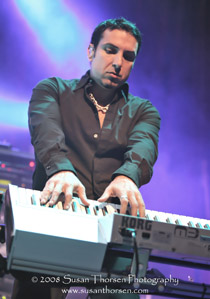 ST
: So here's what is probably my toughest question for you: Who is Derek Sherinian?
DS
:
Oh God. I don't know. I'm a single dad that plays music for a living, that's it.
ST
: Then it sounds to me that your priorities may have shifted some as that was a pretty short and sweet answer compared to how you probably would have answered five, six years ago. Like maybe your child is probably number one in your life now?
DS
:
Absolutely. Everything else comes second. That's what it is.
ST
: Career wise, you haven't even really hit your stride yet. What are your dreams now at this point?
DS
:
I don't even think about that really. All I care about is being the best father I can be for my kid. Everything else just falls into place. I keep real honest with my art, my playing. and that's it. I don't put too much stress on myself.
ST
: After this tour with BILLY IDOL, what's next for you?
DS
:
I have to finish up my sixth solo record (the follow up to 'Blood Of The Snake') and turn that in by the end of the year, so I have to focus on that. That's all that's on the list right now.
ST
: Will you be touring on that?
DS
:
No, I'm just going to finish it out and turn it in. And then BILLY is going to be doing some more recording next year, a full album of new music, so I'll be involved in that. I co-wrote the song, 'John Wayne', so I'm hoping that song does well.
ST
: What else?
DS
:
I'd like to possibly do some movie song writing in the future.
ST
: What else about your new record, does it have a title yet? What are the songs like - your style seems to mostly be in the jazz-fusion, metal-fusion kind of sound spectrum - different and hard to describe. Your sound touches on everything.
DS
:
It's a little bit of everything. There's a song that Zakk sings on that's great. It's really metal, just straight up metal. It's really honest. I don't try to be something I'm not musically. Whatever I'm hearing at the time, and different songs require different musicians - and I know a lot of good ones that I can bring in to help get the message across.
ST
: So that's it? You're not going out there too far with your plans, like five years down the road or anything like that?
DS
:
I don't know what's happening five days down the line, so whatever. That's one thing; I just don't put too much pressure on myself anymore. Just more mellow.
ST
: Is there any new young talent out there that you've seen or heard that you would really like to work with these days? Anyone who's talent would take off with some mentoring from you? Kind of like how Alice Cooper, Yngwie Malmsteen, Zakk Wylde and all the other legendary artists you've worked with inspired you to spread your wings?
DS
:
Not really. I don't have time for that. Those guys were employing me, so it's different. I listen to new players all the time and always offer positive advice, but I don't have time to mentor anyone. Well, actually, I take that back. I discovered a young talent, and he's a Japanese guitar player named Taka Minimino. He sent me an MP3 of his playing and I thought he was incredible and I actually had him play on my new record. He's going to be someone you will be hearing about. He's about 22 or 23 years old and he's great! So, I don't know about mentoring him, but I thought his playing was good enough that I let him play on my record.
ST
: You talked about what makes you whole as a person, what musically makes you whole?
DS
:
Just being able to write whatever I want and have the people that I want play on my records and have the satisfaction of hearing the final result.
ST
: Any former players that you've worked with going to be part of your future work?
DS
:
Zakk. I just got out of the studio with Zakk Wylde. He's great; we always have fun in the studio. It's good. Tony Franklin is a huge part of my history. He's played on every one of my records and he'll be playing on this next one. Tony is invited to be part of whatever I'm doing and play. He's a great player and a great person and a big part of my recording history. John Sykes is awesome. In fact, I was just talking about him last night. We did those shows in Japan for his Bad Boy Live project and he played on one song on my 'Mythology' record. John and I hit if off really well on his Japan tour and I invited him to play on my record. It was really cool because he really doesn't do a lot of guest appearances. He was kind enough to do that and I thought it was really cool of him. It's not planned for him to play on my new record. He's invited. All the people that play on my records, they have open invitation to do whatever they want. If they want to come play on stuff, that's great, then c'mon!
ST
: Describe a perfect day for you…
DS
:
Just hanging out with my kid. That's it.
ST
: In one word describe your life…
DS
:
Rollercoaster. Yeah. Up and down. Everyday is a different deal, just gotta enjoy the ride! I just follow the script.
With that, Derek asks if I'd like to free-lance an interview with Brian Tichy, drummer and guitar player who is now on tour with BILLY IDOL's band, too. Brian also plays on Derek's records and co-writes a lot of music with Derek. I gladly accept his invitation to meet and interview Brian as best I can without knowing much of his background. Derek gave me a brief history on Brian while we are waiting for him to arrive.
Brian Tichy's first gig was with Zakk Wylde. He went to Berklee College of Music in Boston. He plays in FOREIGNER and substitutes in VELVET REVOLVER. Played with OZZY OSBORNE for OzzFest in 2000 and with Slash's SNAKEPIT. Plays with BILLY IDOL and is the one who got Derek the keyboard slot with Billy. Co-wrote and played drums and guitar on Derek's last four solo records. Writes a lot of songs that are in movies.
DS
:
Hey, here's Brian now - Brian, this is Susan Thorsen. I'll leave you two and be back in a while.
ST
: Hi Brian, it's really a pleasure to meet you, something I wasn't expecting at all, so this is going to be rather impromptu. Needless to say, I haven't done my homework on you as with Derek, so basically all I know about you is a few facts that Derek just told me, such as you went to Berklee College of Music as did he. So, why don't you just tell me a little about yourself and we'll just go from there.
Brian Tichy (BT)
:
Cool. Yeah, well I'm from New Jersey and went to Berklee, starting there the year after Derek left
.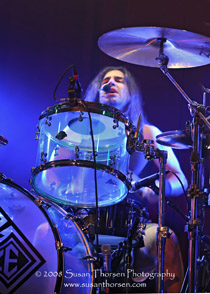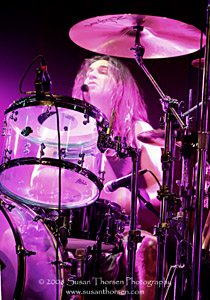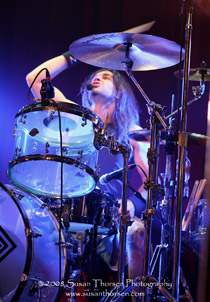 ST
: How did you go about going to Berklee? I've been by the place during a couple trips to Boston and thought it looked like a pretty cool place to go to school if you are a musician.
BT
:
During high school, my parents were like, "Hey after high school you're going to college". I was like you mean a university where you can't play drums, right? I want to play drums. This makes zero sense to me. One of my friends had heard about Berklee in Boston and I told my mom about it. She investigated what Berklee was all about and found out it was a valid place to go to school. See, I'm the oldest of four kids so you gotta keep in mind, my parents are looking at their first kid and thinking "he plays rock drums all day long, that's all he's done all his life, we're not going to have him get out high school and pump gas and play in his little local band, when he should be going to college". As it was, they were a lot more lenient about it with my younger brother who ended up going to Berklee too. He plays everything - super talent, - drums, guitar, and piano. Incredible musician, my brother. Anyway, Berklee was awesome! It was 3,000 kids from around the world giving you the perception of what it's going to be out there in the real world as far as competition. Are you kidding me? It's a bunch of people trying to learn how to get better at their instrument, but too many people abuse the privilege of the knowledge. You know, It's like awwwwh, really, if you're a good solid rock drummer, you're going to go get a rock gig, it doesn't matter how much you know.
ST
: What exactly do they teach you there to expand on, style, technique, any business classes?
BT
:
No, I don't really remember any style encouragement. You got a job to do there, you got classes to pass. You got to get better at your instrument, more technique oriented. Like you're a drummer so you're going to learn how to play jazz, rock, read music, you're going to learn how to play snare drum, your going to learn all your whatever in respect to your instrument. It's great, but in the real world do you really think some of our favourite drummers can play all that stuff? Noooo, (laughs) and I don't care, you know? There were probably some business classes there but nothing specific that I can remember. It was like "don't sign anything without a lawyer", and that class was done. Either you have a business mind or you don't. Either you are an organized person and can keep junk together or you can't, but somehow you still keep it together anyway.

ST
: Is it kind of weird to you how this music business evolves and changes?
BT
:
Oh yeah, it's tough, but you know, I only know this business, but I can imagine all businesses are tough. I don't know what it's like to go to college and get a degree for some kind of office job or computers or something. I don't know what that kind of competition is like or how you go about it. You have to love what you do. I only know what it's like in the way of being relative to how badly you want to do something. I'm a drummer, I've always been. Is this difficult to do? No, because I love it. I'll deal with whatever I have to in order to do it because this is the only thing I can or want to do.
ST
: So, how did you feel about last night's show?
BT
:
It was good, a little gap in the set list, but that can be fixed, the tour just started. The crowd was great!
ST
: What are your future projects?
BT
:
Well I co-wrote Billy's new songs and will be working on his new record next year. I'll be working with Derek on his new record, it's always fun working with him on his records and there's possibly a project in the works with John Sykes.
ST
: Derek has been quoted as saying he likes writing music with you because you're a drummer and he feels like he writes better music with drummers.
BT
:
Oh, I don't know. I didn't know if it was a drummer thing. I just know that me and Simon Phillips are both drummers and we've both written with him… He very well may have said that, I just didn't know if it was by choice or if it just ended up that way. I'd have to say that he collaborates more with drummers than anyone else.
ST
: What else, any solo projects of your own?
BT
:
No, not really. Maybe someday, but right now, no. These days you either have to have a deal ready to go with other people or you have to put a bunch of time into something to get it moving. Right now my time goes toward working with Billy and Derek and any other projects that come my way.

Rock on, Brian! At this point an emergency situation for Brian caused this interview to end and I had a flight to catch and couldn't wait for him to return. Hopefully, at a later date I'll have the opportunity to interview him again, which will be a complete pleasure!