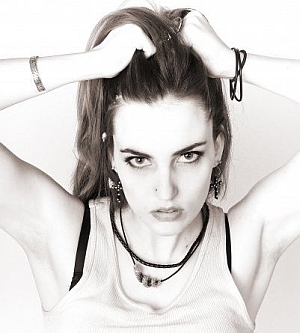 Interview with
Alexx Calise

ALEXX CALISE is quite a phenomenon in the United States. Currently on the cusp of releasing her second solo album this month to follow the critically acclaimed 'Morning After' release in 2007, along with her debut album with 'Sound of Cancer', she's also working on a signature series of guitar with Peavey and managing to find time to talk to me about it all. Here's what she had to say.
Reflections of Darkness (RoD)
: Hi Alexx, nice that you could talk to us. Can you firstly tell us a little about yourself and your music for those of us who have so far been unaware of your work? What are your major accomplishments to date?
Alexx Calise (Alexx)
:
Well, as a person I guess you can say I'm a bit of an enigma. I'm extremely introverted, but I'm completely at home on stage. I'm also my own harshest critic, I work harder than most everyone I know, and I constantly have melodies and elaborate orchestrations going on every day in my head. As far as accomplishments go, my music has appeared on several major network TV stations like MTV and the CW, I was recently named a "hot up and coming artist" by Boston's #1 hit station, Kiss 108 FM, I've appeared in Blender, Guitar, World, and Singer and Musician (and in the book "How to Succeed as a Female Guitarist"), I've sang and appeared in numerous TV commercials, and about a month ago, I was downloaded 100,000 times in 5 days on Frostwire.com, a huge Bittorrent / Gnutella (file-sharing) site… Whew.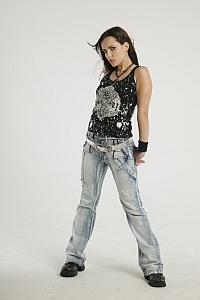 RoD
: What are the main influences you have in your music?
Alexx
:
Well, I grew up listening to a lot of Silverchair, Toadies, Our Lady Peace, STP, Soundgarden, Kenny Wayne Shepherd, Johnny Lang and Buckcherry, but my electronica influences are more evident in my latest record. You can definitely tell that my producer, Luigie Gonzalez and I are big Archive and BT fans. However, I didn't go too avant-garde. My new album is still very much "Alexx Calise" in terms of lyrics and melody, and I think pop, rock and electronica fans alike will be able to appreciate it.
RoD
: How did you come to be a musician? Was it something that has always burned inside you or did you come to it later somehow?
Alexx
:
First and foremost, I've always been a writer. That desire to put a pen to paper has always burned inside me, and I know it always will so long as there's breath left in my body. Not much has changed, except now I'm crafting songs. I started playing guitar at 11 to emulate my father, who is also a phenomenal musician. Watching him play as a kid was completely awe-inspiring, and I wanted to be able to do that to other people when I grew up. I've had a torrid love affair with the instrument ever since.
RoD
: How do you find living in LA, such a hub of everyone wanting to make it big in the industry? Is it helpful in the sense that it's such a nucleus of creative talent or disconcerting in its dog-eat-dog hugeness?
Alexx
:
I think it's a little bit of both. LA is great in that you're more accessible to industry folk, there's an immense amount of creative energy all around you, and it's impossible to run out of things to do, but, like you said, there are a lot of people out here trying to do the same thing as you are, it's expensive to live, and it can be very competitive. However, I try not to think about all of that. I just keep trudging on and doing my own thing. If I really thought about it, I'd make myself crazy.
RoD
: Your previous album 'Morning Pill' was well received and I understand that you're releasing your second album later this month. Can you tell us what the differences will be, how you've grown as an artist and so on?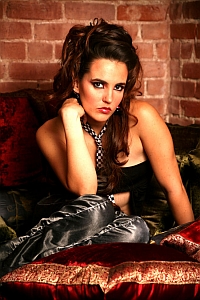 Alexx
:
I will be releasing my second solo record this month, as well as my debut record with my other band, Sound of Cancer. My debut album, 'Morning Pill' was definitely more lo-fi than this one promises to be. I'm recording the new one with Luigie Gonzalez, who is primarily a dance producer, so it's a lot more produced and electronic sounding. However, I'll probably be throwing in some very stripped-down, acoustic songs to prove that I can, in fact, sing and play guitar. I think as an artist, I've grown exponentially. My lyrics are more mature, I'm more prolific than I've ever been, and I've become more involved in the production end of my music (especially with Sound of Cancer). These new albums kind of signify a new beginning for me as both an artist and a person. I'm now 100 percent in control of my own career, I don't have any ties to anyone anymore, and I don't owe anyone anything. Quite frankly, it's a beautiful thing.
RoD
: You've toured the US extensively and shared a bill in the US with the likes of Korn and Ozzy Osbourne. Is there any chance that we'll see you here in Germany or anywhere in Europe any time soon?
Alexx
:
I am actually in talks right now about doing some touring throughout the UK this year. I would absolutely love to play in Germany as well. I'm actually a quarter German in case anyone wanted to know ;)
RoD
: What would you still like to achieve and who would you like most to collaborate with that you haven't yet?
Alexx
:
I would definitely like to tour more extensively. International touring in particular would be amazing because I've unfortunately never been outside of the States. Nothing gets me off quite like playing to a live audience. Oh yeah, and a gig at Madison Square Garden with my father wouldn't be too shabby either. That's always been a dream of ours. As far collaborations, I'd be honoured to work with Daniel Johns of Silverchair, Steven Tyler, Linda Perry, Kenny Wayne Shepherd, or Raine Maida of Our Lady Peace.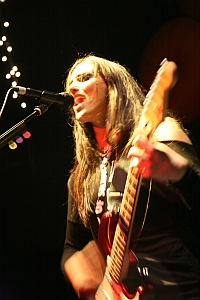 RoD
: Some of your lyrics are quite dark and yet your music is somewhat less so. Is this a conscious decision to bring your work to a wider audience or is it just the way the creative juices flow with you?
Alexx
:
My music is very much like my personality. I'm extremely meditative, and have a very dark, empirical side, but I'm also quite positive, and I want to believe that there is still a lot of good left in the world. It's that contrast that creates great art. I think if I went too far in either direction (either direction being too pop or too dark and avant-garde), it wouldn't be me. I'm kind of a "hybrid" I guess you could say, and I think that my music accurately portrays that.
RoD
: Can you tell me all about the Sound of Cancer project? I was really impressed with the track 'Darkarnival'.
Alexx
:
Well thank you! SOC is my other project with drummer/songwriter, Dennis Morehouse. It sounds like a cross between Portishead, Love and Rockets, Pink Floyd, and Marilyn Manson if that makes any musical sense. So far, everything about this project has been completely accidental and unprecedented. Den approached me for help on a song for an indie movie called "In My Pocket" last year. We found that we really clicked when we started working together, and that my pop sensibility and his penchant for epic, funereal soundscapes really married each other. Next thing we knew, we had an entire catalogue of songs. The other really interesting part about SOC is we don't use any pitch correction or Beat Detective when we record. Everything is 100 percent performance based. If we can't nail a take right then and there, we do it over, just like they used to in the "old days" of recording. If you listen to an old record, they're really raw. Sometimes, they're even pitchy and out of tune. If the performance is there and the soul is there however, then that's all that matters. That's what's missing in a lot of today's music, and that's what we're trying to bring back.
RoD
: What are your plans for the future?
Alexx
:
Well, I'd really like to do some serious touring and play some more high profile shows. I'd also like to write a memoir eventually. I'm already preparing some old writings of mine, so don't be too surprised if you see one in the next few years!
{jos_sb_discuss:21}