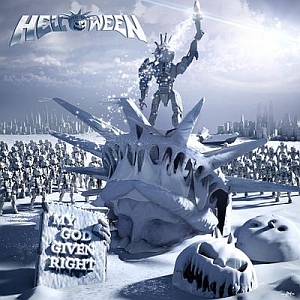 Artist: Helloween
Title: My God Given Right
Genre: Power Metal
Release Date: 29th May 2015
Label: Nuclear Blast
Album Review

One of the biggest Power Metal bands is back with their 15th studio album. In this album the band show us a more old-school approach in song writing, seems like they dive back to the Keepers days but also back to the early Deris days. In this album we find our favourite double guitar solos, some funny lyrics, catchy choruses and very good clean sound production. The album starts with the track 'Heroes' an up-tempo melodic power song, then we have 'Battle's Won' a speed metal track with 80's influences, 3rd song is the self-titled of the album a song that brought me their older song 'Power' in my mind, 'Stay Crazy' is one of the fillers of the album, but after this so and so track we find the 'Future World' influenced song titled 'Lost In America'.
'Russian Rouli' is the next song of the album a nice groovy hard rock song, then we have one probably the best song of the album 'The swing Of A Fallen world' is a dark mid-tempo track influenced from 'The Dark Ride' days ,after this very good song we have the ballad of the album titled 'Like Everybody Else', 'Creatures Of The Night' is the second filler of the album and them we find the funny 'If God Loves Rock'n'Roll'. The eleventh song of the album titled 'Living On The Edge' is a classic Power Metal song, then we have the third filler titled 'Claws'. The last song titled 'You Still Of War' is a very good song with variety of tempos and duration of 7:21 minutes.
Final Words: A good album that would be better with less tracks. The die-hard fans will be pleased the band will do another successful tour and life goes on.
Tracklist

01. Heroes
02. Battle's Won
03. My God Given Right
04. Stay Crazy
05. Lost in America
06. Russian Roulé
07. The Swing of a Fallen World
08. Like Everybody Else
09. Creatures In Heaven
10. If God Loves Rock 'n' Roll
11. Living on the Edge
12. Claws
13. You, Still of War
Line-up

Andi Deris - Vocals
Michael Weikath - Guitar
Sascha Gerstner - Guitar
Markus Grosskopf - Bass
Dani Löble - Drums
Website

http://www.helloween.org
Cover Picture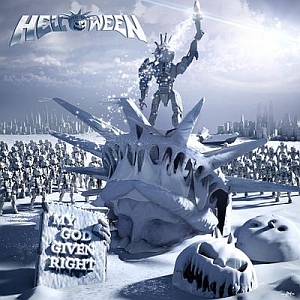 Rating

Music: 6
Sound: 8
Total: 7 / 10