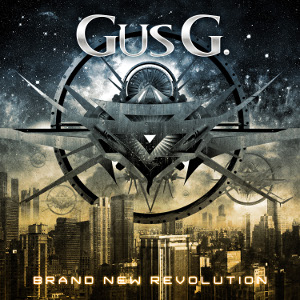 Artist: Gus G
Title: Brand New Revolution
Genre: Heavy Metal
Release Date: 24th July 2015
Label: Century Media
Album Review

GUS G., alias Kostas Karamitroudis born on the 12th of September 1980, is an extremely talented and pretty occupied guitar player who currently plays in OZZY OSBOURNE`s band and his own band FIREWIND; he furthermore played for MYSTIC PROPHECY, NIGHTRAGE, ARCH ENEMY and DREAM EVIL. He started to play guitar at the age of ten, his early influences were PETER FRAMPTON and guitar god AL DI MEOLA. GUS G. left Greece at the age of 18 to enlist at Berklee College of Music (the members of DREAM THEATER met there) he just released his second strike 'Brand New Revolution' which I am lucky to review for you dear readers.
The new album features a phenomenal list of guest singers, including Mats Levén (CANDLEMASS, ex YNGWIE MALMSTEEN - vocals on songs 9, 10 and 12), Jacob Bunton (ADLER, LYNAM - vocals on songs 2, 3, 4, 6 and 8), Jeff Scott Soto (TALISMAN, ex JOURNEY - vocals on songs 7 and 11) and Elize Ryd (AMARANTHE - vocals on song 5). GUS is also joined by bassist Marty O Brien (LITA FORD, TOMMY LEE) and his FIREWIND band mate Johan Nunez on drums. 'Brand New Revolution' was engineered by Jay Ruston (STONE SOUR,ANTHRAX, STEEL PANTHER, etc.) and mainly mixed by the legendary Mike Fraser (METALLICA, AC/DC, AEROSMITH, VAN HALEN, etc.).
And once again I find it kind of hard to specify which songs I like the most, but this is the result of an extraordinary good listening experience. Ok, so I just try to highlight it my way, I really dig every song but like Mats Levén's voice the most (he kills everything on stage) followed by Jeff Scott Soto and Jacob Bunton, Elize Ryd comes last but that is indeed a matter of taste (I like male voices just way more). One thing is sure, no living being on earth that really is into rock and metal music should miss out on this output.
Tracklist

01. The Quest (4:28)
02. Brand New Revolution (3:21)
03. Burn (2:57)
04. We Are One (3:59)
05. What Lies Below (3:59)
06. Behind Those Eyes (3:56)
07. Gone To Stay (3:21)
08. One More Try (3:46)
09. Come Hell Or High Water (3:11)
10. If It Ends Today (3:01)
11. Generation G (3:08)
12. The Demon Inside (5:21)
Line-up

Gus G. - Guitar
Website

http://www.gusgofficial.com
/
https://www.facebook.com/officialgusg
Cover Picture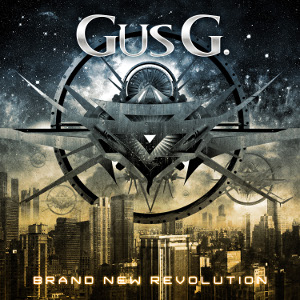 Rating

Music: 9
Sound: 9
Total: 9 / 10