Page 1 of 2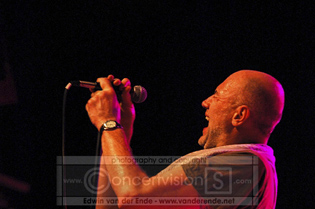 Nighttown, Rotterdam, The Netherlands
May 7th 2006
Fish, Odion Dragonfly

Before the show we (Edwin – interview, Cristel – pictures) had the pleasure of interviewing Fish. What a friendly and magnificent man he is… He was very accessible, interested and took the time for us to do the interview. He was very much looking forward to the show, so that promised to be a great night in Nighttown, Rotterdam.
Odion Dragonfly

Odion Dragonfly is a side project by Heather Findlay and Angela Gordon from the band Mostly Autumn. Armed with a flute, piano (Angela), acoustic guitar (Heather) and two beautiful voices they are travelling with Fish to support a part of the tour.
Music
The audience was a little surprised when Heather Findlay and Angela Gordon from the band Mostly Autumn showed up on stage. They were only armed with a flute, piano (Angela), acoustic guitar with a little angel on it's arm (Heather) and two beautiful voices. Together the performed a short show, where sweet and beautiful songs were exchange with a couple rougher songs. Angela's and Heather's voices fitted perfectly with each other, which gave their music a rather angelic sound.
The sound during the show was very good. A little resonance was adjusted to Heather's voice, which made the sound even more angelic.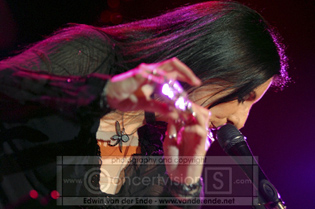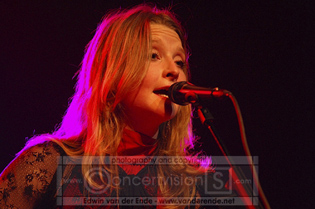 Performance
Odion Dragonfly and have in common that they both perform and sing with a lot of passion, so it was not a eccentric choice to let Odion Dragonfly open the night for Fish. Heather (vocals) sings with so much passion that she seem to drown in her own world when singing her songs. Both Angela (flute, vocals, piano) as Heather (acoustic guitar, vocals) took the time to communicate with the audience and explained what their songs were about. The lightshow which was used on Odion Dragonfly was simple, but it perfectly fitted the performance. A lot of red was used on Heather (vocals). Maybe a little more light could have been used on Angela (piano) sometimes, now she kinda disappeared into the shades sometime.
Rating
Music 7
Performance 7
Sound 7
Light 7
Total 7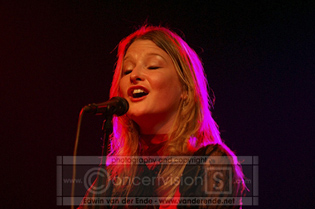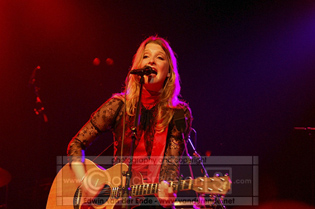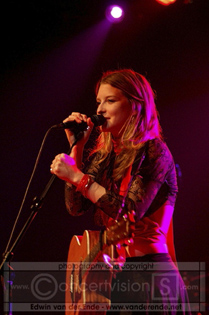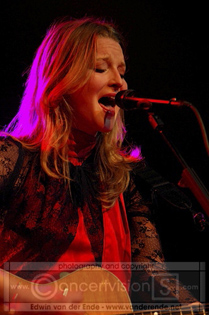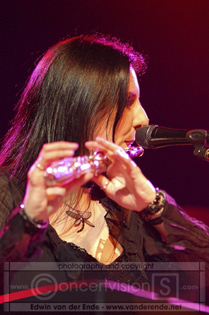 Fish

Born April 25, 1958, in Edinburgh, Scotland, Derek William Dick (aka Fish) was the dramatic lead vocalist for prog rock band Marillion until beginning a solo career in 1988. He was replaced by Steve Hogarth (b. May 14, 1956; Kendal, England), a vocalist quite similar in sound and style to Fish himself. In 1989, Fish worked with Peter Hammill on Hammill's Fall of the House of Usher project, but was then replaced by Andy Bell. His debut solo album, Vigil in a Wilderness of Mirrors, appeared one year later and continued the theatrical flair of Marillion's quasi-concept albums. After 1991's Internal Exile and the 1993 covers album Songs from the Mirror, he moved from EMI to Dick Bros. The Acoustic Session CD appeared in 1994, and one year later Fish released a double album (released separately), Yin and Yang. Sunsets on Empire was issued in 1997, followed by the well-received Raingods With Zippos on Chocolate Frog Records in 1999. During the new millennium Fish has continued releasing CDs on the Chocolate Frog label, including 2002's Fellini Days, 2003's Sashimi double-CD set recorded live in Poland, and 2004's Field of Crows.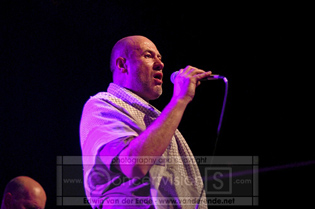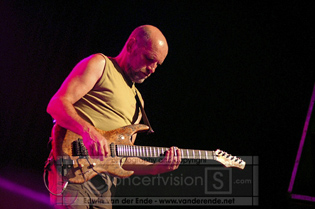 Music
A lot of people know Fish as the singer of the band Marillion and their best selling album 'A Misplaced Childhood'. Fish started off with 'Big Wedge', a solo song followed up by a whole set of his solo work. At the end of the first part of the set Fish and his band left the stage under a creaming 'Credo' audience for a intermezzo part 'La Gazza Ladra (Rossini Overture)', which fitted perfectly in the set. After this beautiful 'break' Fish came back alive and kicking and for the second part: the good old Marillion classics. Off course the beautiful 'Kayleigh' followed up by 'Lavender' were not to be missed in the set. The show contained a very strong and various set; easylistening songs were exchanged with some rougher songs and Fish certainly took some time between the songs to entertain the audience. The sound of the band in Nighttown was excellent. All the instruments were well-tuned at each other and Fish's vocals sounded great.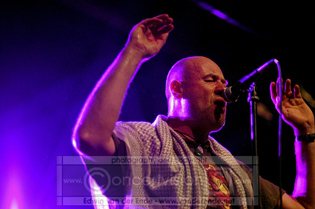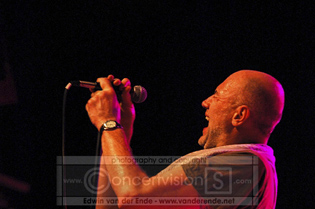 Performance
If Fish decides to stop with his signing career he can also choose to become a professional entertainer. What a funny man he is. During several songs he took the time to entertain the audience by ridiculing the Irish laws and more. The audience definitely liked this side of Fish, because every time Fish started of with a joke giggles and laughter filled the venue.
That Fish was really having fun was not only to be abbreviated by the fact that he was making contact with the audience all the time (he even let a fan introduce a song for him), but also by the contact between the band members. A couple of times the bass guitarists, guitarist and Fish lined up to performe a silly-looking dance and making fun among each other. Fish was running around on stage, figuring certain parts of songs and change his outfit a couple of times. During the third time Fish and his band got back on stage he even wore his Feyenoord shirt, which a fan gave him just before the show. Well done mate, good choice! During the show Fish had a beautifull lightshow: there were a lot of different colors en lights used, adjusted to the songs. The only thing that was a little regrettable, was that there were no lights available at the front of the stage. Everytime Fish walked to the frontstage to communicatie with the audience there was no light at all to light him up…
This concert was certainly one of the best and most powerful ones I have seen in a while. We can conclude that maybe Fish got a little older, but the man still rocks like hell!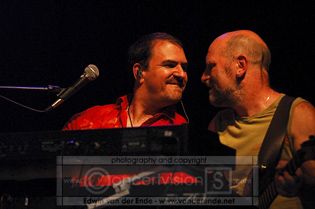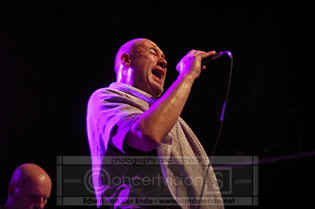 Setlist

01. Big Wedge
02. Moving Target
03. Brother 52
04. Raingods Dancing
05. Wake Up Call
06. Innocent Party
07. Long Cold Day
08. Credo
--- La Gazza Ladra (Rossini Overture)
09. Pseudo Silk Kimono
10. Kayleigh
11. Lavender
12. Bitter Suite
13. Heart of Lothian
14. Waterhole
15. Lords of the Backstage
16. Childhood's End
17. White feather
---
18. Incommuncado
19. Market Square Heroes
---
20. Fugazi
Rating
Music 9
Performance 10
Sound 9
Light 8
Total 9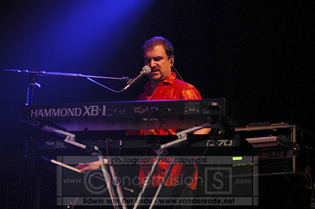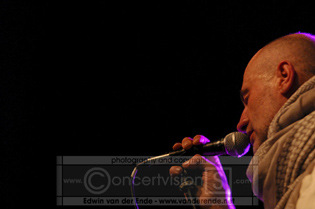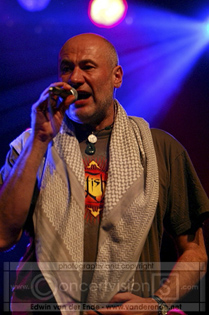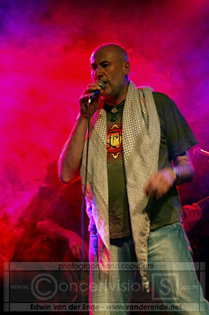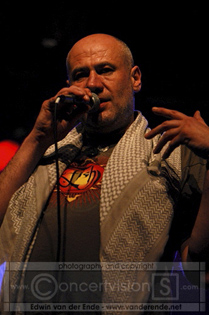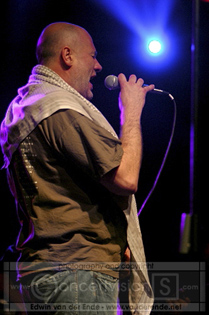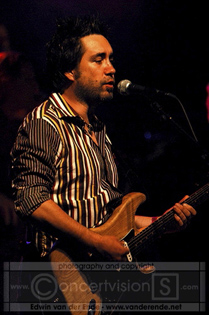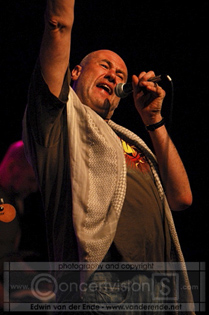 More photos on page 2


{jos_sb_discuss:17}