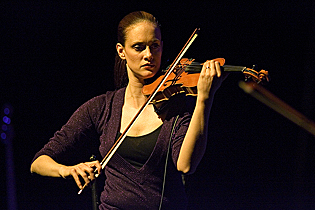 A violin and a cello - you don't need much more to make unique music. Kimberlee (violin) and Martin McCarrick (cello) are performing with virtuosity; and they combine the fragile sounds from their stringed instruments with modern electronic tunes, also composed and arranged by themselves, and a series of videos by different film makers, especially created to match the duo's sound. Altogether these things yield a rounded overall picture. There were moments dreamy and serene, and the sounds of the instruments were dripping into the quiet hall like raindrops into a still lake. And then again they were becoming stronger, culminating into a strange, sometimes disturbing chaos, but never loosing its beauty and always enthralling.
Biography

(as published on
http://www.myspace.com/themccarricksmusic
)
The Music - dark, evocative, compelling, hypnotic, unsettling.... yet strangely beautiful, drawing influences from Shostakovich to the Aphex Twin via Bernard Herrmann.
The initial idea to create new dynamic soundtracks for old silent movies shown in tandem with their music was hindered by increasingly restrictive industry rules on film usage. Undeterred, the McCarricks enlisted the talents of independent filmmakers to create with them new films specifically tailored for their music. The result is a startling display of abstract imagery and sound, set to lead the viewer through a series of different dimensions and emotions.
The live performance sees The McCarricks playing their instruments in front a film screen where Shoppers in a Japanese supermarket mix with 1950's slow-motion contortionists via buildings that harbour strange sexual desires, while a motley array of circus sideshow freaks act our a nightmarish fairytale. The imagery captivates and leads you into the imaginations that make this beautiful music.
" Our main inspiration comes from the relationship between musical and visual mediums and the way in which our ears can alter what our eyes see. The most mundane, everyday imagery can be given life through the addition of the right soundtrack whilst the most innocent of scenes can appear as a moment of terror with the addition of a particular soundscape"
The McCarricks met in Lawrence, Kansas in 1996 at the infamous rock venue The Bottleneck. At the time, Kimberlee was a professional violinist in the Kansas Symphony Orchestra, while Martin was on tour as guitarist and electric cellist with Therapy?. Previously Martin had worked as musician/writer and string arranger, touring, recording and creating a large back catalogue of work with the likes of Siouxsie and the Banshees, This Mortal Coil, Dead Can Dance, Kristin Hersh, Marc Almond, Skunk Anansie and Therapy? to name but a few.
After two years spent living between Kimberlee's Kansas City apartment and Martins London home they settled in South-East London where they continue to live and work. They have worked extensively as studio and live musicians, individually and together - as instrumentalists, string arrangers, and as soundtrack designers/composers. They are currently working on music and films for future performance as well as writing and recording material for themselves and for other artists encompacing a diversity that many other musicians merely dream of - from contemporary classical - to Rock - to Industrial - as well as adding 'phat' strings to the work of some of breakbeat scenes most revered producers including Taishan, Jimmy Mofo and the Beat Assasins. Recent collaborations include Kristin Hersh, Siouxse Sioux, Sinead O'Connor, Gary Numan, Marianne Faithful and the Patti Smiths Meltdown concerts at The Royal Festival Hall in London.
Line-up

Martin McCarrick - Cello, Instruments, Noises.
Kimberlee McCarrick - Violin, Instruments, Noises.
Photos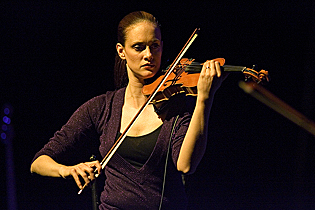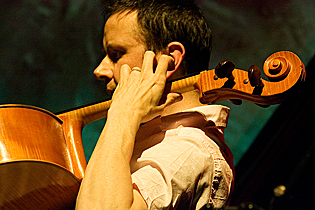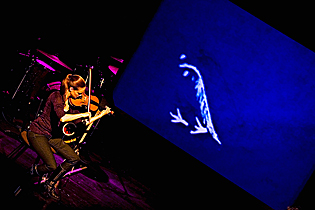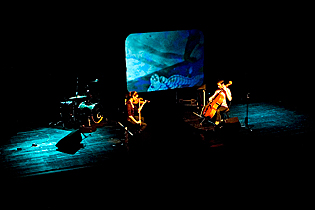 Pictures by Ruth Gräbeldinger
Discography

No official releases up to now.