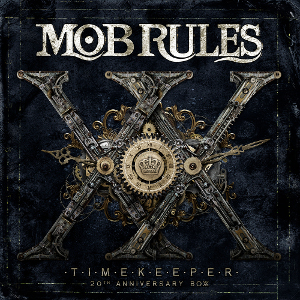 Artist: Mob Rules
Title: Timekeeper 20th Anniversary Box(3CD+1DVD)
Genre: Heavy Metal
Release Date: 13th October 2014
Label: Steamhammer
Album Review

MOB RULES is a German metal band that was formed in the year 1994. The founders of this metal outfit from Oldenburg are Klaus Dirks (vocals) and Matthias Mineur (guitar); their debut 'Savage Land' was released in 1999 and kicked off a successful tour. The discography of the band includes eight studio records and one best of box. MOB RULES underwent a few line-up changes over the years but always seemed to come out on top. Though named after the BLACK SABBATH album 'Mob Rules', the sound of the band is more power metal than BLACK SABBATH oriented metal which often follows BLACK SABBATH`s doom laden origins. MOB RULES musical approach is more epic than dark, melody-driven instead of tuned down and more catchy than doom metal (ok doom could be catchy but most doom bands aim to be not).
Although in my opinion there are too many power metal bands out there that follow the same musical and melodic approach MOB RULES are good enough and individual enough to prevail in the competition. The Timekeeper 20th Anniversary Box which I review here contains 3CDs (2 CDs a Single) and a DVD plus a 44-page booklet and a sticker. The whole box is nicely made and a treasure for every fan. Especially the second CD 'Friends' is a nice clue because of the guests that contribute to the songs. Among these guests are Udo Dirkschneider (U.D.O), Peavy Wagner (RAGE), Hermann Frank (ACCEPT) and more. To sum all this up the recordings of the bands second gig at the Prog Power festival are among the material.
Ok I have to admit that I have my faves when it comes to vocalists in this niche (Matt Barlow, Jorn Lande, Russel Allen to mention a few) but Klaus Dirks does his job and adds to the catchy and often a bit cheesy atmosphere (European power metal has to be cheesy). After a few listening sessions I have to say this best of box is full of good songs and highlights, if you are interested in power metal just buy this box already.
Tracklist

Disc: 1 – The Best

01. Temple Fanfare 2:24
02. Pilot of Earth 2:49
03. Black Rain 5:42
04. Cannibal Nation 4:17
05. Astral Hand 5:50
06. Close My Eyes 6:18
07. Dead Man`s Face 5:40
08. Among The Gods 7:33
09. In The Land Of Wind Rain 6:05
10. Hollowed Be Thy Name 5:49
11. Last Farewell 5:31
12. Ice And Fire 4:26
13. Lord Of Madness (Live) 5:32
14. With Sparrows 5:38
15. Rain Song (Live) 5:37
Disc: 2 – Friends

01. Insurgeria 3:27 (new recorded, w/ Udo Dirkschneider & Marco Wriedt)
02. Celebration Day 6:18 (new recorded, w/ Bernhard Weiß)
03. Lights Out 5:16 (new recorded, w/ Peter Knorn)
04. End Of All Days 8:36 (new recorded, w/ Amanda Somerville & Corvin Bahn)
05. Broken 3:45 (new Track)
06. All Above The Atmosphere 4:02 (new recorded, w/ Herbie Langhans & Herman Frank)
07. Coast To Coast 4:26 (new recorded, w/ Michael Ehré, Stephan Lill & Chity Somapala)
08. How The Gypsy Was Born 5:53 (remastered, w/ Peavy Wagner)
09. Run With The Wolf 4:00 (new recorded, w/ Sascha Paeth)
10. My Kingdom Come (new Track, Orchestral Version, w/ Corvin Bahn) 5:28
Disc: 3

01. My Kingdom Come 5:28
02. Meet You In Heaven (Live at Pumpwerk, Wilhelmshaven, 2005, prev. unreleased) 6:08
Disc: 4 (DVD)
01. Children Of The Flames (live)
02. Trial By Fire (live)
03. Astral Hand (live)
04. Unholy War (live)
05. Ashes To Ashes (live)
06. Fuel To The Fire (live)
07. Veil Of Death (live)
08. Last Farewell (live)
09. In The Land Of Wind And Rain (live)
10. Black Rain (live)
11. Hollowed Be Thy Name (live)
12. Lost (video)
13. Ice and Fire (video)
14. Astral Hand (video)
15. Last Farewell (video)
16. Black Rain(video)
17. The Roadmob Bootlegs (Bonus)
Line-up

Klaus Dirks - Vocals
Matthias Mineur - Guitars
Sven Lüdke - Guitars
Jan Christian Halfbrodt - Keyboards
Markus Brinkmann - Bass
Nikolas Fritz - Drums
Website

http://www.mobrules.de
/
https://www.facebook.com/mobrulesband
Cover Picture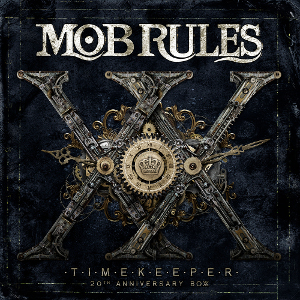 Rating

Music: 7
Sound: 7
Total: 7 / 10