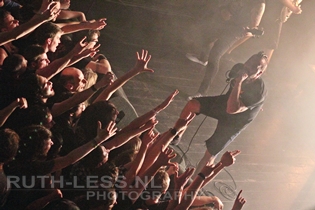 Tivoli, Utrecht, The Netherlands
31st May 2012
Killswitch Engage & Axewound

At the start of this year, KILLSWITCH ENGAGE parted ways with their signer Howard Jones. Soon after, it was announced that their original singer Jesse Leach would take up his role again as a front man. KILLSWITCH ENGAGE clearly doesn't like to waste their time, kicking off with a series of live shows and a new album to be released this summer. Tonight's show at Tivoli was the first show in The Netherlands with the new formation. Support was taken care of by AXEWOUND.



Axewound

This super group was founded in 2011 as a side project for BULLET FOR MY VALENTINE guitarist/ lead vocalist Matt Tuck. AXEWOUND is Matt Tuck on guitar and backing vocals, Liam Cormier of CANCER BATS on lead vocals, Mike Kingswood of GLAMOUR OF THE KILL on guitar, Joe Copcutt formerly of RISE TO REMAIN playing bass and Jason Bowld of PITCHSHIFTER on drums. The band presented itself earlier this year on the BBC Radio 1 Rock Show with their single, 'Post Apocalyptic Party'. The same day, they were confirmed to sub-headline the Pepsi Max Third Stage at Download Festival 2012. AXEWOUND's debut album will be entitled 'Vultures' and is expected to be released later this year. http://axewounduk.tumblr.com / https://www.facebook.com/AxeWoundUK

Music & Performance
Tonight was their first live show and the men of AXEWOUND obviously needed some time to catch their rhythm. Intensively focused on their own performance, the band kicks off after the intro with the title song of their upcoming album 'Vultures'. Drummer Jason Bowld with a big fat smile on his face and visibly having a great time while front man Liam Cormier takes off with a proper blast of energy.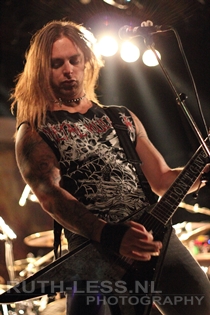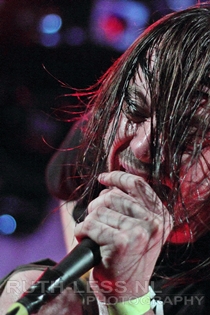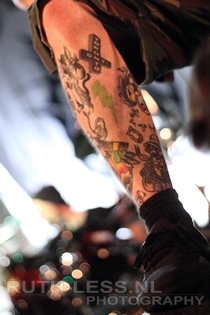 The clean vocals of Matt needed some adjusting though, as he could barely be heard at the start of the show. Clean vocals turned out to be a recurring problem this show, which is unfortunate since they are quite an essential characteristic for the AXEWOUND sound. This didn't seem to bother a bunch of girls screaming right in front of the stage though. The rest of the audience seemed only moderately enthusiastic though, not much going on in the pit. As they continued their set with 'Burn Alive', 'Destroy' and 'Cold', I am starting to have a little difficulty with distinguishing between the songs, it's more of the same (not in the last place because of the clean backing vocals being off balance). And it should be said that with such a strong vocalist as Jesse Leach of KILLSWITCH ENGAGE as a headliner, front man Liam of AXEWOUND simply pales in comparison. Overall, I'd say to cut these guys some slack and let them grow into their live performance as a team and band a bit more. I'd like to see them again sometime in about a year or so.

Setlist
01. Intro
02. Vultures
03. Burn Alive
04. Destroy
05. Cold
06. Blood money
07. Church
08. Exochrist
09. Victim
10. Pap

Rating
Music: 7
Performance: 6
Sound: 6
Light: 5
Total: 6 / 10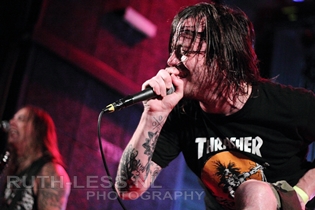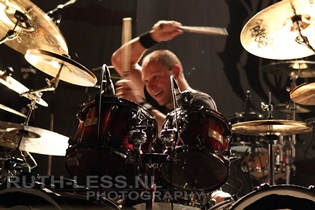 Killswitch Engage

KILLSWITCH ENGAGE is an American metalcore band from Westfield, Massachusetts, formed in 1999 after the dismantlement of bands OVERCAST and AFTERSHOCK. After a couple of line-up changes in drums, guitar and vocals, the band gained notoriety in the scene pretty fast with the release of their third studio album 'The end of Heartache'. The title song of this album was also the main single for the movie Resident Evil: Apocalypse. The band became a settled name in the metal core scene with their next albums 'As Daylight Dies' and a self titled album 'Killswitch Engage' in 2009. The announcement of the sudden departure of front man Howard Jones after nine years was quickly followed by the news that initial front man Jesse Leach was to fill in his place. KILLSWITCH ENGAGE is Jesse Leach (vocals), Adam Dutkiewicz (guitar), Joel Stroetzel (guitar), Mike D'Antonio (bass) and Justin Foley (drums). www.killswitchengage.com / www.myspace.com/killswitchengage / www.facebook.com/killswitchengage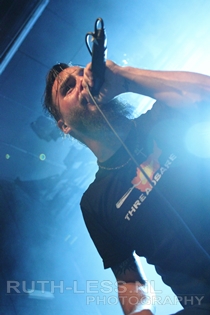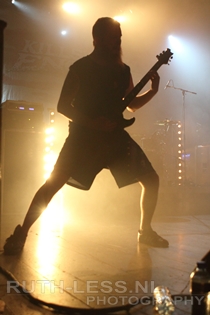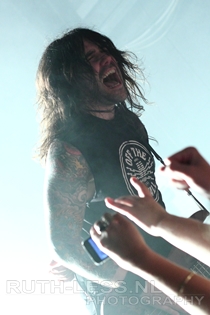 Music & Performance
BAM! And there's KILLSWITCH ENGAGE. As soon as Adam, Joel, Mike, Justin and Jesse enter the stage, the crowd goes berserk. Kicking off with 'Numbered Days' the crowd is instantly ready for some seriously moshing and stage diving. *Note to the enthusiastic jumpers: please jump OVER and not INTO the first row of people, since photographers obviously don't see you coming when they're watching through their lenses… I had seen KILLSWITCH ENGAGE before with their previous vocalist Howard Jones and was pretty impressed by his amazing vocals. Fortunately, front man Jesse proves to be more than up to the job with his wicked screams and even so powerful vocals. Convincing the audience is not really needed during their set and every song is welcomed with massive cheers at Tivoli venue. After a couple of songs, 'Rose of Sharyn' from the album 'The End of Heartache' is dedicated to former singer Howard.




A selection of songs from their old and newer albums, including the last self-titled special edition passes and the audience proves to be familiar with each and every one of these by supporting the vocals from the heart. KILLSWITCH ENGAGE's set is concluded with kick ass songs 'My Curse' and 'The End of Heartache' (from the Resident Evil Apocalypse OST). Only after a very short break, the band is back with a "last Serenade" and DIO cover 'Holy Diver'. KILLSWITCH ENGAGE brings an awesome and energetic live show, that is musically tight as a clock while band member Adam still has time to empty a couple of beer cans in hi-speed while entertaining the audience with his ADHD stage performance. Definitely go see these guys if they play at a festival or venue near you!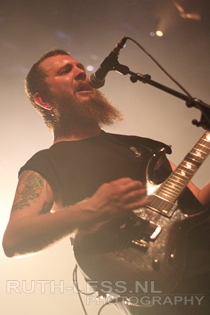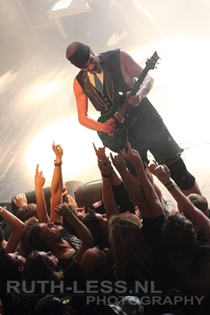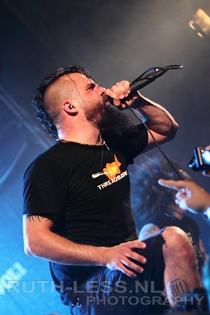 Setlist
01. Numbered days
02. Self Revolution
03. Fixation on the Darkness
04. Rose of Sharyn
05. This is Absolution
06. Take this Oath
07. Prelude
08. Vide Infra
09. Temple from the Within
10. Arms of Sorrow
11. A Bid Farewell
12. Life to Lifeless
13. My Curse
14. The End of Heartache
---
15. My Last Serenade
16. Holy Diver (Dio cover)

Rating
Music: 9
Performance: 9
Sound: 8
Light: 8
Total: 8.5 / 10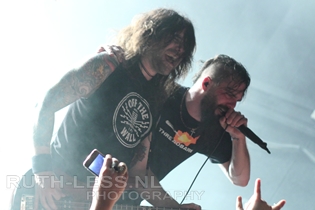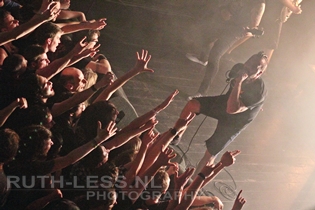 All pics by Ruth Mampuys (www.ruth-less.nl)