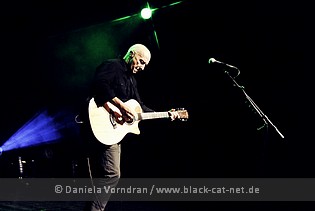 Zeche Carl, Essen, Germany
21st November 2014
Midge Ure & Pete Macleod

Already last autumn the co-founder and singer of ULTRAVOX proved with his acoustic performance that he is still not on the scrap heap. Surely most of the people associate MIDGE URE with ULTRAVOX and all their fantastic songs in the eighties. But for real he did a lot of other projects, started his solo career while being engaged with ULTRAVOX and wrote and composed for other musicians also. On this evening he was performing in the listed former coal mine in Essen with its post-industrial charm which is rebuild as cultural centre for all kind of events. A perfect venue for enjoying an intimate show of a stunning musician with a great voice.
Pete Macleod

A fellow-countryman, hailing from Glasgow, Scotland, opened the acoustic evening. The OASIS discoverer and owner of the Creation label Alan McGee got to know PETE MACLEOD in Los Angeles. They became friends and stayed in contact throughout the years. The singer / songwriter was the first signing of McGee's new label 359 Music. Deeply influenced by nursing his seriously ill father until his death he released already his first single 'Rolling stone' online in order to collect donations for the British cancer research. In November 2013 his debut album 'Rolling stone' was launched. His music is a mixture of Pop, Folk and Rock.
http://petemacleod.net
/
https://www.facebook.com/petemacleod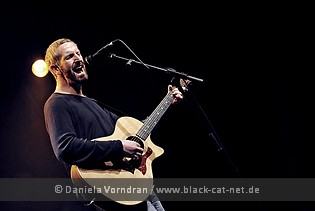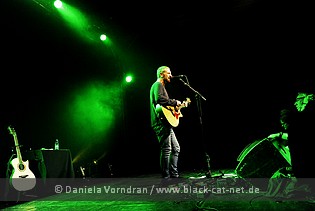 Music & Performance

The supporting act was also an acoustic set. Before PETE MACLEOD started with his first song, he greeted the audience and introduced himself. We learnt that he had also performed at the Rockpalast show in Germany as support for THE STRYPES. He presented us his songs which were quite pleasing. He also convinced with a good vocal quality. Every now and then he addressed to the audience, also asking if we understand him as he has a strong Scottish accent for sure. The audience enjoyed the performance definitely. Personally I was not so much convinced as he integrated too many song lines of different songs in his lyrics, amongst others parts of an OASIS song. Nevertheless the people liked the musician and his show and gave him a big applause when he left the stage.
Setlist

01. Let it shine
02. Give a little love
03. Rolling stone
04. God speed
05. Away
06. Crestfallen
07. Swimming
Rating

Music: 7
Performance: 7
Sound: 8.5
Light: 7
Total: 7.5 / 10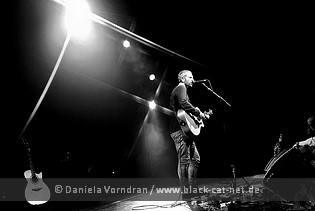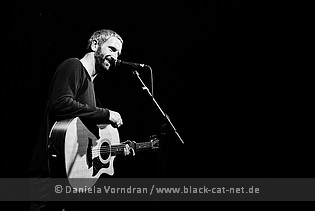 Midge Ure

The legendary voice of ULTRAVOX was born in 1953 in Scotland. In the eighties the band was extremely successful. Nevertheless in 1985 MIDGE started his ambitious solo career and with his, in the same year released, first album 'The gift' he produced already two hit singles. But here is creativity and productive work didn't end. Furthermore he founded many bands, worked with a lot of famous musicians and bands, wrote, composed and produced songs for them, with lots of them entering the charts. Thus it is no wonder that with such a long and diverse musical career he got many awards. Furthermore he is known for his social engagement. Together with BOB GELDOF he founded Band Aid. He also took a stand for the release of Nelson Mandela. Nevertheless his life was not only bright and shiny but he had some ups and downs as well. But he managed to fight his way back and so we can enjoy his performances nowadays. In July 2014 finally the long awaited new album 'Fragile' was launched and so he has released 7 studio albums and 10 live, best of, re-release, cover and motion picture soundtrack albums.
http://www.midgeure.com
/
https://www.facebook.com/pages/Midge-Ure/275159919205373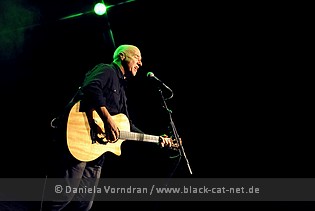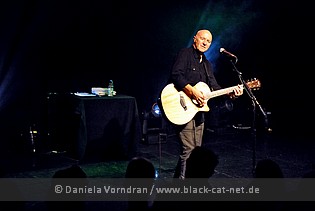 Music & Performance

One year ago I had already the pleasure to experience a stunning acoustic show of MIDGE URE in another small venue where you could enjoy the intimate atmosphere. Apparently with a cheerful mood he entered the stage and immediately started to perform. For the first songs I was a bit irritated as this time he used a lot of reverberation and echoes for his songs which he didn't do at his acoustic tour last year. But you get used to these effects easily and after each song he got a big applause. Meanwhile the venue with a capacity of 700 people was almost completely filled. Evidently he seemed to enjoy performing on this evening, as he smiled all the time and was quite chatty in between the song. And with his charming Scottish accent he announced the next song and sometimes telling little stories about it or just making fun how old, not so old, newer or new the next one is. Though his new album was launched not long ago, he did not present many songs of it but stuck more to the old, well- known ones, which surely was not a fault as the fans sang along with him. And when he asked the audience to join him singing one refrain of the next song as there are two refrains and he could only sing one, the people were happy to do so. But before he started the song he made another joke, saying that as he is Scottish we wouldn't get our money back only because we are singing with him, but tonight we could be his band.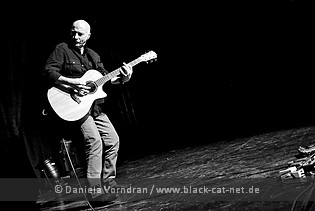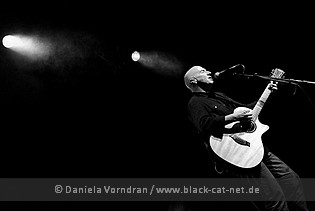 He presented us a song he wrote 25 years ago in a special Cabaret style (actually I found it had more of a Waltz). The sequence of songs showed quite clearly that MIDGE URE is an old stager and knows how important it is to switch between slower and faster songs and how to involve the people so that we experienced once more and diverse and exquisite concert evening. Before he performed his last song at the encore he praised the German version of the Band Aid song and asked the people to buy the song as well as the original version as it is for a good cause.
Setlist

01. Dear God
02. Call of the wild
03. Breathe
04. Brilliant
05. Fade to grey
06. No regrets
07. The voice
08. Light in your eyes
09. Guns n arrows
10. Lament
11. Let it rise
12. Man of the world
13. Become
14. Vienna
15. All fall down
16. Hymn
17. One small day
18. Dancing with tears in my eyes
19. Loves great advent
20. If I was
---
21. Fragile
22. Cold heart
23. Spielberg sky
24. Contact
25. Waiting days
Rating

Music: 10
Performance: 10
Sound: 9
Light: 7
Total: 9 / 10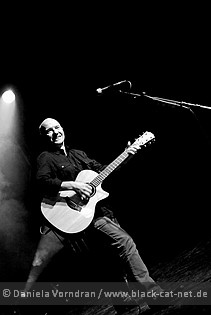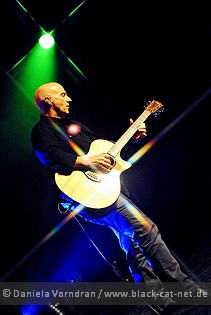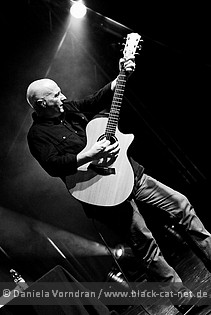 All pictures by Daniela Vorndran (
http://www.vorndranphotography.com
/
http://www.facebook.com/blackcatnet
)