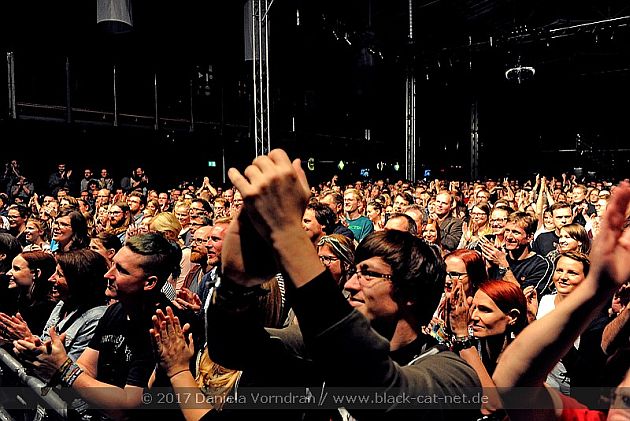 Jovel Music Hall, Münster, Germany
1st October 2017
Maximo Park, Flawes

The German city of Münster, my home town, has been quite blessed recently in regard to great concerts. On a Sunday night with lovely autumn weather MAXIMO PARK made a stop here, and it was even the finishing gig of their recent tour!
Flawes

I really have a soft spot for support acts. Well, that is when they are at least half-decent! With
FLAWES
from Huddersfield, London, we were lucky as MAXIMO PARK (or their tour management) picked a great young band for this tour. And Josh Carruthers (vocals & synths), Freddie Edwards (guitar) and Josh Hussey (drums) used the opportunity to present their art in front of big audiences quite well! Their music might be a bit too mellow for some people in the crowd but for me, and not just me, it was an instant like. FLAWES combine electronics with Indie Pop and prove to have a knack for soulful, catchy melodies. http://www.flawes.com / https://www.facebook.com/FlawesBand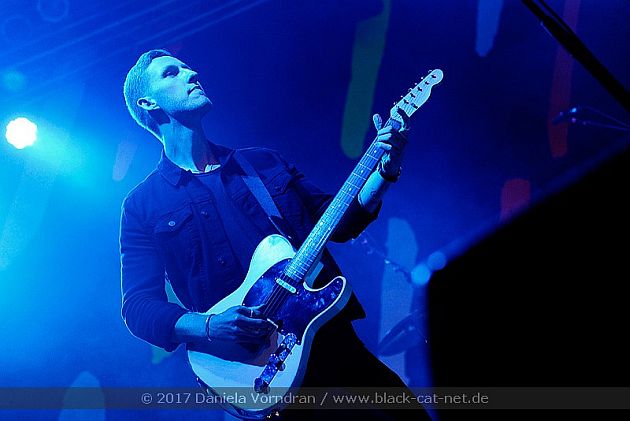 Music & Performance

Live they sound a little less synth-heavy than on record but Josh Carruthers brilliant vocal delivery sounds just as great live as in the studio. The relatively huge crowd at the Jovel Music Hall gave FLAWES a pretty warm welcome and, in fact, with increasing enthusiasm. Quite a good reception for a support act, and later the band members were happy to sign stuff for new fans and, apparently, at the same time felt a little humbled by the excellent feedback.
Setlist

01. Don't wait for me (Long Outtro)
02. You are all I see
03. Forever
04. Everywhere
05. Misunderstood
06. No good for my Soul
07. Look no further
Rating

Music: 9
Performance: 9
Sound: 7
Light: 7
Total: 8 / 10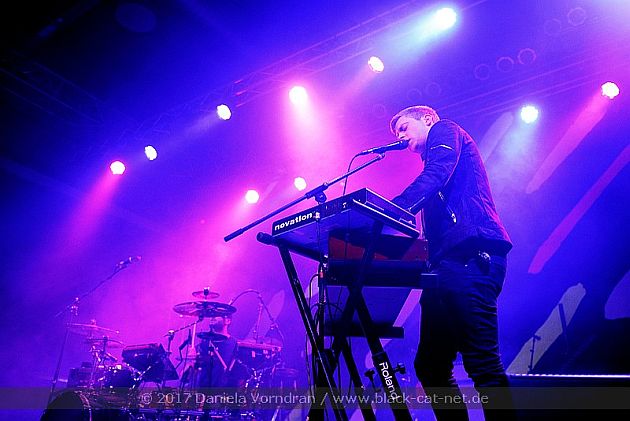 Maximo Park

It's been quite a while since I saw
MAXIMO PARK
live, and in fact it was just a few minutes from tonight's venue at the Gleis 22 club in Münster. It was the summer of 2005, MAXIMO PARK were just about to make their breakthrough with the album 'A Certain Trigger' and the single 'Apply Some Pressure'. The booker of the Gleis 22 proved to have the right touch and booked the band before their big success, and the gig was just when the hype took off. So back then the venue was packed to the roof and the atmosphere was pure hysteria. Twelve years later MAXIMO PARK play a club at least four times as big as the one in 2005 but fortunately it wasn't the same squeeze cage. As a matter of fact the Jovel Music Hall was pleasantly filled, no need for pushing or fighting for some space. The crowd was mainly made up of thirty-somethings who came to see the band of their juvenescent days, and forty-somethings who have always loved Indie Pop anyway. http://maximopark.com / https://www.facebook.com/maximopark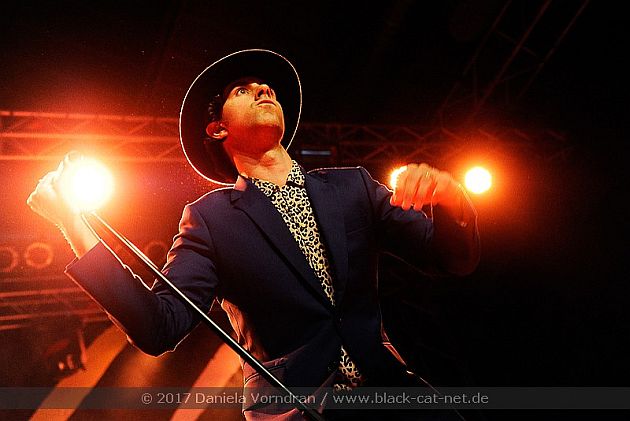 Music & Performance

After a short intro, Duncan Lloyd (guitar), Paul Rafferty (bass), Tom English (drums), Lukas Wooller (keyboard) and singer Paul Smith rush on stage and start feverishly with 'Risk To Exist', the title track of their recent album. The band takes a step back and leaves the focus to their hyperactive singer, the unstoppable Paul Smith. He really looks like a dandy with his trademark hat, fancy suit and colourful socks and shoes and is also visually the focal point of the show. But MAXIMO PARK also brought a huge, striped backdrop for their stage performs, which included some colourful LED bars. Pretty bright light, in fact some of the bars were so bright that at some spots in the venue they blinded people. Smith seemed to notice that and asked if people could see him well enough, explaining with a grin that his facial expressions were an important part of his performance. Smith is a pretty talkative performer, anyway, who likes to give some comments and introducing words to songs and he also tested his German language skills, which are better than he meekly claims. He also mention that this is the last gig of the tour, so they would try to play as many songs as they could.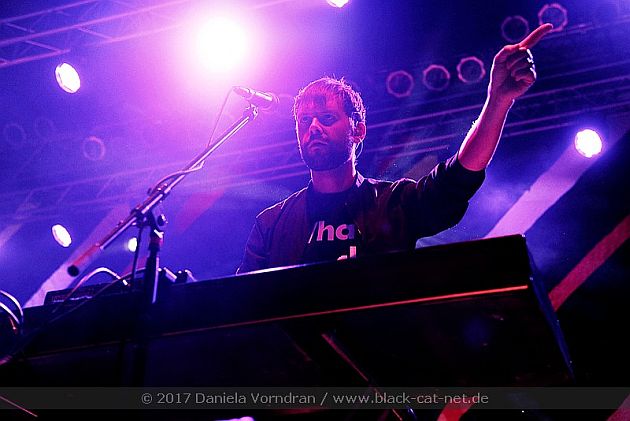 Well, a bold promise in the end, as MAXIMO PARK played just one more song as usual (20 instead of the standard 19) but you have to give them credit that they shake up the setlist night for night. So even if you checked the set lists of the previous gigs you are always in for a surprise or two. In Münster, 'My Sharp Tongue', from the bonus disc of the limited edition of the 'Risk to Exist' album, was one of the rarely played surprises, and this album spawned the bulk of the setlist anyway. But MAXIMO PARK know what their fans want and how to entertain them, so threw in some classic smashers like 'Graffiti' or 'Leave This Island' early into the performance, altered between old and new while Paul Smith just couldn't stand still for a second. MAXIMO PARK generate quite some energy on stage but it's never aggressive or violent, it's rather fidgety, jittery and buzzing all over. After little more than an hour the band already says goodbye, which seems a bit short, but they return for three more songs including their breakthrough-hit 'Apply Some Pressure' as the final song of the night. And this riotous, nervous and passionate song sums up greatly what a MAXIMO PARK show is all about.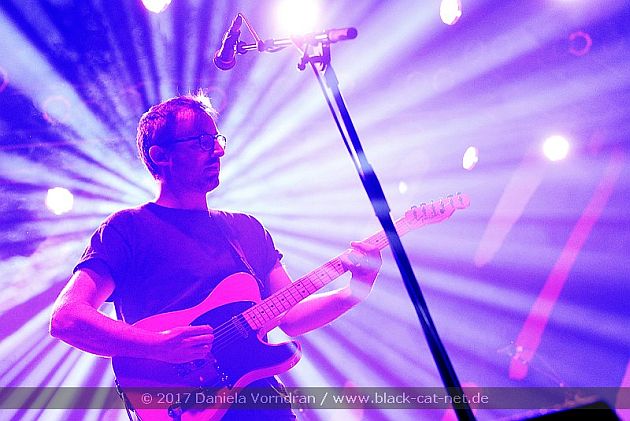 Setlist

01. Risk to Exist
02. I Want You to Stay
03. What Did We Do To You To Deserve This?
04. Graffiti
05. Leave This Island
06. My Sharp Tongue
07. The Kids Are Sick Again
08. By the Monument
09. Alchemy
10. The National Health
11. Going Missing
12. What Equals Love?
13. The Undercurrents
14. Work and then Wait
115. Our Velocity
16. Get High (No, I Don't)
17. Books from Boxes
---
18. The Hero
19. Girls Who Play Guitars
20. Apply Some Pressure
Rating

Music: 9
Performance: 9
Sound: 7
Light: 8
Total: 8.3 / 10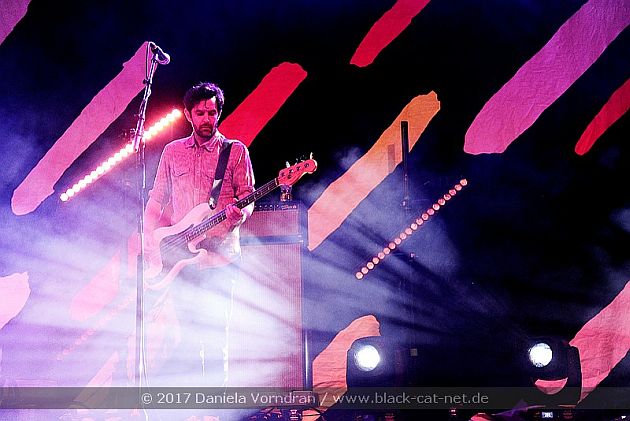 All pictures by Daniela Vorndran (
http://www.vorndranphotography.com
/
http://www.facebook.com/blackcatnet
)