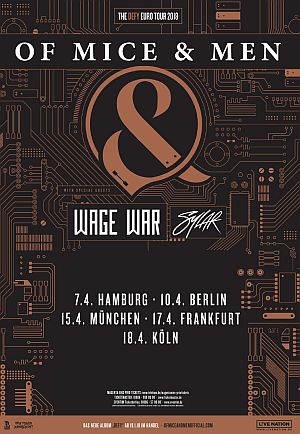 Essigfabrik, Cologne, Germany
18th April 2018
Of Mice & Men - "Defy Tour" 2018 - Special Guests: Sylar, Wage War

Five months after their support gig for FIVE FINGER DEATH PUNCH and IN FLAMES, Orange County's Metalcore icons OF MICE & MEN were scheduled to play their own headline show in Germany's west in the Cologne Essigfabrik. With all the turmoil surrounding the departure of former singer Austin Carlile in 2016, the band regained their footing, bass player Aaron Pauley took over the vocals, and the band released their album 'Defy' early this year, which they promote with this European tour.
Sylar

The Post-Hardcore quintet from Queens, NY was first to appear on that night's roster. Since their formation in 2012, they have released their second album 'Help!' in 2016. https://www.facebook.com/SylarNY / www.sylarny.com
Music & Performance

At 7:30pm, the band went on stage and kicked off their performance with the opener 'Assume'. From the first minute onwards, singer Jayden Panesso had a firm grip on the audience with his alternation between screaming and rapping vocals, which were complemented by melodic passages, sung by guitarist Miguel Cardona. Together with the instrumental faction, where the musicians also perfectly alternated between fast and more melodic parts, the band developed a truly captivating cohesion, and delivered their songs with the same neck-breaking precision, which reminds me of bands such as UPON A BURNING BODY or LIKE MOTHS TO FLAMES. All in all, the present fans embraced
SYLAR
with an open heart and mind and warmed up the already pretty hot ESSIGFABRIK for later things to come.
Setlist

01. Assume
02. Yours Truly
03. Dark Daze
04. Soul Addiction
05. Gambit Rogue Delight
06. Pleasure Paradise
07. Golden Retreat
Rating

Music: 8
Performance: 8
Sound: 7
Light: 7
Total: 7.5 / 10
Wage War

WAGE WAR
was up next. The Metalcore band started in 2010 in Ocala, Florida. Anyone who has been to this inland area of Florida knows that there is not a lot to do, which in turn provides a fertile breeding ground for awesome musicians and insanely aggressive music (Hello SLIPKNOT?). The band has released two albums so far, with the 2017 release 'Deadweight' earning an impressive place in the U.S. billboard charts. https://www.facebook.com/wagewar / www.wagewarband.com
Music & Performance

After a quick stage break, WAGE WAR entered the stage at 8:20 PM. Their Opener 'Alive' from their debut 'Blueprints' sent the already warmed-up pit into frenzy. Slightly more metal than their predecessors, WAGE WAR provided an immensely intense version of Screamo-oriented core, twinned with excellent technical abilities during their 40-minute set. The audience celebrated the performance with circle pits and the occasional wall of death. The end marked the song 'Stitch' from their second album: a song monster that exuded the raw brutality of the early MACHINE HEAD records, and which left the audience heavily out of breath and screaming 'One more song', which unfortunately did not materialize.
Setlist

01. Alive
02. The River
03. Witness
04. Deadweight
05. Twenty One
06. Never Enough
07. Gravity
08. Don't Let Me Fade Away
09. Johnny Cash
10. Stitch
Rating

Music: 8
Performance: 8
Sound: 7
Light: 7
Total: 7.5 / 10
Of Mice & Men

The Metalcore band
OF MICE & MEN
from Costa Mesa, California is one of those phenomena where it seems to take ages for their popularity to cross the Atlantic. Similar to the early days of KORN, who initially suffered a similar fate, they enjoy a substantial fan base in the U.S., having sold over 15 million copies since their formation in 2009. In Europe however, things seem to need more time. Nevertheless, the band touring through Europe should help them immensely to establish a growing fan base on this side of the Atlantic. To find out more about the band, check out www.ofmiceandmenofficial.com or https://www.facebook.com/ofmice.
Music & Performance

Shortly after 9:30pm, the lights went out and the characteristic band intro started playing, during which the band members entered the stage. This was immediately followed by the opening track 'Defy' from their most recent record with same title. OF MICE & MEN did the impossible, they were able to raise the temperature inside the room once again by a few degrees. In terms of song choices, the set list weighed heavily on the most recent album. All these songs were embraced by the fans indulging in their sweat-heavy game of moshing and forming circle pits. OF MICE & MEN put on a hell of a show, and front man Aaron handled the double duty of playing base and vocals perfectly well. The only downside of the concert was probably that after barely 50 minutes of playtime and just 10 songs, the band left the stage saying Good Night and all.
They could be brought back by clapping and whistling for the encore, but after two more songs the curtain fell, bringing the total playing lengths to just over an hour. This is just too short for a headliner for my liking, especially, as OF MICE & MEN have the necessary breadth and depths in terms of song material from their previous four albums. So many good songs such as 'Second & Sebring', 'Relentless', or even 'Back to Me' from the new album were left unplayed. On a positive note, let's hope that once Aaron settles in with his new role as vocalist, the band will also expand their song repertoire. Plus OF MICE & MEN brought with them the best support act package one could hope for with SYLAR and WAGE WAR, tow bands which certainly deserve to be added to your playlists.
Setlist

01. Defy
02. Warzone
03. Unbreakable
04. Would You Still Be There
05. You Make Me Sick
06. On The Inside
07. Pain
08. Bones Exposed
09. Instincts
10. YDG / Still YDG'n / Forever YDG'n
---
11. The Flood
12. The Depths
Rating

Music: 8
Performance: 9
Sound: 8
Light: 8
Total: 8.2 / 10